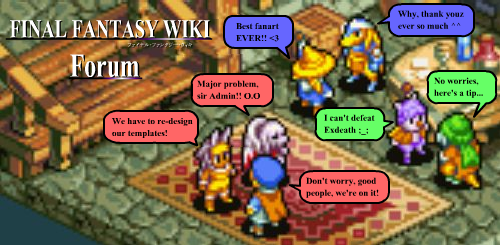 Although I haven't posted or edited in quite some time, it feels good to be back on the FFWiki!

But enough about me, this concerns the topic at hand. While scanning the Dissidia character subpages, I noticed that Warrior of Light will be voiced by Grant George in the English localization. OK, so that's one down, several characters to go. If I may, I suggest that whenever an English voice actor is OFFICIALLY CONFIRMED to voice a character, that anyone with the info please post on their page as well as this forum topic, just so people who check one or the other will know either way.

This doesn't mean we can go ahead and list someone who has done a certain character before like Steve Burton as Cloud just yet, just to avoid any false reporting until it's confirmed. Highly possible he could, don't get me wrong, but nothing's official yet. Basically, NO SPECULATION.

OK, now then, I ask again that this thread be used to list English Dissidia voice actors as they are revealed.

Thanks. ;)

B

lue

H

ighwind

Q?

12:04, 18 May 2009 (UTC)

TALK

- So if you care to find me, look to the Western Sky!

ツ

:

I was about to revert that edit myself when I checked the link. At first it looked like one of those nonsense sites that exist only to take up Internet real estate, but when I looked further down, it was legitimate as far as I can tell. Also, I can't imagine that Grant George, despite how talented an actor he might be, has any fans rabid enough to lie about his future credentials.
I just Got this from IMDB, Its the "Credited Cast" for some Dissidia Characters.
Is it real? or Will it be real? Steve Burton ... Cloud Strife (voice: English version)

Yuri Lowenthal ... Cecil Harvey (voice: English version)

James Arnold Taylor ... Tidus (voice: English version)
Doug Erholtz ... Squall Leonhart (voice: English version)

George Newbern ... Sephiroth (voice: English version)
Gregg Berger ... Jecht (voice: English version)

Devil Breaker 14:32, 18 May 2009 (UTC) PS, I don't know if this is real yet. Please notify me if it is.

IMDB is user-submitted. It would be like sourcing this place. Drake Clawfang 15:34, 18 May 2009 (UTC)
The question is, is IMDB or any user-submission site a reliable source? These actors all could be likely since they have voiced their respective characters at least once before. However, I'm not going to jump to conclusions just yet and edit the pages. --Tex Howdy! 20:51, 18 May 2009 (UTC)
Community content is available under
CC-BY-SA
unless otherwise noted.