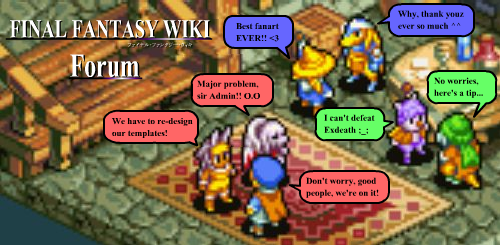 Hey,

A problem I've seen with the Walkthrough namespace, only a minor one, is that it's hard to get your walkthrough discovered, or to make a real judgement. When on page Walkthrough:Final Fantasy VII, for instance, you only see a list of the different walkthroughs which you are then required to click on and load. What if you were not? What if it were possible to just load them straight from there, so you could chose which one you want to use?

Just to be clear; tabview is not tabber. If it were to use tabber, it would require the contents of the walkthrough's main pages to exist on the page and under the tabber. With tabview, that is not required, it just loads them from their actual locations. Oh, and when clicking a link in them, you go to that page, it doesn't load it inside tabview or anything.

Here's one I made earlier

. What does everyone think?


I see. Mind explaining why? The suggestion is just the basic concept of using tabview btw, what it looks like is obviously subject to change.

To me it looks like BlueHighwind's walkthrough would be the "default" and the others are just behind tabs. Also one of those was more of a specific guide than a strict walkthrough, so should that be on the same view like that...

Yeah; Jimcloud brought this up when I showed it to her on the IRC. To the first point, that can easily be changed, if there's something that can be displayed before that - currently there isn't because I just did this as a quick mock up. His walkthrough appeared first because of the alphabetical view. To the second point, well, I don't really see why not, but it could be put somewhere else of course.
To be honest I don't really get how this would fix any visibility problems. If you can see them on the index, you're already aware of that guide's existence, no? Also I couldn't find any way to hide already revealed pages without reloading which just seems to be an unnecessary annoyance. -- Some Color Mage ~ (Talk) 22:32, April 2, 2014 (UTC)

To clarify, it doesn't actually fix any major issues in particular. I think I worded wrong when I described it as some answer to any particular problem. My thoughts originally were that it would make it easier to check another walkthrough, but then again, it still requires the same loading and clicking.

I was just suggesting an alternative way to present them, and it seems no one's a real fan. So I guess this forum can be archived. Would an admin mind deleting my user subpage presenting the example (and the inevitable redlink here)?
I think we're okay with what we currently have.—Kaimi (999,999 CP/5 TP) ∙ 23:06, April 2, 2014 (UTC)
Community content is available under
CC-BY-SA
unless otherwise noted.