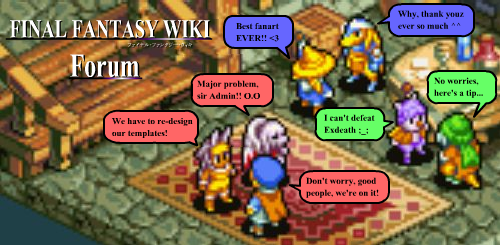 Hey all! I would like to announce a new proposal.

The r/finalfantasy subreddit has a Discord server, not unlike our IRC channel here. What I was proposing was to merge our own Discord server (which is currently only used for LPs) with theirs and increase our presence there. This would mean:

The reddit Discord server would feature a #wiki channel specifically for wiki discussion.
A bot would then be set up to relay messages from their Discord server to our IRC channel, and vice-versa. This would be useful so people can ask us questions directly and find out what we're up to.
The mods would give wiki admins (who want it) admin privileges on the Discord server.

We did a similar setup with other wikis I'm part of - and though we had reservations because of some of the posts on those subreddits, it's helped us pick up new editors, and the community worked out pretty well. For this, I imagine it would be particularly useful to help promote Magicite Madness and other events that we put on. The Reddit mods are already on board with this, so whether or not we go ahead with this is just up to you guys - and what we do after that depends on how well the Discord merger goes.

So, any thoughts on this idea?
I think it's important that there is a separate private voice channel for our let's plays, but other than that, I don't have any problems with the idea. Also my discord is often open passively like the IRC, so I'd be ok with being an admin, although I've never had that functionality on discord (could probably figure it out fairly easily, though). ScatheMote 21:01, April 9, 2017 (UTC)