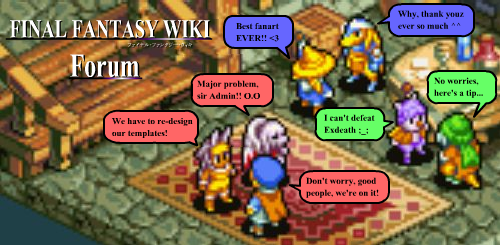 The last time this was discussed, everyone agreed to leave it as it was, but this did not include Bravely Second or what came after - it was instead agreed that we would cross that bridge when we came to it. Bravely Second's release date approaches, so I think it's time to cross the bridge sooner rather than later. This is to discuss whether it is to retain full tier 1 coverage, or reduced to tier 2 coverage (see Project:Scope for details).

Facts for tier 1

The game uses the job system, and each job shares a name, and in many case abilities, with equivalents from the series. It's much the same as what you'd find in Tactics or V.
It also has a world map, party system, and essentially everything from a normal Final Fantasy game other than the combat system.
Every item and ability shares its name with its Final Fantasy equivalent, except for the new things.
The game was published by Square Enix, and is a successor to The 4 Heroes of Light spinoff.
Even the story of the crystals being used to power the world is the same.

Facts for tier 2

The game is its own series, and Square has never stated it is a Final Fantasy game.
It does not contain series staples such as chocobos, gil, or anything aesthetically identical to Final Fantasy.
It has its own art style, although one could argue this is similar to IX.
The scope excludes games such as Kingdom Hearts and Chrono Trigger, which also shares similarities.
Some Color Mage / Talk Contribs / Let's Stream Random PS4 Crap. / 02:41, January 3, 2016 (UTC)
Due to some issues we've had with this discussion before, we're laying down some rules for this discussion.

Do not create a list of your arguments then pass it off as a "fact sheet". If all the facts were on one side of the issue, we wouldn't be having this discussion. If you do wish to make one, it must fairly cover both sides, like Techno has done in the OP.
Do not try to bring in users of another site to help your cause. If you've come here from another site, we do appreciate any opinion you can give, but attempts at another site brigading the discussion will not be tolerated. If you break this, depending on your conduct both here and on the other site, you may be considered to be trying to import drama and eat a block.
We request that anyone getting involved please read previous discussions first. There's no rule against not doing this, but we do not want to be endlessly retreading old arguments.
Keep in mind that this is a fan project at the end of the day, and not an official encyclopedia, so it should be a fan's interpretation of coverage.

So yeah, try to keep the discussion clean, OK?
Discussion

I'm all for keeping things in fewer, bigger communities and larger coverage, but I can not support keeping Bravely Default on this wiki in tier 1 coverage, when it is its own series.

Lots of people have listed the similarities before, so I will list specific ways in which it differs from the series:

Black Mages do not retain the typical Black Mage attire associated with Final Fantasy. This is because it is iconic and Final Fantasy specific. Notice that White Mages do retain more-or-less the attire, because it does not have the same status.
It doesn't use gil, it uses peeg. Specifically changing the currency.
Not a single chocobo, moogle, Cid, Gilgamesh, nothing. Series staples that were purposefully missed out because this is not a Final Fantasy game.
Active time battle is not used.

Now I for one think it's stupid that Square Enix didn't just call this a Final Fantasy game, but they didn't. And I think we should really face facts: this is not a Final Fantasy game, and we shouldn't consider it as such. I say that with regret, because I've always considered it a much better idea to have larger wikis with broader coverage and bigger communities, as opposed to segmenting into millions of smaller ones which struggle to keep up with each other and share infrastructure, especially when it's clear whatever wiki we move Bravely Default content to will start off as a clone of this one anyway.

If they decide to make Bravely Default's world canon, similar to how they put Vagrant Story on Ivalice, in some retcon, I would more than happily welcome it back to the wiki. But I cannot say it should be there now. I strongly suggest adopting a wiki on wikia, moving content to it, and writing a new second-tier page for the Bravely Default series, similar to our

Kingdom Hearts

page.
Votes
Leave with tier 1 coverage
At the moment I'm hesitant to call it "its own series" for one sequel. That aside the game is a Final Fantasy title in execution - while the translation botched some of them, a lot more of the Jobs in the series are FF jobs than is first apparently (the Arcanist is the Magus, to name one), it uses many of the same gameplay and story elements as the Final Fantasy series, it began as a successor to a Final Fantasy title, and the name of the original game was intended to invoke the series with "FF" in it. Now, if a third game comes along, okay, they are definitely making BD its own entity and yeah, let's split. But for now I don't see the problem. DrakeyC (talk) 01:56, January 3, 2016 (UTC)
Its effectively a FF game. That's all I care about. Hexed 01:59, January 3, 2016 (UTC)
Agreed with Drake. Square Enix deliberately invoked Dragon Quest and Final Fantasy elements in its development. Once we know how FF-based Bravely Second is then we can talk about whether it should be split, though imo the original (Default Flying Fairy) should always remain on ffwiki. Cat (meow ∙ hunt) 02:14, January 3, 2016 (UTC)
As long as I am an editor on this wiki and as long as I have fingers to type a # I will always vote for full coverage. --BlueHighwindツ 03:08, January 3, 2016 (UTC)
Reduce to tier 2 coverage
Spiritual successor or not, millions of similarities or not, it's just not a Final Fantasy game.-- Technobliterator TC 01:49, January 3, 2016 (UTC)
Other
I've stated before that I'd rather see Second in English before I pass judgement on it and I'm going to stand by that. I don't really see why we have to do this now instead of waiting - what, a month and a half - and have our userbase more informed in the process. -- Some Color Mage ~ (Talk) 03:32, January 3, 2016 (UTC)