Line 16:
Line 16:
 

2. Move them to the UnFinalFantasy Wiki, which is an attempt to parody FF. We could always link them to the related articles. And I do think the UnFF needs more than just unfunny content.}}

 

2. Move them to the UnFinalFantasy Wiki, which is an attempt to parody FF. We could always link them to the related articles. And I do think the UnFF needs more than just unfunny content.}}

 

{{CSM|14:40, 11 May 2008 (UTC)|I think if conjecture is notable, it should stay in the mainspace. We're not Wikipedia.}}

 

{{CSM|14:40, 11 May 2008 (UTC)|I think if conjecture is notable, it should stay in the mainspace. We're not Wikipedia.}}

 
+

{{BlueHighwind

 
+

|text=Well, the last thing I want is another stupid User Page. All I want are Archives for my Talk and Picture of the Week. You can just flat-out delete my nonsense. It doesn't even makes sense (which totally sucks for FFVIII).

 
+
 
+

How sad that my Nonsense Category did not even make it a week.}}
---
Revision as of 20:00, 11 May 2008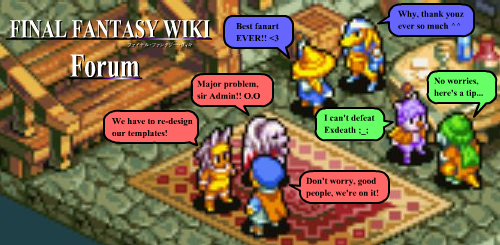 Alrighty, all these silly pages and conjecture pages are clogging up the mainspace. I think you know what the proposed solution is. Move them to user spaces.

This includes stuff like Romantic Arguments, Villain Debates and so on.

And no, a Conjecture mainspace won't be made.
Good. It's about time we organize the mainspace for the FFWiki after three years of existence.
What about the inter-game connection?
We could intergrate them into the game articles. It's evident that we don't have a universal look for the game articles; most of them were copies of Wikipedia's rewritten for an informal look. We could standardize them like we did other pages.

As for the Nonsense and Conjecture, I have two proposals:
1. Move them to userspace according to first wrote or hosted them. Because it's purely evident that some of these conjecture are written from an editor's perspective, or


2. Move them to the UnFinalFantasy Wiki, which is an attempt to parody FF. We could always link them to the related articles. And I do think the UnFF needs more than just unfunny content.

Crazyswordsman

 - Final Fantasy VI, because Drake says he wants to link to FF7 every day, which is bad because that game is so far inferior to FF6.

TALK

- 14:40, 11 May 2008 (UTC)

I think if conjecture is notable, it should stay in the mainspace. We're not Wikipedia.

Well, the last thing I want is another stupid User Page. All I want are Archives for my Talk and Picture of the Week. You can just flat-out delete my nonsense. It doesn't even makes sense (which totally sucks for FFVIII).

How sad that my Nonsense Category did not even make it a week.
Community content is available under
CC-BY-SA
unless otherwise noted.