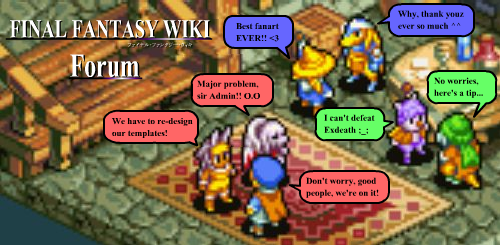 So, a few days ago I talked to Wikia about getting checkuser rights. Their response to me is included below:

Thanks for contacting Wikia. CheckUser is a tool Wikia hands out rarely, and often to our biggest communities and most trusted admins. In both cases, I feel as though you and your community qualify for this. However, it is important for us to ensure the community is on board with this decision, so please start a community discussion that highlights both its purpose and honestly state that it will allow you (or any other admin, we allow up to 3 admins who have that right) to look at sensitive data. If the community is on board, Community Support will review the list of possible admins and ensure that we have a high enough level of trust in these users to give out that right.

So, I'm making a forum to make sure I have the go ahead from everyone to get checkuser rights to stop sockpupptry in MM3. If any other admins want to make a case as to why they should have checkuser rights, then feel free.


I'm confident that our admins will use it properly, so I support.
I don't know why they can't just make it a bcrat right. Even if on a per-wiki basis, it would surely make more sense. Up to 3 admins? Why?*(I know Scathe isn't a bcrat (yet))
Scathe is probably our most trusted user, in tandem with being involved with the thing we most need it for, of course I support him having checkuser. JBed (talk) 10:08, July 16, 2013 (UTC)

I would support Scathe having the rights as well. It's been an issue in past fights (as well as with the FA and vandalism), so it will be useful both for MMIII and afterwards. There's not really a need for anyone other than Scathe to have it, I think, given that sockpuppetry is seldom something that requires immediate action.

I don't see a problem with it, so I will throw my support for it.

Fully support, though I have to ask whether a single admin is enough to manage the possible sockpuppettry during MM3. I know socks aren't that much of a problem normally, but the tournament itself is supposed to last for months, so perhaps we should appoint somebody else besides Scathe? I volunteer.

Support, will also be useful if needed for the DNC and will be helpful with the mainspace.

I support Scathe and would support Fae as well. This is a useful tool for this wiki, and both users are respected and trustworthy enough to have it.
TacticAngel TALK
00:25, July 17, 2013 (UTC)
I am quite alright with Scathe having this right for the purposes of overseeing MM3. I understand why Wikia does hand out this stuff like candy, and I would also be perfectly OK with having them turn it off once the competition is over. We have certainly survived without it up to this point.

For the most part, it has limited usefulness, and it is arguably easier to abuse than to find useful information. For example, there are users on this wiki who have proven they are capable of using technology to shield their identity, to get around bans, and to continually violate our policies. Even knowing who these people are does not always allow you to compel better behavior.
Community content is available under
CC-BY-SA
unless otherwise noted.