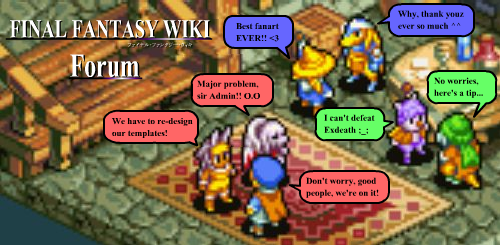 Hello, its been about a year (omg almost exactly a year) since the first forum topic was created regarding the canonicity of Bravely Default, and I think it is pretty valid to bring the discussion up again now, considering that Bravely can now probably be considered a legit series (Bravely Second (Game), for those not in the loop) by itself.

My contention is not that BD has no place in this wiki (or maybe it is), but that it really does not fulfill any of the criteria that qualify Tier I status in our scope. In other words, if we are to give it coverage, the reasoning to do so needs to be substantiated within our scope. To begin with, none of the criteria are even strict, but are at least constructed without being too vague. Let's examine.

1. Is an officially developed release with "Final Fantasy" in its title.

Negative. This is clear as day.

2. Is an officially developed release set in the same universe as another release with "Final Fantasy" in its title (such as Vagrant Story).

Negative. Luxendarc does not reference 4HoL or any other FF title.

3. Is an officially developed release that is based around an element that was birthed in the Final Fantasy series (such as Chocobo Racing).

Some argument may be made on this point. One might argue that the job system was birthed in the FF series, but the truth is, having character classes is itself a classic RPG convention - which is the reality of the situation. You could call it by any name, but it would still fundamentally be a class system. Crystals are not unique to FF, and certainly did not birth in the FF series, although they are prominently featured.

Some clarification may be required on what exactly "an element that was birthed in the Final Fantasy series" then is. Given the example of Chocobo Racing, it would seem to suggest distinct elements that are instantly recognizable with Final Fantasy. Chocobos, Moogles and Tonberry come to mind, and is what I believe is the true interpretation of what this 3rd point is supposed to be.

4. Any port, update, or remake of any of the releases that follow either of the previous three criteria.

Nope.

..if BD doesn't qualify on those 4 points, then what exactly is it that is keeping it in Tier 1 status? That is what puzzles me most. To be honest, I look at Tier 2 criteria and I don't think it even qualifies that.

1. A Square Co., Ltd. or Square Enix developed or published series or title related to the Final Fantasy universes through the inclusion of Final Fantasy icons or characters.

There are no Final Fantasy icons or characters in BD. Crystals are not iconic enough to signify a relation to the FF universe. Countless RPGs use the whole crystal/magic stone convention; if this is the only connection to the FF series, then it is not sufficient because it is not a conclusive indicator.

Tier 3 isn't relevant because its fandom, or maybe it is. Spiritual successor can mean a lot of things, and the line is blurred considerably because it is Square Enix that produces both games.. but lets take a more clear example. Xenogears and Xenosaga - Xenosaga is clearly a spiritual successor to Xenogears, taking so many concepts from it that it is impossible to dissociate the two. But no issue of canonicity exists because well, officially it is not possible to be canon - they are produced by different companies.

Before I digress, my point is that the scope is very specifically drafted, and the only thing that BD is remotely clinging on to for full-coverage or partial coverage is its supposed canonicity.

Kingdom Hearts, which can establish a clear connection with the FF universe (and depending on how you want to construe "elements birthed in FF" could easily qualify for Tier 1) is only Tier 2. I personally see no reason why BD, which cannot establish any clear connection with the FF universe would then be Tier 1, or within the scope at all.

Once again I iterate that this is a growing issue, because BD is now a series (which by the way show clear continuity with one another), and should it grow further, would only serve to dilute the focus of this wiki even more. On a personal level, I really don't care either way because i will never touch BD articles on this wiki anyway, but it is policy concern because its existence defies our scope entirely - and what point is there in the scope if we don't follow it?

EDIT: to add, and to address any question of "how is this different from 1 year ago?", BD was released worldwide under the name Bravely Default: For the Sequel (its a wtf name i know), which is relevant because the argument that its former subtitle (Flying Fairy) was an allusion/reference to FF is no longer valid; it's not even there anymore. Similarly, Bravely Second doesn't have a subtitle. The Flying Fairy -> FF reference might have been a psychological crutch for people to think it was FF related to try it, but clearly it wasn't important enough to keep, and an allusion is merely an allusion until you can prove anything from it, and no one can.
Once again, I disagree, and I still think it belongs under tier 1 for reason 3. Specifically:
A "job system" isn't just any class system as you say, but a class system in which the class can be changed to any unlocked class fairly freely, that draws most of its classes from a very distinctly Final Fantasy set of classes, many of which have an identity that is consistent from game to game and is distinct from generic fantasy. Neither Kingdom Hearts nor the Mana series have a true job system. I defy you to find one commercially published game that meets all of the criteria I have listed for having a job system, but is not a Tier 1 covered game.
Spells. Most of the game's spells are identical to classic Final Fantasy spells in both name and effect. 100% of white magic, 100% of black magic, and 89% of time magic are taken directly from other Final Fantasy games. Moreover, most spells are in the particular category that they are usually found in elsewhere in the series. Kingdom Hearts can't claim that. The Mana series can't even begin to claim that.
Other abilities. Again loads of them are taken directly from the rest of the series.
Items. Every single healing item is taken from the Final Fantasy series, both in name and effect. Over half the battle items are taken from the Final Fantasy series, in name and effect. Many of the weapons, armor, and accessories are taken from the Final Fantasy series in name and effect. Again, neither Kingdom Hearts nor the Mana series can claim this.
I believe that not only is Bravely Default worthy of full Tier 1 coverage based on the above listed elements, but it is actually closer to the main Final Fantasy series than some of the other Tier 1 games; Chocobo Racing comes to mind.
Oh, and while I was confident that they would change the title to include the name "Final Fantasy" when they translated it (ala Chocobo's Dungeon getting the "Final Fantasy Fables" title) and was rather surprised when they didn't, it wasn't a pivotal factor in my decision. I was expecting Square-Enix to lack confidence in the English-speaking commercial viability of their non-Final Fantasy titles--most of them have failed, after all--and change the allusion to an inclusion, for marketing purposes and I'm curious as to why they didn't. They have leaned on the Final Fantasy name rather heavily in the past, to the point of rebranding the early SaGa games as "Final Fantasy Adventure". I can only speculate that they really did feel that they had damaged the Final Fantasy brand with their recent problems and no longer could rely on it to get sales rather than lose them. But who knows? Hashmalum (talk) 09:40, December 11, 2013 (UTC)
Chrono Trigger has same/similar names for magic as FF and items and is not covered by us at all. Tactics Ogre has basically the same jobs as the Ivalice FF games and we don't cover that. I think these kinda things could be seen as Square staples rather than strictly FF staples. Bravely Default should have its own wiki if it's becoming a self-contained series.Keltainentoukokuu (talk) 12:10, December 11, 2013 (UTC)

Pretty tricky. I'm divided: on one hand, it's much more FF-esque than some more recent FFs, but on the other it's completely different setting: the summons are not even the ones from FF and the Orthros boss is not the woman-loving purple octopus, but a two-headed devil dog which actually lessens connection to the FF series. If we want to create wiki for that series I think [bravely.wikia.com] would be best as 'bravely' is the common word in all three currently known games. Despite not owning 3DS and Bravely Default I'd be actually happy to maintain that Wiki so it wouldn't fall into ruin (after watching so many walkthrough videos of BD and loving every single one of them it would be shame if its Wiki turned into a waste bin of randomness and ads).—Kaimi (999,999 CP/5 TP) ∙ 12:29, December 11, 2013 (UTC)

I think Kelt is pretty on point with the notion that the things being put forth as FF staples really are Square staples. I think its also important to note that saying something like "100% of white magic, 100% of black magic" is quite misleading because most of the white and black magic are also present in T4HoL, which BD is a spiritual successor for anyway. In some instances I would hesitate to say 'successor' so much as 'we got lazy to come up with new names so we're just going to use the ones from the last project we made'. On this point, where we've seen how many of these spells/abilities/items appear in other non-FF games, the ones that are consistently exclusive to FF are notably missing from BD. None, or should I say, 0% of the 6 summons are from any FF universe.. and that to me is extremely telling.--Arciele Spira (talk) 06:32, December 23, 2013 (UTC)
I wholeheartedly support shifting all our content to a Bravely Default wiki. We could weasel our way into giving it second-tier coverage due to its apparent official spiritual link to T4HoL and (which itself is pseudo-spiritually linked to classic FF). 2.102.230.70 15:45, December 11, 2013 (UTC)
I have seen news articles noting that Bravely Default actually has some bosses from 4 Warriors of Light. here. I haven't played either game, so I don't know how significant it is.
On another note: fuck Final Fantasy. Lightning Returns is refried shit. Bravely Default is something new. Our wiki is based around no concept other than branding. It is shameless. Fuck the brand. Fuck Square Enix. I've been tired of their bullcrap for years now. --BlueHighwindツ 20:03, December 11, 2013 (UTC)
I think those bosses are the 4 Heroes of Light equivalent of the Four Fiends. The 4 Heroes of Light is like a re-imagining of the original Final Fantasy, with time travel and a time loop being maintained by a demon called "Chaos" who sends four lesser demons, the "four fiends" to the world to corrupt the world, but a magical sentient crystal chooses to grant its power to four warriors who become the Heroes of Light... It's not really clear to me whether the storylines of the two games are in any way linked, or if the connections are just homages because they are being made by the same team for a similar audience.Keltainentoukokuu (talk) 20:28, December 11, 2013 (UTC)
After playing it for myself, I wholeheartedly agree with Hashmalun. The level of FF referencing in spell/ability/item lists goes far and beyond what would be considered normal for Square. It would be considered typical for them to share a few things between games. However, to see near identical lists of things and to blow it off as "Oh, SE does this all the time!" is ridiculous. -- Some Color Mage ~ (Talk) 05:51, December 16, 2013 (UTC)
If Bravely Default is said to be a sequel to a Final Fantasy game shouldn't that be enough to keep it here anyway? Everything else has been said already so I'm keeping this short. Tia-Lewise

18:03, December 16, 2013 (UTC)
It's not a sequel to a Final Fantasy game. JBed (talk) 19:17, December 16, 2013 (UTC)

A successor then. And if that's wrong, then "Although the game has an original title, it is considered a spiritual successor of Final Fantasy: The 4 Heroes of Light, a "gaiden" or "spin-off" of the main Final Fantasy series, by its creators" needs removing from the article.

Tia-

Lew

ise

19:20, December 16, 2013 (UTC)

Yeah, and giving first-tier coverage to a spiritual successor that had "Final Fantasy" in its title would be fine. Except they specifically decided to not call it "Final Fantasy". Giving it a page and mentioning on parents, as part of our second-tier coverage, should be acknowledgement enough for our wiki. Second-tier coverage means we cover it for how it references Final Fantasy rather than how it is Final Fantasy. JBed (talk) 19:24, December 16, 2013 (UTC)

Oh, I'm not saying it deserves to be first tier, I'm saying that to some degree it should be here in some way.

Tia-

Lew

ise

19:32, December 16, 2013 (UTC)

Ok, I gave this some time for comments to come in. Evidently there are supporters on both sides.. or maybe 3 sides. Keep as tier 1, keep as tier 2/3, or move it all over to Bravely Wiki. (EDIT: 2nd and 3rd outcome actually do give the same effect, so its 2) Given that there is no consensus, maybe we need to take a vote? I don't suppose we have an arbitrator or judge... so here goes? bottom of page --Arciele Spira (talk) 04:02, December 23, 2013 (UTC)
(because my revert reason is too long for the summary) Spira, I have the game. On the start screen, you select a save file and the subtitle clearly appears. And it has to be there due to something the game does on the bad ending path. Don't make me set up Miiverse just to take one bloody screenshot of the title screen. You did not say anything about the published title in your little fact sheet, and in-game allusions are just as important as ones in the published title so don't hide something on a technicality because it hurts your case. -- Some Color Mage ~ (Talk) 22:19, December 25, 2013 (UTC)
I don't have the game anymore. Go ahead, screenshot it.. in fact, take a video to show clearly how and when the game's subtitle pops up. It's supposed to help your case no? Whatever it is, it's not immediately shown in the title screen. you need to do something for that to happen. I removed the additional comment because I didn't want to edit it, but if you insist that it is in there, then I will. You do not add conjecture into a fact sheet - only display the evidence, and let people decide. You cannot say 'this is an allusion' on a fact sheet because you cannot prove an allusion on a balance unless the devs in this case have outright declared 'hey, Flying Fairy is named that way because FF is the same initials as Final Fantasy', which they haven't done. Allusions are subjective based on what each person thinks. For example, why is Flying Fairy an allusion to Final Fantasy? Why can't it actually just be an important Flying Fairy that appears in game? Why isn't Rinoa Ultimecia? You can choose to believe what you wish to believe - you just cannot prove it. No one is saying that in-game allusions are not as important as a published title - it's just that you don't know what a fact is. Substantive. Objective. No arguing required. Adding a point to show that Flying Fairy is no longer in the title actually strengthens my position btw. In any case, I've edited it to give more clarity for your benefit.--Arciele Spira (talk) 05:30, December 26, 2013 (UTC)
A Wiki Bravely Emerges!
Alright. I just created a Wiki for it: Bravely. I thought that "Bravely Default Wiki" wouldn't be a very good naming idea since it's possible there's gonna be Bravely Third, Bravely Fourth, and spinoffs to those, I guess. If anyone wants to dump articles there, please do so. If anyone wants to tinker with coding, then please ask me there about giving you admin rights (people with admin rights or higher can edit MediaWiki, right)?—Kaimi (999,999 CP/5 TP) ∙ 16:11, December 11, 2013 (UTC)
>mfw: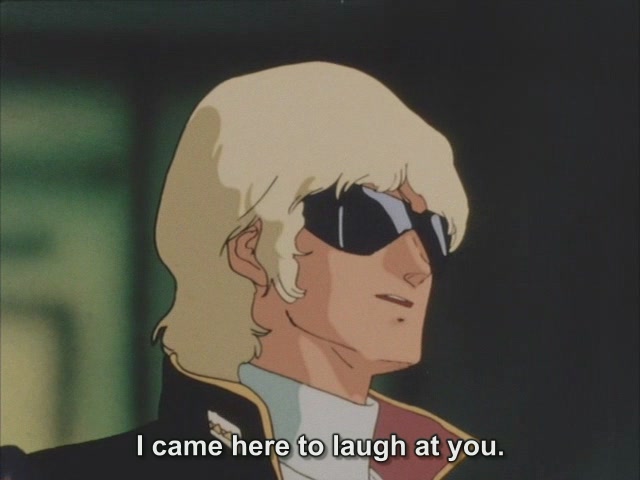 Kaimi, do you know what happened to the Dissidia wiki? Neither do I, I think it's dead because making a wiki to cover just one game in a larger series is fully retarded. And you just went full retard. User:R8.50Mango/Sig2 08:44, December 23, 2013 (UTC)
not sure if retarded or silly to compare Dissidia with Bravely. Dissidia was a special project that deliberately draws from characters, places, themes and objects across the series to celebrate it. Apart from its battle system and Cosmos, you'll be hard-pressed to find any true original content to begin with in Dissidia and Duodecim. Only the opposite is true about Bravely. From the very beginning Dissidia had more ties to other games than it does to itself, which is why it made more sense for it to belong here. Besides, dead wikis are only dead because people choose not to contribute to them, something which I'm sure you're quite familiar with anyway. What Kaimi did is but the first step in an eventuality - its really just a matter of when it happens. Also, Bravely Default + Praying Brage + Bravely Second is 3 games, not 1.--Arciele Spira (talk) 13:03, December 23, 2013 (UTC)

Catuse

says

at 02:10, December 27, 2013 (UTC) "Somewhere a

zealous god

threads these strings

between the clouds

and the earth, preparing for a

symphony it fears impossible to play

. And so it threads on, and on, delaying the

raise of the conductor's baton

."

(switching to talk bubble because I expect this to be a fairly long text wall)

Let's take a moment to step back and think about why the FFWiki exists. You could argue that FFWiki exists because we all have too much time on our hands, and you would be right, but more importantly, FFWiki exists to help people who are playing a certain series of video games developed by a certain developer. All of our policies, even purely bureaucratic ones like "don't remove content from talk pages", are meant to facilitate this goal in one way or another. We don't cover Sleeping Dogs because it has nothing to do with Final Fantasy, and we don't cover Endless Nova because it wasn't developed or published by Squaresoft/Square-Enix. Per the scope:

Final Fantasy Wiki is a wiki and the open nature of a wiki forces us to restrict what kind of content belongs here. There are plenty of good wiki sites for all kinds of information on games but this wiki specializes in the Final Fantasy releases and those related closely to it.

Obviously there are borderlines, otherwise we wouldn't even be having this discussion. Super Mario RPG, Kingdom Hearts, and Dragon Quest have ties to Final Fantasy that most other Square games don't, but they have other fanbases, who can write their own wikis.

For Bravely Default, this is completely different. Without fans to become readers to become writers, there is no point in even having a wiki. While I'm willing to help set up a Bravely Wiki, as of right now, that place looks like it isn't even going to burn in Hell and die like the Keyhole did (do any of us miss that place? I sure don't), it's just going to slowly rot away like the corpses of all the goblins you kill in BD (or like the Dissidia Wiki, which like Mango expected, never even got off the ground). Bravely content has every reason right now to be propped up by the FFWiki. It's not like it's harming us in any way to give it Tier I coverage, as the original Bravely Default is on the borderline between having enough allusions to justify it being labeled "Final Fantasy" (otherwise we wouldn't be having this discussion for the third time).

And once Bravely Second is released, and Praying Brage becomes a bit more accessible to the English speaker (remember, we cater to the English userbase), and once Bravely Default gets a fanbase of players willing to take care of its content, it shouldn't be much work to drop it down to Tier II coverage, or to keep the original in Tier I but exile the other Bravely spinoffs if we decide they don't have enough in common with Final Fantasy, and move the damn thing to the Bravely Wiki.

Having watched an LP of the first hour of the game, I personally feel that Bravely Default (though not Praying Brage or Bravely Second) should permanently stay with complete coverage on FFWiki. But others obviously disagree, and probably the best way to sort this out while still keeping content with the best quality we can make is to compromise, which is pretty much what I'm suggesting here.

Also, with regards to the fact sheet:

In accordance with the scope, the quality of a game has no bearing on whether coverage is given or not.

This is just a jab at BH, whose point isn't even that Bravely Default is better than Fabula Nova Crystallis, but that it has more in common with old-school Final Fantasy than it.

while i see a valid point in everything you said, i do not agree entirely, and would expect a few others to be the same. you are partly suggesting that BD can stay here because we are basically doing charity until it has a strong reader/player base and it can't afford one yet. Why is Square wiki not a better foster home? and in the first place, you cannot just 'per the scope' one game and then 'oh this one is an exception' another - the scope should apply blind and fair.

because there is no reason why anyone should decide on anyones behalf, it is for this reason I had put the issue to a vote, which should at the very least lay the issue to rest until further developments in the future come to light. I can't say the same for everyone here, but I would respect the power of the vote, because its outcome was determined by majority through consultation with the wiki (which is apparently run pretty democratically) and not just one or two people, who do not by any reasonable right have a bigger say.

additionally, this is also because the outcome was never formally decided in the first debate of BD's canonicity, and people just proceeded to add stuff here, much to DSS's ire.

finally "This is just a jab at BH, whose point isn't even that Bravely Default is better than Fabula Nova Crystallis, but that it has more in common with old-school Final Fantasy than it."

You can call it a jab at BH if you want, but that does not make it any less of a valid point. I agree that BD has more in common with old-school FF than FNC by far, but that is wholly irrelevant to it placing within the scope. One would do well to keep the two issues separate.

Catuse

says

at 08:24, December 27, 2013 (UTC) "Somewhere a

zealous god

threads these strings

between the clouds

and the earth, preparing for a

symphony it fears impossible to play

. And so it threads on, and on, delaying the

raise of the conductor's baton

."

Alright, then:

Square Wiki is dead. I guess we could throw the problem at SEIWA, but I doubt they'd appreciate us forcing them to do work for us, and moving Bravely content to SEIWA kind of precludes having a Bravely Wiki on Wikia, because the whole point of SEIWA is that it's not on Wikia.
You have a point about the Scope; I figure I'm more inclined than most to make exceptions to policies, and disagree with a lot of people when it crosses the line between common sense and Chaotic Stupid.
If a forum thread dies without going anywhere (and that one did) then it's silly to not keep doing things as we already are; if DSS was aggravated enough, he was welcome to keep the original forum moving until we reached a real agreement. But that's going into semantics of wiki policy more than what we're actually discussing here, which is what to do about Bravely games.
But Bravely Default having a lot in common with the original Final Fantasy brings us right back to where we started, which was Hashmalum's argument about the third point in the Tier I Scope, at least for Bravely Default.

i honestly couldn't care if Square wiki is dead - the question at hand was rather how it suddenly became our duty, and not someone else's to foster a wiki community for a new Square-Enix game series. Or the idea that there's a need to foster a wiki for a new game. To be sure, no game actually needs a wiki.. but if no one wanted to contribute here this discussion wouldn't exist. But we are digressing from the focal issue, which is of Bravely's presence and not wiki existentialism.

Common sense really isn't that common, and I wouldn't say it was silly to not keep doing things as they were.. it was simply more practical. I don't know why the old thread turned out the way it did, but I suppose in starting a new one we can "officially" come to a resolution here, so that everything is clear.

The other issue that really should be discussed at some point is the slight ambiguity that exists in condition #3 in the first tier of the scope. "based around an element that was birthed in the Final Fantasy series" could do with a few more examples of what does and does not qualify. however, i am unaware of the process, if any, that exists for reviewing or changing the scope, and would be grateful if someone would enlighten us. anyway, i suspect we'd take a longer time to figure that out than to just decide what to do with Bravely for now, so this is probably the best step forward.
Fact Sheet
Useful points to note before casting your vote. --Arciele Spira (talk) 08:24, December 25, 2013 (UTC)
Bravely is referred to as its own series by its developers.
Bravely currently has 3 games - Bravely Default, Praying Brage and Bravely Second. The producer aims to release one Bravely game each year.
The international title for BD is simply Bravely Default, and the Japanese title for its updated version is Bravely Default: For the Sequel. This removes the words 'Flying Fairy' from the published title, as well as marketing material.
The original subtitle does appear in game, translated as 'where the Fairy Flies', with the Fs capitalised.
In accordance with the scope, the only reason why BD is still within tier one coverage is because it "is based around an element that was birthed in the Final Fantasy series".
No common ground can be established as to what these elements are. The dividing question is: Are they FF elements or just RPG tropes? .
At present, in-game allusions to the Final Fantasy series are found mainly in Bravely Default. It is not known how much the other 2 games allude to FF.
Regardless of the outcome, BD will still have a presence on this wiki - it will either be full or minimal (likely just one page) coverage due to its connection as a spiritual successor to T4HoL.
The canonicity of Bravely Default does not automatically extend to Praying Brage or Bravely Second - they are subject to the scope accordingly.
In accordance with the scope, the quality of a game has no bearing on whether coverage is given or not.
Vote
What level of coverage should we give Bravely Default? (Bravely Default refers to the game itself, and not the Bravely series)
-voting will close after 7 days of non-activity from the last vote-
Keep as Tier I
Per Hashmalum's wall-of-text in the original thread, as well as what SCM said

C

 

A

 

T

 

U

 

S

 

E

 04:58, December 23, 2013 (UTC)
I'm quite certain my opinion has not changed. If Bravely Second ends up feeling way out of scope, then maybe I'll agree with low coverage of the series, but I have no problems with BD being here in full. --

Some

Color

Mage

~ (Talk) 06:18, December 23, 2013 (UTC)
Made by Square and is obviously a spiritual successor to T4HoL, if not FF as a whole. That's good enough for me. --

S

h

i

r

u

b

a

K

u

r

o

n

o

  08:32, December 23, 2013 (UTC)
It feels so much like a FF game, plus it's the spiritual successor to T4HoL, a lot of the spells are similar (Even though the summons are not) and it does FF allusions. Plus it's original subtitle, Flying Fairy, abbreviate to FF... TMG- Why? (talk) 17:09, December 25, 2013 (UTC)
I agree with SCM at the moment; lower coverage is probably only necessary if it does end up branching out.

Tia-

Lew

ise

17:16, December 25, 2013 (UTC)
Yeah, SCM has me convinced. The least we can do is wait and see where it goes. Lord Grammaticus (talk) 00:42, December 26, 2013 (UTC)
Keep as Tier II/III
(ie. move existing Bravely Default articles to other wiki)
Conclusion
This has stagnated for a week, so we're ending this now. The people who want this game to stay tier 1 outnumber the rest 2:1 so everything's staying as is. This does not automatically include Bravely Second but we'll cross that bridge when we come to it. -- Some Color Mage ~ (Talk) 01:09, January 4, 2014 (UTC)
Community content is available under
CC-BY-SA
unless otherwise noted.