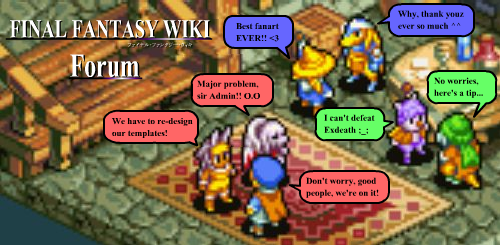 so since it has been out for a couple weeks, and since people have probably beaten it multiple times by now. I wanted to ask what was your final job class /party configurations? mine is
tiz: monk/pirate
agnes: spiritmaster/white mage
ringabel: vampire/salve-maker
edea: dark Knight/ templar
Terderrer (talk) 08:26, February 26, 2014 (UTC)

Pikmin Master

 - No matter my strength, I will still be loyal!

TALK

- 22:25, February 27, 2014 (UTC)

Oh, here we go!

While I haven't beat the game yet (mostly out of excessive grinding and finding out which classes work together, I've come across what I think may be my final configurations.

Tiz: Knight/Templar From the beginning, Tiz has been the tank of the party, leveling in classes that feature supports related to P.Def and M.Def auch as Spell Fencer and Spiritmaster. Especially now that I figured out what Ringabel's secondary would be, sticking to Knight as Tiz's primary would benefit the whole party considering the rest of them are a bit squishy.

Anges: Spiritmaster/White Mage I wasn't sure if I even should give Anges the Spiritmaster especially since I already maxed Black Mage and White Mage (and got a lot of levels as a Summoner and Arcanist). But ever since I got the Vampire job (and subsequently got every move for it as I always do for games with Blue Magic), I pretty much don't really need elemental magic and Aeroga is fine as it is for an attack, so might as well let Anges be the healer.

Ringabel: Pirate/Dark Knight Ringabel is the team powerhouse. Ringabel's been leveling on Monk for quite a long time, but I wasn't sure what would the final classes would be since Edea as Ninja/Ranger pretty much outdamages Ringabel as anything. I even delved into support classes such as Performer, but while it's nice to have buffs, it just doesn't suit him. So I got the Pirate job and made it his primary from then on. And the moment I got Dark Knight, I figured "Yep. Perfect." Dark Knight's moves compliment Pirate's natural ability and Tiz can take hits for him, so having two powerhouse jobs and the Ninja's Dual Wield just screams major damage. Heck, the Pirate's Torrent almost never does less than 9999 damage.

Edea: Ranger (or Ninja)/Vampire Edea is currently what TVTropes would call a "Lightning Bruiser". I've got a good Abilink character early on, making Edea effectively have several maxed jobs, including the Ranger. Also early on, I had Edea level as a Thief to get some speed and use a Bow for damage. Since then, getting the Ranger makes total sense (although ironically, Bow Ranger does less damage than Bow Thief for some reason.) And ever since the freaking Demo, I knew how awesome the Ninja job would be, so my ideal combo would be Ninja/Ranger, singlehandedly killed the Dragon bosses for the Vampire job. But since the Vampire is AKA the Blue Mage (and I love the Blue Mage class) and I could abuse Brave x3 > Magic Thirst > AOE elemental attack x3 to KO almost every common enemy AND the moves come out of P.Attack, why not have my speedster use it to make grinding super easy. Combo with the Ranger for primary for the benefit of Bow Specials coming out of exploiting enemy weaknesses (and higher STR than Vampire) and I pretty much got the ultimate sweeper.


EDIT 02:17, March 13, 2014 (UTC): Now that I maxed out my jobs and levels, might as well rethink my class combo:

Ringabel: Pirate/Swordmaster Turns out having the Dark Knight subclass gives me little to actually do, so I'm giving him the Swordmaster's move Free Lunch, which makes the Pirate's 4x power move use up no MP (compared to half total MP), therefore making said 4x power move deal around 9999 damage without wasting 2BP doing Torrent.

Edea:

Ranger/Spell Fencer (or Vampire)

The idea for Edea now is to do as many attacks to exploit weaknesses as possible to ready the Angelic Pillar Special faster (to which I renamed "Bloody Sunday", after Twitch Plays Pokémon). And if that's not an option, I still have the Drain and Aspir Sword (bow) magic to support herself.
Community content is available under
CC-BY-SA
unless otherwise noted.