m

Line 6:
Line 6:
 

EDIT: Also there is no AP.

 

EDIT: Also there is no AP.

 

[[User:Hieuxinhggai|Hieuxinhggai]] ([[User talk:Hieuxinhggai|talk]]) 09:17, December 28, 2013 (UTC)

 

[[User:Hieuxinhggai|Hieuxinhggai]] ([[User talk:Hieuxinhggai|talk]]) 09:17, December 28, 2013 (UTC)

 
+

{{TA|15:58, December 28, 2013 (UTC)|Having not played it on either iOS or Android, are the stats the same on both versions? I would assume they are. We could just change it to say mobile or Android/iOS.

 
+
 
+

Maybe we can argue about if Android should come before iOS. I think it should, alphabetically and by install base.

 
+
 
+

Cheers!}}
---
Revision as of 15:58, 28 December 2013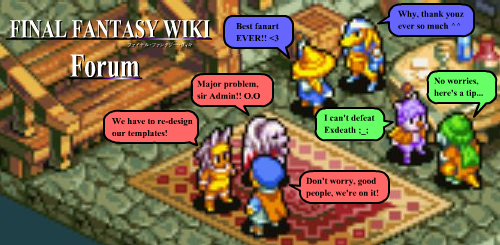 I cannot add Android on Final Fantasy Dimensions monster pages by editing. There are "mobile, 'iOS" but no "Android". I can't even change iOS to something else. Can somebody add it, or at least tell me how to. EDIT: Also there is no AP. Hieuxinhggai (talk) 09:17, December 28, 2013 (UTC)
TacticAngel TALK
15:58, December 28, 2013 (UTC)
Having not played it on either iOS or Android, are the stats the same on both versions? I would assume they are. We could just change it to say mobile or Android/iOS.

Maybe we can argue about if Android should come before iOS. I think it should, alphabetically and by install base.

Cheers!
Community content is available under
CC-BY-SA
unless otherwise noted.