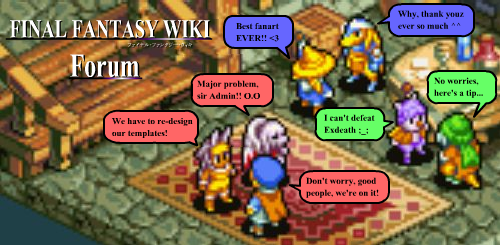 I will just get this out of the way first: please, please,

please

don't complain to Diablo about this. She doesn't want to be bothered by the wiki anymore, and I think the situation can be resolved without contacting her.

So following on from the Staff discussion, Diablo has made a decision about promoting another user to bureaucrat.

That user is...me.

I confess I'm not really sure what to do about this. I suppose this promotion and TA's comment in the last forum means I have the support of the two existing bcrats, and the other admins I've talked to seemed positive about it. Whether the general wiki community supports me is another question. I still think Scathe would make a better bcrat, so I can promote him, and then demote myself (assuming we only need one extra bcrat). However, I'd like to talk to TA personally first, as well as getting the opinion of the community in general.
No. We don't need the opinion of Diablo, we just need her to promote Scathe on consensus. What is even up with that? JBed (talk) 12:29, July 30, 2013 (UTC)

I must confess, between you and Scathe, I think either of you makes a satisfactory and trustworthy BCrat. If you or others decide to approve of you promoting Scathe and demoting yourself, very well, but I'd be perfectly fine if you just kept the power.

Jonny, I think you misunderstood my post. To clarify, I am saying that I

already

asked Diablo to promote Scathe. She promoted me instead, and now I am enquiring as to what the community wants done. To wit:

Do the community and TA want me around as a bcrat?
Does the community still want Scathe as a bcrat?
In addition or replacing me?

It seems like you're suggesting that we ignore the new development and what the two existing bcrats think, but I'd like to see if there is any change in opinion first. Also, I don't really want my only act as bcrat to be defying both of them without even the courtesy of asking what TA thinks.
Some Color Mage / Talk Contribs / Let's Stream Random PS4 Crap. / 12:44, July 30, 2013 (UTC)
Quite honestly, I've been trying to keep out of this mess, but Yuan poked me to give an opinion, so, meh, here I am. To me, the problem isn't "We want Scathe as a bcrat", but "We want a backup bcrat". It doesn't matter who, as long as they are easy to contact and know what they are doing, which Yuan does. And so is Scathe. So it doesn't really matter which one of you two, or even both of you, are bcrats.
I'm completely fine with having both Yuan and Scathe as additional bcrats.--Sove 12:50, July 30, 2013 (UTC)
Of course it matters that Scathe is made bcrat. The community chose Scathe and votes for Scathe. It's only half about a backup bcrat due to TA demonstratably not following the community, the other half is about Scathe being bcrat as per the staff discussion. JBed (talk) 12:55, July 30, 2013 (UTC)
Well excuse me for seeing the more important part as being more important. It really is irrelevant who it is doing the job as long as they do the job well. We just went with Scathe as he was the first person who fit that was suggested. --

Some

Color

Mage

~ (Talk) 12:58, July 30, 2013 (UTC)

But following that situation, what would make you think that just-Yuan would be more desirable than just-Scathe? I also think you are trivialising the reasons people picked Scathe. JBed (talk) 13:34, July 30, 2013 (UTC)

Oi, take those words out of my mouth. I am not implying in any way, shape or form that either of those three outcomes are more desirable than any other. The desirable outcome is one that works. Funnily enough, all three will. As for trivialising the reasons? Tell me what the reasons the people have given, considering you spent some time earlier on the IRC quote mining me and Yuan. A quick search of the August 2012 discussion shows that very few people could articulate a reason why Scathe should be promoted aside from attitude and activity, both of which are not unique traits. And quite frankly, there's a lot of white noise and "well, we already agreed that he should be bcrat" in the most recent discussion, with the only added reason being that he's been leading a few wiki projects recently, which isn't exactly what I'd consider a reason for bcrat. --

Some

Color

Mage

~ (Talk) 13:44, July 30, 2013 (UTC)

:) -- I looked back at the thread where Scathe first got consensus to look for those who were part of the consensus for a new bcrat. Rather gloriously, both of your statements were the clearest against it. Let's be honest: I know opinions can change, but I'm fairly sure I didn't hear too much dissent this time around, just that TA is not that active (/other reasons) so we need a new one. But now, now Yuan is already a bcrat, and we wanted Scathe, where's the problem in two more bcrats? That's not just opinions changing, that's a complete change of heart from everyone in a short space of time.
Especially when you consider that the idea of "having enough mods" wasn't dispelled too long ago, and the idea of "having enough admins" still holds true, unless the promotion of three this time changes that.
I'll say one thing about Scathe and declare myself out. I don't think we have any perfect user for the bcrat role. It was Scathe and no one else when he was more actively editing, but I am only behind him now because it's a continuation of previous support, an easy choice to get people behind, and because it's someone. Ah, you got me. THAT SAID, his work in the LP and other events do go to show he commands respect and takes a leading position. Role of bcrat is to help run things, follow in consensus (and assist in getting consensus). It also carries the burdens of being the guy to go to, and being seen as a spokesperson of sorts --Scathe's the best we have. JBed (talk) 14:59, July 30, 2013 (UTC)
I am perfectly fine with Yuan being bcrat. She was not the community's choice, true, but I doubt you will find many in the community who object to her. I would certainly wholeheartedly support her subsequently promoting Scathe, as in principle the issue of noncompliance with consensus currently remains, but it's not necessary. As to whether she then demotes herself, that is entirely up to her. Ultimately, the important thing is that Yuan is someone I trust to make sensible decisions on the matter -- Sorceror Nobody 

13:33, July 30, 2013 (UTC)
I was invited to comment in this thread, so I will do so. Who am I? Not important. I got multiple things to say here. Diablo promoting Yuan when asked to intervene re: the whole Scathe thing (sorry for such a informal name. Would Scathegate be better?)...yeah, what is up with that? I could ramble a bit about my feelings on this coming about, but that isn't what is important and would probably have Diablo and her friends mad at me. I do personally feel that both Yuan and Scathe can be trusted with Bcrat powers and would be OK with both having them, just in case. The problem here, I feel, is the fact that Yuan wasn't voted to be a Bcrat, so her becoming one due to...whatever is going on there might rub the userbase the wrong way. Not because it's Yuan specifically, but because it isn't something they decided, and there was a big deal made about community consensus and all. (Looking back, Yuan wasn't even nominated. Which is rather bizarre in of itself, but that isn't here or there) But yes, give Scathe the promotion that was decided, and if Yuan wants to hang on to hers just in case, that's ultimately her choice (a "backup bcrat" might come in handy though). I probably said something that was said like three times or something extremely stupid, so sorry about that in advance.--Otherarrow (talk) 15:01, July 30, 2013 (UTC)

B

lue

H

ighwind

Q?

15:14, July 30, 2013 (UTC)

TALK

- So if you care to find me, look to the Western Sky!

ツ

:

Considering how we're just promoting anybody at this point, can I be a Bcrat now?
Well, I've only just come back after days of being ill. Yuan is a great choice for bcrat as at least she'll be there if we ask her to be there, and she's an IRC constant within her time zone. However...she said herself this wasn't what she wanted, and Scathe doesn't want to be bcrat anymore either, so forcing the authority upon him would be as bad as Diablo's pathetic attempt to pass on the baton without giving a flying f*** about anyone else's opinion. As of now I've officially lost faith in our hopelessly ignorant, dictatorship system and I bid all the other bcrats minus Yuan good riddance. Welcome to power, Yuan. May you use it well. Tia-Lewise

15:25, July 30, 2013 (UTC)
I think Yuan and Scathe would be good bcrats, so let's go with that. Oh, and BH too for kicks and giggles. --Shockstorm (talk) 17:29, July 30, 2013 (UTC)

I think we're making a bigger deal of this than it should be. Does Yuan deserve to be a BCrat? Sure, but so do a few other users. This is no offense to Yuan, but her promotion just makes the whole wikia a bit more convenient. Nothing is going to radically change by Yuan or Scathe or any other Admin or even Mod becoming a BCrat. Again, this isn't against Yuan, but what she can do as BCrat is as much as what quite a few other staffers can and will do as BCrats, no more or less.

8bit BlackMage

 - Beyond the Sky

TALK

- Why do chemists call helium, curium, and barium 'the medical elements'? Because, if you can't 'helium' or 'curium', you... um... ._.; - 23:31, July 30, 2013 (UTC)

It looks like the community is supportive of Yuan and Scathe as bcrats, but I think we should get TA's input as well before any major decision is made. If we are now all able to agree on Scathe's promotion, then Yuan should have the ability to choose for herself whether she would like to remain as a bcrat. If we are unable to agree on Scathe's promotion, then I believe it would be helpful to have Yuan remain a bcrat per her and the community's opinion.

It should come as no surprise I have no problem with Yuan as a bureaucrat. However, my stance on the matter has not changed: I believe that, as long as Scathe is not promoted, the community's decision, based on a clearly discussed consensus, has not been respected. Whether Yuan decides to keep her rights as a bureaucrat or not is not pertinent to the following fact: Scathe's promotion, or rather lack thereof, should be the whim of no single person, especially when there is overwhelming evidence that the community supports it.

Catuse

says

at 01:18, July 31, 2013 (UTC) "Somewhere a

zealous god

threads these strings

between the clouds

and the earth, preparing for a

symphony it fears impossible to play

. And so it threads on, and on, delaying the

raise of the conductor's baton

."

Give TA a day to comment. If he has a good reason for not promoting Scathe, and convinces people to agree with him, we don't promote Scathe; otherwise, we do. Just like if TA was an autoconfirmed, moderator, or sysop.

I'm fine with having three bureaucrats. It really isn't too many. After all, way back in the day* there were four admins, those being Mymindislost, Bluer, Hecko, and Diablo, with CSM as a bcrat. 1 bureaucrat for 5 admins (including bureaucrat as an admin). Then other stuff happens, and Diablo ends up a bcrat with Fae, 8bit, and Yuan as admins. Then, around the time I joined the wiki, still other stuff happens, and TA is now a bcrat, with Scathe, Henry (later replaced by Jim), and Bluesey as admins. And then Yuan, Fae, and 8bit stop doing the inactivity thing, and Drake, SCM, and I are admins. So we now have 10 admins. Counting admins is a terrible way to measure activity (especially when you consider how few admins we have, relatively speaking; most wikis of our size have about 20), but my point still stands: we're bigger than we were when the "there can only be one" system was set up.

Demoting then repromoting Yuan is ... kind of pointless. Like trivia points in our FFXIII character pages, it's technically the correct thing to do, but there's no reason to do it. People are agreeing right now that it's fine for her to be a bcrat so ... keep her as a bcrat?

*Obviously, I have no idea what the hell I'm talking about, but this is the tldr of what I've heard. Feel free to correct me.

Yuan asked me to post here, and while there are things I would like to say at the moment, I'm not sure if they are things I should say, so I'm just going to lay my opinions bare and leave it at that.

Yes to Scathecrat
Either way on Yuancrat, leaning towards yes

And there we go.

I support Yuan for bureaucrat, and she now fills the position of 'respected and contactable additional bureaucrat' so there is no pressing need for further promotions (not that there was before, but that's not the point here).

Nonetheless, I do still feel that Scathe is an excellent candidate and is deserving of the role of bureaucrat and that this, in addition to the much hyped consensus, means that he should be promoted as well. I see no problem with two well respected and present new bureaucrats; both users are well suited to the role, both are worthy of being the figureheads of the Wiki, and, of course, the additional redundancy will hopefully mean that this sort of mess does not happen again for a very, very long time. ¬_¬

However, I feel that this course of action should wait until TacticAngel has given his voice. TA is still a valuable user, and his views should absolutely not be discounted. I also wish to request that we remain civil towards Diablo - whilst her action was not exactly sagacious, she was a good editor in her time, served the Wiki well during her tenure and returned to attempt to expedite the current situation despite her wishes to remain sequestered from the Wiki.

Deadlyslashsword

 - +It takes disaster to learn a lesson, but you're going to make it through the darkest nights+

TALK

- 03:23, July 31, 2013 (UTC) - Some people betray and cause treason...we're gonna make everything alright.

Seemingly going to Diablo was a mistake. Not that we shouldn't respect her input, but we should have been able to figure this out long before now, and we're left with a bigger mess. As it stands, I believe Yuan would make a good b-crat, as would Scathe, as would many other users. The issue is balancing what we want as a wiki with what the individual candidates want with what our needs are. Do I personally think we need another b-crat? No, but there are those who would do the job well, not that I think that that in and of itself is means for promotion. We'll function just fine if we don't promote anyone. I don't feel that we should pin all our hopes on Yuan, as her promotion was the single decision of a (respectable) user long since disconnected from the goings-on of the wiki. If she doesn't want the post, we shouldn't be beholden to stick her to it. If she does want it, and if Scathe wants it, and TA sees fit to keep both, and we decide as wiki that that's what we want to do, then we're going to have to decide if we're just going to promote everyone to b-crat that we think deserves it (goes for any staff position, really), as seemingly that's the point we're at right now.

tl;dr - don't think we need a new b-crat, would go with Scathe over Yuan due to wiki consensus (though both would perform admirably) and tweak our promotion system back to being need-based.

Several notes:

Please don't blame Diablo so harshly for her decision. The wiki is something she dislikes at the moment, and she still came back and read the discussion when I gave her the links. Her reasoning was sound enough for the most part: "everyone likes Yuan" - well, most people seem to be happy with me being a bcrat at the moment. It's not the ideal, however.
If it helps, you can think of this as being Diablo temporarily passing the tools to me so I can (hopefully) resolve the situation in her stead. Thus, it wouldn't really be a demotion if the rights were removed after - think of it as maintaining the status quo.
Having said that, it seems that the answers to my question from this forum are:

The community is fine with me as a bcrat.
People still want Scathe as a bcrat.
Most want him in addition to me; others think either of us are fine.

I gather it is mostly a matter of principle now, setting precedent that bcrats must follow community consensus.
I have talked to TA about this, and we will hopefully speak again soon. He said he will post his own thoughts here in a few days, so I will just note that he is all right with me being a bcrat.
I am waiting for the remaining replies to trickle in (especially TA and Scathe's), and will let you know what I'm going to do shortly.
I'm not entirely what to say. I don't have too much to say about my own promotion for obvious reasons; let it be known that I'm happy to take the position, regardless of what my previous change of heart may have stated. Anyway, since consensus seems to say that my promotion is still warranted, I accept it. Really, that's all I can really say about me; don't think you're really forcing something down my throat.

Anyway, I can safely say that Yuan would be a good bureaucrat if only because she was able to stay reasonable and levelheaded throughout this entire chaotic affair. Of course, her promotion didn't follow any sort of consensus, which means we're sorta following a double standard here. However, there is a consensus now for her to stay in power. That consensus should be followed, as the present consensus supersedes that of the past.

(Long addendum: And yes, I know the situation now is completely different from the situation before. The consensuses aren't exactly comparable, since Yuan because she wasn't even a candidate for bureaucrat before. I understand JBed's point that perhaps Yuan should be demoted and then put up for reelection; he wants the ground to be equal for all potential candidates. However, I don't think that resolution will change much; the fact of the matter is that Yuan is a bureaucrat now, and even if we revoke her rights, she still was a bureaucrat, even if one just to fill in for Diablo. People will still keep that in mind if we demote Yuan and try to re-promote her. [short addendum to the long addendum: I do agree with Yuan's statement that there was technically no "promotion" in the first place. However, I can't help myself internally thinking of it as a "promotion," even if logically I know it wasn't one.] So, I don't believe there's any reason for that step. Consensus states that she should remain bureaucrat, and we should respect that consensus.)

Well, I certainly said a lot for someone who previously claimed that he wasn't sure of what to say. Sorry if I ramble a bit in the addendum part; I just read a heavy duty philosophy paper and my brain is a bit scrambled. :/
TacticAngel TALK
01:52, August 2, 2013 (UTC)
Its hard to pick a starting point for the topic. Yuan and I talked about this at some length a day or two ago about what she could or should do, though I tried to stay out of the prescription business. We also talked at some length about Scathe and what we should do regarding the sudden change of the equation. We were agreed that it was probably not the most ideal resolution to the situation. To the extent that there was an argument that we needed a second active bureaucrat, Diablo's intervention has more or less solved that need. I think it speaks to Diablo's opinion on the matter of bureaucrats and it was other's choice to involve her. I haven't had a chance to speak with Yuan since that, but I am sure we probably will talk about it more in the future.

As stated before, I have a generally favorable but ill-defined opinion of Scathe. Mostly this is because I have only seen him as an editor, and I have a generally favorable opinion of most of the users here who don't intentionally stir up trouble or mess up pages. I know Scathe is involved in LP, but no one had ever invited me until Blue. I thought Scathe and I had an understanding, and that he understood and respected my opinion on this, and then apparently we didn't, which sort of led to where we are now. It seems we have a lot of varying opinions on what could/would/should be done from here on out. For m part, my reticence is largely unchanged. I haven't talked with him personally since, and I'm not sure of the need at this point. In short, I thought I had an roadmap, but right now I probably have less of an solution than before.

Rather anecdotal, I am not sure about the typical ratios between users and administrators to sysops. I think it varies widely from wiki to wiki. The wookipedia might have 1 bureaucrat for ever 5 admins, but then the Marvel/DC wikis, they functionally have 1 Sysop for two huge, active wiki. I could take it to a wild extreme with the Wikipedia, but I'm not trying to appeal to absurdity, I am just not sure if there is a good rule of thumb.