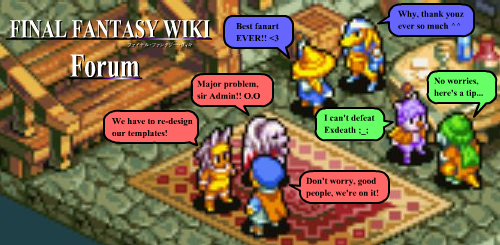 Catuse

says

at 06:36, November 30, 2011 (UTC) "Somewhere a

zealous god

threads these strings

between the clouds

and the earth, preparing for a

symphony it fears impossible to play

. And so it threads on, and on, delaying the

raise of the conductor's baton

."

Something Mr. Bedford said that I noticed while RC patrolling lead me to look at some FFVII enemy pages and ... we have a problem.

"Strategies" and "information about the enemies" are actually nothing much. As he said in an edit summary, 'apparently every enemy in FFVII is "no threat".'

So I propose once FFT is done (heck, you can start if you want, but I'm workin' on FFT, then finishing my walkthroughs, THEN coming to this) this wiki gets to work doing something about the overall lame-ness of FFVII enemy descriptions.

Examples:

Aversions:

Hell House - a fine article even if it does use the word "threat".
Kimara Bug - talks about ways to pwn it and also mentions rare items in its possession.
Ancient Dragon - W00t, info!
Got all enemies up to Black Bat done.C A T U S E01:04, December 4, 2011 (UTC)
Forgot about this until Xeno accidentally reminded me in an edit summary. I'm up to Heavy Tank but this time it's relevant for discussion. Should we add the AI scripts into pages? Some have 'em, most don't.C A T U S E07:48, January 2, 2012 (UTC)

AI scripts would be very much welcomed. The vast majority, if not all, of the FFVI enemy articles have their AI scripts on them (I believe I was the one that added them all on there) and FFV has a few too, but the AI script I got them from was kinda....bleh. I did start the one for VII, but didn't go too far in I THINK...don't quote me on that one now.
Got that done up to Bizarre Bug today. Why are the AIs so complicated for random encounters?C A T U S E20:01, January 2, 2012 (UTC)
Heh, yeah, when you pretty much just hit them once or twice to win. I understand some of the enemies' attack patterns are glitched as well? Nothing the player would be able to notice just by playing the game, but that it doesn't work as intended regardless.Keltainentoukokuu 20:08, January 2, 2012 (UTC)

Yup. For example if you Berserk a 2-faced (why would you do that when they have 330+ HP) it keeps trying to use an attack that costs 216 MP or something. Luckily my source lists all these, so if a page doesn't have 'em I'm adding them in.

C

 

A

 

T

 

U

 

S

 

E

20:11, January 2, 2012 (UTC)

Adamantaimai Cure Glitch. Nuff said about dumb AIs lol...Xenomic 21:29, January 2, 2012 (UTC)
Make that Dual Horn. Dragon Zombie (Final Fantasy VII) has the longest and stupidest AI of them all.C A T U S E04:27, January 7, 2012 (UTC)
Catuse, I find it quite funny that you quote Drake in RC, when, IIRC, Drake wrote most of the VII enemy page's content. 79.69.194.68 14:16, January 7, 2012 (UTC)
I didn't mean the authors of the enemy pages, I meant the enemy pages themselves, and I didn't just mean VII enemy pages. I meant all the other enemy pages as well. They are awful. Sorry, Drake.

C

 

A

 

T

 

U

 

S

 

E

17:37, January 7, 2012 (UTC)

Enemy pages is my forte. How dare you insult the articles I've worked so hard on! 79.69.205.159 17:47, January 7, 2012 (UTC)

The infoboxes are fine and dandy. It's just that the actual prose lacks information sorely. Take Exdeath's_Soul. (Or rather, don't take it, as the infobox there isn't fine and dandy after all.) "... similar to the battle with Exdeath" how? "...much more relaxed" than Exdeath, sure, but compared to other enemies in there it's not relaxing at all. "...access to the move Reaper's Sword" Well, why doesn't it say so in the infobox, and what does Reaper's Sword do?

C

 

A

 

T

 

U

 

S

 

E

17:57, January 7, 2012 (UTC)
Update: I'm into the N's with both, and it seems Firebird is considering work on FFIV and TAY... maybe our enemy pages won't be so bad after all.C A T U S E00:08, January 21, 2012 (UTC)
Community content is available under
CC-BY-SA
unless otherwise noted.