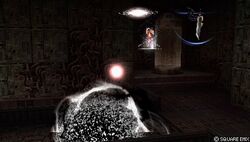 Forsaken Null (ミッシング・ゼロ, Misshingu Zero?, lit. Missing Zero) is a recurring ability in the series, used exclusively by Kefka Palazzo. It is a variant of his Forsaken ability.
Appearances
[
]
Forsaken, called Forsaken Null in battle, is a HP Attack for Kefka. Both the ground and aerial versions are learned at level 38 for 300 AP, requires 40 CP to equip (20 if mastered), have Ranged High priority, and can induce Wall Rush. Forsaken can track the opponent and can be released at any time while charging it, but Kefka is unable to move while using the ability. When using the attack, he asks the opponent what (s)he thinks of the attack, and upon the conclusion of the attack, proceeds to chuckle and excitedly asks if it hurts.
Forsaken returns as a HP Attack for Kefka, now called Forsaken Null everywhere. Both the ground and aerial versions are still learned at level 38, still have Ranged High priority, still induces Wall Rush, and still tracks the opponent. However, Kefka can now move while using the move, the ground version costs 130 AP to master while the aerial version now costs 150 AP to master, and both abilities now costs 30 CP to equip (13 when mastered).
Like in the Dissidia series, Kefka will summon a light and have it fire orbs of static on the enemy, dealing heavy damage.

Gallery
[
]
Etymology
[
]
[view · edit · purge]Forsaken means to be "abandoned" or "deserted".
Null is a subset that generally means it returns nothing, and is derived from the German word for the number "zero."
The Japanese name, "Missing Zero", alludes to something that is lost or unaccounted for, as well as the numerical value that means nothing.