The Forbidden Land, Eureka Anemos, is an Adventuring Foray and the first addition to the Eureka expeditions in Final Fantasy XIV: Stormblood.

Locations
[
]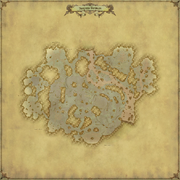 Port Surgate
[
]
Weather
[
]
Eureka Anemos' climate may exhibit any of the following weather conditions:
Activities
[
]
FATEs
[
]
Name
Elemental Level
Location
Time limit
Objective
Description
Spawn conditions (if any)

Unsafety Dance

1-4
Heartbreak Holt (x14 y22)
30 minutes
Defeat Sabotender Corrido.
Scattered flower petals adrift on the wind may calm the mind and soothe the soul, but being showered with needles detracts from the experience. Best halt Sabotender Corrido's frenzied dance before someone loses an eye.

Spawn conditions:


Defeat flowering sabotenders.

The Shadow over Anemos

2-5
The Val River Swale (x30 y27)
30 minutes
Defeat the Lord of Anemos.
For all that we know of him, the Lord of Anemos may seek simply to protect his subjects. Alas, his ever-gaping maw reveals no secrets, only impossibly sharp teeth. However noble his intentions, he is a threat as great as any other when he approaches with undulating tentacles aloft.

Spawn conditions:


Teles House

3-6
The Orchard (x25 y27)
30 minutes
Defeat Teles.
Thought to have abandoned the realm for more accommodating climes, imagine the surprise of the expeditionaries surveying Eureka when they found themselves halfway down the gullet of the legendary (killer) songbird, Teles.

Spawn conditions:


The Swarm Never Sets

4-7
The Orchard (x17 y22)
30 minutes
Defeat the Emperor of Anemos.
More than twice the size of a Hyur male and at least as pestilent, the Emperor of Anemos has arrived to defend his empire against encroaching adventurers. The murderous look in his compound eyes will soon suppress any guilt you feel over this entirely avoidable situation.

Spawn conditions:


One Missed Callisto

5-8
The Orchard (x25 y22)
30 minutes
Defeat Callisto.
If a bear falls victim to mind-controlling spores in the woods, does it make a sound? Judging by the bestial roars echoing across the isle each night, the correct answer would be "yes."

Spawn conditions:


By Numbers

6-9
The Orchard (x23 y22)
30 minutes
Defeat the Number.
A wicked puppetmaster's abrupt disappearance from this plane has left his insentient servant free to wreak whatever havoc its mechanical mind can muster.

Spawn conditions:


Disinherit the Wind

7-10
The Orchard (x19 y19)
30 minutes
Defeat Jahannam.
One might imagine wind spirits as gentle, if capricious, wanderers. The best cure for such delusions is to witness the wildly territorial Jahannam's overblown reaction to the disruption of wind currents encircling its domain.

Spawn conditions:


Defeat typhoon sprites, which only appear during Gales.

Prove Your Amemettle

8-11
Klauser's Peace (x14 y15)
30 minutes
Defeat Amemet.
Amemet knows that one doesn't become an apex predator by being selective about his meals. He devours any creature that he can bite, tear, or bludgeon to death, including other carnivorous dinosaurs, and is now poised to eat Eureka out of island and ecosystem.

Spawn conditions:


Caym What May

9-12
Klauser's Peace (x13 y13)
30 minutes
Defeat Caym.
Slaying a massive carnivorous scalekin may seem the end of one's troubles, while in fact, it is just the beginning. That corpse left rotting in the forest is the perfect means for an aether-starved voidsent to worm its way into our realm...and start killing again.

Spawn conditions:


The Killing of a Sacred Bombardier

10-13
The Val River Swale (x28 y20)
30 minutes
Defeat Bombadeel.
Hyperbole can be employed to suggest that the stench of rotting goobbue seven days dead is enough to kill a man. If that rotting goobbue, however, is being used as a vessel for a voracious voidsent host, then the need for hyperbole is no more.

Spawn conditions:


Defeat traveling gourmands, which only appear at night.

Short Serket 2

11-14
The Val River Swale (x25 y18)
30 minutes
Defeat Serket.
There is nothing worse than a marsh teeming with thousands of scuttling scorpions...except a marsh teeming with thousands of scuttling scorpions and their giant queen.

Spawn conditions:


Don't Judge Me, Morbol

12-15
The Val River Swale (x21 y14)
30 minutes
Defeat Judgmental Julika.
Upon discovering her seedbeds rendered barren by man's savage sickles, Julika─ancient tangle of root and vine─has sworn vengeance on those who would dare slash her spawn. And her first step? To reseed the earth with a new army of loyal sprouts.

Spawn conditions:


When You Ride Alone

13-16
The Val River Swale (x19 y13)
30 minutes
Defeat the White Rider.
Don't be fooled by his choice of attire. Come from the void to aid his hungry brethren in their quest to consume this realm's aether, the White Rider is a deadly beacon for the forces of darkness.

Spawn conditions:


Defeat duskfall dullahans, which only appear at night.

Sing, Muse

14-17
The Anemos Seam (x26 y14)
30 minutes
Defeat Polyphemus.
Polyphemus is proof positive that fame and an enlarged cranium need not go together. Be that as it may, his large torso, large club, and large dinner parties (which only occasionally end with him devouring the guests, but are always terrible) are reason enough to extend him no hospitality.

Spawn conditions:


Simurghasbord

15-18
The Anemos Seam (x29 y13)
30 minutes
Defeat Simurgh's strider.
After its avian prey was snatched right out of its beak, this ravening predator began a merciless hunt for anything—or anyone—it might carry away and devour. Proceed with caution, as surely a fowl foul enough to cannibalize other birds would have no qualms about downing a Lalafell or two.

Spawn conditions:


To the Mat

16-19
Uncanny Valley (x35 y19)
30 minutes
Defeat King Hazmat.
Once known to his loyal subjects as King of the Flame, for years Hazmat has wallowed in the lightless void, unable to wield his brilliant, fiery magicks. Now, unbound from the darkness, the self-proclaimed regent is free to set the world alight...literally.

Spawn conditions:


Wine and Honey

17-20
Uncanny Valley (x35 y21)
30 minutes
Defeat Fafnir.
As the old saying goes: every wyrm's ending is just a voidsent wyrm's beginning. Banish this particularly vicious example, and remember that no one's to blame—except the adventurers that killed the high dragon whose dying breath summoned forth this monstrosity.

Spawn conditions:


Defeat fossil dragons, which only appear at night.

I Amarok

18-21
Newvoid (x7 y17)
30 minutes
Defeat Amarok.
When commanding an army of voidsent abominations on a campaign to quell a world of its light, two heads are always better than one. Luckily for Amarok─dread wolf of the deepvoid─he has three.

Spawn conditions:


Drama Lamashtu

19-22
Newvoid (x7 y26)
30 minutes
Defeat Lamashtu.
The hells have no fury like a woman scorned. They are, however, home to many a dead woman scorned, whose fury is possibly worse. The voidsent queen Lamashtu would know, since she's the bloodsucking demon who killed them all.

Spawn conditions:


Defeat Val specters, which only appear at night.

Wail in the Willows

20-23
Newvoid (x7 y21)
30 minutes
Defeat Pazuzu.
The wind howls with voices of those long dead, heralding the advent of the high voidsent, Pazuzu. Weather the winds he wields, lest your own screaming soul be added to the chorus.

Spawn conditions:


Defeat shadow wraiths, which only appear at night.
Only appears during Gales, which may not align with the night required to spawn shadow wraiths. However, as long as sufficient shadow wraiths have been defeated during the night, the FATE should appear as soon as the appropriate weather begins.
Trivia
[
]
Locations on this island are named after Final Fantasy V characters and terms: Port Surgate, Klauser's Howe, The Val River Swale, Klauser's Peace, and The New Void.
Gallery
[
]
Etymology
[
]
[view · edit · purge]Eureka is an interjection used to celebrate a discovery or invention. "Eureka" comes from the Ancient Greek word εὕρηκα heúrēka, meaning "I have found (it)".
[view · edit · purge]Anemo- comes from Ancient Greek ἄνεμος (ánemos) meaning "wind".