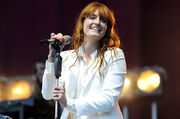 Florence and the Machine (styled as Florence + the Machine) are an English independent rock band formed in London in 2007 whose members include Florence Welch on lead vocals and percussion; Isabella Summers on keyboards and backing vocals; Robert Ackroyd on lead guitar; Christopher Lloyd Hayden in drums and percussion; Tom Monger in harp, xylophone, bass guitar, and backing vocals; Mark Saunders on bass guitar, percussion, and backing vocals; and Rusty Bradshaw on rhythm guitar, keyboards, and backing vocal.
In the Uncovered: Final Fantasy XV promotional event for Final Fantasy XV, it was revealed the band will be providing the theme song, "Stand By Me", for the game. The song is a cover of the 1961 classic by American singer Ben E. King. This marks the first time a cover of a licensed song is used as a theme for an entry to the main series, but it is the second licensed song after "My Hands" by Leona Lewis for Final Fantasy XIII.
On August 11, 2016, her single Songs from Final Fantasy XV was released, featuring the songs "Too Much Is Never Enough", "Stand By Me", and "I Will Be".
Trivia
[
]
They are the second artist from the United Kingdom to have provided a theme for a main Final Fantasy game. The first one was Leona Lewis for Final Fantasy XIII with "My Hands".
External links
[
]