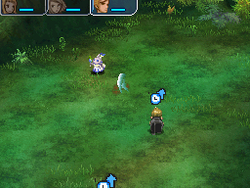 Flash of Steel (一閃, Issen?, lit. Flash), also known as Glint, Flash, and Lightspeed, is a recurring ability in the series.
Appearances
Edit
Glint is an enemy ability used by Baralai in all encounters with him. It deals non-elemental physical damage to all party members within a radius of 5m to Baralai.
Flash of Steel is an ability learned by Basch at level 36 and is also an enemy ability used by Sky Warrior. It deals damage to all foes within a line extending from the user.
Lightspeed is an enemy ability used by Adrammelech and Famfrit, which deals non-elemental physical damage to one unit while ignoring the unit's Reaction ability with WAtk of 45 and range of 1.
Flash is the ability used by Jinnai which is used to instantly defeat Tobikage.
Glint is an ability used by 6★ Chizuru, that does double physical damage to an enemy while ignoring 25% of their defense.
Non-Final Fantasy guest appearancesEdit
Star Ocean AnamnesisEdit
Etymology
Edit
[view · edit · purge]The speed of light in vacuum, commonly denoted c, is a universal physical constant important in many areas of physics. Its value is exactly 299792458 metres per second (≈3.00×108 m/s), as the length of the metre is defined from this constant and the international standard for time. According to special relativity, c is the maximum speed at which all matter and information in the universe can travel.