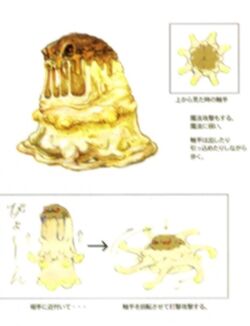 Flan (プリン, Purin?, lit. Pudding) is a recurring enemy in the Final Fantasy series.
Appearances
[
]
Flan have no Defense, however, they are immune to most elements. Flan can use Sticky Goo to Slow one party member.

The Flan is an enemy that can be found in the Ice Cavern.

Flan is an enemy first fought as a miniboss in Garamsythe Waterway; as the party makes its way through the sewers, the Flan ambush them and drop in from the ceiling. They are impervious to gun attacks.

Flan are daemons fought in Greyshire Glacial Grotto and Costlemark Tower, as well as the Squash the Squirmers hunt. They take half damage from regular physical attacks and thus are good targets for magic and the royal arms. They are weak to Holy.

Flan appears as an enemy. The Flan resembles the Water Flan from Final Fantasy X.
Flans appear as enemies during Battle Music Sequences.

Flan appear as enemies in Battle Music Sequences.
Don't let the name fool you. The flesh of this monster is downright nasty.

Final Fantasy VI Flan description.
The Final Fantasy VI version of the Flan appears as an enemy on the Bridge of Moore. It uses Slap and drops the Rapier.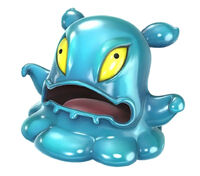 Flan are a type of Mirage from the Mini Flan group. They can be transfigured from a Mini Flan above level 18 and into a Flan Princess (World of Final Fantasy) with a Flan Princess Memento.
Flan can be found in The Windswept Mire become imprismable by using physical attacks.

Flan appears in Final Fantasy Trading Card Game as Ice-elemental Monster cards.
Flan from Final Fantasy VI, Blobra from Final Fantasy VIII and Pudding from Final Fantasy XIV have Triple Triad cards in the version available via Final Fantasy Portal App.
Gallery
[
]
Etymology
[
]
[view · edit · purge]The English word "flan" comes from the Old French flaon (modern French flan), in turn from the early Medieval Latin fladō, of Germanic origin, from an Indo-European root meaning "flat" or "broad".
The word Flan refers to an open pastry or sponge cake containing a sweet or savory filling. A typical flan of this sort is round, with shortcrust pastry, usually coated with sweet syrup. It is similar to a custard tart or a South African melktert.