Final Fantasy perfumes and fragrances are pieces of Final Fantasy merchandise that have only been sold in Japan.
List of merchandise
[
]

Released during the 2009 Tokyo Game Show, ~Cloud Strife~ eau de toilette is a uni-sex fragrance selling for ¥7,140 ($78) per bottle and is a mix of refreshing floral, fruity and oriental scents.[1] Inspired by the protagonist of Final Fantasy VII, it has an imprinted glass bottle, holding 50ml of liquid with a clear cap and strap with the Fenrir bust, weighing about 170g. The fragrance was re-released in February 2011.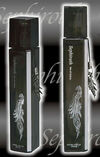 Released in Mid-August 2010, ~Sephiroth~ eau de toilette is a uni-sex fragrance selling for ¥7,140 ($78) per bottle. The fragrance has been described as light and refreshing. Top Scents: Apple, Plum, Bergamot, Aqua, Peach, Pineapple Middle Scents: Freezia, Lily of the Valley, Rose, Jasmin, Lily, Iris, Cyclamen. Last Scents: Cedarwood, Sandalwood, Sweet Amber, Musk.[2] The black bottle has an imprint of Sephiroth's signature single wing and a strap with a silver wing pendant.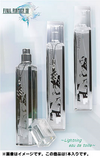 Released a month after the game's release, the 50ml bottle of ~Lightning~ eau de toilette is inspired by the character of the same name. It is contained in an imprinted glass bottle with a sterling metal cap and strap with Lightning's pendant, weighing about 170g and selling for ¥7,140 ($78) per bottle. The scent is described as a "sweet peach smell followed by rose and then a feminine musk".

Final Fantasy ~Noctis~ eau de toilette

[

]

On February 18th, 2013, Square Enix announced a Noctis-themed fragrance.[3] Only available in Japan [4] or online, the eau de toilette was release on June 18th, 2013. The bottle itself is a clear glass bottle filled with pale yellow eau de toilette imprinted with a silver silhouette of Noctis' face. The scent is described to be very citrus oriented with layers. Top: Grapefruit, lemon, orange. Middle: Lavender, pine, rose, lily of the valley. Last: woody, musk.

Trivia
[
]
The difference between an "eau de toilette" and a "perfume" is the level of ingredient concentration. A perfume is more concentrated, containing a stronger smell than a eau de toilette. A cologne is generally considered a male variant of perfume although officially cologne is a less concentrated version of eau de toilette.
Cloud Strife had to once wear perfume, listed as cologne, as part of a female disguise to infiltrate Don Corneo's mansion to rescue Tifa Lockhart.
References
[
]