Reclaim Your Throne trailer (USA version) - FINAL FANTASY XV
Play Sound
This is a fantasy based on reality.

Tagline
Final Fantasy XV is the fifteenth main installment in the main Final Fantasy series. The game was released worldwide on November 29, 2016 for the PlayStation 4 (supporting PlayStation 4 Pro, but optimized for the standard version[1]) and Xbox One, and later March 6, 2018 on PC as the Windows Edition. It was directed by Hajime Tabata, but began development under Tetsuya Nomura as Final Fantasy Versus XIII, who provided character designs for the main cast and concepts for the would be main title, with the soundtrack composed by Yoko Shimomura. Final Fantasy XV is the first action role-playing game in the main series, and the first single-player Final Fantasy game to be released with the "games as a service" model, receiving numerous free updates as well as paid DLC and seasonal events.
The story is told over the course of 15 chapters. It focuses on Noctis Lucis Caelum, a prince from the kingdom of Lucis who fights to reclaim his throne and must go on to fulfill a greater destiny. Final Fantasy XV aims to examine its characters' humanity and place them in a more realistic setting than most Final Fantasy games. Its prominent themes are friendship, destiny, and legacy.
The gameplay features an open world environment and makes use of the Active X Battle system, a real time battle system. The first half of Final Fantasy XV is open world, traversable with the Regalia and chocobos, and enables players to take on a variety of quests, explore, and play minigames. Objectives later become more specific, in accordance with other Final Fantasy titles. In the original release, only Noctis was playable, though patches have allowed players to switch between controlling any of the four main characters while in battle in the open world.
Final Fantasy XV was originally developed as Final Fantasy Versus XIII as part of the Fabula Nova Crystallis project, but the extent to which it involved lore from Final Fantasy XIII and Final Fantasy Type-0 has been reduced after its rebranding.[2][3][4] It now features its own lore as part of the Final Fantasy XV Universe sub-franchise. It takes place parallel to the feature film Kingsglaive: Final Fantasy XV, and has a prequel anime series Brotherhood Final Fantasy XV. The game is also connected to A King's Tale: Final Fantasy XV, Justice Monsters Five, and King's Knight -Wrath of the Dark Dragon-. Final Fantasy XV Pocket Edition, a new version of the game for mobile platforms, was announced at Gamescom 2017, and was released on February 9, 2018 for iOS, Android, and Windows 10.[5] A PC version was announced at Gamescom 2017 and was released on March 6, 2018 for Steam, Origin, and the Windows 10 Store.[6] Final Fantasy XV: Royal Edition released on the same day for consoles that included the additions to the PC version.[6] To date, Final Fantasy XV is the first and only title in the main series to receive contemporary releases on every major platform of its era, as opposed to previous entries that have been remastered or otherwise adapted to new media since their original release.
Gameplay
[
]
Final Fantasy XV is an open world, action role-playing game in which players assume control of Noctis Lucis Caelum, a prince who can perform a variety of actions related to both field exploration and combat.
The kingdom of Lucis is a single, connected landmass that is explored primarily in the party's car, the Regalia. Locations can also be investigated on foot and by riding on chocobos. Open world locations visited in the past can be fast-traveled to.
Players can use gil to purchase items and equipment and accept sidequests from the NPCs they encounter. These offer additional rewards and allow for gameplay experiences that are separate from the main story. During some cutscenes, players can choose how Noctis interacts with other characters.
It is possible to continue playing Final Fantasy XV after its story concludes. Post-game content includes new quests and challenges that cannot be unlocked otherwise. New equipment also becomes available. This additional material is intended for parties that are of a higher level than that required for the story's final chapters. New Game Plus feature was added in a patch.
Final Fantasy XV supports the PlayStation 4 and Xbox One's social media functions allowing players to share screenshots and video clips. One can also access the PlayStation 4 version on the PlayStation Vita, which uses data streamed from the console version.
Battle system
[
]
The battle system is called "Active X Battle," or "AXB." Combat is seamless and takes place in real-time environments that incorporate all regions of the surrounding landscape. The "Wait Mode" freezes time when the player is not moving so the player can select targets and actions at their leisure. This was enhanced with the implementation of the Crown Update, which enables players to obtain information from Libra at a faster pace, as well as replenish the Wait Gauge by defeating enemies.
Players can destroy parts of some foes' bodies, temporarily debilitating them. Monsters come in many sizes and use different attacks, even if they are of the same species. Combat begins as soon as Noctis and friends are approached by an enemy, attack an enemy, or get too close to it. A red "encounter gauge" appears at the top of the screen when one is near a hostile unit; players usually have the option to flee at any time.
The party's HP is restored over time. If the members lose all their HP they enter the "Danger" status and are unable to attack or use abilities until they are rescued or use an item. Party members in Danger status continuously lose max HP. Once their max HP becomes 0, they get Knocked Out. Knocked out party members can still be saved with a revival item, and there is a window to revive the player character if he becomes KO'd. If the player remains KO for too long, it is Game Over. When Noctis is in Danger status, he recovers with time or with a teammate rescues him. Unlike Noctis, however, teammates do not automatically recover and need to be rescued. Recovering from Danger status does not restore max HP. HP lost from the max HP gauge slowly recovers over time, but much more inefficiently than the regular HP. The player can use recovery items, like Elixirs, to heal the whole HP gauge. As a result of the day one patch, the screen now flashes red when Noctis is low on HP.
The player can respawn enemies by blowing a special whistle included in the Final Fantasy XV day one patch.
The player can earn various achievements as per their system's achievement systems.
Maneuvers
[
]
There are three available button layouts. Combat relies primarily upon three buttons.
The attack button has the player attack enemies. When held, the player character will continuously attack with his selected weapon, and when out of range he will approach his target to attack them. Pressing the attack button in combination with directional buttons can execute different versions of the attack. Attack prompts can appear when allies perform Techniques and after parrying enemy attacks. The player can perform aerial attacks by jumping before using the attack button, or by warp-striking to airborne targets when playing as Noctis. When Noctis learns Airstep from the Ascension grid, he can stay airborne when attacking, although this will consume MP. Attacking while mid-air can have Noctis perform different attacks than usual, such as descending upon enemies from above with a spear.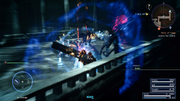 The defense button lets Noctis phase through enemy attacks (when held) and dodge roll (when tapped). The player can have Noctis dodge roll to avoid a long range attack from a distance by tapping the defense button once or can dodge roll at will even when the enemy is not attacking. When playing as the other characters, they can defend while holding the defense button; dodge or dodge roll when tapping the defense button. Phasing through enemy attacks consumes MP, although this can mitigated by unlocking nodes in the Ascension Grid. Holding the defense button next to suitable cover has the player character crouch and restore his HP and MP more rapidly than usual. Dodge rolling does not make one invincible for the duration of the roll, and is often used for positioning during battle. The defense button is used to parry certain enemy attacks with a well-timed button press when prompted. Successful parries can usually be followed with a counterattack.
The warp button allows Noctis to point-warp to out-of-the-way locations (when held), or warp-strike to targeted enemies when pressed in combination with the lock-on button. Tapping the warp button has Noctis warp forward, and can be done on the field. Warping consumes MP. Warp-striking enemies deals more damage the further away from Noctis warps. Point-warping fully restores Noctis' MP, and if he is left hanging from a high altitude, it is considered a form of cover and his HP restores faster. Some enemy attacks send Noctis falling through the air, and the player can avoid fall damage by warping mid-fall when the button prompt appears.
If one's allies are nearby, they can team to perform link-strikes, powerful combo finishers that are performed automatically if one is in the proper situation. Noctis and friends can also blindside enemies if they strike from behind.
Gladiolus, Ignis and Prompto were made playable for their DLC episodes, and later were made playable in the open world portion of the main game at will. The player must unlock this from the Ascension grid. The trio plays identically to how they play in their episodes, and thus Ignis mainly fights with daggers and Prompto with firearms even if they can equip spears and machinery as sub-arms when they are controlled by the AI, and they can't use Elemancy. When the player uses character swap to play as one of Noctis' allies, Noctis becomes AI-controlled. When AI-controlled, he doesn't lose HP from wielding royal arms.
Equipment
[
]
The player can equip weapons and accessories. Magic is also equipped to a weapon slot. Accessories boost stats and provide elemental and status protection, and some are specific to certain party members.
The game has a total of 109 melee weapons. Noctis can equip all weapons and some types are exclusive to him, whereas party members can equip two types of weapons as primary and secondary arms, as well as Elemancy magic. Different weapon types deal different type of damage, and when an enemy is weak to the player's attacks the damage numbers appear orange. When an enemy resists the player's damage, the damage numbers appear purple.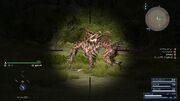 Noctis can have up to four weapons equipped and his fighting style changes depending on which of his equipped weapons is active. The player can freely cycle between them via the d-pad. Some weapons can be upgraded by Cid Sophiar; these are designated by a yellow "+" in the Gear menu. Others boost their wielders' stats when equipped. The royal arms drain Noctis' HP when attacked with (unless he is AI-controlled), but are often especially strong against daemons.
When Noctis uses firearms, he is unable to string combos together, but he automatically reloads the weapons after enough shots have been fired. Ignis, Gladiolus, and Prompto use their Secondary Arms (Lances, Shields, and Machinery, respectively) situationally.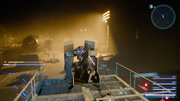 In imperial bases, Noctis can use heavy arsenal turrets to damage enemies from a distance.

Techniques and the Armiger
[
]
During combat, a tech bar comprised of three segments gradually fills. The player can issue commands to Noctis' allies, as well as any guest characters present. If the party member's Technique is offensive it can usually be followed up with an attack from Noctis if the player presses the attack button at the right time. When using character swap, only Prompto can prompt the use of an ally Technique when Aranea Highwind is in the party.
Noctis unlocks Armiger when he has collected three royal arms. After a circular gauge fills through a combination of offense and defense, the player can activate Armiger to boost his attacks and summon all of his collected arms to his side. These shield Noctis from enemy attacks and make all of his moves warps. While in Armiger, maneuvers don't expend HP or MP. While Armiger is active, Noctis can perform an Armiger Chain, a powerful technique that allows the entire party to damage foes several times in rapid succession. Armiger ends when the gauge is depleted.
Armiger Unleashed is a new Armiger mode in the Windows and Royal Editions of the game that makes Noctis even more powerful and lets him use various combos and Techniques.
Magic
[
]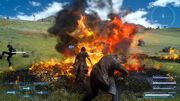 There are two types of magic: elemental magic and ring magic. Elemental magic is available from the start, and ring magic is unlocked in the thirteenth chapter.
Elemental magic does not cost MP. Instead, it must be equipped like a weapon. Spells in this class can be used a certain number of times before the spell will be depleted, and they can also be equipped by Noctis's allies, who will use them when controlled by the AI. Players can craft new spells through the art of Elemancy. The player can restock the necessary elemental energy by absorbing it from special spots on the field. By adding treasures, ingredients, or items to a spell during crafting, players can create magic that has a variety of different effects. For example, some debilitate enemies, while others heal their caster. Elemancy allows players to obtain powerful spells early on.
Elemental spells are area-of-effect attacks that harm both enemies and the party. Weather affects a spell's effectiveness; casting Fire on a clear day chars the surrounding landscape and causes monsters that fear flames to flee. Conversely, Fire spells are quickly extinguished when it is raining, but Thunder spells are enhanced. Damage the environment sustains from magic is not permanent.
Ring magic is exclusive to Noctis and is accessed when the Ring of the Lucii is set as his active weapon. Called "Arcana," spells accessed through the ring consume MP. They either consume an enemy's life-force to heal Noctis, damage foes through a well-timed dodge, or eradicate all foes in the area.

Summons
[
]
Summons are called "Astrals." They behave situationally and can only be summoned by Noctis. They are acquired through story events.
The chance to summon comes up randomly when in battle after the player has forged a covenant with an Astral as part of the story. The game does a "summon roll" every ten seconds, determining whether a summoning chance will activate or not. Different summons have different conditions for being summoned. For example, Titan has a chance of being summoned if Noctis' allies are in KO or Danger state. When the summoning chance activates, the screen turns red, small crystal lights float in the air, and the battle music changes. The player can then call an Astral by holding the necessary button. If Noctis is killed the summon is cancelled, or the player can ignore the summon chance and it will eventually dissipate.
The summons are the strongest attacks the player can perform, and deal damage to all enemies in battle. The player can summon once per battle.
Ascension
[
]
By spending ability points (AP), players can unlock abilities and stat boosts for Noctis and his comrades. Accumulated AP is shared between party members. The Ascension doesn't only affect combat, but can also be used to extend buffs obtained from food cooked at camp, make Noctis sprint longer, expedite AP gain, among various other effects.
There are nine skill trees:
Armiger
Magic
Recovery
Techniques
Combat
Teamwork
Stats
Exploration
Wait Mode
Difficulty modes
[
]
Final Fantasy XV has two difficulties: Easy and Normal. These can be switched between freely. The ability to change difficulty levels was decided upon based on feedback developers received on Final Fantasy XV Episode Duscae.[7] Carbuncle can appear to save the player in the Easy Mode.
The field
[
]
The creatures in the world are properly depicted as alive. If you think about fighting something, you can fight it. Just watching the way everything moves is pleasant. Making a virtual world that is so alive is important in making the player feel absorbed in it.
The world of Final Fantasy XV is seamless and initially open. The player is free to drive or fly the Regalia without hindrance. Noctis and friends can call chocobos to their side by blowing a whistle, and as of the day one patch, Noctis can warp outside of battle and use the car's "music player" while exploring.
Noctis can fish at designated locations, and he can find non-player characters some of whom give him quests. Noctis's friends occasionally point things out to him, and the conversations they have with him often allow the player to discover optional material organically. Players can see their destination on the world map by looking for

or
; this aids navigation and prevents one from getting lost. Items can be procured from the field and glow before they are picked up; many of them can be exchanged for gil, a currency that can also be earned for completing sidequests. During some cutscenes, players are given the option to choose how Noctis will respond.
Final Fantasy XV features a day and night cycle, which affects which enemies spawn and which fish are around fishing spots. Daemons only spawn at night, and if the battle draws for so long the sun comes up they will take damage from the sunlight. Initially, the Regalia cannot be driven on auto-pilot during the night, but the option for it unlocks at after level 30. The player can still fast-travel with the car. The Starscourge gradually lengthens nights and thus the party will wake up later in the later chapters, and the sun begins to go down earlier.
Camping, lodging and restaurants
[
]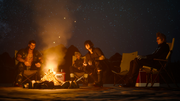 Camps are safe havens at which the accumulated Experience Points of Noctis and his friends are tallied. They are also where the party eats meals to gain status boosts. Camp can be made at any time of day, but only in designated areas. If Noctis and friends do not rest they do not level up, and their status boosts gradually disappear.
At camp, the player selects which meal Ignis cooks determined from the list of ingredients the party has obtained from shops, procurement points and monsters. Each meal has a different effect, and some meals are different party members' favorites.
When camping in certain locations, Noctis is invited by his friends to accompany them on tours, sidequests with special objectives. During a tour time does not progress until it is completed and the player cannot stray from the area near the camp.
Increased monster activity at night is an incentive for players to camp. The party can camp out in the open or stay in hotels or other facilities at outposts. Using these adds a multiplier to the party's accumulated experience, but it does not allow status-boosting meals to be eaten.
Another way to eat outside camp is by visiting restaurants. The dishes cost gil but provide buffs that last longer than the initial buff duration for camp food. At restaurants the player can also talk to the local tipster to unveil icons on the map and do hunts.

Mini-games and sidequests
[
]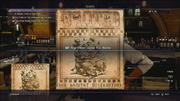 Players can enjoy fishing, chocobo racing, and the pinball game Justice Monsters Five. Players can also take on over 200 sidequests that promote exploration and offer several bonuses.
New Game Plus
[
]
New Game Plus was added in version 1.03. This enables the player to re-experience Final Fantasy XV after clearing it while retaining the following from their previous playthrough:
Character levels
Ascension grid progress
Collected weapons
Collected items
Obtained recipes
Gil earned
In New Game Plus, Noctis's Engine Blade returns to its most basic form; any upgrades to it are not carried over. Players also cannot maintain the Regalia Type-F.
Chapter Select was later added as a feature. It is similar to New Game Plus but lets the player start from a chapter of their selection.
DLC and VR
[
]
Gladiolus, Ignis and Prompto have their own downloadable episodes, wherein players can take control of them and experience their unique playstyles. The ability to play as them in the main game was added as of Episode Ignis's release.
At E3 2016, it was announced that Final Fantasy XV would include a virtual reality experience in which players control Prompto Argentum. It was to feature first-person shooter gameplay and a scene where the player could sit in the passenger's seat while Cindy Aurum drives the Regalia around Lucis. This project eventually evolved into Monster of the Deep: Final Fantasy XV, a standalone PlayStation VR exclusive fishing game announced at E3 2017. The team decided to shift focus towards fishing, as it offers a more immersive experience than the original prototype shooting demo.[9] It released on November 21, 2017. Monster of the Deep was the first part of the VR games; Business Division 2 had plans to further develop a Part 2 using their newfound experience with Part 1.[10] However, this never materialized.
On 7th November 2018 Square Enix informed that of all DLC planned for 2019, only Episode Ardyn would be released; Episodes Lunafreya, Aranea and Noctis having been canceled. This announcement occurred concurrently with news of the resignation of Hajime Tabata from Final Fantasy XV's director position as well as from Square Enix altogether.
Story
[
]
Setting
[
]
O'er rotted Soil, under blighted Sky, A dread Plague the Wicked has wrought. In the Light of the Gods, Sword-Sworn at his Side, 'Gainst the Dark the King's Battle is fought. From the Heavens high, to the Blessed below, Shines the Beam of a Peace long besought. Long live thy Line and these Stones divine, For the Night When All comes to Naught.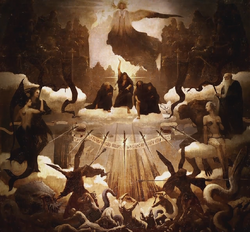 The world of Eos is comprised of three continents: Lucis, Accordo, and Niflheim. The northeastern land of Lucis possesses a powerful Crystal, which was gifted by the gods in antiquity to the reigning Caelum dynasty. Accordo, located in the south, is made up of islands and has been annexed by the Niflheim Empire, which lies to the west and benefits from its advanced magiteknology. The province of Tenebrae is under Niflheim's control, but maintains some autonomy due to the presence of the Oracle, a priestess who has the power to fight the Starscourge, a plague that lengthens nights and turns people and animals into vicious daemons. Watching over Eos are the Astrals, divine beings that can appear in the mortal realm, usually as colossal and powerful beings.
For hundreds of years Lucis and Niflheim have been at war. While many lands have been lost to the empire, the Lucian capital of Insomnia remains untouched due to the Wall, a transparent magic barrier maintained by the king and the Crystal's magic. Peace talks have begun in hopes of bringing an end to the conflict, one of the conditions being a marriage of Prince Noctis and Lady Lunafreya, the Oracle.
Characters
[
]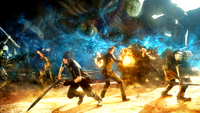 Playable character
Noctis Lucis Caelum - The main protagonist and sole playable character. A Lucian prince who must fulfill a great destiny.
Party members
Ignis Scientia - Noctis' royal adviser and longtime friend. A tactician and strategist who drives and cooks for his friends.
Gladiolus Amicitia - Noctis' bodyguard and longtime friend. A man sworn to protect the king at all costs.
Prompto Argentum - Noctis' best friend from high school. A man of common birth determined to prove his worth.
Guests
Plot
[
]
In a matter of days, the Kingdom of Lucis is to sign an armistice, ending a long and bitter conflict with Niflheim. Ahead of the ceremony, Prince Noctis, heir to the Lucian throne, sets forth from his homeland to formalize the union of states through his marriage to the Lady Lunafreya of the imperial province of Tenebrae.

The offer of peace, however, is no more than a ruse to lower the Lucian shield, and the imperial army takes the crown city and its sacred crystal in one fell swoop. En route to his destination, Noctis is shocked to learn that he, his father the king, and his betrothed are believed dead.

Overnight, the dream of peace has faded into a distant memory. His world crumbling around him, Noctis has naught but his resolve and his loyal companions to see him through the trials to come.
Music
[
]
The soundtrack of Final Fantasy XV is primarily composed by Yoko Shimomura, who is known for her contributions to the Kingdom Hearts series. Shimomura's pieces encompass themes of "friendship" and "filial bonds."[18]
Yoko Shimomura has been a part of the Final Fantasy XV staff since the days of Final Fantasy Versus XIII. Since she was initially hired to work on a spin-off title, Shimomura did not feel pressured to follow in the footsteps of other Final Fantasy composers. She had a clear concept for her music, thus she was not affected by the transition into Final Fantasy XV. The transition did mean new music had to be composed, however.[19]
The main theme of Final Fantasy XV, "Somnus," is performed by Aundréa L. Hopkins.[20]. The piece's title refers to Hypnos, the Roman god of sleep, in accordance with the logo.
"Omnis Lacrima" (which means "every tear" in Latin) is the boss theme for monsters encountered on the open world. It is the second piece from the game's soundtrack to have been released to the public, and it is a bonus track on Yoko Shimomura's compilation album, memoria: The Very Best of Yoko Shimomura, which was released in 2014.[21] "Omnis Lacrima" is featured in three trailers: the DKΣ3713 trailer released in 2008, the Square Enix 1st Production Department Premier trailer released in 2011, and the trailer released at E3 2013.
A new piece from the soundtrack served as background music for the game's trailer from Tokyo Gameshow 2014. It was a collaboration between Yoko Shimomura and the Video Game Orchestra, a group that previously worked with Masashi Hamauzu during the production of the soundtrack of Lightning Returns: Final Fantasy XIII.[22]
At Uncovered: Final Fantasy XV, it was revealed a cover of "Stand By Me" by Florence + the Machine would serve as the theme song. On August 12, 2016, a new single was released titled "Songs from Final Fantasy XV." It features "Stand By Me" and two new songs: "Too Much Is Never Enough" and "I Will Be."
On September 7, 2016, an hour long called "Final Fantasy XV Live at Abbey Road Studios" was live-streamed on YouTube and Twitch.
The Final Fantasy XV: Original Soundtrack was released on December 21, 2016. It can be purchased for ¥3,800, and it features 80 pieces that span four discs. For ¥5,000 the soundtrack can be obtained on Blu-ray.[23]
Other composers for this game include Afrojack, Yoshitaka Suzuki, Tetsuya Shibata, Shota Nakama and Yoshino Aoki. The game also includes tracks that were arranged from Nobuo Uematsu compositions.
The music in the game was arranged by Yoko Shimomura, Afrojack, Kaoru Wada, Yoshitaka Suzuki, John Graham, Tetsuya Shibata, Shota Nakama, Mitsuhiro Ohta, Naoki Masumoto, Sachiko Miyano, Yoshino Aoki and Nicolas Alvarez.
Final Fantasy XV Original Soundtrack Volume 2 was released on March 21, 2018 in both CD and Blu-ray formats, and includes tracks from Final Fantasy XV's downloadable content, such as Episode Prompto and Comrades. The Blu-ray version also includes a video recording of the live Final Fantasy XV piano performance in Osaka from 2017. The music was composed by Yoko Shimomura, Keiichi Okabe, Naoshi Mizuta, Nobuo Uematsu, Yasunori Mitsuda, Tetsuya Shibata, Yoshino Aoki, Yoshitaka Suzuki, Tadayoshi Makino, Tsutomu Narita, Tomomichi Takeoka and Tai Tomisawa and arranged by Takuro Iga and Mariam Abounnasr.
In PAX East 2018 it was announced Yoko Shimomura will compose a new main theme for the game.[24]
Development
[
]
Final Fantasy XV was originally titled "Final Fantasy Versus XIII." The game was directed by Tetsuya Nomura, part of the Fabula Nova Crystallis: Final Fantasy series, and intended to be playable on the PlayStation 3. When Final Fantasy Versus XIII was rebranded, its development team was reorganized. At E3 2013, it was announced the game, now called Final Fantasy XV, would be for the PlayStation 4 and Xbox One. It operated on a new engine, and Hajime Tabata became its director. When these changes took effect, Final Fantasy Versus XIII was approximately 25% complete.[25] Given its new title, Square Enix had to decide how to preserve as many elements of the game as possible.
Final Fantasy XV operates using Square Enix's Luminous Studio engine. The game is meant to be a "fantasy based on reality," thus its look is derived primarily from present-day Earth. To design a more corporeal world, Square Enix looked to Final Fantasy VIII for inspiration; it added more fantastical elements to the conclusion of Final Fantasy XV in a similar fashion to Final Fantasy VII. During the development Square Enix staff went on trips in small groups. They explored caves, visited a zoo, and climbed mountains for research purposes. Creating a realistic fantasy proved challenging for developers, but they were able to get further inspiration from the depiction of 2015 from the film Back to the Future II.[26] This enabled staff to create locations that were both familiar and unfamiliar. Many of Square Enix's resources had to be allocated or outsourced; the company allowed the architecture surrounding its office in Kyoto to influence that which appears in Final Fantasy XV.[27]
The original scenario of Final Fantasy XV was written by Kazushige Nojima back when the game was still known as Final Fantasy Versus XIII. This served as the basis of its new story, which is a "road trip adventure" focusing on brotherhood.
Square Enix aimed for Final Fantasy XV to be multi-regional; it was revealed on March 23, 2016 that the game would be the first in Final Fantasy history to be localized into Latin American Spanish and Brazilian Portuguese. In addition to the standard Japanese and English, Final Fantasy XV was also dubbed in German, French and Russian.
On March 30, 2016, Square Enix hosted a promotional event called Uncovered: Final Fantasy XV where the company revealed the Final Fantasy XV Universe sub-franchise, as well as the initial release date of Final Fantasy XV: September 30, 2016. The game was later delayed until November 29.
Square Enix had been considering a PC port of Final Fantasy XV since before the game launched for consoles.[28] In October, 2016, Hajime Tabata stated this would need to be better than the console versions of Final Fantasy XV, and it would take over a year to develop because Square Enix must adapt the game's engine.[29] At Gamescom 2017, it was announced that the game would be coming to PC as Final Fantasy XV Windows Edition in early 2018.[5]
Sequels
[
]
At E3 2013, Tetsuya Nomura discussed the possibility of Final Fantasy XV having sequels:
In the trailer, there was a line that read 'A World of the Versus Epic,' which suggests that it will be part of an epic. While Final Fantasy XV will have one climax, as a story, we plan to continue it further.
In a later interview at Japan Expo 2013, Nomura was more cautious when asked about this subject:
Obviously we haven't decided yet. We don't have any concrete plan for a future sequel of FFXV, it would be good if we could do that but we can't announce it or say anything into detail for the moment.
In an issue of Game Informer released on April 5, 2015 that focused on Final Fantasy XV, Hajime Tabata stated there are no plans to create sequels to the game.[32]
In March, 2016 at Uncovered: Final Fantasy XV, the Final Fantasy XV Universe sub-franchise was revealed. Square Enix has stated its purpose is to "expand the story and world of Final Fantasy XV to other media," as well as to eliminate the necessity for sequels.[33]
Release
[
]
Original
[
]
Final Fantasy XV was originally slated for release on September 30, 2016, but was delayed until November 29. The original date was leaked before Uncovered: Final Fantasy XV, at which it was subsequently revealed by Square Enix. According to Hajime Tabata, September 30 was chosen as the initial release date of Final Fantasy XV when he became the game's director in December, 2013.[34] On November 17, 2016, retailers in Peru began selling Final Fantasy XV twelve days in advance.
For $59.99, players could purchase the "Day One Edition" of Final Fantasy XV, which included the downloadable weapon "Masamune." Pre-order incentives for Xbox One users included the Noctis Special Outfit and a Carbuncle pet for the Xbox's avatar feature. Those with a PlayStation 4 could obtain a dynamic theme. The digital version of the "Day One Edition" was available for purchase until January 9, 2017.
For $89.99, players can purchase the "Deluxe Edition" of Final Fantasy XV, which includes Kingsglaive: Final Fantasy XV on Blu-ray and is packaged in a steelbook decorated with artwork by Yoshitaka Amano. Those who buy this version of Final Fantasy XV can also obtain the "Royal Raiment" costume for Noctis, "Masamune," and the Regalia's "Platinum Leviathan" skin.
30,000 players were able to purchase the "Ultimate Collector's Edition" of Final Fantasy XV for $269.99; this was exclusive to the Square Enix Online Store and included Kingsglaive: Final Fantasy XV and Brotherhood Final Fantasy XV on Blu-ray, a special soundtrack, a Play Arts Kai Noctis figure, a 192-page The Art of Final Fantasy XV art book, "Royal Raiment," "Masamune," and "Platinum Leviathan." Those who bought this version of Final Fantasy XV also received the "Travel Pack," "Camera Kit," "Angler Set," and "Gourmand Set." Given the demand for these units, Square Enix made an additional 10,000 units available, but restricted them to one copy per person.
American Express appears in Final Fantasy XV as a form of product placement. Those in Japan who obtained a new American Express Gold card or Business Gold Card before August 31, 2016 were able to receive a copy of Final Fantasy XV; the first 100 of these customers were also given a Play Arts Kai Noctis figurine. People who spent over ¥150,000 within three months were rewarded with a ¥10,000 gift card that featured one of five Final Fantasy XV-related designs.[35]
A special PlayStation 4 Slim has been released in honor of Final Fantasy XV. It depicts the moon. There is no special version of PlayStation 4 Pro.[36]
PlayStation 4 Pro support
[
]
As of version 1.05, the game supports the PlayStation 4 Pro. It features two new settings named "Lite Mode", which increases the frame rate to 60FPS, and "High Mode", which upscales the visuals to ultra HD 4K resolution.
Downloadable content
[
]
By purchasing a Season Pass, players can access downloadable content. Anyone who purchases this obtains the Gourmand Set, as well as guaranteed access to the following:
"Holiday Pack" (Free version available)[37]
"Booster Pack" (Free version available)[37]
The Holiday Pack was released on December 22, 2016. It contains a new outfit for Noctis, "Mog Choco T-Shirt," and carnival tickets that allow access to a special event held between January 24 and February 20, 2017. The Season Pass grants access to the Holiday Pack+, which features exclusive items and a second outfit for Noctis, "Carnival Style." All downloaded items are automatically added to the player's inventory upon installation, but the outfits can only be obtained during the event.
On January 24, 2017, all of the game's pre-order DLC was made available for purchase via the PlayStation Store and Xbox Live.
The Booster Pack was available on February 6, 2017, along with a Booster Pack+ version for players who purchased the Season Pass. Episode Gladiolus released on March 28, 2017, Episode Prompto released in June 27, 2017, and Episode Ignis was released on December 13, 2017.
Patches
[
]
Final Fantasy XV has been updated with various patches since its release, adding new weapons, DLC and story scenes, as well as various quality of life improvements and bug fixes.
Royal Edition
[
]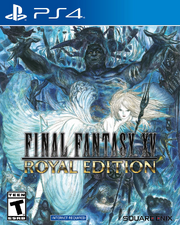 A release date for Final Fantasy XV: Royal Edition with features was announced January 15, 2018, to be released on March 6, 2018, for PlayStation 4 and Xbox One, on the same date as Final Fantasy XV: Windows Edition. Owners of the original release can purchase a Final Fantasy XV Royal Pack to also access some of these features, although the previously released Season Pass content is only included in the Royal Edition, not the Royal Pack. Save games from the base edition are compatible with the Royal Edition; however, once a save game is upgraded, it can no longer be loaded in the base edition.
The Royal/Windows Edition has various additions like a new ultimate ability fo Noctis. new bosses, and a new final dungeon.
Windows Edition
[
]
Final Fantasy XV: Windows Edition was released in March 6, 2018.[6] It started its development in 2017.[38] Alongside all content from the Royal Edition,[6] and support for 4K resolution and HDR, Final Fantasy XV: Windows Edition supports up to 8K resolution, Dolby Atmos sound, and a laundry list of Nvidia's GameWorks enhancements, including Nvidia Flow for dynamic fluids, fire, and smoke; HairWorks for more realistic hair, and fur; Nvidia ShadowWorks, a combination of soft shadows and ambient occlusion for more realistic shadows; Nvidia Turf Effects for dynamic grass and vegetation; and Nvidia VXAO, another form of ambient occlusion that assists with lighting. The Windows Edition also features cross-platform co-op with Xbox One players (for Comrades) when purchased through Microsoft Store.[39]
The Final Fantasy XV team considers the libraries Nvidia provides with that for GeForce the best fit for creating the visuals and realize the vision of what they want for Final Fantasy XV. Thus, Square Enix approached Nvidia and asked them to help out on the PC version, and Nvidia adapted their tools and systems for them.[40]
Initially, Square Enix thought of allowing user-generated content and providing a level editor so players could create their own quests. As far as other mods go, the team would have looked at how the PC audience reacted to the Windows Edition with these and how many of them actually engage with it. Depending on that, the team might have started thinking about what to contribute or what other tool sets to provide. The team had some concerns at how "extreme people might take the mods" and hoped people would take advantage of it in good taste.[41] Square Enix has said they have no plans to vet mods or censor anything mod makers release for Final Fantasy XV on PC.[42] However, following the structural changes at Square Enix, it was announced on November 8, 2018, that plans regarding mod support have been cancelled.[43]
The Windows Edition also features a first-person mode, as Director Hajime Tabata hoped to broaden the game's appeal beyond its typical RPG audience. In October 2017, the team reached about 50 per cent completion on this mode, but it's been well-received among those in the development team. In providing this mode, the team needed to make large adjustments, like the player character's VFX, displayed animations and camera movement.[38]
According to Tabata developing a PC version has been easy compared to the console release, which required reconstruction from the start for both the game and the engine. In a global PC market, games need to be played on a wide range of specs, but as of October 2017, Final Fantasy XV: Windows Edition was at the high end of these settings. The team was in the process of pushing things out on a lower spec then, because PC represents the smallest of the game platforms in Japan, the team doesn't expect to see a similar performance to the console version.[38]
System requirements
[
]
Minimum
Recommended
4K HDR
OS
Windows® 7 SP1/ Windows® 8.1 / Windows® 10 64-bit
Windows® 7 SP1/ Windows® 8.1 / Windows® 10 64-bit
Windows® 10 64-bit
Processor
Intel® Core™ i5-2500 (3.3GHz and above)
AMD FX™-6100 (3.3GHz and above)
Intel® Core™ i7-3770 (3.4GHz and above)
AMD FX™-8350 (4.0 GHz and above)
Intel® Core™ i7-7700 (3.6GHz and above)
AMD Ryzen™ 5 1600X (3.6GHz and above)
Memory
8 GB RAM
16 GB RAM
16 GB RAM
Graphics
NVIDIA® GeForce® GTX 760
NVIDIA® GeForce® GTX 1050
AMD Radeon™ R9 280
NVIDIA® GeForce® GTX 1060 6 GB VRAM
AMD Radeon™ RX 480
NVIDIA® GeForce® GTX 1080 Ti
Screen Resolution
720p
1080p
4K(2160p)
Target resolution & Framerate
720p @ 30fps
1080p @ 30fps
4K(2160p) @ 30fps or 1440p @ 60fps
Hard Disc Free Space on SSD
OVER 100GB
OVER 100GB
OVER 155GB
Sound Card
DirectSound® Sound Card, Windows Sonic or Dolby Atmos
DirectSound® Sound Card, Windows Sonic or Dolby Atmos
DirectSound® Sound Card, Windows Sonic or Dolby Atmos
DirectX
Version 11
Version 11
Version 11
Other
(※1) DVD-ROM/DVD-ROM Drive (※2) mouse, keyboard, gamepad
(※1) A DVD-ROM Drive (one-sided 1 layer / 2 layer) is required. (※2) The game is compatible with gamepad but is not required.
The final release has DRM Denuvo.
Pocket Edition
[
]
Google Stadia
[
]
The Google Stadia version includes the main game and all DLC content as well as Comrades (matching only with among other Stadia users), as well as a minigame collection "Crazy Challenge", a new feature for the Stadia version that includes the following minigames[44] playable from the title screen:[45]
Challenge Rally: New Regalia Type-D races
Expert Duel: New battles against enemies that were previously Comrades exclusive.
Endless Magitek Armor
Magna Flight: challenges involving the Regalia Type-F
The Avatara System and at least most of the crossover content, such as Master Assassin's Robes for Noctis and the Kings Knight items, are not included in the Stadia version. The Stadia version does include the bonus items Platinum Leviathan decal for the Regalia, Ragnarok sword, and the Choco-Mog Tee attire.
It was soon discovered that the Stadia version of Final Fantasy XV suffered from a save game bug that prevented players from saving their game after playing around 14-20 hours,[46] but a fix was deployed on 6th of December.[47]
Nintendo Switch
[
]
After releasing Final Fantasy XV, Square Enix was looking to port it to Nintendo Switch. Technical tests to see if the same native engine used on other console versions would work on the Switch were unsatisfactory, and the team is looking at customizing the engine. Square Enix had talked to Epic Games (owners of the Unreal environment) about a possible partnership.[48]. No details of these talks have come forward, but Pocket Edition HD was announced on September 6, 2018 and released to the Switch a week later.
Reception
[
]
Critical reception
[
]
Final Fantasy XV received generally positive reviews, though its review scores were lower than usual for main series entries. The game was praised for the portrayal of the friendship between the main characters, expansive open world, with criticism directed to its storytelling and to the second half of the story that felt flawed.[54][55][56][57]
A key point of praise was the relationship between the four main characters. Polygon described them as the "most well-drawn, fully-developed characters in Final Fantasy history",[57] while Game Informer credited the "smart (and often funny) dialogue" as well as for their interests being sewn into the gameplay and story.[54] IGN also praised how the game turns every aspect of the travel through its open world "into an opportunity to showcase their personalities".[56] However, GameSpot found it disappointing to see them "relegated to cliched, unbending roles" given that a group of supporting characters in Final Fantasy games "typically has diverse backgrounds and curious personalities".[55]
Many critics praised the open world and the gameplay. IGN posited the game is "constantly and thoroughly beautiful", and never compromises in "scale or detail"[56], while Polygon felt that the "world of Lucis is so interesting, so detailed and begging to be explored" that excuses to travel were "welcomed".[57] GameSpot claimed that the combat system made for "a satisfying juggling act once you understand the game's demanding pace and the extent of your abilities",[55] while IGN felt that the mechanics of battle were "sadly quite thin".[56]
Critics criticized the story, particularly for the second, linear act. Polygon felt it was as if "developers had to scale back the size of the open world and the scope of the game's plot, and squeeze everything into half the time intended". It concluded that with regards to the side characters and pacing, the game "doesn't have all the time it needs to get things done" despite being a "60-plus hour game".[57] IGN claimed that the game felt like two games, "one for seasoned adventurers with wanderlust in their heart, and another for people who want tight levels and scripted action scenes", calling it a "shame" that the story "washes its hands of the open world for most of its second half".[56] GameSpot called the story "shallow", and stated that the endgame gameplay moments would be remembered best when the game "runs its course".[55]
The development team is aware of the feedback of the game feeling unfinished, and this has been said to be the biggest issue for them. Though there was not enough time to include everything the developers had wanted to, and though they would have preferred to put these things in the main story, the team plans to keep including the parts that have been left out via updates and DLCs. Because it takes time and money, the team will prioritize the things with strong demand.[60]
Director Hajime Tabata has lamented that the main game has certain aspects that lack explanation. He denied the scattered nature of the final story had to with salvaging the Final Fantasy Versus XIII project, and instead simply said that creating a grand adventure on PlayStation 4 and Xbox One is a hard task to accomplish, and that the team may have lacked the strength, or abilities and skills to perfectly complete the game. He stressed he and his team don't consider the end result a low achievement, and are proud of the game regardless. One of the goals through downloadable content—which will continue for an indeterminate time to come—is to patch plot holes and give players a better understanding of the game's story.[61]
Accolades
[
]
PlayStation Blog awarded Final Fantasy XV for Best PS4 Game, Best Use of Pro, Best Soundtrack, and Best Visuals.[62]
Final Fantasy XV won Game of the Year from GameFAQs,[63] Best RPG and Best Soundtrack from IGN,[64][65] and Best Cast from Game Informer.[66]
At the 2017 National Academy of Video Game Trade Reviewers Awards, the game won "Game, Franchise Role Playing" and "Song, Original or Adapted", while being nominated for "Art Direction, Fantasy", "Camera Direction In A Game Engine" and "Performance In A Drama, Supporting" (for Amy Shiels as Lunafreya).[67]
Commercial performance
[
]
Speaking with European press after Uncovered: Final Fantasy XV, Hajime Tabata stated Final Fantasy XV should sell 10,000,000 copies "to be a success". He then clarified to Famitsu this being merely his team's ultimate goal, and not the point where the game turns a profit.[68] As of January 2018, the game has sold over seven million copies and is considered a "huge success".[69]
A half-hour after they were made available for pre-order, the 30,000 copies of Final Fantasy XV Ultimate Collector's Edition were sold out.[70] 10,000 more copies were produced, and they went on sale May 23, 2016.[71] When the next batch of Final Fantasy XV Ultimate Collector's Editions was made available in Europe, they were immediately sold out.
During an Active Time Report on April 21, 2016, it was announced Final Fantasy XV pre-orders were doing better in Japan than expected.[71] The next month, Square Enix CEO Yosuke Matsuda stated his company expected Final Fantasy XV to be its biggest FY2017/3 title, as it had already racked up an impressive amount of pre-orders worldwide.[72]
Two days after the game's official release Square Enix announced that the game had topped five million in worldwide shipment and digital sales. It broke the record for most first-day digital sales in Japan and saw a new record for the total of release date shipment and downloads in Asian regions excluding Japan.[73] The game recouped its development costs in the first 24 hours of its release.[74]
The game debuted in Japan with almost 700,000 copies sold (excluding digital sales). Director Hajime Tabata commented that the ration of sales between the Japan and overseas was "as expected", with sales in Japan being "pretty good" considering the situation of the local market, referring to the small hardware installed base in Japan.[75] Final Fantasy XV had the best console launch month in the US for the franchise. It was the best-selling title on PlayStation 4 for the month and the second best selling title for December overall.[76] On 10th January 2017 Square Enix publicized the game had shipped and sold digitally over six million units.[77] In September 2017, Tabata said they had sold over 6.5 million units.[41] In January 2018, president of Famitsu Hirokazu Hamamura mentioned that he had heard the game had sold seven million copies, which he considered a "huge success".[69] In February 2018 Hajime Tabata said the sales were at "about seven million", and he was hoping the upcoming PC version would sell two million to get close to the ten million milestone.[78]
The 2018 upgraded version Final Fantasy XV: Royal Edition debuted its first week in Japan with 6,814 copies sold.[79] On September 6 2018 Final Fantasy XV had sold 8.1M worldwide, according to Square Enix's product info page for the Japanese game. In October this was updated to 8.4M, keeping it the highest selling Final Fantasy game in comparison to release timespan.[80] In August 2019, Final Fantasy XV had sold over a million copies over Steam.[81] In December 2019, Final Fantasy XV had sold over 8.9 million units.[82] In February 2021, Final Fantasy XV had sold over 9.5 millons units.[83] As of May 17, 2022, Final Fantasy XV has achieved cumulative sales of 10 million units.[84]
Packaging artwork
[
]
Physical copies of Final Fantasy XV have reversible covers. One side features the game's logo on a plain background, while the other hosts a picture. The Royal Edition cover is reversible in the EU region, with Noctis's face on the regular cover and the Yoshitaka Amano artwork on the other side.
At E3 2016, the cover for North American versions of Final Fantasy XV was revealed. This was changed slightly upon release, and it was revealed Mat Kishimoto, the Senior Product Marketing Manager at Square Enix America, sent over 50 concepts for the cover artwork to the Business Division 2 art team for feedback before the final design was chosen. Takeshi Nozue, the director of Kingsglaive: Final Fantasy XV, also gave advice during this process.[85]
Demos
[
]
A live demo titled Final Fantasy XV: The Overture was featured at Tokyo Game Show in 2014.[86] Another demo, Final Fantasy XV Episode Duscae, was made available to those who purchased Final Fantasy Type-0 HD. This was available for a limited time[87] and upgraded a short time later to Final Fantasy XV Episode Duscae 2.0.
Square Enix had planned a free version of Final Fantasy XV: The Overture.[88] It later revealed Platinum Demo – Final Fantasy XV at the Uncovered: Final Fantasy XV event in March, 2016. This featured an updated battle system, and it was made available until March 31, 2017 due to fan demand.
Throughout 2016, fans had other opportunities to try Final Fantasy XV. That summer at E3, they were able to battle the Astral Titan in the exclusive Trial of Titan demo. During an Active Time Report on November 10, 2016, Final Fantasy XV Judgment Disc (ファイナルファンタジーXV ジャッジメント ディスク, Fainaru Fantajī Fifutīn Jajjimento Disuku?) was announced. Set for release on November 11, this demo allowed players to experience a portion of the first chapter of Final Fantasy XV. It was promised bugs found in Final Fantasy XV Judgment Disc would be fixed.[89]
Production credits
[
]
Staff
[
]
Voice cast
[
]
Scheduling conflicts and costs prevented the cast of Kingsglaive: Final Fantasy XV from reprising its roles in Final Fantasy XV.[18]
Gallery
[
]
Allusions
[
]
Final Fantasy XV has many allusions to the Fabula Nova Crystallis: Final Fantasy series, the numbers 13 and 15, other Final Fantasy games, real-world locations and products, popular culture and folklore and mythologies.
External links
[
]
References
[
]