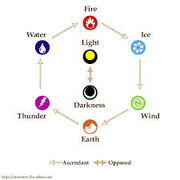 The following is a list of all elements in Final Fantasy XI.
Weak to Wind, strong against Lightning. Earth represents Vitality.
Weak to Ice, strong against Earth. Wind represents Agility.

Weak to Fire, strong against Wind. Ice represents Intelligence.

Weak to Water, strong against Ice. Fire represents Strength.
Weak to Lightning, strong against Fire. Water represents Mind.

Weak to Earth, strong against Water. Lightning represents Dexterity

Opposite element to Dark. Light represents Charisma.
Opposite element to Light. Dark represents no stats.
This section is empty or needs to be expanded. You can help the Final Fantasy Wiki by expanding it.