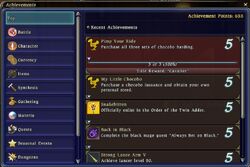 Final Fantasy XIV tracks several achievements related to many activities, such as leveling up and gathering. Each achievement is worth a certain number of points (to show the player's current progress), and completing some unlocks special titles or grants powerful equipment that can be claimed by speaking with Jonathan, Master of the Rolls in Old Gridania.
Besides the in-game achievements, the game also tracks certain special deeds on the Lodestone history of the character, such as defeating Ifrit in less than 10 minutes. To view those, one must search a player character on the lodestone website and click "History". Those achievements are independent of platform, and therefore the PlayStation 3 and PlayStation 4 versions will have a different set of achievements for PlayStation Network, called trophies, that may overlap with some of the Windows version ones.
On 7/27/2012, the development team released a list of content that would be unavailable after the transition to Final Fantasy XIV: A Realm Reborn, including several of the achievements, particularly those related to the Seventh Umbral Era storyline and involving the current maps. These are marked with an asterisk *.
Battle
[
]
Battle
[
]
Name
Reward
Description
Points

To Crush Your Enemies I



—
Defeat 100 enemies.
5

To Crush Your Enemies II



—
Defeat 500 enemies.
5

To Crush Your Enemies III



—
Defeat 1,000 enemies.
10

To Crush Your Enemies IV



—
Defeat 5,000 enemies.
10

To Crush Your Enemies V



—
Defeat 10,000 enemies.
10

To Crush Your Enemies VI



Title: The Exterminator
Defeat 50,000 enemies.
10

Let the Bodies Hit the Floor



Item:

Butcher's Crown

Defeat 100,000 enemies.
30

Bump on a Log: Gladiator


File:Bump on a Log: Gladiator achievement icon from Final Fantasy XIV.png
Item: Master Gladiator's Ring
Complete all gladiator entries in the hunting log.
20

Bump on a Log: Pugilist


File:Bump on a Log: Pugilist achievement icon from Final Fantasy XIV.png
Item: Master Pugilist's Ring
Complete all pugilist entries in the hunting log.
20

Bump on a Log: Marauder


File:Bump on a Log: Marauder achievement icon from Final Fantasy XIV.png
Item: Master Marauder's Ring
Complete all marauder entries in the hunting log.
20

Bump on a Log: Lancer


File:Bump on a Log: Lancer achievement icon from Final Fantasy XIV.png
Item: Master Lancer's Ring
Complete all lancer entries in the hunting log.
20

Bump on a Log: Archer


File:Bump on a Log: Archer achievement icon from Final Fantasy XIV.png
Item: Master Archer's Ring
Complete all archer entries in the hunting log.
20

Bump on a Log: Conjurer


File:Bump on a Log: Conjurer achievement icon from Final Fantasy XIV.png
Item: Master Conjurer's Ring
Complete all conjurer entries in the hunting log.
20

Bump on a Log: Thaumaturge


File:Bump on a Log: Thaumaturge achievement icon from Final Fantasy XIV.png
Item: Master Thaumaturge's Ring
Complete all thaumaturge entries in the hunting log.
20

Bump on a Log: Arcanist


File:Bump on a Log: Arcanist achievement icon from Final Fantasy XIV.png
Item: Master Arcanist's Ring
Complete all arcanist entries in the hunting log.
20

Locking Horns



—
Successfully complete the FATE "He Taketh It with His Eyes" with the highest rating possible.
10

Uncut



—
Successfully complete the FATE "Steel Reign" with the highest rating possible.
10

When the Going Gets Tough



—
Successfully complete the FATE "Go, Go, Gorgimera" with the highest rating possible.
10

On the Ropes



—
Successfully complete the FATE "The Eyes Have It" with the highest rating possible.
10

Full Remission



—
Successfully complete the FATE "It's Not Lupus" with the highest rating possible.
10

Lazy Town



—
Successfully complete the FATE "Lazy for You" with the highest rating possible.
10

Blood, Sweat, and Blood



—
Successfully complete the FATE "Dark Devices - The End" with the highest rating possible.
10

Ring of Fire



—
Successfully complete either the FATE "Svara's Fall" or "Svara's Fury" with the highest rating possible.
10

Boughbury Burning



—
Successfully complete the FATE "Clearing the Hive," "Defending the Hive," or "Keeping the Hive" with the highest rating possible.
10

Curtain Call



—
Successfully complete the FATE "Attack on Highbridge: Act III" with the highest rating possible.
10

Old Maid



—
Successfully complete the FATE "Poor Maid's Misfortune" with the highest rating possible.
10

Date with Destiny I



—
Successfully complete 10 FATEs.
5

Date with Destiny II



—
Successfully complete 100 FATEs.
5

Date with Destiny III



—
Successfully complete 300 FATEs.
10

Date with Destiny IV



Title: Tempter of Fate
Successfully complete 1,000 FATEs.
10

Destiny's Child



Item:

Paragon's Gown

Successfully complete 3,000 FATEs.
20

Bosom Buddies I



—
See your companion chocobo to rank 1.
5

Bosom Buddies II



—
See your companion chocobo to rank 5.
10

Bosom Buddies III



Item:

Chocobo Suit

See your companion chocobo to rank 10.
20

The Kindness of Strangers I



—
Resurrect a player who is not in your party or alliance.
5

The Kindness of Strangers II



—
Resurrect a player who is not in your party or alliance 20 times.
10

A Tankless Job I (Paladin)



Title: The Meat Shield
Complete 50 high-level duties as a paladin.
5

A Tankless Job II (Paladin)



Title: Of the Stalwart Shield
Complete 100 high-level duties as a paladin.
10

But Somebody's Gotta Do It (Paladin)



Item: Warlion Horn
Complete 200 high-level duties as a paladin.
20

A Tankless Job I (Warrior)



Title: The Meat Axe
Complete 50 high-level duties as a warrior.
5

A Tankless Job II (Warrior)



Title: Of the Stalwart Axe
Complete 100 high-level duties as a warrior.
10

But Somebody's Gotta Do It (Warrior)



Item: Warbear Horn
Complete 200 high-level duties as a warrior.
20

Bump on a Log: Rogue


File:Bump on a Log: Rogue achievement icon from Final Fantasy XIV.png
Item: Master Rogue's Ring
Complete all rogue entries in the hunting log.
20

A Tankless Job I (Dark Knight)



Title: Dark Driver
Complete 50 high-level duties as a dark knight.
5

A Tankless Job II (Dark Knight)



Title: Of the Stalwart Sword
Complete 100 high-level duties as a dark knight.
10

But Somebody's Gotta Do It (Dark Knight)



Item: Panther Bell
Complete 200 high-level duties as a dark knight.
20

To Crush Your Enemies VII



—
Defeat 200,000 enemies.
30

Date with Destiny V



—
Successfully complete 5,000 FATEs.
20

Date with Destiny VI



Title: The Fortunate
Successfully complete 10,000 FATEs.
20

The Kindness of Strangers III



—
Resurrect a player who is not in your party or alliance 50 times.
10

The Kindness of Strangers IV



—
Resurrect a player who is not in your party or alliance 100 times.
10

The Kindness of Strangers V



Title: Good Samaritan
Resurrect a player who is not in your party or alliance 200 times.
10

Short-lived, the Queen



—
Successfully complete the FATE "Coeurls Chase Boys Chase Coeurls" with the highest rating possible.
10

A Worthy Adversary



—
Successfully complete the FATE "Vedrfolnir Devoteth" with the highest rating possible.
10

A Day at the Dzu



—
Successfully complete the FATE "We Fought a Dzu" with the highest rating possible.
10

Falling Down



—
Successfully complete the FATE "Special Tarasque Force" with the highest rating possible.
10

Neverlasting Gobstopper



—
Successfully complete the FATE "Metal Gears Revengeance 2" with the highest rating possible.
10

Tipping the Scales



—
Successfully complete the FATE "Darkscale Devoureth" with the highest rating possible.
10

Fantasy Islet



—
Successfully complete the FATE "On Dangerous Ground" with the highest rating possible.
10

Superseed



—
Successfully complete the FATE "The Evil Seed" with the highest rating possible.
10

What You're Looking For



—
Successfully complete the FATE "Rattle and Humbaba" with the highest rating possible.
10

Slay Me a Mountain



—
Successfully complete the FATE "Tall Tale" with the highest rating possible.
10

Shucked, Not Stirred



—
Successfully complete the FATE "Never Say Daimyo" with the highest rating possible.
10

Maru Five



—
Successfully complete the FATE "Curiosity Killed the Catfish" with the highest rating possible.
10

Tusk



—
Successfully complete the FATE "Wham, Bam, Thank You, Mammoth" with the highest rating possible.
10

Naughty Girls Need Love, as Well



—
Successfully complete the FATE "Foxy Lady" with the highest rating possible.
10

Ride On



—
Successfully complete the FATE "A Horse Outside" with the highest rating possible.
10

Dataq Is Cheap



—
Successfully complete the FATE "The Dataqi Chronicles: Dominion" with the highest rating possible.
10

Tank You, Paladin I



—
Complete 50 dungeons (lv. 61 and above), extreme trials (lv. 61 and above), unreal trials, level 50/60/70/80 duty roulette dungeons, or duty roulette leveling duties as a paladin. ※Each roulette only counts with daily award bonus.
5

Tank You, Paladin II



—
Complete 100 dungeons (lv. 61 and above), extreme trials (lv. 61 and above), unreal trials, level 50/60/70/80 duty roulette dungeons, or duty roulette leveling duties as a paladin. ※Each roulette only counts with daily award bonus.
10

Tank You, Paladin III



Item:

Battle Lion Horn

Complete 300 dungeons (lv. 61 and above), extreme trials (lv. 61 and above), unreal trials, level 50/60/70/80 duty roulette dungeons, or duty roulette leveling duties as a paladin. ※Each roulette only counts with daily award bonus.
20

Tank You, Warrior I



—
Complete 50 dungeons (lv. 61 and above), extreme trials (lv. 61 and above), unreal trials, level 50/60/70/80 duty roulette dungeons, or duty roulette leveling duties as a warrior. ※Each roulette only counts with daily award bonus.
5

Tank You, Warrior II



—
Complete 100 dungeons (lv. 61 and above), extreme trials (lv. 61 and above), unreal trials, level 50/60/70/80 duty roulette dungeons, or duty roulette leveling duties as a warrior. ※Each roulette only counts with daily award bonus.
10

Tank You, Warrior III



Item:

Battle Bear Horn

Complete 300 dungeons (lv. 61 and above), extreme trials (lv. 61 and above), unreal trials, level 50/60/70/80 duty roulette dungeons, or duty roulette leveling duties as a warrior. ※Each roulette only counts with daily award bonus.
20

Tank You, Dark Knight I



—
Complete 50 dungeons (lv. 61 and above), extreme trials (lv. 61 and above), unreal trials, level 50/60/70/80 duty roulette dungeons, or duty roulette leveling duties as a dark knight. ※Each roulette only counts with daily award bonus.
5

Tank You, Dark Knight II



—
Complete 100 dungeons (lv. 61 and above), extreme trials (lv. 61 and above), unreal trials, level 50/60/70/80 duty roulette dungeons, or duty roulette leveling duties as a dark knight. ※Each roulette only counts with daily award bonus.
10

Tank You, Dark Knight III



Item:

Battle Panther Bell

Complete 300 dungeons (lv. 61 and above), extreme trials (lv. 61 and above), unreal trials, level 50/60/70/80 duty roulette dungeons, or duty roulette leveling duties as a dark knight. ※Each roulette only counts with daily award bonus.
20

Not Today



—
Successfully complete the FATE "Deadly Nightshade" with the highest rating possible.
10

Stay Thy Blade



—
Successfully complete the FATE "The Elderblade" with the highest rating possible.
10

Mischief Managed



—
Successfully complete the FATE "Fuath to Be Reckoned With" with the highest rating possible.
10

Unbowed, Unbent, Unbroken



—
Successfully complete the FATE "Tojil Eclipse" with the highest rating possible.
10

Be Still My (Automatic) Heart



—
Successfully complete the FATE "A Finale Most Formidable" with the highest rating possible.
10

Another World, Another Turn



—
Successfully complete the FATE "The Head, the Tail, the Whole Damned Thing" with the highest rating possible.
10

Free Market Friend: Lakeland


File:Free Market Friend: Lakeland achievement icon from Final Fantasy XIV.png
—
Achieve shared FATE rank 3 in Lakeland.
10

Free Market Friend: Kholusia


File:Free Market Friend: Lakeland achievement icon from Final Fantasy XIV.png
—
Achieve shared FATE rank 3 in Kholusia.
10

Free Market Friend: Amh Araeng


File:Free Market Friend: Lakeland achievement icon from Final Fantasy XIV.png
—
Achieve shared FATE rank 3 in Amh Araeng.
10

Free Market Friend: Il Mheg


File:Free Market Friend: Lakeland achievement icon from Final Fantasy XIV.png
—
Achieve shared FATE rank 3 in Il Mheg.
10

Free Market Friend: The Rak'tika Greatwood


File:Free Market Friend: Lakeland achievement icon from Final Fantasy XIV.png
—
Achieve shared FATE rank 3 in the Rak'tika Greatwood.
10

Free Market Friend: The Tempest


File:Free Market Friend: Lakeland achievement icon from Final Fantasy XIV.png
—
Achieve shared FATE rank 3 in the Tempest.
10

Merchant's Best Friend


File:Free Market Friend: Lakeland achievement icon from Final Fantasy XIV.png
Title: The Invisible Hand
Obtain "Free Market Friend" achievements for all six regions in Norvrandt.
20

Tank You, Paladin IV



Title: Of Unyielding Oath
Complete 500 dungeons (lv. 61 and above), extreme trials (lv. 61 and above), unreal trials, level 50/60/70/80 duty roulette dungeons, or duty roulette leveling duties as a paladin. ※Each roulette only counts with daily award bonus.
20

Tank You, Warrior IV



Title: Of Unyielding Steel
Complete 500 dungeons (lv. 61 and above), extreme trials (lv. 61 and above), unreal trials, level 50/60/70/80 duty roulette dungeons, or duty roulette leveling duties as a warrior. ※Each roulette only counts with daily award bonus.
20

Tank You, Dark Knight IV



Title: Of Unyielding Principle
Complete 500 dungeons (lv. 61 and above), extreme trials (lv. 61 and above), unreal trials, level 50/60/70/80 duty roulette dungeons, or duty roulette leveling duties as a dark knight. ※Each roulette only counts with daily award bonus.
20

Tank You, Gunbreaker I



—
Complete 100 dungeons (lv. 61 and above), extreme trials (lv. 61 and above), unreal trials, level 50/60/70/80 duty roulette dungeons, or duty roulette leveling duties as a gunbreaker. ※Each roulette only counts with daily award bonus.
5

Tank You, Gunbreaker II



Item:

War Tiger Horn

Complete 200 dungeons (lv. 61 and above), extreme trials (lv. 61 and above), unreal trials, level 50/60/70/80 duty roulette dungeons, or duty roulette leveling duties as a gunbreaker. ※Each roulette only counts with daily award bonus.
10

Tank You, Gunbreaker III



Item:

Battle Tiger Horn

Complete 300 dungeons (lv. 61 and above), extreme trials (lv. 61 and above), unreal trials, level 50/60/70/80 duty roulette dungeons, or duty roulette leveling duties as a gunbreaker. ※Each roulette only counts with daily award bonus.
20

Tank You, Gunbreaker IV



Title: Of Unyielding Lealty
Complete 500 dungeons (lv. 61 and above), extreme trials (lv. 61 and above), unreal trials, level 50/60/70/80 duty roulette dungeons, or duty roulette leveling duties as a gunbreaker. ※Each roulette only counts with daily award bonus.
20

Jack of All Trades I



—
Complete 5 types of routine mission in the Blue Mage Log.
5

Jack of All Trades II



—
Complete 20 types of routine mission in the Blue Mage Log.
5

Jack of All Trades III



Title: Blue Luminary
Complete 50 types of routine mission in the Blue Mage Log.
5

Mightier than the Inferno



—
Complete the Bowl of Embers (Extreme) with a party of only blue mages, Silence Echo turned on, and Unrestricted Party turned off.
5

Mightier than the Crag



—
Complete the Navel (Extreme) with a party of only blue mages, Silence Echo turned on, and Unrestricted Party turned off.
5

Mightier than the Vortex



—
Complete the Howling Eye (Extreme) with a party of only blue mages, Silence Echo turned on, and Unrestricted Party turned off.
5

Mightier than the King



—
Complete Thornmarch (Extreme) with a party of only blue mages, Silence Echo turned on, and Unrestricted Party turned off.
5

Mightier than the Whorl



—
Complete the Whorleater (Extreme) with a party of only blue mages, Silence Echo turned on, and Unrestricted Party turned off.
5

Mightier than Levin



—
Complete the Striking Tree (Extreme) with a party of only blue mages, Silence Echo turned on, and Unrestricted Party turned off.
5

Mightier than the Frost



—
Complete the Akh Afah Amphitheatre (Extreme) with a party of only blue mages, Silence Echo turned on, and Unrestricted Party turned off.
5

Mightier than the Dragon



—
Complete the Binding Coil of Bahamut - Turn 5 with a party of only blue mages, Silence Echo turned on, and Unrestricted Party turned off.
5

Mightier than the Raven



—
Complete the Second Coil of Bahamut - Turn 4 with a party of only blue mages, Silence Echo turned on, and Unrestricted Party turned off.
5

Mightier than the Dreadwyrm



—
Complete the Final Coil of Bahamut - Turn 4 with a party of only blue mages, Silence Echo turned on, and Unrestricted Party turned off.
5

Mightier than the Hive



—
Complete Thok ast Thok (Extreme) with a party of only blue mages, Silence Echo turned on, and Unrestricted Party turned off.
5

Mightier than the Expanse



—
Complete the Limitless Blue (Extreme) with a party of only blue mages, Silence Echo turned on, and Unrestricted Party turned off.
5

Mightier than the Round



Title: Masked of the Round
Complete the Minstrel's Ballad: Thordan's Reign with a party of only blue mages, Silence Echo turned on, and Unrestricted Party turned off.
5

Mightier than the Fiend



—
Complete Containment Bay S1T7 (Extreme) with a party of only blue mages, Silence Echo turned on, and Unrestricted Party turned off.
5

Mightier than the Horde



—
Complete the Minstrel's Ballad: Nidhogg's Rage with a party of only blue mages, Silence Echo turned on, and Unrestricted Party turned off.
5

Mightier than the Goddess



—
Complete Containment Bay P1T6 (Extreme) with a party of only blue mages, Silence Echo turned on, and Unrestricted Party turned off.
5

Mightier than the Demon



—
Complete Containment Bay Z1T9 (Extreme) with a party of only blue mages, Silence Echo turned on, and Unrestricted Party turned off.
5

Mightier than the Manipulator



—
Complete Alexander - The Burden of the Father (Savage) with a party of only blue mages, Silence Echo turned on, and Unrestricted Party turned off.
5

Mightier than Justice



—
Complete Alexander - The Burden of the Son (Savage) with a party of only blue mages, Silence Echo turned on, and Unrestricted Party turned off.
5

Mightier than the Prime



—
Complete Alexander - The Soul of the Creator (Savage) with a party of only blue mages, Silence Echo turned on, and Unrestricted Party turned off.
5

Blue Unchained



Title: Unbound Blue
Obtain the achievements "Mightier than the Dragon," "Mightier than the Raven," and "Mightier than the Dreadwyrm."
10

Masked Conqueror



Title: Blue Justice
Obtain the achievements "Mightier than the Manipulator," "Mightier than Justice," and "Mightier than the Prime."
10

True Blue



Item:

Morbol Horn

Obtain the achievements "Blue Unchained" and "Masked Conqueror."
10

Jack of All Trades IV



Title: Blue Ranger
Complete 90 types of routine mission in the Blue Mage Log.
5

Mightier than the Revel



—
Complete the Pool of Tribute (Extreme) with a party of only blue mages, Silence Echo turned on, and Unrestricted Party turned off.
5

Mightier than Bliss



—
Complete Emanation (Extreme) with a party of only blue mages, Silence Echo turned on, and Unrestricted Party turned off.
5

Mightier than the Worm



—
Complete the Minstrel's Ballad: Shinryu's Domain with a party of only blue mages, Silence Echo turned on, and Unrestricted Party turned off.
5

Mightier than the Moon



—
Complete the Minstrel's Ballad: Tsukuyomi's Pain with a party of only blue mages, Silence Echo turned on, and Unrestricted Party turned off.
5

Mightier than the White



—
Complete the Jade Stoa (Extreme) with a party of only blue mages, Silence Echo turned on, and Unrestricted Party turned off.
5

Mightier than the Vermilion



—
Complete Hells' Kier (Extreme) with a party of only blue mages, Silence Echo turned on, and Unrestricted Party turned off.
5

Mightier than the Azure



—
Complete the Wreath of Snakes (Extreme) with a party of only blue mages, Silence Echo turned on, and Unrestricted Party turned off.
5

Mightier than the Delta



—
Complete Deltascape V4.0 (Savage) with a party of only blue mages, Silence Echo turned on, and Unrestricted Party turned off.
5

Mightier than the Sigma



—
Complete Sigmascape V4.0 (Savage) with a party of only blue mages, Silence Echo turned on, and Unrestricted Party turned off.
5

Mightier than the Alpha



—
Complete Alphascape V4.0 (Savage) with a party of only blue mages, Silence Echo turned on, and Unrestricted Party turned off.
5

Omega Blue



Title: The Azure and Omega
Obtain the achievements "Mightier than the Delta," "Mightier than the Sigma," and "Mightier than the Alpha."
10

Tank You, Paladin V



Title: Of Unbreakable Oath
Complete 700 dungeons (lv. 61 and above), extreme trials (lv. 61 and above), unreal trials, level 50/60/70/80 duty roulette dungeons, or duty roulette leveling duties as a paladin. ※Each roulette only counts with daily award bonus.
20

Tank You, Warrior V



Title: Of Unbreakable Steel
Complete 700 dungeons (lv. 61 and above), extreme trials (lv. 61 and above), unreal trials, level 50/60/70/80 duty roulette dungeons, or duty roulette leveling duties as a warrior. ※Each roulette only counts with daily award bonus.
20

Tank You, Dark Knight V



Title: Of Unbreakable Principle
Complete 700 dungeons (lv. 61 and above), extreme trials (lv. 61 and above), unreal trials, level 50/60/70/80 duty roulette dungeons, or duty roulette leveling duties as a dark knight. ※Each roulette only counts with daily award bonus.
20

Tank You, Gunbreaker V



Title: Of Unbreakable Lealty
Complete 700 dungeons (lv. 61 and above), extreme trials (lv. 61 and above), unreal trials, level 50/60/70/80 duty roulette dungeons, or duty roulette leveling duties as a gunbreaker. ※Each roulette only counts with daily award bonus.
20

Free Market Friend: Labyrinthos


File:Free Market Friend: Lakeland achievement icon from Final Fantasy XIV.png
—
Achieve shared FATE rank 3 in Labyrinthos.
10

Free Market Friend: Thavnair


File:Free Market Friend: Lakeland achievement icon from Final Fantasy XIV.png
—
Achieve shared FATE rank 3 in Thavnair.
10

Free Market Friend: Garlemald


File:Free Market Friend: Lakeland achievement icon from Final Fantasy XIV.png
—
Achieve shared FATE rank 3 in Garlemald.
10

Free Market Friend: Mare Lamentorum


File:Free Market Friend: Lakeland achievement icon from Final Fantasy XIV.png
—
Achieve shared FATE rank 3 in Mare Lamentorum.
10

Free Market Friend: Elpis


File:Free Market Friend: Lakeland achievement icon from Final Fantasy XIV.png
—
Achieve shared FATE rank 3 in Elpis.
10

Free Market Friend: Ultima Thule


File:Free Market Friend: Lakeland achievement icon from Final Fantasy XIV.png
—
Achieve shared FATE rank 3 in Ultima Thule.
10

Far Trade


File:Free Market Friend: Lakeland achievement icon from Final Fantasy XIV.png
Title: Patron of the Fates
Obtain "Free Market Friend" achievements for Labyrinthos, Thavnair, Garlemald, Mare Lamentorum, Elpis, and Ultima Thule.
20

Don't Go into the Light



—
Successfully complete the FATE "Devout Pilgrims vs. Daivadipa" with the highest rating possible.
10

Prototypical



—
Successfully complete the FATE "Omicron Recall: Killing Order" with the highest rating possible.
10
Dungeons
[
]
| Name | Reward | Description | Points |
| --- | --- | --- | --- |
| To the Dungeons I | — | Successfully complete 5 unique instanced dungeon raids or trials. | 5 |
| To the Dungeons II | — | Successfully complete 10 unique instanced dungeon raids or trials. | 10 |
| To the Dungeons III | — | Successfully complete 20 unique instanced dungeon raids or trials. | 20 |
| Dungeon Siege I | — | Complete 10 instanced dungeon raids or trials. | 5 |
| Dungeon Siege II | — | Complete 30 instanced dungeon raids or trials. | 5 |
| Dungeon Siege III | — | Complete 100 instanced dungeon raids or trials. | 5 |
| Dungeon Siege IV | Title: Dungeon Master | Complete 300 instanced dungeon raids or trials. | 10 |
| Dungeon Master | — | Complete 1,000 instanced dungeon raids or trials. | 20 |
| To the Dungeons IV | — | Successfully complete 30 unique instanced dungeon raids or trials. | 20 |
| To the Dungeons V | — | Successfully complete 40 unique instanced dungeon raids or trials. | 20 |
| To the Dungeons VI | — | Successfully complete 50 unique instanced dungeon raids or trials. | 20 |
| Lifer I | — | Successfully complete 2,000 instanced dungeon raids or trials. | 20 |
| Lifer II | — | Successfully complete 5,000 instanced dungeon raids or trials. | 20 |
| Lifer III | — | Successfully complete 10,000 instanced dungeon raids or trials. | 20 |
| In Too Deep I | — | Clear the 10th floor of the Palace of the Dead. | 5 |
| In Too Deep II | — | Clear the 20th floor of the Palace of the Dead. | 5 |
| In Too Deep III | — | Clear the 30th floor of the Palace of the Dead. | 5 |
| In Too Deep IV | — | Clear the 40th floor of the Palace of the Dead. | 5 |
| In Too Deep V | — | Clear the 50th floor of the Palace of the Dead. | 10 |
| In Too Deep VI | Title: Hero of Gelmorra | Clear the 100th floor of the Palace of the Dead. | 10 |
| In Too Deep VII | — | Clear the 150th floor of the Palace of the Dead. | 10 |
| In Too Deep VIII | — | Clear the 200th floor of the Palace of the Dead. | 20 |
| Pal-less Palace I | — | Clear the 1st through the 50th floors of the Palace of the Dead solo and record a score on floor 51 or below. | 10 |
| Pal-less Palace II | Title: Lonely Explorer | Clear the 1st through the 100th floors of the Palace of the Dead solo and record a score on floor 101 or below. | 10 |
| For the Hoard I | — | Discover a piece of the Accursed Hoard. | 5 |
| For the Hoard II | — | Discover 100 pieces of the Accursed Hoard. | 5 |
| For the Hoard III | Title: The Lucky | Discover 1,000 pieces of the Accursed Hoard. | 10 |
| For the Hoard IV | — | Discover 5,000 pieces of the Accursed Hoard. | 20 |
| The Trouble with Buried I | — | Discover a piece of the Accursed Hoard without using a pomander of intuition. | 10 |
| The Trouble with Buried II | Title: Of the Sixth Sense | Discover 100 pieces of the Accursed Hoard without using a pomander of intuition. | 20 |
| Pal-less Palace III | Title: The Necromancer | Clear the 1st through the 200th floors of the Palace of the Dead solo. | 20 |
| She's So High I | — | Clear the 10th floor of Heaven–on–High. | 5 |
| She's So High II | — | Clear the 20th floor of Heaven–on–High. | 5 |
| She's So High III | Title: Hiruko Hunter | Clear the 30th floor of Heaven–on–High. | 5 |
| She's So High IV | — | Clear the 50th floor of Heaven–on–High. | 10 |
| She's So High V | Title: Heavenly Gate Crasher | Clear the 100th floor of Heaven–on–High. | 10 |
| Heaven Is a Lonely Place I | — | Clear the 1st through the 50th floors of Heaven–on–High solo and record a score on floor 51 or above. | 10 |
| Heaven Is a Lonely Place II | Title: Lone Hero | Clear the 1st through the 100th floors of Heaven–on–High solo. | 10 |
| For the Hoard V | Title: Hoarder | Discover 10,000 pieces of the Accursed Hoard. | 20 |
| Smokin' I | — | Complete a single stage at the Masked Carnivale. | 5 |
| Smokin' II | — | Complete 5 stages at the Masked Carnivale. | 5 |
| Smokin' III | — | Complete 10 stages at the Masked Carnivale. | 5 |
| Smokin' IV | — | Complete 15 stages at the Masked Carnivale. | 5 |
| Smokin' V | — | Complete 20 stages at the Masked Carnivale. | 5 |
| Smokin' VI | Title: Mask of the Blue | Complete 25 stages at the Masked Carnivale. | 5 |
| The Harder They Fall | — | Achieve the "Giant Slayer" feat at the Masked Carnivale. | 10 |
| Octopath Traveler | — | Achieve the "Trouble with Tentacles" feat at the Masked Carnivale. | 10 |
| Something Borrowed | Title: Perfect Blue | Achieve the "Perfect Blue" feat at the Masked Carnivale. | 10 |
| Smokin' VII | — | Complete 30 stages at the Masked Carnivale. | 5 |
| None More Blue | Title: Champion of the Blue | Achieve the "The Celestium's Finest" feat at the Masked Carnivale. | 10 |
| Violets Are Violet | Title: Of the Truest Blue | Achieve the "Pure Azure" feat at the Masked Carnivale. | 10 |
Trials
[
]
| Name | Reward | Description | Points |
| --- | --- | --- | --- |
| Going Up in Flames | — | Defeat Ifrit in the Bowl of Embers (Extreme). | 10 |
| Gone with the Wind | — | Defeat Garuda in the Howling Eye (Extreme). | 10 |
| Earth to Earth | — | Defeat Titan in the Navel (Extreme). | 10 |
| I Eat Whorls for Breakfast | — | Defeat Leviathan on the Whorleater (Extreme). | 10 |
| Good Kingslayer | — | Defeat Good King Moggle Mog XII in Thornmarch (Extreme). | 10 |
| Contempt of Court | — | Defeat Ramuh at the Striking Tree (Extreme). | 10 |
| Let It Go | — | Defeat Shiva in the Akh Afah Amphitheatre (Extreme). | 10 |
| Missed the Cut | Title: The Unsevered | Defeat Odin at Urth's Fount. | 10 |
| Broken Bridges | — | Defeat Vishap on the Steps of Faith. | 10 |
| Enough Expository Banter | — | Defeat Gilgamesh and Enkidu at the Battle in the Big Keep. | 10 |
| Secret Ascian Man | — | Defeat Nabriales in the Chrysalis. | 10 |
| Limitless | — | Defeat Bismarck in the Limitless Blue (Extreme). | 10 |
| Hive Mind | — | Defeat Ravana on Thok ast Thok (Extreme). | 10 |
| The King and Die | Title: Myth Breaker | Defeat King Thordan in the Minstrel's Ballad: Thordan's Reign. | 10 |
| Veni Veni Venias | — | Defeat Sephirot in Containment Bay S1T7 (Extreme). | 10 |
| Let Me Be Your Hogg | — | Defeat Nidhogg in the Minstrel's Ballad: Nidhogg's Rage. | 10 |
| Sophia's Choice | — | Defeat Sophia in Containment Bay P1T6 (Extreme). | 10 |
| Zurvan Safari | — | Defeat Zurvan in Containment Bay Z1T9 (Extreme). | 10 |
| Lakshmi Intolerant | — | Defeat Lakshmi in Emanation (Extreme). | 10 |
| Just Say the Word | — | Defeat Susano in the Pool of Tribute (Extreme). | 10 |
| How to Slay Your Dragon 2 | — | Defeat Shinryu in the Minstrel's Ballad: Shinryu's Domain. | 10 |
| Rock Warrior | — | Defeat Byakko in the Jade Stoa (Extreme). | 10 |
| Happy Death Day To Who | — | Defeat Tsukuyomi in the Minstrel's Ballad: Tsukuyomi's Pain. | 10 |
| Extreme Rathalos Hunter | — | Defeat the Rathalos in the Great Hunt (Extreme). | 10 |
| The Scarlet Bloodletter | — | Defeat Suzaku in Hells' Kier (Extreme). | 10 |
| Seiryu, Say Me | — | Defeat Seiryu in the Wreath of Snakes (Extreme). | 10 |
| Bite Me | — | Defeat Yojimbo on Kugane Ohashi. | 10 |
| Ill Met by Moonlight | — | Defeat Titania in the Dancing Plague (Extreme). | 10 |
| Proven Guilty | — | Defeat Innocence in the Crown of the Immaculate (Extreme). | 10 |
| Don't Look Back | — | Defeat Hades in the Minstrel's Ballad: Hades's Elegy. | 10 |
| Misshapen Memory | — | Defeat the specter of Varis yae Galvus in Memoria Misera (Extreme). | 10 |
| Seeing Red | — | Defeat the Ruby Weapon at Cinder Drift (Extreme). | 10 |
| Bravest Warriors | — | Defeat Elidibus in the Seat of Sacrifice (Extreme). | 10 |
| It's Not Easy | — | Defeat the Emerald Weapon in Castrum Marinum (Extreme). | 10 |
| Shine Bright | — | Defeat the Diamond Weapon on the Cloud Deck (Extreme). | 10 |
| Darkness Falls | — | Defeat Zodiark in the Minstrel's Ballad: Zodiark's Fall. | 10 |
| I Heard, I Felt, I Thought | — | Defeat Hydaelyn in the Minstrel's Ballad: Hydaelyn's Call. | 10 |
Raids
[
]
Name
Reward
Description
Points

The Binds That Tie I



—
Complete the Binding Coil of Bahamut.
5

The Binds That Tie II



—
Complete the Binding Coil of Bahamut 5 times.
10

The Binds That Tie III



—
Complete the Binding Coil of Bahamut 10 times.
20

You Call That a Labyrinth



—
Complete the Labyrinth of the Ancients.
10

In Another Bind I



—
Complete the Second Coil of Bahamut.
5

In Another Bind II



—
Complete the Second Coil of Bahamut 5 times.
10

In Another Bind III



—
Complete the Second Coil of Bahamut 10 times.
20

Life Is a Syrcus



—
Complete Syrcus Tower.
10

A Flower by Any Other Name



Title: Rafflesia Reaper
Defeat the rafflesia within the first turn of the Second Coil of Bahamut (Savage).
10

Seconds



Title: Melusine Mauler
Defeat Melusine within the second turn of the Second Coil of Bahamut (Savage).
10

Obtanium



Title: The Avatar
Defeat the Avatar within the third turn of the Second Coil of Bahamut (Savage).
10

Scent of a Woman



Title: Domitor
Defeat Nael deus Darnus within the fourth turn of the Second Coil of Bahamut (Savage).
10

Out of a Bind I



Item:

Wind-up Louisoix

Complete the Final Coil of Bahamut.
5

Out of a Bind II



—
Complete the Final Coil of Bahamut 5 times.
10

Out of a Bind III



—
Complete the Final Coil of Bahamut 10 times.
20

Let the Sun Shine In



—
Clear the World of Darkness.
20

Sins of the Father I



—
Complete Alexander: Gordias.
5

Sins of the Father II



—
Complete Alexander: Gordias 5 times.
10

Sins of the Father III



—
Complete Alexander: Gordias 10 times.
20

Sins of the Savage Father I



—
Complete Alexander: Gordias (Savage).
5

Sins of the Savage Father II



—
Complete Alexander: Gordias (Savage) 5 times.
10

Sins of the Savage Father III



—
Complete Alexander: Gordias (Savage) 10 times.
20

Touching the Void



—
Complete the Void Ark.
10

Sins of the Son I



—
Complete Alexander: Midas.
5

Sins of the Son II



—
Complete Alexander: Midas 5 times.
10

Sins of the Son III



—
Complete Alexander: Midas 10 times.
20

Sins of the Savage Son I



—
Complete Alexander: Midas (Savage).
5

Sins of the Savage Son II



—
Complete Alexander: Midas (Savage) 5 times.
10

Sins of the Savage Son III



—
Complete Alexander: Midas (Savage) 10 times.
20

Ex Mhachina



—
Complete the Weeping City of Mhach.
10

Sins of the Creator I



—
Complete Alexander.
5

Sins of the Creator II



—
Complete Alexander 5 times.
10

Sins of the Creator III



—
Complete Alexander 10 times.
20

Sins of the Savage Creator I



—
Complete Alexander (Savage).
5

Sins of the Savage Creator II



—
Complete Alexander (Savage) 5 times.
10

Sins of the Savage Creator III



—
Complete Alexander (Savage) 10 times.
20

What's Dun Is Done



—
Complete Dun Scaith.
10

I Am the Delta, I Am the Omega I



—
Complete Omega: Deltascape.
5

I Am the Delta, I Am the Omega II



—
Complete Omega: Deltascape 5 times.
10

I Am the Delta, I Am the Omega III



—
Complete Omega: Deltascape 10 times.
20

I Am the Savage Delta, I Am the Savage Omega I



—
Complete Omega: Deltascape (Savage).
5

I Am the Savage Delta, I Am the Savage Omega II



—
Complete Omega: Deltascape (Savage) 5 times.
10

I Am the Savage Delta, I Am the Savage Omega III



—
Complete Omega: Deltascape (Savage) 10 times.
20

Zodiac Thriller



—
Complete the Royal City of Rabanastre.
5

Resistance Is Futile



Title: The Legend
Defeat Bahamut Prime in the Unending Coil of Bahamut (Ultimate).
10

I Am the Sigma, I Am the Omega I



—
Complete Omega: Sigmascape.
5

I Am the Sigma, I Am the Omega II



—
Complete Omega: Sigmascape 5 times.
10

I Am the Sigma, I Am the Omega III



—
Complete Omega: Sigmascape 10 times.
20

I Am the Savage Sigma, I Am the Savage Omega I



—
Complete Omega: Sigmascape (Savage).
5

I Am the Savage Sigma, I Am the Savage Omega II



—
Complete Omega: Sigmascape (Savage) 5 times.
10

I Am the Savage Sigma, I Am the Savage Omega III



—
Complete Omega: Sigmascape (Savage) 10 times.
20

Didn't Stop, Made It Pop



—
Complete the Ridorana Lighthouse.
5

Ultimatum



Title: The Ultimate Legend
Defeat the Ultima Weapon in the Weapon's Refrain (Ultimate).
10

I Am the Alpha, I Am the Omega I



—
Complete Omega: Alphascape.
5

I Am the Alpha, I Am the Omega II



—
Complete Omega: Alphascape 5 times.
10

I Am the Alpha, I Am the Omega III



—
Complete Omega: Alphascape 10 times.
20

I Am the Savage Alpha, I Am the Savage Omega I



—
Complete Omega: Alphascape (Savage).
5

I Am the Savage Alpha, I Am the Savage Omega II



—
Complete Omega: Alphascape (Savage) 5 times.
10

I Am the Savage Alpha, I Am the Savage Omega III



—
Complete Omega: Alphascape (Savage) 10 times.
20

Orbonne to Pick



—
Complete the Orbonne Monastery.
5

Paradise Found I



—
Complete Eden's Gate.
5

Paradise Found II



—
Complete Eden's Gate 5 times.
10

Paradise Found III



—
Complete Eden's Gate 10 times.
20

Savage Paradise Found I



—
Complete Eden's Gate (Savage).
5

Savage Paradise Found II



—
Complete Eden's Gate (Savage) 5 times.
10

Savage Paradise Found III



—
Complete Eden's Gate (Savage) 10 times.
20

The First Law



—
Complete the Copied Factory.
5

When I Ruled the World



Title: The Perfect Legend
Defeat Perfect Alexander in the Epic of Alexander (Ultimate).
10

Trouble in Paradise I



—
Complete Eden's Verse.
5

Trouble in Paradise II



—
Complete Eden's Verse 5 times.
10

Trouble in Paradise III



—
Complete Eden's Verse 10 times.
20

Savage Trouble in Paradise I



—
Complete Eden's Verse (Savage).
5

Savage Trouble in Paradise II



—
Complete Eden's Verse (Savage) 5 times.
10

Savage Trouble in Paradise III



—
Complete Eden's Verse (Savage) 10 times.
20

Uncanny Valley



—
Complete the Puppets' Bunker.
5

Paradise Within Thee I



—
Complete Eden's Promise.
5

Paradise Within Thee II



—
Complete Eden's Promise 5 times.
10

Paradise Within Thee III



—
Complete Eden's Promise 10 times.
20

Savage Paradise Within Thee I



—
Complete Eden's Promise (Savage).
5

Savage Paradise Within Thee II



—
Complete Eden's Promise (Savage) 5 times.
10

Savage Paradise Within Thee III



—
Complete Eden's Promise (Savage) 10 times.
20

Deus et Machina



—
Complete the Tower at Paradigm's Breach.
5

Could Be Worse I



—
Complete Pandæmonium: Asphodelos.
5

Could Be Worse II



—
Complete Pandæmonium: Asphodelos 5 times.
10

Could Be Worse III



—
Complete Pandæmonium: Asphodelos 10 times.
20

Could Be Savage I



—
Complete Pandæmonium: Asphodelos (Savage).
5

Could Be Savage II



—
Complete Pandæmonium: Asphodelos (Savage) 5 times.
10

Could Be Savage III



—
Complete Pandæmonium: Asphodelos (Savage) 10 times.
20
The Hunt
[
]
Name
Reward
Description
Points

Mark of the Holt: B


File:Mark of the Holt: B achievement icon from Final Fantasy XIV.png
—
Slay 4 unique rank B elite marks in the Black Shroud.
5

Mark of the Desert: B


File:Mark of the Holt: B achievement icon from Final Fantasy XIV.png
—
Slay 5 unique rank B elite marks in Thanalan.
5

Mark of the Sea: B


File:Mark of the Holt: B achievement icon from Final Fantasy XIV.png
—
Slay 6 unique rank B elite marks in La Noscea.
5

Mark of the Lake: B


File:Mark of the Holt: B achievement icon from Final Fantasy XIV.png
—
Slay 2 unique rank B elite marks in Mor Dhona or the Coerthas central highlands.
5

On Your Mark: B


File:Mark of the Holt: B achievement icon from Final Fantasy XIV.png
Title: Hunter for Hire
Earn the following four achievements: Mark of the Holt: B, Mark of the Desert: B, Mark of the Sea: B, and Mark of the Lake: B.
10

Mark of the Holt: A


File:Mark of the Holt: A achievement icon from Final Fantasy XIV.png
—
Slay 4 unique rank A elite marks in the Black Shroud.
5

Mark of the Desert: A


File:Mark of the Holt: A achievement icon from Final Fantasy XIV.png
—
Slay 5 unique rank A elite marks in Thanalan.
5

Mark of the Sea: A


File:Mark of the Holt: A achievement icon from Final Fantasy XIV.png
—
Slay 6 unique rank A elite marks in La Noscea.
5

Mark of the Lake: A


File:Mark of the Holt: A achievement icon from Final Fantasy XIV.png
—
Slay 2 unique rank A elite marks in Mor Dhona or the Coerthas central highlands.
5

On Your Mark: A


File:Mark of the Holt: A achievement icon from Final Fantasy XIV.png
Title: Seeker of Fortune
Earn the following four achievements: Mark of the Holt: A, Mark of the Desert: A, Mark of the Sea: A, and Mark of the Lake: A.
10

Mark of the Holt: S


File:Mark of the Holt: S achievement icon from Final Fantasy XIV.png
—
Slay 4 unique rank S elite marks in the Black Shroud.
5

Mark of the Desert: S


File:Mark of the Holt: S achievement icon from Final Fantasy XIV.png
—
Slay 5 unique rank S elite marks in Thanalan.
5

Mark of the Sea: S


File:Mark of the Holt: S achievement icon from Final Fantasy XIV.png
—
Slay 6 unique rank S elite marks in La Noscea.
5

Mark of the Lake: S


File:Mark of the Holt: S achievement icon from Final Fantasy XIV.png
—
Slay 2 unique rank S elite marks in Mor Dhona or the Coerthas central highlands.
5

On Your Mark: S


File:Mark of the Holt: S achievement icon from Final Fantasy XIV.png
Title: Seasoned Tracker
Earn the following four achievements: Mark of the Holt: S, Mark of the Desert: S, Mark of the Sea: S, and Mark of the Lake: S.
10

Bring Your B Game I


File:Mark of the Holt: B achievement icon from Final Fantasy XIV.png
—
Slay 10 rank B elite marks.
5

Bring Your B Game II


File:Mark of the Holt: B achievement icon from Final Fantasy XIV.png
—
Slay 50 rank B elite marks.
5

Bring Your B Game III


File:Mark of the Holt: B achievement icon from Final Fantasy XIV.png
Title: Bounty Hunter
Slay 300 rank B elite marks.
5

Straight Bs


File:Mark of the Holt: B achievement icon from Final Fantasy XIV.png
—
Slay 1,000 rank B elite marks.
10

Bring Your A Game I


File:Mark of the Holt: A achievement icon from Final Fantasy XIV.png
—
Slay 5 rank A elite marks.
5

Bring Your A Game II


File:Mark of the Holt: A achievement icon from Final Fantasy XIV.png
—
Slay 30 rank A elite marks.
5

Bring Your A Game III


File:Mark of the Holt: A achievement icon from Final Fantasy XIV.png
Title: Soldier of Fortune
Slay 200 rank A elite marks.
5

Straight As


File:Mark of the Holt: A achievement icon from Final Fantasy XIV.png
—
Slay 500 rank A elite marks.
10

Bring Your S Game I


File:Mark of the Holt: S achievement icon from Final Fantasy XIV.png
—
Slay 3 rank S elite marks.
5

Bring Your S Game II


File:Mark of the Holt: S achievement icon from Final Fantasy XIV.png
—
Slay 20 rank S elite marks.
5

Bring Your S Game III


File:Mark of the Holt: S achievement icon from Final Fantasy XIV.png
Title: Captain of the Hunt
Slay 200 rank S elite marks.
5

Straight Ss


File:Mark of the Holt: S achievement icon from Final Fantasy XIV.png
—
Slay 500 rank S elite marks.
10

Mark of the Dragon: B


File:Mark of the Holt: B achievement icon from Final Fantasy XIV.png
—
Slay 6 unique rank B elite marks in the Dravanian hinterlands, the Dravanian forelands, or the Churning Mists.
5

Mark of Cloud and Ice: B


File:Mark of the Holt: B achievement icon from Final Fantasy XIV.png
—
Slay 6 unique rank B elite marks in the Coerthas western highlands, the Sea of Clouds, or Azys Lla.
5

Mark of the Dragon: A


File:Mark of the Holt: A achievement icon from Final Fantasy XIV.png
—
Slay 6 unique rank A elite marks in the Dravanian hinterlands, the Dravanian forelands, or the Churning Mists.
5

Mark of Cloud and Ice: A


File:Mark of the Holt: A achievement icon from Final Fantasy XIV.png
—
Slay 6 unique rank A elite marks in the Coerthas western highlands, the Sea of Clouds, or Azys Lla.
5

Mark of the Dragon: S


File:Mark of the Holt: S achievement icon from Final Fantasy XIV.png
—
Slay 3 unique rank S elite marks in the Dravanian hinterlands, the Dravanian forelands, or the Churning Mists.
5

Mark of Cloud and Ice: S


File:Mark of the Holt: S achievement icon from Final Fantasy XIV.png
—
Slay 3 unique rank S elite marks in the Coerthas western highlands, the Sea of Clouds, or Azys Lla.
5

Mark of the Wastes: B


File:Mark of the Holt: B achievement icon from Final Fantasy XIV.png
—
Slay 6 unique rank B elite marks in Gyr Abania.
5

Mark of the Wastes: A


File:Mark of the Holt: A achievement icon from Final Fantasy XIV.png
—
Slay 6 unique rank A elite marks in Gyr Abania.
5

Mark of the Wastes: S


File:Mark of the Holt: S achievement icon from Final Fantasy XIV.png
—
Slay 3 unique rank S elite marks in Gyr Abania.
5

Mark of the East: B


File:Mark of the Holt: B achievement icon from Final Fantasy XIV.png
—
Slay 6 unique rank B elite marks in Othard.
5

Mark of the East: A


File:Mark of the Holt: A achievement icon from Final Fantasy XIV.png
—
Slay 6 unique rank A elite marks in Othard.
5

Mark of the East: S


File:Mark of the Holt: S achievement icon from Final Fantasy XIV.png
—
Slay 3 unique rank S elite marks in Othard.
5

Bring Your A Game IV


File:Mark of the Holt: A achievement icon from Final Fantasy XIV.png
—
Slay 1,500 rank A elite marks.
10

Bring Your A Game V


File:Mark of the Holt: A achievement icon from Final Fantasy XIV.png
Title: Of the Longest Hunt
Slay 3,000 rank A elite marks.
10

Bring Your A Game VI


File:Mark of the Holt: A achievement icon from Final Fantasy XIV.png
Title: Of the Endless Hunt
Slay 10,000 rank A elite marks.
10

Bring Your S Game IV


File:Mark of the Holt: S achievement icon from Final Fantasy XIV.png
—
Slay 1,000 rank S elite marks.
10

Bring Your S Game V


File:Mark of the Holt: S achievement icon from Final Fantasy XIV.png
Title: Thrillseeker
Slay 2,000 rank S elite marks.
10

Bring Your S Game VI


File:Mark of the Holt: S achievement icon from Final Fantasy XIV.png
Title: Ultimate Thrillseeker
Slay 5,000 rank S elite marks.
10

You Got Game



Item:

Centurio Tiger Horn

Obtain the achievements "Bring Your A Game V" and "Bring Your S Game V."
10

Shadowbring Your A Game I


File:Mark of the Holt: A achievement icon from Final Fantasy XIV.png
—
Slay 100 rank A elite marks in Norvrandt.
10

Shadowbring Your A Game II


File:Mark of the Holt: A achievement icon from Final Fantasy XIV.png
—
Slay 500 rank A elite marks in Norvrandt.
10

Shadowbring Your A Game III


File:Mark of the Holt: A achievement icon from Final Fantasy XIV.png
Title: Charming Brute
Slay 2,000 rank A elite marks in Norvrandt.
10

Shadowbring Your S Game I



—
Slay 30 elite marks of rank S or higher in Norvrandt.
10

Shadowbring Your S Game II



—
Slay 300 elite marks of rank S or higher in Norvrandt.
10

Shadowbring Your S Game III



Title: The Fabulously Feral
Slay 1,000 elite marks of rank S or higher in Norvrandt.
10

Nuts for Nutsy



Item:

Triceratops Horn

Obtain the achievements "Shadowbring Your A Game III" and "Shadowbring Your S Game III."
10

Take Your A Game Further I


File:Mark of the Holt: A achievement icon from Final Fantasy XIV.png
—
Slay 100 rank A elite marks in Endwalker regions.
10

Take Your A Game Further II


File:Mark of the Holt: A achievement icon from Final Fantasy XIV.png
—
Slay 500 rank A elite marks in Endwalker regions.
10

Take Your A Game Further III


File:Mark of the Holt: A achievement icon from Final Fantasy XIV.png
Title: Gleaning Machine
Slay 2,000 rank A elite marks in Endwalker regions.
10

Take Your S Game Further I



—
Slay 30 rank S elite marks in Endwalker regions.
10

Take Your S Game Further II



—
Slay 300 rank S elite marks in Endwalker regions.
10

Take Your S Game Further III



Title: The Keen
Slay 1,000 rank S elite marks in Endwalker regions.
10

Endgame Hunter



Item:

Victor Whistle

Obtain the "Take Your A Game Further III" and "Take Your S Game Further III" achievements.
10
Treasure Hunt
[
]
| Name | Reward | Description | Points |
| --- | --- | --- | --- |
| I Can Dig It I | — | Decipher 3 timeworn leather maps and open the treasure coffers to which they lead. | 5 |
| I Can Dig It II | — | Decipher 5 timeworn goatskin maps and open the treasure coffers to which they lead. | 5 |
| I Can Dig It III | — | Decipher 10 timeworn toadskin maps and open the treasure coffers to which they lead. | 5 |
| I Can Dig It IV | — | Decipher 20 timeworn boarskin maps and open the treasure coffers to which they lead. | 10 |
| No Stone Unturned | Title: Treasure Hunter | Decipher 20 timeworn peisteskin maps and open the treasure coffers to which they lead. | 20 |
| Unhide and Seek | Title: Bearer of the Coffer | Decipher unhidden leather maps to locate and loot 20 treasure coffers. | 20 |
| I Can Dig It V | — | Decipher 20 timeworn archaeoskin maps and open the treasure coffers to which they lead. | 20 |
| I Can Dig It VI | — | Decipher 20 timeworn wyvernskin maps and open the treasure coffers to which they lead. | 20 |
| I Can Dig It VII | — | Decipher 20 timeworn dragonskin maps and open the treasure coffers to which they lead. | 20 |
| Life Aquatic I | Title: Polis Raider | Raid the Aquapolis. | 5 |
| Life Aquatic II | — | Raid the Aquapolis 5 times. | 10 |
| Life Aquatic III | — | Raid the Aquapolis 10 times. | 10 |
| Life Aquatic IV | Title: Polis Dweller | Raid the Aquapolis 20 times. | 20 |
| The Slow Regard of Stolen Things I | — | Raid the deepest room in the Aquapolis. | 5 |
| The Slow Regard of Stolen Things II | — | Raid the deepest room in the Aquapolis 5 times. | 10 |
| The Slow Regard of Stolen Things III | — | Raid the deepest room in the Aquapolis 10 times. | 10 |
| The Slow Regard of Stolen Things IV | Title: Polis Lord | Raid the deepest room in the Aquapolis 20 times. | 20 |
| I Can Dig It VIII | — | Decipher 20 timeworn gaganaskin maps and open the treasure coffers to which they lead. | 20 |
| I Can Dig It IX | — | Decipher 20 timeworn gazelleskin maps and open the treasure coffers to which they lead. | 20 |
| Raider of the Lost Canals I | Title: Canal Raider | Raid the Lost Canals of Uznair. | 5 |
| Raider of the Lost Canals II | — | Raid the Lost Canals of Uznair 5 times. | 10 |
| Raider of the Lost Canals III | — | Raid the Lost Canals of Uznair 10 times. | 10 |
| Raider of the Lost Canals IV | Title: Canal Dweller | Raid the Lost Canals of Uznair 20 times. | 20 |
| The Deep End I | — | Raid the deepest sluice in the Lost Canals of Uznair. | 5 |
| The Deep End II | — | Raid the deepest sluice in the Lost Canals of Uznair 5 times. | 10 |
| The Deep End III | — | Raid the deepest sluice in the Lost Canals of Uznair 10 times. | 10 |
| The Deep End IV | Title: Canal Lord | Raid the deepest sluice in the Lost Canals of Uznair 20 times. | 20 |
| Raider of the Hidden Canals I | Title: Deep Canal Raider | Raid the Hidden Canals of Uznair. | 5 |
| Raider of the Hidden Canals II | — | Raid the Hidden Canals of Uznair 5 times. | 10 |
| Raider of the Hidden Canals III | — | Raid the Hidden Canals of Uznair 10 times. | 10 |
| Raider of the Hidden Canals IV | Title: Deep Canal Dweller | Raid the Hidden Canals of Uznair 20 times. | 20 |
| The Deeper End I | — | Raid the deepest sluice in the Hidden Canals of Uznair. | 5 |
| The Deeper End II | — | Raid the deepest sluice in the Hidden Canals of Uznair 5 times. | 10 |
| The Deeper End III | — | Raid the deepest sluice in the Hidden Canals of Uznair 10 times. | 10 |
| The Deeper End IV | Title: The Luckiest of Lords | Raid the deepest sluice in the Hidden Canals of Uznair 20 times. | 20 |
| Raider of the Shifting Altars I | Title: Altar Boy | Raid the Shifting Altars of Uznair. | 5 |
| Raider of the Shifting Altars II | — | Raid the Shifting Altars of Uznair 5 times. | 10 |
| Raider of the Shifting Altars III | — | Raid the Shifting Altars of Uznair 10 times. | 10 |
| Raider of the Shifting Altars IV | Title: The Devout | Raid the Shifting Altars of Uznair 20 times. | 20 |
| The Deepest End I | — | Complete the final invocation in the Shifting Altars of Uznair. | 5 |
| The Deepest End II | — | Complete the final invocation in the Shifting Altars of Uznair 5 times. | 10 |
| The Deepest End III | — | Complete the final invocation in the Shifting Altars of Uznair 10 times. | 10 |
| The Deepest End IV | Title: Invoker of Gods | Complete the final invocation in the Shifting Altars of Uznair 20 times. | 20 |
| I Can Dig It X | — | Decipher 20 timeworn gliderskin maps and open the treasure coffers to which they lead. | 20 |
| I Can Dig It XI | — | Decipher 20 timeworn zonureskin maps and open the treasure coffers to which they lead. | 20 |
| Beauty and Its Beasts I | Title: Dungeon Raider | Raid the Dungeons of Lyhe Ghiah. | 5 |
| Beauty and Its Beasts II | — | Raid the Dungeons of Lyhe Ghiah 5 times. | 10 |
| Beauty and Its Beasts III | — | Raid the Dungeons of Lyhe Ghiah 10 times. | 10 |
| Beauty and Its Beasts IV | Title: Dungeon Dweller | Raid the Dungeons of Lyhe Ghiah 20 times. | 20 |
| Happily Treasure After I | — | Raid the final chamber in the Dungeons of Lyhe Ghiah. | 5 |
| Happily Treasure After II | — | Raid the final chamber in the Dungeons of Lyhe Ghiah 5 times. | 10 |
| Happily Treasure After III | — | Raid the final chamber in the Dungeons of Lyhe Ghiah 10 times. | 10 |
| Happily Treasure After IV | Title: Dungeon Lord | Raid the final chamber in the Dungeons of Lyhe Ghiah 20 times. | 20 |
| The Dancing Prisoners I | Title: Secret Finder | Raid the Shifting Oubliettes of Lyhe Ghiah. | 5 |
| The Dancing Prisoners II | — | Raid the Shifting Oubliettes of Lyhe Ghiah 5 times. | 10 |
| The Dancing Prisoners III | — | Raid the Shifting Oubliettes of Lyhe Ghiah 10 times. | 10 |
| The Dancing Prisoners IV | Title: Secret Keeper | Raid the Shifting Oubliettes of Lyhe Ghiah 20 times. | 20 |
| Away with the Fae I | — | Open the final portal in the Shifting Oubliettes of Lyhe Ghiah. | 5 |
| Away with the Fae II | — | Open the final portal in the Shifting Oubliettes of Lyhe Ghiah 5 times. | 10 |
| Away with the Fae III | — | Open the final portal in the Shifting Oubliettes of Lyhe Ghiah 10 times. | 10 |
| Away with the Fae IV | Title: Gaolbreaker | Open the final portal in the Shifting Oubliettes of Lyhe Ghiah 20 times. | 20 |
| I Can Dig It XII | — | Decipher 20 timeworn saigaskin maps and open the treasure coffers to which they lead. | 20 |
| I Can Dig It XIII | — | Decipher 20 timeworn kumbhiraskin maps and open the treasure coffers to which they lead. | 20 |
| My Way or the Hyperway I | Title: The Excruciatingly Excited | Raid the Excitatron 6000. | 5 |
| My Way or the Hyperway II | — | Raid the Excitatron 6000 5 times. | 10 |
| My Way or the Hyperway III | — | Raid the Excitatron 6000 10 times. | 10 |
| My Way or the Hyperway IV | Title: On the Hype Tron | Raid the Excitatron 6000 20 times. | 20 |
| Milk Those Ways I | — | Raid the final stage in the Excitatron 6000. | 5 |
| Milk Those Ways II | — | Raid the final stage in the Excitatron 6000 5 times. | 10 |
| Milk Those Ways III | — | Raid the final stage in the Excitatron 6000 10 times. | 10 |
| Milk Those Ways IV | Title: Lunaire Riche | Raid the final stage in the Excitatron 6000 20 times. | 20 |
PvP
[
]
General
[
]
Name
Reward
Description
Points

Cutting Your Wolf Loose: Maelstrom I



Title: Storm Puppy
Achieve PvP rank 1 with the Maelstrom.
5

Cutting Your Wolf Loose: Maelstrom II



Title: Storm Howler
Achieve PvP rank 10 with the Maelstrom.
5

Cutting Your Wolf Loose: Maelstrom III



Title: Storm Growler
Achieve PvP rank 20 with the Maelstrom.
5

Cutting Your Wolf Loose: Maelstrom IV



Title: Storm Hound
Achieve PvP rank 30 with the Maelstrom.
5

Cutting Your Wolf Loose: Maelstrom V



Title: Storm Stalker
Achieve PvP rank 40 with the Maelstrom.
5

Cutting Your Wolf Loose: Maelstrom VI



Title: Storm Chaser
Achieve PvP rank 50 with the Maelstrom.
5

Cutting Your Wolf Loose: Immortal Flames I



Title: Flame Puppy
Achieve PvP rank 1 with the Immortal Flames.
5

Cutting Your Wolf Loose: Immortal Flames II



Title: Flame Howler
Achieve PvP rank 10 with the Immortal Flames.
5

Cutting Your Wolf Loose: Immortal Flames III



Title: Flame Growler
Achieve PvP rank 20 with the Immortal Flames.
5

Cutting Your Wolf Loose: Immortal Flames IV



Title: Flame Hound
Achieve PvP rank 30 with the Immortal Flames.
5

Cutting Your Wolf Loose: Immortal Flames V



Title: Flame Stalker
Achieve PvP rank 40 with the Immortal Flames.
5

Cutting Your Wolf Loose: Immortal Flames VI



Title: Flame Chaser
Achieve PvP rank 50 with the Immortal Flames.
5

Cutting Your Wolf Loose: Twin Adder I



Title: Serpent Puppy
Achieve PvP rank 1 with the Twin Adder.
5

Cutting Your Wolf Loose: Twin Adder II



Title: Serpent Howler
Achieve PvP rank 10 with the Twin Adder.
5

Cutting Your Wolf Loose: Twin Adder III



Title: Serpent Growler
Achieve PvP rank 20 with the Twin Adder.
5

Cutting Your Wolf Loose: Twin Adder IV



Title: Serpent Hound
Achieve PvP rank 30 with the Twin Adder.
5

Cutting Your Wolf Loose: Twin Adder V



Title: Serpent Stalker
Achieve PvP rank 40 with the Twin Adder.
5

Cutting Your Wolf Loose: Twin Adder VI



Title: Serpent Chaser
Achieve PvP rank 50 with the Twin Adder.
5

Fatal Feast



Item:

Goten Pipe

Emerge victorious in 30 Feast matches while using a title received from the disreputable priest.
10

Frontline Fury



Item:

Ginga Pipe

Emerge victorious in 10 Frontline or Rival Wings campaigns while using a title received from the disreputable priest.
10

Furious Fatalities



Item:

Raigo Pipe

Emerge victorious in a combination of 60 Frontline or Rival Wings campaigns or Feast matches while using a title received from the disreputable priest.
20
Ranking
[
]
The Wolves' Den
[
]
Name
Reward
Description
Points

Hungry Like a Wolf I



—
Participate in your first match in the Feast or the Fold.
5

Hungry Like a Wolf II



—
Participate in 50 matches in the Feast or the Fold.
5

Hungry Like a Wolf III



—
Participate in 100 matches in the Feast or the Fold.
5

Hungry Like a Wolf IV



—
Participate in 500 matches in the Feast or the Fold.
5

Hungry Like a Wolf V



—
Participate in 1,000 matches in the Feast or the Fold.
10

Wolfing It Down



Title: The Ravenous Wolf
Participate in 5,000 matches in the Feast or the Fold.
20

Pack Mentality I



—
Triumph for the first time in the Feast or the Fold.
5

Pack Mentality II



—
Triumph in 50 matches in the Feast or the Fold.
5

Pack Mentality III



—
Triumph in 100 matches in the Feast or the Fold.
5

Pack Mentality IV



—
Triumph in 500 matches in the Feast or the Fold.
5

Pack Mentality V



—
Triumph in 1,000 matches in the Feast or the Fold.
10

Leader of the Pack



Title: The Alpha Wolf
Triumph in 5,000 matches in the Feast or the Fold.
20

Look Who's Coming to Dinner I



—
Participate in your first match in the Feast.
5

Look Who's Coming to Dinner II



—
Participate in 50 matches at the Feast.
5

Look Who's Coming to Dinner III



—
Participate in 100 matches at the Feast.
5

Look Who's Coming to Dinner IV



—
Participate in 200 matches at the Feast.
5

Look Who's Coming to Dinner V



—
Participate in 500 matches at the Feast.
10

A Clean Plate



Title: Hungry Wolf
Participate in 1,000 matches at the Feast.
20

You Are What You Eat I



—
Triumph for the first time at the Feast.
5

You Are What You Eat II



—
Triumph in 50 matches at the Feast.
5

You Are What You Eat III



—
Triumph in 100 matches at the Feast.
5

You Are What You Eat IV



Item: Gloria Ignition Key
Triumph in 200 matches at the Feast.
5

You Are What You Eat V



—
Triumph in 500 matches at the Feast.
10

Breaking Fast with Champions



Title: The Devourer
Triumph in 1,000 matches at the Feast.
20

A Wolf in Plate Armor I



—
Triumph in 10 matches at the Feast while taking on the role of tank.
5

A Wolf in Plate Armor II



—
Triumph in 50 matches at the Feast while taking on the role of tank.
5

A Wolf in Plate Armor III



—
Triumph in 100 matches at the Feast while taking on the role of tank.
5

A Wolf in Plate Armor IV



—
Triumph in 500 matches at the Feast while taking on the role of tank.
5

A Stalwart to Remember



Title: The Unmoving
Triumph in 1,000 matches at the Feast while taking on the role of tank.
10

A Wolf in Spiked Subligar I



—
Triumph in 10 matches at the Feast while taking on the role of melee DPS.
5

A Wolf in Spiked Subligar II



—
Triumph in 50 matches at the Feast while taking on the role of melee DPS.
5

A Wolf in Spiked Subligar III



—
Triumph in 100 matches at the Feast while taking on the role of melee DPS.
5

A Wolf in Spiked Subligar IV



—
Triumph in 500 matches at the Feast while taking on the role of melee DPS.
5

A Slayer to Remember



Title: The Unrelenting
Triumph in 1,000 matches at the Feast while taking on the role of melee DPS.
10

A Wolf in Green Tights I



—
Triumph in 10 matches at the Feast while taking on the role of physical ranged DPS.
5

A Wolf in Green Tights II



—
Triumph in 50 matches at the Feast while taking on the role of physical ranged DPS.
5

A Wolf in Green Tights III



—
Triumph in 100 matches at the Feast while taking on the role of physical ranged DPS.
5

A Wolf in Green Tights IV



—
Triumph in 500 matches at the Feast while taking on the role of physical ranged DPS.
5

A Sniper to Remember



Title: The Unseen
Triumph in 1,000 matches at the Feast while taking on the role of physical ranged DPS.
10

A Wolf in Dark Robes I



—
Triumph in 10 matches at the Feast while taking on the role of magical ranged DPS.
5

A Wolf in Dark Robes II



—
Triumph in 50 matches at the Feast while taking on the role of magical ranged DPS.
5

A Wolf in Dark Robes III



—
Triumph in 100 matches at the Feast while taking on the role of magical ranged DPS.
5

A Wolf in Dark Robes IV



—
Triumph in 500 matches at the Feast while taking on the role of magical ranged DPS.
5

A Spellcaster to Remember



Title: The Unleashed
Triumph in 1,000 matches at the Feast while taking on the role of magical ranged DPS.
10

A Wolf in White Robes I



—
Triumph in 10 matches at the Feast while taking on the role of healer.
5

A Wolf in White Robes II



—
Triumph in 50 matches at the Feast while taking on the role of healer.
5

A Wolf in White Robes III



—
Triumph in 100 matches at the Feast while taking on the role of healer.
5

A Wolf in White Robes IV



—
Triumph in 500 matches at the Feast while taking on the role of healer.
5

A Sawbones to Remember



Title: The Undamaged
Triumph in 1,000 matches at the Feast while taking on the role of healer.
10

Mama Said Knock You Out I



—
Record your first KO in the Feast.
5

Mama Said Knock You Out II



Title: Mortal Fist
Record 100 KOs in the Feast.
5

Mama Said Knock You Out III



Item:

Hellpup

Record 300 KOs in the Feast.
5

Mama Said Knock You Out IV



—
Record 1,000 KOs in the Feast.
10

Mama Said Knock You Out V



Title: Rhalgr's Right Fist
Record 5,000 KOs in the Feast.
20

How Can I Help I



—
Record your first assist in the Feast.
5

How Can I Help II



Title: Tablesetter
Record 100 assists in the Feast.
5

How Can I Help III



Item:

Faepup

Record 300 assists in the Feast.
5

How Can I Help IV



—
Record 1,000 assists in the Feast.
10

How Can I Help V



Title: Halone's Cup Bearer
Record 5,000 assists in the Feast.
20

Pack Man I



—
Emerge victorious with your PvP team in a match at the Feast.
5

Pack Man II



Item:

Eversharp Choker

Triumph in 10 matches with your PvP team at the Feast.
5

Pack Man III



Item:

Eversharp Earring

Triumph in 50 matches with your PvP team at the Feast.
5

Pack Man IV



Item:

Eversharp Ring

Triumph in 100 matches with your PvP team at the Feast.
10

Pack Man V



Item:

Eversharp Wristbands

Triumph in 200 matches with your PvP team at the Feast.
10

Stay Sharp



Title: Eversharp
Triumph in 500 matches with your PvP team at the Feast.
20

Rhyme & Region 2018



Title: FRC 2018 Champion
Emerge victorious in the 2018 Feast Regional Championship (Europe).
0

Rhyme & Region 2018



Title: FRC 2018 Champion
Emerge victorious in the 2018 Feast Regional Championship (Europe).
0

Rhyme & Region 2018



Title: FRC 2018 Champion
Emerge victorious in the 2018 Feast Regional Championship (Europe).
0

Rhyme & Region 2018 - Finalist



Title: FRC 2018 Finalist
Reach the finals in the 2018 Feast Regional Championship.
0

Rhyme & Region 2018 - Placed



Title: FRC 2018 Ranker
Place between 1st and 10th in the 2018 Feast Regional Championship preliminaries.
0
Frontline
[
]
Name
Reward
Description
Points

Walk the Line I



—
Participate in a Frontline campaign.
5

Walk the Line II



—
Participate in 30 Frontline campaigns.
5

Walk the Line III



—
Participate in 50 Frontline campaigns.
5

Walk the Line IV



—
Participate in 100 Frontline campaigns.
5

Walk the Line V



Title: Frontline Forerunner
Participate in 300 Frontline campaigns.
10

Life on the Line



—
Participate in 1,000 Frontline campaigns.
20

A Line in the Storm I



—
Guide the Maelstrom to a Frontline victory.
5

A Line in the Storm II



—
Guide the Maelstrom to 30 Frontline victories.
5

A Line in the Storm III



—
Guide the Maelstrom to 50 Frontline victories.
5

A Line in the Storm IV



Item: Storm Warsteed Horn
Guide the Maelstrom to 100 Frontline victories.
5

A Line in the Storm V



Title: Storm Forerunner
Guide the Maelstrom to 300 Frontline victories.
10

The Amethyst Keel



—
Guide the Maelstrom to 1,000 Frontline victories.
20

A Line in the Glade I



—
Guide the Order of the Twin Adder to a Frontline victory.
5

A Line in the Glade II



—
Guide the Order of the Twin Adder to 30 Frontline victories.
5

A Line in the Glade III



—
Guide the Order of the Twin Adder to 50 Frontline victories.
5

A Line in the Glade IV



Item: Serpent Warsteed Horn
Guide the Order of the Twin Adder to 100 Frontline victories.
5

A Line in the Glade V



Title: Serpent Forerunner
Guide the Order of the Twin Adder to 300 Frontline victories.
10

The Ebony Leaf



—
Guide the Order of the Twin Adder to 1,000 Frontline victories.
20

A Line in the Sand I



—
Guide the Immortal Flames to a Frontline victory.
5

A Line in the Sand II



—
Guide the Immortal Flames to 30 Frontline victories.
5

A Line in the Sand III



—
Guide the Immortal Flames to 50 Frontline victories.
5

A Line in the Sand IV



Item: Flame Warsteed Horn
Guide the Immortal Flames to 100 Frontline victories.
5

A Line in the Sand V



Title: Flame Forerunner
Guide the Immortal Flames to 300 Frontline victories.
10

The Rose Gold Scales



—
Guide the Immortal Flames to 1,000 Frontline victories.
20

Prime Air I



—
Destroy an interceptor drone.
5

Prime Air II



—
Destroy 30 interceptor drones.
5

Prime Air III



—
Destroy 50 interceptor drones.
5

Prime Air IV



Title: Drone Sniper
Destroy 100 interceptor drones.
5

A Drone in the Dark



—
Destroy 300 interceptor drones.
10

Just Say Node I



—
Destroy an interceptor node.
5

Just Say Node II



—
Destroy 5 interceptor nodes.
5

Just Say Node III



—
Destroy 10 interceptor nodes.
5

Just Say Node IV



Title: Heliodrome Hero
Destroy 20 interceptor nodes.
5

A Node off My Back



—
Destroy 50 interceptor nodes.
10

Slaughterhouse One



—
Dispatch an enemy on a Frontline campaign.
5

Slaughterhouse Two



—
Dispatch 100 enemies on a Frontline campaign.
5

Slaughterhouse Three



—
Dispatch 500 enemies on a Frontline campaign.
5

Slaughterhouse Four



Title: Slaughterhouse
Dispatch 1,000 enemies on a Frontline campaign.
10

Slaughterhouse Five



Title: The Hand of Mercy
Dispatch 5,000 enemies on a Frontline campaign.
20

Behind Enemy Lines I



Item: Logistics System Identification Key
Guide any of the three Grand Companies to a total of 200 Frontline victories.
10

Hounding the Rock I



—
Occupy a tomelith on Seal Rock.
5

Hounding the Rock II



—
Occupy 30 tomeliths on Seal Rock.
5

Hounding the Rock III



—
Occupy 100 tomeliths on Seal Rock.
5

Hounding the Rock IV



Title: Keeper of Knowledge
Occupy 300 tomeliths on Seal Rock.
5

Hounding the Rock V



—
Occupy 500 tomeliths on Seal Rock.
10

Behind Enemy Lines II



—
Guide any of the three Grand Companies to a total of 300 Frontline victories.
10

Between a Rock and a Hard Place I



Item:

Field Commander's Helm

Guide any of the three Grand Companies to victory on Seal Rock.
5

Between a Rock and a Hard Place II



Item:

Field Commander's Boots

Guide any of the three Grand Companies to a total of 10 Seal Rock campaign victories combined.
5

Between a Rock and a Hard Place III



Item:

Field Commander's Gloves

Guide any of the three Grand Companies to a total of 30 Seal Rock campaign victories combined.
5

Between a Rock and a Hard Place IV



Item:

Field Commander's Slops

Guide any of the three Grand Companies to a total of 50 Seal Rock campaign victories combined.
5

Between a Rock and a Hard Place V



Item:

Field Commander's Coat

Guide any of the three Grand Companies to a total of 100 Seal Rock campaign victories combined.
5

Beneath Enemy Rocks



—
Guide any of the three Grand Companies to a total of 300 Seal Rock campaign victories combined.
10

In a Blaze of Glory I



—
Guide any of the three Grand Companies to victory on the Fields of Glory.
5

In a Blaze of Glory II



—
Guide any of the three Grand Companies to a total of 10 Fields of Glory victories.
5

In a Blaze of Glory III



—
Guide any of the three Grand Companies to a total of 30 Fields of Glory victories.
5

In a Blaze of Glory IV



—
Guide any of the three Grand Companies to a total of 50 Fields of Glory victories.
5

In a Blaze of Glory V



Item:

Aerodynamics System Identification Key

Guide any of the three Grand Companies to a total of 100 Fields of Glory victories.
5

In a Blaze of Glory VI



Title: The Knight of Glory
Guide any of the three Grand Companies to a total of 300 Fields of Glory victories.
10

Front and Center I



—
Triumph for the first time in Frontline.
5

Front and Center II



—
Triumph in 10 matches in Frontline.
5

Front and Center III



—
Triumph in 30 matches in Frontline.
5

Front and Center IV



—
Triumph in 50 matches in Frontline.
5

Front and Center V



Item:

Safeguard System Identification Key

Triumph in 100 matches in Frontline.
10

Front and Center VI



Title: Vanguard
Triumph in 300 matches in Frontline.
20

One Steppe at a Time I



—
Guide any of the three Grand Companies to victory at Onsal Hakair.
5

One Steppe at a Time II



—
Guide any of the three Grand Companies to a total of 10 victories at Onsal Hakair.
5

One Steppe at a Time III



—
Guide any of the three Grand Companies to a total of 30 victories at Onsal Hakair.
5

One Steppe at a Time IV



—
Guide any of the three Grand Companies to a total of 50 victories at Onsal Hakair.
5

One Steppe at a Time V



Item:

Construct VII Core

Guide any of the three Grand Companies to a total of 100 victories at Onsal Hakair.
5

One Steppe at a Time VI



Title: The Battleforged
Guide any of the three Grand Companies to a total of 300 victories at Onsal Hakair.
10
Rival Wings
[
]
Name
Reward
Description
Points

Roll the Dice I



—
Participate in a Rival Wings campaign.
5

Roll the Dice II



—
Participate in a Rival Wings campaign 50 times.
5

Roll the Dice III



—
Participate in a Rival Wings campaign 100 times.
5

Roll the Dice IV



—
Participate in a Rival Wings campaign 500 times.
10

Roll the Dice V



Title: Wings of Steel
Participate in a Rival Wings campaign 1,000 times.
20

Die Another Day I



—
Emerge victorious in a Rival Wings campaign.
5

Die Another Day II



—
Emerge victorious in a Rival Wings campaign 50 times.
5

Die Another Day III



Item:

Magitek Avenger Identification Key

Emerge victorious in a Rival Wings campaign 100 times.
5

Die Another Day IV



—
Emerge victorious in a Rival Wings campaign 500 times.
10

Die Another Day V



Title: Wings of Fire
Emerge victorious in a Rival Wings campaign 1,000 times.
20

Out of Hiding



Item:

Magitek Avenger A-1 Identification Key

Emerge victorious in a Hidden Gorge campaign 100 times.
5
Character
[
]
Disciples Of War
[
]
Name
Reward
Description
Points

Stick Them with the Pointy End I



—
Achieve gladiator level 10.
5

Stick Them with the Pointy End II



—
Achieve gladiator level 20.
5

Stick Them with the Pointy End III



—
Achieve gladiator level 30.
5

Stick Them with the Pointy End IV



—
Achieve gladiator level 40.
5

Stick Them with the Pointy End V



—
Achieve gladiator level 50.
5

The Sweet Science I



—
Achieve pugilist level 10.
5

The Sweet Science II



—
Achieve pugilist level 20.
5

The Sweet Science III



—
Achieve pugilist level 30.
5

The Sweet Science IV



—
Achieve pugilist level 40.
5

The Sweet Science V



—
Achieve pugilist level 50.
5

An Axe to Grind I



—
Achieve marauder level 10.
5

An Axe to Grind II



—
Achieve marauder level 20.
5

An Axe to Grind III



—
Achieve marauder level 30.
5

An Axe to Grind IV



—
Achieve marauder level 40.
5

An Axe to Grind V



—
Achieve marauder level 50.
5

Strong Lance Arm I



—
Achieve lancer level 10.
5

Strong Lance Arm II



—
Achieve lancer level 20.
5

Strong Lance Arm III



—
Achieve lancer level 30.
5

Strong Lance Arm IV



—
Achieve lancer level 40.
5

Strong Lance Arm V



—
Achieve lancer level 50.
5

Just Talkin' 'bout Shafts I



—
Achieve archer level 10.
5

Just Talkin' 'bout Shafts II



—
Achieve archer level 20.
5

Just Talkin' 'bout Shafts III



—
Achieve archer level 30.
5

Just Talkin' 'bout Shafts IV



—
Achieve archer level 40.
5

Just Talkin' 'bout Shafts V



—
Achieve archer level 50.
5

Come on, Rogue I



—
Achieve rogue level 10.
5

Come on, Rogue II



—
Achieve rogue level 20.
5

Come on, Rogue III



—
Achieve rogue level 30.
5

Come on, Rogue IV



—
Achieve rogue level 40.
5

Come on, Rogue V



—
Achieve rogue level 50.
5

Stick Them with the Pointy End VI



—
Achieve gladiator level 60.
5

The Sweet Science VI



—
Achieve pugilist level 60.
5

An Axe to Grind VI



—
Achieve marauder level 60.
5

Strong Lance Arm VI



—
Achieve lancer level 60.
5

Just Talkin' 'bout Shafts VI



—
Achieve archer level 60.
5

Come on, Rogue VI



—
Achieve rogue level 60.
5

Are You Afraid of the Dark? II


File:Are You Afraid of the Dark? I achievement icon from Final Fantasy XIV.png
—
Achieve dark knight level 40.
5

Are You Afraid of the Dark? III


File:Are You Afraid of the Dark? I achievement icon from Final Fantasy XIV.png
—
Achieve dark knight level 50.
5

Are You Afraid of the Dark? IV


File:Are You Afraid of the Dark? I achievement icon from Final Fantasy XIV.png
—
Achieve dark knight level 60.
5

Mean Machine I



—
Achieve machinist level 30.
5

Mean Machine II



—
Achieve machinist level 40.
5

Mean Machine III



—
Achieve machinist level 50.
5

Mean Machine IV



—
Achieve machinist level 60.
5

Stick Them with the Pointy End VII



—
Achieve gladiator level 70.
5

The Sweet Science VII



—
Achieve pugilist level 70.
5

An Axe to Grind VII



—
Achieve marauder level 70.
5

Strong Lance Arm VII



—
Achieve lancer level 70.
5

Just Talkin' 'bout Shafts VII



—
Achieve archer level 70.
5

Come on, Rogue VII



—
Achieve rogue level 70.
5

Are You Afraid of the Dark? V


File:Are You Afraid of the Dark? I achievement icon from Final Fantasy XIV.png
—
Achieve dark knight level 70.
5

Mean Machine V



—
Achieve machinist level 70.
5

Bushido Blade I



—
Achieve samurai level 50.
5

Bushido Blade II



—
Achieve samurai level 60.
5

Bushido Blade III



—
Achieve samurai level 70.
5

Stick Them with the Pointy End VIII



—
Achieve gladiator level 80.
5

The Sweet Science VIII



—
Achieve pugilist level 80.
5

An Axe to Grind VIII



—
Achieve marauder level 80.
5

Strong Lance Arm VIII



—
Achieve lancer level 80.
5

Just Talkin' 'bout Shafts VIII



—
Achieve archer level 80.
5

Come on, Rogue VIII



—
Achieve rogue level 80.
5

Are You Afraid of the Dark? VI


File:Are You Afraid of the Dark? I achievement icon from Final Fantasy XIV.png
—
Achieve dark knight level 80.
5

Mean Machine VI



—
Achieve machinist level 80.
5

Bushido Blade IV



—
Achieve samurai level 80.
5

More Complex than You Think I



—
Achieve gunbreaker level 70.
5

More Complex than You Think II



—
Achieve gunbreaker level 80.
5

We Got the Beat I



—
Achieve dancer level 70.
5

We Got the Beat II



—
Achieve dancer level 80.
5

Stick Them with the Pointy End IX



—
Achieve gladiator level 90.
5

The Sweet Science IX



—
Achieve pugilist level 90.
5

An Axe to Grind IX



—
Achieve marauder level 90.
5

Strong Lance Arm IX



—
Achieve lancer level 90.
5

Just Talkin' 'bout Shafts IX



—
Achieve archer level 90.
5

Come on, Rogue IX



—
Achieve rogue level 90.
5

Are You Afraid of the Dark? VII


File:Are You Afraid of the Dark? I achievement icon from Final Fantasy XIV.png
—
Achieve dark knight level 90.
5

Mean Machine VII



—
Achieve machinist level 90.
5

Bushido Blade V



—
Achieve samurai level 90.
5

More Complex than You Think III



—
Achieve gunbreaker level 90.
5

We Got the Beat III



—
Achieve dancer level 90.
5

Perchance to Dream I



—
Achieve reaper level 80.
5

Perchance to Dream II



—
Achieve reaper level 90.
5
Disciples Of Magic
[
]
| Name | Reward | Description | Points |
| --- | --- | --- | --- |
| I Got the Magic Stick I | — | Achieve conjurer level 10. | 5 |
| I Got the Magic Stick II | — | Achieve conjurer level 20. | 5 |
| I Got the Magic Stick III | — | Achieve conjurer level 30. | 5 |
| I Got the Magic Stick IV | — | Achieve conjurer level 40. | 5 |
| I Got the Magic Stick V | — | Achieve conjurer level 50. | 5 |
| Bring Out Your Dead I | — | Achieve thaumaturge level 10. | 5 |
| Bring Out Your Dead II | — | Achieve thaumaturge level 20. | 5 |
| Bring Out Your Dead III | — | Achieve thaumaturge level 30. | 5 |
| Bring Out Your Dead IV | — | Achieve thaumaturge level 40. | 5 |
| Bring Out Your Dead V | — | Achieve thaumaturge level 50. | 5 |
| Through the Gate I | — | Achieve arcanist level 10. | 5 |
| Through the Gate II | — | Achieve arcanist level 20. | 5 |
| Through the Gate III | — | Achieve arcanist level 30. | 5 |
| Through the Gate IV | — | Achieve arcanist level 40. | 5 |
| Through the Gate V | — | Achieve arcanist level 50. | 5 |
| I Got the Magic Stick VI | — | Achieve conjurer level 60. | 5 |
| Bring Out Your Dead VI | — | Achieve thaumaturge level 60. | 5 |
| Through the Gate VI | — | Achieve arcanist level 60. | 5 |
| Starstruck I | — | Achieve astrologian level 30. | 5 |
| Starstruck II | — | Achieve astrologian level 40. | 5 |
| Starstruck III | — | Achieve astrologian level 50. | 5 |
| Starstruck IV | — | Achieve astrologian level 60. | 5 |
| I Got the Magic Stick VII | — | Achieve conjurer level 70. | 5 |
| Bring Out Your Dead VII | — | Achieve thaumaturge level 70. | 5 |
| Through the Gate VII | — | Achieve arcanist level 70. | 5 |
| Starstruck V | — | Achieve astrologian level 70. | 5 |
| How Deep the Rabbit Hole Goes I | — | Achieve red mage level 50. | 5 |
| How Deep the Rabbit Hole Goes II | — | Achieve red mage level 60. | 5 |
| How Deep the Rabbit Hole Goes III | — | Achieve red mage level 70. | 5 |
| Da Ba Dee I | — | Achieve blue mage level 10. | 5 |
| Da Ba Dee II | — | Achieve blue mage level 20. | 5 |
| Da Ba Dee III | — | Achieve blue mage level 30. | 5 |
| Da Ba Dee IV | — | Achieve blue mage level 40. | 5 |
| Da Ba Dee V | — | Achieve blue mage level 50. | 5 |
| The More You Know I | — | Learn 5 blue mage spells. | 5 |
| The More You Know III | — | Learn 20 blue mage spells. | 5 |
| The More You Know IV | Title: Blue Blood | Learn 30 blue mage spells. | 5 |
| The More You Know V | — | Learn 40 blue mage spells. | 5 |
| The More You Know II | — | Learn 10 blue mage spells. | 5 |
| I Got the Magic Stick VIII | — | Achieve conjurer level 80. | 5 |
| Bring Out Your Dead VIII | — | Achieve thaumaturge level 80. | 5 |
| Through the Gate VIII | — | Achieve arcanist level 80. | 5 |
| Starstruck VI | — | Achieve astrologian level 80. | 5 |
| How Deep the Rabbit Hole Goes IV | — | Achieve red mage level 80. | 5 |
| Da Ba Dee VI | — | Achieve blue mage level 60. | 5 |
| The More You Know VI | — | Learn 50 blue mage spells. | 5 |
| The More You Know VII | Title: Blue to the Bone | Learn 80 blue mage spells. | 5 |
| Da Ba Dee VII | — | Achieve blue mage level 70. | 5 |
| The More You Know VIII | — | Learn 100 blue mage spells. | 5 |
| I Got the Magic Stick IX | — | Achieve conjurer level 90. | 5 |
| Bring Out Your Dead IX | — | Achieve thaumaturge level 90. | 5 |
| Through the Gate IX | — | Achieve arcanist level 90. | 5 |
| Starstruck VII | — | Achieve astrologian level 90. | 5 |
| How Deep the Rabbit Hole Goes V | — | Achieve red mage level 90. | 5 |
| Do No Harm I | — | Achieve sage level 80. | 5 |
| Do No Harm II | — | Achieve sage level 90. | 5 |
Disciples Of The Hand
[
]
| Name | Reward | Description | Points |
| --- | --- | --- | --- |
| Knock on Wood I | — | Achieve carpenter level 10. | 5 |
| Knock on Wood II | — | Achieve carpenter level 20. | 5 |
| Knock on Wood III | — | Achieve carpenter level 30. | 5 |
| Knock on Wood IV | — | Achieve carpenter level 40. | 5 |
| Knock on Wood V | — | Achieve carpenter level 50. | 5 |
| Temper, Temper I | — | Achieve blacksmith level 10. | 5 |
| Temper, Temper II | — | Achieve blacksmith level 20. | 5 |
| Temper, Temper III | — | Achieve blacksmith level 30. | 5 |
| Temper, Temper IV | — | Achieve blacksmith level 40. | 5 |
| Temper, Temper V | — | Achieve blacksmith level 50. | 5 |
| The Riddle of Steel I | — | Achieve armorer level 10. | 5 |
| The Riddle of Steel II | — | Achieve armorer level 20. | 5 |
| The Riddle of Steel III | — | Achieve armorer level 30. | 5 |
| The Riddle of Steel IV | — | Achieve armorer level 40. | 5 |
| The Riddle of Steel V | — | Achieve armorer level 50. | 5 |
| Heart of Gold I | — | Achieve goldsmith level 10. | 5 |
| Heart of Gold II | — | Achieve goldsmith level 20. | 5 |
| Heart of Gold III | — | Achieve goldsmith level 30. | 5 |
| Heart of Gold IV | — | Achieve goldsmith level 40. | 5 |
| Heart of Gold V | — | Achieve goldsmith level 50. | 5 |
| Tougher than Leather I | — | Achieve leatherworker level 10. | 5 |
| Tougher than Leather II | — | Achieve leatherworker level 20. | 5 |
| Tougher than Leather III | — | Achieve leatherworker level 30. | 5 |
| Tougher than Leather IV | — | Achieve leatherworker level 40. | 5 |
| Tougher than Leather V | — | Achieve leatherworker level 50. | 5 |
| Smiling, Styling, and Textiling I | — | Achieve weaver level 10. | 5 |
| Smiling, Styling, and Textiling II | — | Achieve weaver level 20. | 5 |
| Smiling, Styling, and Textiling III | — | Achieve weaver level 30. | 5 |
| Smiling, Styling, and Textiling IV | — | Achieve weaver level 40. | 5 |
| Smiling, Styling, and Textiling V | — | Achieve weaver level 50. | 5 |
| 'Tis True without Lying I | — | Achieve alchemist level 10. | 5 |
| 'Tis True without Lying II | — | Achieve alchemist level 20. | 5 |
| 'Tis True without Lying III | — | Achieve alchemist level 30. | 5 |
| 'Tis True without Lying IV | — | Achieve alchemist level 40. | 5 |
| 'Tis True without Lying V | — | Achieve alchemist level 50. | 5 |
| All in Good Taste I | — | Achieve culinarian level 10. | 5 |
| All in Good Taste II | — | Achieve culinarian level 20. | 5 |
| All in Good Taste III | — | Achieve culinarian level 30. | 5 |
| All in Good Taste IV | — | Achieve culinarian level 40. | 5 |
| All in Good Taste V | — | Achieve culinarian level 50. | 5 |
| Knock on Wood VI | — | Achieve carpenter level 60. | 5 |
| Temper, Temper VI | — | Achieve blacksmith level 60. | 5 |
| The Riddle of Steel VI | — | Achieve armorer level 60. | 5 |
| Heart of Gold VI | — | Achieve goldsmith level 60. | 5 |
| Tougher than Leather VI | — | Achieve leatherworker level 60. | 5 |
| Smiling, Styling, and Textiling VI | — | Achieve weaver level 60. | 5 |
| 'Tis True without Lying VI | — | Achieve alchemist level 60. | 5 |
| All in Good Taste VI | — | Achieve culinarian level 60. | 5 |
| Knock on Wood VII | — | Achieve carpenter level 70. | 5 |
| Temper, Temper VII | — | Achieve blacksmith level 70. | 5 |
| The Riddle of Steel VII | — | Achieve armorer level 70. | 5 |
| Heart of Gold VII | — | Achieve goldsmith level 70. | 5 |
| Tougher than Leather VII | — | Achieve leatherworker level 70. | 5 |
| Smiling, Styling, and Textiling VII | — | Achieve weaver level 70. | 5 |
| 'Tis True without Lying VII | — | Achieve alchemist level 70. | 5 |
| All in Good Taste VII | — | Achieve culinarian level 70. | 5 |
| Knock on Wood VIII | — | Achieve carpenter level 80. | 5 |
| Temper, Temper VIII | — | Achieve blacksmith level 80. | 5 |
| The Riddle of Steel VIII | — | Achieve armorer level 80. | 5 |
| Heart of Gold VIII | — | Achieve goldsmith level 80. | 5 |
| Tougher than Leather VIII | — | Achieve leatherworker level 80. | 5 |
| Smiling, Styling, and Textiling VIII | — | Achieve weaver level 80. | 5 |
| 'Tis True without Lying VIII | — | Achieve alchemist level 80. | 5 |
| All in Good Taste VIII | — | Achieve culinarian level 80. | 5 |
| Knock on Wood IX | — | Achieve carpenter level 90. | 5 |
| Temper, Temper IX | — | Achieve blacksmith level 90. | 5 |
| The Riddle of Steel IX | — | Achieve armorer level 90. | 5 |
| Heart of Gold IX | — | Achieve goldsmith level 90. | 5 |
| Tougher than Leather IX | — | Achieve leatherworker level 90. | 5 |
| Smiling, Styling, and Textiling IX | — | Achieve weaver level 90. | 5 |
| 'Tis True without Lying IX | — | Achieve alchemist level 90. | 5 |
| All in Good Taste IX | — | Achieve culinarian level 90. | 5 |
Disciples Of The Land
[
]
| Name | Reward | Description | Points |
| --- | --- | --- | --- |
| Breaking Rocks in the Hot Sun I | — | Achieve miner level 10. | 5 |
| Breaking Rocks in the Hot Sun II | — | Achieve miner level 20. | 5 |
| Breaking Rocks in the Hot Sun III | — | Achieve miner level 30. | 5 |
| Breaking Rocks in the Hot Sun IV | — | Achieve miner level 40. | 5 |
| Breaking Rocks in the Hot Sun V | — | Achieve miner level 50. | 5 |
| Fear the Reaper I | — | Achieve botanist level 10. | 5 |
| Fear the Reaper II | — | Achieve botanist level 20. | 5 |
| Fear the Reaper III | — | Achieve botanist level 30. | 5 |
| Fear the Reaper IV | — | Achieve botanist level 40. | 5 |
| Fear the Reaper V | — | Achieve botanist level 50. | 5 |
| Gone Fishin' I | — | Achieve fisher level 10. | 5 |
| Gone Fishin' II | — | Achieve fisher level 20. | 5 |
| Gone Fishin' III | — | Achieve fisher level 30. | 5 |
| Gone Fishin' IV | — | Achieve fisher level 40. | 5 |
| Gone Fishin' V | — | Achieve fisher level 50. | 5 |
| Breaking Rocks in the Hot Sun VI | — | Achieve miner level 60. | 5 |
| Fear the Reaper VI | — | Achieve botanist level 60. | 5 |
| Gone Fishin' VI | — | Achieve fisher level 60. | 5 |
| Fear the Reaper VII | — | Achieve botanist level 70. | 5 |
| Breaking Rocks in the Hot Sun VII | — | Achieve miner level 70. | 5 |
| Gone Fishin' VII | — | Achieve fisher level 70. | 5 |
| Fear the Reaper VIII | — | Achieve botanist level 80. | 5 |
| Breaking Rocks in the Hot Sun VIII | — | Achieve miner level 80. | 5 |
| Gone Fishin' VIII | — | Achieve fisher level 80. | 5 |
| Fear the Reaper IX | — | Achieve botanist level 90. | 5 |
| Breaking Rocks in the Hot Sun IX | — | Achieve miner level 90. | 5 |
| Gone Fishin' IX | — | Achieve fisher level 90. | 5 |
Commendation
[
]
Name
Reward
Description
Points

Leaving a Good Impression I



Title: The Heart of the Party
Receive 10 player commendations.
0

Leaving a Good Impression II



Item:

Princely Hatchling

Receive 50 player commendations.
0

Leaving a Good Impression III



Item:

Partisan's Crown

Receive 100 player commendations.
0

Leaving a Good Impression IV



Item: Sovereign Barding
Receive 300 player commendations.
0

Everybody's Darling



Item: Gilded Armor Identification Key
Receive 500 player commendations.
0

Leaving a Better Impression I



Item:

The Best Gown Ever

Receive 1,500 player commendations.
0

Leaving a Better Impression II



Item: Parade Chocobo Whistle
Receive 3,000 player commendations.
0
Gold Saucer
[
]
Name
Reward
Description
Points

What Happens in the Saucer I



Title: Gambler
Earn 1,000 MGP at Gold Saucer attractions.
5

What Happens in the Saucer II



—
Earn 10,000 MGP at Gold Saucer attractions.
5

What Happens in the Saucer III



—
Earn 100,000 MGP at Gold Saucer attractions.
5

What Happens in the Saucer IV



—
Earn 1,000,000 MGP at Gold Saucer attractions.
10

What Happens in the Saucer V



—
Earn 10,000,000 MGP at Gold Saucer attractions.
10

How I Learned to Stop Worrying and Love the Saucer



Title: High Roller
Earn the following seven achievements: Winningest Jockey, Always Bet on Me, Bracket Breaker, Enemy at the GATE III, WTFungah III, Work Smarter, Not Harder, and Mountains out of Gil-hills.
20

Go Forth and Multiply



Title: Chocobo Breeder
Obtain a new chocobo through covering.
5

Pedigree Champ



Item:

Racing Chocobo Mask

Obtain a new chocobo with a pedigree level of 9 or higher.
5

Training Day



Title: Chocobo Trainer
Train your chocobo to a rating of 285.
5

Off to the Races I



Title: Bug Boy
Participate in a sanctioned chocobo race.
5

Off to the Races II



—
Participate in 100 sanctioned chocobo races.
5

Off to the Races III



Title: Senior Jockey
Participate in 300 sanctioned chocobo races.
5

Off to the Races IV



Title: Veteran Jockey
Participate in 3,000 sanctioned chocobo races.
10

Breaking the Maiden



—
Place first in a sanctioned chocobo race.
5

Winning Jockey I



—
Place first in 10 sanctioned chocobo races.
5

Winning Jockey II



—
Place first in 50 sanctioned chocobo races.
5

Winningest Jockey



Title: The First Across
Place first in 500 sanctioned chocobo races.
10

Triple-decker I



—
Obtain a Triple Triad card.
5

Triple-decker II



Title: Deck Holder
Obtain 30 unique Triple Triad cards.
5

Triple-decker III



Title: Deck Hoarder
Obtain 60 unique Triple Triad cards.
10

Triple Team I



—
Defeat an NPC at Triple Triad.
5

Triple Team II



Item:

Squall Leonhart Card

Defeat 30 unique NPCs at Triple Triad.
10

Wheel of Fortune I



—
Win a Triple Triad roulette match.
5

Wheel of Fortune II



—
Win 10 Triple Triad roulette matches.
5

Wheel of Fortune III



—
Win 30 Triple Triad roulette matches.
5

Wheel of Fortune IV



—
Win 100 Triple Triad roulette matches.
5

Wheel of Fortune V



Item:

Vaan Card

Win 300 Triple Triad roulette matches.
5

Always Bet on Me



Title: The Trinity
Win 1,000 Triple Triad roulette matches.
10

Kumite



—
Win a Triple Triad tournament match.
5

Kumite Kumite



—
Win 10 Triple Triad tournament matches.
5

Kumite Kumite Kumite



Item:

Shantotto Card

Win 30 Triple Triad tournament matches.
5

Bracket Breaker



Title: Duelist
Win 100 Triple Triad tournament matches.
10

Enemy at the GATE I