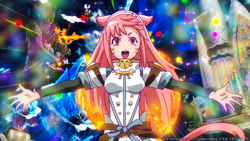 Final Fantasy XIV Choose Your Life are a series of short anime commercials promoting the release of Final Fantasy XIV: Shadowbringers.
The first commercial was published on the official Youtube channel of Final Fantasy XIV on June 24, 2019.
The commercials are produced and directed by Yuhei Sakuragi (best known for Ashita Sekai ga Owaru to Shite mo) and Kitarō Kōsaka (best known for Okko's Inn). The narrator is voiced by Kana Ueda, the voice actor of Herba from Final Fantasy: Unlimited. In the second commercial, the narrator is voiced by Kentarō Itō. In the third commercial, the narrators are voiced by Kana Ueda and Kentarō Itō. All three commercials are also dubbed in Korean, with slight changes to the animation visuals to match its language.
List of episodes
[
]
Commercial
Video
Tags
Release date
1
JP:
#秘境 #インフルエンサー #ジョッキー #巨大ロボ
(#Explorer #Influencer #Jocky #GiantRobot)
KO:
#미코테편
(#Miqo'te)
June 24, 2019
2
JP:
#空飛ぶライオン #シェアハウス #雀士 #英雄
(#FlyingLion #ShareHouse #MahjongPlayer #Hero)
KO:
#아우라편
(#Au Ra)
June 27, 2019
3
JP:
#ヒロイン #青春 #パートナー #冒険者
(#Heroine #Youth #Partner #Adventurer)
KO:
#여행편
(#Travel)
July 2, 2019
Gallery
[
]
Commercial 1
External links
[
]
Japanese
[
]
Korean
[
]