Final Fantasy XIV: Heavensward is the first expansion pack of Final Fantasy XIV, announced at the 2014 Fan Fest in Las Vegas. It was released on June 23, 2015. A Mac version was originally planned to launch on the same day as Microsoft Windows and PlayStation 4 versions, making it the first Final Fantasy title on Apple's personal computer. The Mac version was briefly recalled by Square Enix due to early stability issues[1], but has since been restored as a digital-only game at the Square Enix Online Store.
A benchmark program for Heavensward was released on April 27, 2015, featuring support for DirectX 11 and Au Ra character creation.
The expansion automatically increases the level cap to 60 for all disciplines. A new playable race, the horned Au Ra, and multiple new jobs were introduced. One new job was announced for each of the three roles: the Dark Knight for Tank, the Astrologian for Healer, and the Machinist for ranged DPS. New job quests for existing jobs were added. Each job now has a unique level 3 Limit Break, with existing ones redistributed to appropriate classes.
All-new Primals appear, including at least one Primal created just for Final Fantasy XIV—the first of these being Ravana. New dungeons and new raids appear. A new feature allows Free Companies to create their own personal airships. New field areas in the expansion are 50-100% larger than existing ones[2], and support flying mounts, such as black chocobos, personal-scale airships, the collector's edition griffon, and a dragon who is important to the story of Heavensward.
Owing to schemes in the shadows of Ul'dah, the Scions of the Seventh Dawn have been scattered, and the Warrior of Light has been forced to flee North with Alphinaud Leveilleur. Though granted shelter by Lord Haurchefant, The Adventurer's group presses on to Ishgard, a reclusive nation locked in a never-ending struggle with dragons. But matters have worsened not only in the Dragonsong War, but the unexpected appearance of a Warrior of Darkness as a countermeasure to the Warrior of Light.
Development
Edit
Naoki Yoshida had revealed that the first expansion of the game will let the players fly, and one of the themes will revolve around a "great conflict that spans across millennia."[3] In April 2015, Yoshida revealed "gothic high fantasy" was the key theme for art direction, while the storyline moved towards dark fantasy.[4]
Major updates
Edit
Note that the below version updates also added features and adjustments to A Realm Reborn (2.x) content.
As Goes Light, So Goes Darkness (3.1)
Edit
Released on November 10, 2015, Patch 3.1 features two new dungeons: Saint Mocianne's Arboretum and Pharos Sirius (Hard). A new 24-player raid called the "Void Ark" is introduced. Additionally, the end-game dungeons from A Realm Reborn now award EXP for players who have Heavensward. New Main Scenario quests are added, as well as beast-tribe quests for the Vanu Vanu. A new Minstrel's Ballad, "Thordan's Reign," lets player rechallenge the Knights of the Round.
Airship Exploratory Voyages now let teams of players explore uncharted islands in the Sea of Clouds first-hand, in the Diadem sector. A new Gold Saucer attraction called "Lord of Verminion" is introduced, an RTS-style minigame involving minions. New Triple Triad cards and players are added, along with adjustments to Chocobo Racing. Housing has an eviction system added to handle lots owned by inactive players, as well as an Estate Sharing Function for private residences.
Patch 3.15 added the "Saint Endalim Scholasticate" quest series, as well as the new Anima Weapons.
The Gears of Change (3.2)
Edit
Released on February 23, 2016, Patch 3.2 added new Main Scenario quests heading to the climax of the Dragonsong War. The first installment of the Warring Triad series of primal battles debut: Sephirot the Fiend, at Containment Bay S1T7. The second part of the Alexander: Midas released, and unlike in 3.0, all versions were available immediately. Two new dungeons were added: The Antitower and the Lost City of Amdapor (Hard).
This version update adds new training grounds, the Hall of the Novice for beginners, and "Stone, Sky, Sea" for endgame players to hone their skills. A Mentor system was introduced to compliment them. Gameplay-wise, Gears of Change is revamped the way the materia system works, including allowing melds on endgame equipment[5]. Other job adjustments, such as damage calculation for tank classes, were implemented. This patch also featured the return of Hildibrand, Agent of Inquiry and new beast-tribe quests involving the Gnath.
Patch 3.21 added a new installment to Wolves' Den called "The Feast".
Patch 3.25 introduced the next upgrade phase for the Anima Weapons. New features for Chocobo Racing are planned.
Revenge of the Horde (3.3)
Edit
Released on June 7, 2016, Patch 3.3. added the finale of the Dragonsong War, culminating in a new trial called The Final Steps of Faith. Two new dungeons were added: Sohr Khai and Hullbreaker Isle (Hard). The second installment of the "Shadow of Mhach" raids was added: The Weeping City of Mhach. New quests in the Warring Triad story were introduced, though without any associated trial.
A new set of beast-tribe quests called Mogmenders was added, involving both moogles & dragons and with an emphasis on crafting. The third phase for Anima Weapons was added, along with new Hildibrand quests. A new feature called Aquapolis involving the Treasure Hunt system was added, a secret dungeon that may be revealed when opening Dragonskin maps. A new Frontline area called Field of Glory (Shatter) was introduced. Additional Housing plots were added, four wards per district. Various UI enhancements such as the Raid Finder interface was added.
In Patch 3.35, a new system called Deep Dungeon - Palace of the Dead was added which allowed for both solo and group content.
In Patch 3.38, parts of the Anima Weapons quest had its difficulty reduced.
Soul Surrender (3.4)
Edit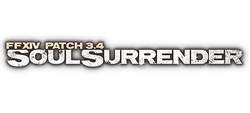 Arriving on September 27, 2016, Soul Surrender begam a new story arc of Main Scenario quests. New quests for Hildibrand adventures and the Saint Endalim Scholasticate were added. A new raid, Alexander: The Creator, debut. The next primal of the Warring Triad, Sophia, the Goddess, awakened in Containment Bay P1T6. Two new Expert dungeons were be added: Xelphatol and the Great Gubal Library (Hard).[6]
A new system for the Grand Companies called Adventurer Squadrons was added, with the First Lieutenant rank finally made available for players to unlock. A new side activity, Wondrous Tails, features weekly challenges for special rewards. A new UI mechanism for controllers, the W Crossbar, was introduced. The Housing system was expanded with instanced apartments and personal aquariums. Support for cross-server play of certain Gold Saucer activities via Duty Finder was added.
Patch 3.45 added the remaining floors to the Palace of the Dead and a new step of the Anima Weapon system.
The Far Edge of Fate (3.5)
Edit
The Far Edge of Fate begins the transition to Stormblood. As with Before the Fall, it will be split into multiple parts.
Patch 3.5 arrived on January 16, 2017. It added two new dungeons: Baelsar's Wall and Sohm Al (Hard). The final raid of the Shadow of Mhach storyline, Dun Scaith, was be added. The final member of the Warring Triad, Zurvan, the Demon, was faced at Containment Bay Z1T9. A new step in the anima quests were added. Much awaited was the introduction of egi glamour for Summoner pets, beginning with Carbuncles. Chocobo companions were now be treated as pets rather than party members, enabling greater flexibility when using them for party content. The Party Finder now supports cross-server recruiting.
Patch 3.55a is set to launch on February 28, 2017. It plans to add a final step to the Anima Weapons questline, as well as a new set of tasks for Disciples of the Land & Hand involving the NPC Zhloe Aliapoh. A new PvP map will be added to the Feast, featuring a Sudden Death mode. A new encounter is to be added against Proto-Ultima. Due to unforeseen technical issues, the overhaul of the Diadem will be delayed until Patch 3.55b.
It has been stated that additional patches will be released between 3.55 and the release of Stormblood.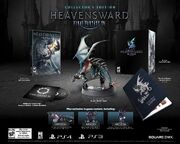 This section is empty or needs to be expanded. You can help the Final Fantasy Wiki by expanding it.
Reception and sales
Edit
The PC version of Final Fantasy XIV: Heavensward scored 86 metascore[7], all-time highest of all Final Fantasy titles available on Microsoft Windows.
Packaging artwork
Edit

This gallery is incomplete and requires European PC, European PlayStation 3, Japanese PC and Japanese PlayStation 3 added. You can help the Final Fantasy Wiki by uploading images.
During the announcement at Fan Fest, Yoshida wore a Batman shirt which he said was a hint towards one of the new classes in the expansion, eventually revealed to be the Dark Knight, one of Batman's nicknames. At a later event he wore a James Bond shirt to tease the Machinist, making a connection between their choice of weapons: guns.
The Japanese name of the expansion,

蒼天のイシュガルド

(

Souten no Ishugarudo

?) is more literally translated as "Azure Sky of Ishgard".
During the streaming event, a folder named "Samurai" was spotted on Masayoshi Soken's laptop, thus leading to rumors of Samurai being one of the new jobs. However, it was later confirmed by Naoki Yoshida that Samurai will not be included in the expansion, as they did not want to include another Japanese-style job at present, although the job concept was heavily considered for the new "tank" job prior to Dark Knight being favored.[8]
External links
Edit
References
Edit
Community content is available under
CC-BY-SA
unless otherwise noted.