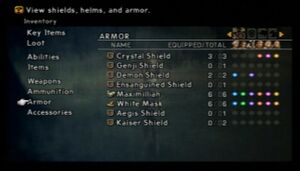 List of the armor in the original release of Final Fantasy XII. The cost given is the buy price, though not all equipment can be bought. The sell price is half the buy price.

Characters equipped with one-handed weapons can equip a shield in their available hand. Shields add to evasion and magick evasion, and sometimes provide beneficial status effects or additional elemental resistance.
Even with magick evasion, shields never block status effect spells. Shield Block augments add +5% to both physical and magickal evasion per augment purchased (as long as the shield provides both; if a shield only offers physical evasion the augment boosts affect only that). Some enemies have Ignore Evasion as a passive ability, which makes using shields pointless. The player can gain the same ability by equipping the Cameo Belt.
Light armor
Edit
Light armor is the most basic of the armor types. It generally offers moderate defensive bonuses and HP boosts, the latter of which can be maximized by using the Bubble spell or equipping a Bubble Belt.


Heavy armor
Edit
The strength bonuses offered by heavy armor make it ideal for the player's frontline fighters, as most of the heavy damage dealing weapons factor in strength when calculating how much damage will be dealt to the enemy. The player will most likely choose light armor in the beginning of the game, as it offers important HP boosts.
After the player gains access to the Bubble spell and the Bubble Belt accessory, HP becomes less of a concern and reducing the amount of damage taken by the characters becomes more important, for which the player will most likely choose the defense and strength bonuses of heavy armor.
There is a magnetic field during the battle with Vinuskar in the Stilshrine of Miriam, which will severely slow down characters wearing metal armor. Vinuskar also casts Slow, making charge times for those characters excruciatingly long. This also happens in the battle with Ultima, but Ultima does not cast Slow.


Mystic armor
Edit
Mystic armor offers magick-related bonuses, such as MP and magick power boosts. These have a significant effect on all types of magickal actions, from casting black magick to damage an enemy to casting white magick to heal the party. Magick power is also a factor when determining damage dealt by katana, staves, and maces.


Original
Community content is available under
CC-BY-SA
unless otherwise noted.