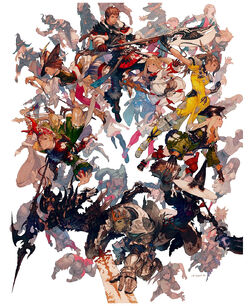 It is with great honor that we at the Final Fantasy Wiki can announce that on Friday the 13th of this month this site will have been up for ten years. For an entire decade this fan-made community project to compile the greatest compendium of Final Fantasy knowledge had run strong. We, the wiki admins, are very happy to celebrate this milestone with all of you.
The very first edit was back on March 13th 2005 when our founder Shane613 created his user page, proclaiming himself "Creator of the Final Fantasy Wiki." Since that time much has happened, we have grown massively, to over 16,000 articles. This was always a massive project to undertake considering the scale of Square Enix's flagship RPG series, and every passing year they make our job much harder by releasing more games. But we have come through the wild years of filling up red links, and finally creating what we hope to be the best guide to the Final Fantasy games and the best collection of Final Fantasy knowledge available. This wiki has had character battles, Walkthroughs, Let's Plays, and all kinds of other fan content which we hope to continue to share with you all for another decade and more.
Obviously, this is not the end, this is merely the beginning. Final Fantasy continues to roar strong, with Final Fantasy XV just around the corner, along with more other titles than even our seasoned veteran editors can name. There is plenty to do, even in the older games, and if you want to join us, come right alone. The edit button is open to all. Be bold.
For now, at the end of this month we will be creating a fan video of our editors and readers who wish to join in. Deadline is March 31st. If you have anything to share with us our your experience or what this wiki has meant to you, do not be shy, send it right over. We can accept audio or video. (Please try to send your audio in .OGG format and your video in .WMV format, if possible. Every entry must be under a minute long, or it will be subject to ruthless but loving trimming. Make sure the file is small enough to be sent over email, obviously.) You can drop your audio or footage off at our collective email: ffwiki.ff@gmail.com .
However if you cannot be a part of the video or are just shy, you can leave your thoughts and well-wishes below. Please sign each entry.
EDIT: This doesn't have to be video. If you're shy don't worry. I know a lot of you have audio recording capabilities, just send that in. March is nearly over, we've only received a single submission. This takes exactly a minute to record, and even less to process on Audacity. Please send in love, unless you don't have it. ----BlueHighwindツ 03:44, March 27, 2015 (UTC)
EDIT x2: The video will not be up at least for a week, until then submissions will still be accepted. ----BlueHighwindツ 01:44, April 2, 2015 (UTC)
Happy thoughts go here.
Hello. My name is Mask no Oni.
Ever since I believe.... Late 2008, I have been a member of this wiki.
I admit. I am not the easiest person to work with. I have been unruly at times. I have been a volatile person here and there. And I have not been the most active member either.
But despite those shortcomings, I have always enjoyed contributing my energy and work to the Final Fantasy Wikia.
I have seen people come and go. I have been here to witness countless releases and helped fix up articles, to ensure that the public get all of the knowledge and information regarding the amazing Final Fantasy series. I have even contributed my engagement of fandom as well in the forums when more golden days were there. And I am a proud man of trivia who likes seeing how this world of ours has its effects on our works of creativity and imagination.
Here is to 10 years on the Final Fantasy Wikia and another 10 ahead for all of us. Even if one day, the inevitable day comes, that Final Fantasy ceases to walk another number forward, I still will ensure the English speaking world has access to concise and clear information on the Final Fantasy series, and should the day I go comes, I will ensure that the next generation of editors do their best and add their golden touch as I have.
I'll see you around, and Happy Anniversary. *smile*
Mask no Oni (talk) 01:30, March 15, 2015 (UTC)
Congratulations FF Wiki. jeandevewewewewe (talk) 04:51, March 20, 2015 (UTC)
Congratulations on the 10 year anniversary! I've only been into Final Fantasy for the past 5 years, but this wiki was a very big help to me when I was starting the series. BlueHighwind's walkthroughs were a huge help, the trivia is interesting, it's all really great. Here's hoping for many more years of this awesome wiki. - HeadBodyMaster
I'm KeybladeSpyMaster, an administrator at The Kingdom Hearts Wiki. I think I speak for everyone over at The Kingdom Hearts Wiki when I say, Congratulations Final Fantasy Wiki on your 10-year Anniversary! While I don't play the Final Fantasy series, a lot of the editors over at the Kingdom Hearts Wiki do, and besides, we can't just forget our own origins. Kingdom Hearts isn't the same without Final Fantasy, and from what I can gather, the Kingdom Hearts Wiki wouldn't be the same without the Final Fantasy Wiki. To many more years of your awesome editing and community! KeybladeSpyMaster (talk) 04:19, March 30, 2015 (UTC)
Thank you for a lovely four years, FFWiki! I have tried to make a video to put here, it absolutely sucks but if I can get it on here I will later :) Tia-Lewise

16:52, March 31, 2015 (UTC)
Due to the timing, I think I'm the last one to post here. Although being an official member since 2012, I've been lurking in the shadows since much earlier (2007, I believe). What this wiki has become is to make all of us proud, because we've grown up a lot. Thank you all for the effort you put on this community, working hard to improve our pages and at the same time providing us lots of fun. I'm not a very active member, due to a number of reasons, but I'll try to cooperate more and wish only the best to our lovely Wiki, may it stay tall and proud for another 10 years! JC Holy Knight (talk) 23:49, March 31, 2015 (UTC)
Community content is available under
CC-BY-SA
unless otherwise noted.