December 13th by Keltainentoukokuu
The third character DLC episode to Final Fantasy XV has been released world wide.
December 12th by Swordzmanp236
Following last month's announcement by Square Enix, Final Fantasy XV has been patched to version 1.20, adding support for individual player control and Final Fantasy XV: Episode Ignis as well as zapping other bugs found in the game. The patch also terminates the Season Pass content and online timed quests, as expected.
Patch 1.20 is available via PlayStation Network and Xbox Live.
Character swap and new DLC episodes coming for Final Fantasy XVEdit
November 29th by Keltainentoukokuu
In today's livestreams, Square Enix shared new information on Final Fantasy XV and discussed the summer's survey results.
The team plans to deliver at least three episode-style DLCs in 2018, the first being for Ardyn Izunia. Who will star in the other episodes is yet unknown, but the team plans to tackle them one at a time.
The ability to swap characters on-the-fly will be added in the upcoming patch, which will be out before Final Fantasy XV: Episode Ignis. The characters will play in the manner they are playable in their character DLC episodes.
Final Fantasy XV: Pocket Edition has been delayed to be released in Winter 2018.
November 21st by OneEco
Square Enix has announced that World of Final Fantasy: Meli-Melo, related to the PS4 title World of Final Fantasy, will reach the Japanese iOS and Android smartphones by the end of the year. Meli-Melo is been directed by Hiroki Chiba and produced by Shinji Hashimoto in a collaboration with the developer Drecom.
It has been revealed that the game will be following free-to-game model like other mobile Final Fantasy titles and that features a brand new story set up in the world of Valgaran that will be told in a manga like format, an improved battle system where up to six monsters can be stacked and, of course, the presence of Final Fantasy characters throughout the series, just as in World of Final Fantasy.
November 13th by Leon95
Bandai Namco Entertainment have announced that Noctis Lucis Caelum from Final Fantasy XV will be their third DLC character for their flagship fighting game Tekken 7. He will be added to the game in Spring 2018, along with a stage set at the Hammerhead station.
November 8th by Keltainentoukokuu
Final Fantasy XV: Pocket Edition is a ten-chapter mobile "demake" of Final Fantasy XV. The first chapter will be free.
No specific release date has been given, but it is to come to iOS (requires 11.1+) and Android(requires 5.0+ & 2GB RAM) in "Fall 2017," and to Windows 10 "This winter."
Final Fantasy XV: Pocket Edition at Google Play
November 6th by Keltainentoukokuu
Contrary to what PR representative Matt Kishimoto said at the TwitchCom stream in October, Final Fantasy XV: Comrades is now said to release 15th of November.
October 31st by Leon95
A PC version of World of Final Fantasy has been announced by Square Enix. Originally released on PS4/Vita in October 2016, the game will release on Steam on November 21, and will feature trading cards, achievements, and full keyboard and controller support.
Source: Press release, trailer.
October 30th by Keltainentoukokuu
Episode Ignis is a downloadable extra episode for Final Fantasy XV that takes place at the same time as chapter 9 of the main game and follows Ignis Scientia as he battles through the city of Altissia to find and protect Prince Noctis.
It will release on December 13, 2017, and will be available for purchase via the PlayStation Network store and the Xbox Live marketplace. The episode is also included in the game's Season Pass.
Trailer for the episode was revealed at Paris Game Week. It contains spoilers.
Final Fantasy XV: Windows Edition system requirements revealedEdit
October 26th by Keltainentoukokuu
Final Fantasy XV: Windows Edition has been listed by Microsoft that includes system requirements.
The Windows Edition has no release date yet, but is planned for release early 2018.
October 21st by Keltainentoukokuu
New information on the Final Fantasy XV multiplayer expansion was revealed at the TwitchCom stream. Final Fantasy XV: Comrades is available to play just for singleplayer if one doesn't have an online subscription account. It will release November 7, 2017, and is available in the season pass or as a standalone DLC for $19.99.
October 20th by Keltainentoukokuu
The multiplayer expansion to Final Fantasy XV, called Final Fantasy XV: Comrades was planned for release on 31st October. It has been delayed due to final adjustments to early November.
September
Edit
September 29th by Keltainentoukokuu
The September update is now live. A new event has been added to Chapter 12 that explains the events that led to the War of the Astrals. Two new fish have been added to thearchive and the Moogle Chocobo Carnival has been closed. The update is 4.306GB. The new fish cannot be caught yet and were planned for next update, but were accidentally included in the Fish Archive in the current update.
Source & Source on the fish being bugged
September 20th by Keltainentoukokuu
Universal Studios Japan will add a Final Fantasy attraction next year: a new simulation ride called Final Fantasy XR Ride. Between January 19–June 24, 2018, patrons can check out a motion simulator ride that takes one through the entire series as part of the attraction park's "Universal Cool Japan 2018" campaign. The attraction focuses on high-end 360-degree visuals from the series produced by Visual Works, the Square Enix special effects studio that creates key art and CGI scenes for their games. The logo for the ride is by Yoshitaka Amano.
September 19th by Keltainentoukokuu
In a new trailer for Dissidia Final Fantasy NT for PlayStation 4 during the 2017 PlayStation Press Conference in Japan, Noctis was revealed as a new playable character.
September 19th by Keltainentoukokuu (edited by Leon95)
During its press conference at Tokyo Game Show, Sony revealed Final Fantasy IX is coming to PlayStation 4. It was released digitally worldwide on the PlayStation Network an hour after the show ended. It is a port of the mobile/Steam version and includes trophies, an autosave feature, and optional game boosters. It also includes an original custom PS4 theme created by Toshiyuki Itahana.
September 15th by Keltainentoukokuu (Edited by Swordzmanp236)
Final Fantasy Tactics for iOS has been updated for 64-bit devices, and will thus now work with iOS 11 when the update arrives on September 19, 2017. Previously updated in mid-2013, Tactics was among the games flagged when Apple warned users of model year 2013 and later devices of incompatibilities that would prevent their apps from running. Square Enix later posted that it was working on fixes to satisfy Apple's requirements for these same devices.
The update (2.0.0) is available separately for iPhone/iPod touch and iPad devices running iOS 8.0 and later. Square Enix's release notes also point to significant changes in cloud save and quick-save functionality that render prior versions' data obsolete.
Square Enix also announced that service for Theatrhythm Final Fantasy on iOS will end on September 30, 2017, removing the app from the App Store. The app will still be playable on 32-bit hardware, but online content and features will no longer be available.
Theatrhythm info: Square Enix Support Center
August 31st by Keltainentoukokuu
Final Fantasy XV: Assassin's Festival is a free downloadable event that runs till January 2018. Players who have a Dream Egg from the Moogle Chocobo Carnival get the Master Assassin Robes attire for Noctis. A bestiary and chapter select have also been added to the game, and the Cup Noodle Hat made available as free DLC.
August 24th by Leon95
Square Enix and Ubisoft have announced a partnership that will see Final Fantasy XV collaborate with the Assassin's Creed series. Starting on August 30, players who obtained the Dream Egg item from the Moogle Chocobo Carnival will be able to trade it for an Assassin outfit. Then on August 31, the Assassin's Festival will begin in Lestallum. The festival will feature new activities and items, and will allow Noctis access to new abilities from the Assassin's Creed franchise.
August 22nd by Leon95
Square Enix have announced that the VR fishing Final Fantasy XV spin-off, Monster of the Deep, will release worldwide on November 21, 2017. Pre-ordering the game will reward purchasers with a dynamic PlayStation 4 theme and an in-game Samurai outfit.
August 22nd by Leon95
Square Enix have announced a mobile remake of Final Fantasy XV will be releasing in Fall 2017 for iOS, Android, and Windows 10. It will follow the same story as the regular game and will release episodically in 10 parts. The first part will be available for free.
August 21st by Leon95
Square Enix have announced that Final Fantasy XV will be coming to PC. Revealed at Nvidia's Gamescom press event, the game is expected to release in early 2018 and will be available from Steam, Origin, and the Windows 10 Store. The Windows Edition will also debut a new first-person camera mode and will include all DLC released for the game so far.
August 18th by Leon95
The release date for Dissidia Final Fantasy NT has been announced by Sony. The game will launch on PlayStation 4 on January 30, 2018. Also announced is an Ultimate Collector's Edition, a Steelbook Brawler version, and a Season Pass which will give purchasers access to six new playable characters and more content after the game has released.
July update for Final Fantasy XV adds new hunt, attire, cross chain attacks and reopens CarnivalEdit
July 31st by Keltainentoukokuu
Patch 1.13 has been released for Final Fantasy XV. It adds a new hunt for Melusine, which is available after chapter 8 at the Meldacio Hunter HQ. A new trophy, "Love Turned Tragic", can be earned for completing the quest. Cross chains, originally seen in Episode Duscae, have been implemented into the game and a tutorial for them appears during the Melusine hunt. The player can earn the "Seize the Moment" trophy for performing 10 full-hit cross chains. The Magitek Exosuit attire was also added. It was originally planned to be a part of the Booster Pack+ DLC but was delayed and distributed for free instead because the publisher of Power Rangers thought the original design was too close to their intellectual property.
The Moogle Chocobo Carnival event was also reopened temporarily and will close again in late September.
Closed beta for Final Fantasy XV multiplayer expansion "Comrades" announcedEdit
July 26th by Leon95
Square Enix have announced that a closed beta for Final Fantasy XV's multiplayer expansion will be open to season pass owners between August 3-8. Players will be able to create their own customizable avatar and take part in quests with up to three players online. The beta will be a limited version of the expansion, the full version will feature more quests, weapons, outfits, and an explorable city hub. The full version will also be playable in single-player, but the beta test is limited to online play only.
July 11th by Keltainentoukokuu
The HD remaster of Final Fantasy XII for PlayStation 4 released today for Europe and North America. The game will release in Japan on Thursday. The remaster is based on the International Version of the original, which was never released outside of Japan, and includes a job system, new weapons, a new Trial Mode battle arena, as well as remastered soundtrack and visuals. The player can now speed up gameplay and no longer needs to be wary of opening treasures lest they miss out on the Zodiac Spear.
June 27th by Keltainentoukokuu
"Episode Prompto" is now available to download on PlayStation Network and Xbox Live. It can be purchased individually, or as included in the season pass. "Episode Prompto" is the second DLC episode for Final Fantasy XV, following Final Fantasy XV: Episode Gladiolus from March 2017. The episode has the player play as Prompto Argentum, who is separated from the group in a wintry Niflheim base.
A DLC episode featuring Ignis Scientia will release in December, according to a teaser at the end of "Episode Prompto".
June 26th by Keltainentoukokuu
The original version of Final Fantasy VI, released as Final Fantasy III in North America, will be on Super NES Classic Edition. which releases Sept. 29, 2017.
June 26th by Keltainentoukokuu
Patches 1.11 and 1.12 were released today, implementing the Regalia Type-D customization option, which can be installed at Hammerhead and allows the vehicle to drive off-road. The Type-D can jump if the player presses Circle/B while on the ground. If the player performs a particularly impressive jump, time will slow down and the party will pose as the car travels through the air. This is called a "Big Jump" and is assigned a score based on distance and the smoothness of the landing.
The Type-D can damage enemies if it rams them or lands on them, but it loses durability if enemies attack it. If the car's durability meter falls to 0%, it will result in a game over. Durability is also lost when the Regalia crashes into objects and walls. Experience cannot be obtained by killing enemies with the Type-D, however, items can be looted from the defeated enemies.
The patch also adds compatibility for the Episode Prompto DLC pack, and adds its songs "Home Sweet Home", "Orbital Instability", and "Trigger" to the main game's music player.
June 20th by Leon95
Stormblood, the second expansion pack for Final Fantasy XIV, has been released. Purchasing the content allows players to explore the Gyr Abania and take on two new jobs: Red Mage and Samurai. The update also revamps the game's battle system slightly and raises the level cap up to 70.
June 14th by Keltainentoukokuu
"Episode Prompto" is a downloadable extra episode for Final Fantasy XV. It takes place at the same time as chapter 11 of the main game, and follows Prompto Argentum as he tries to escape imperial capture and reunite with his friends.
It will release on June 27, 2017, and will be available for purchase via the PlayStation Network store and the Xbox Live marketplace. The episode is also included in the game's Season Pass.
The episode features third-person shooter gameplay wherein players take control of Prompto and attack enemies using various firearms, including pistols, sniper rifles and submachine guns. It also has stealth elements, allowing Prompto to sneak through areas to position himself in advantageous locations before engaging his foes. Guest composer Naoshi Mizuta of Final Fantasy XI fame will compose Prompto's theme and numerous other songs.
June 13th by Keltainentoukokuu
The PSVR experience for Final Fantasy XV, called "Monster of the Deep: Final Fantasy XV", is coming September 2017. The game was announced at Sony's E3 press conference.
June 10th by Keltainentoukokuu
Some new information on the next Final Fantasy XV updates was revealed at the Final Fantasy 30th Anniversary stream. "Episode Prompto" DLC is expected to be released by the end of June and will have a new story and a new gameplay system. Its main theme is composed by Mizuta Naoshi, known for having composed the soundtrack for Final Fantasy XI. More info will be revealed at E3 next week.
The June free update will include an off-road Regalia, called Regalia Type-D. Cup Noodle headgear for Noctis is also in the works.
June 9th by Keltainentoukokuu
Square Enix has revealed a new story trailer for the upcoming Final Fantasy XII HD remaster for PlayStation 4.
June 7th by Keltainentoukokuu
Dissidia Final Fantasy, the Japanese arcade fighting game from Square Enix and Team Ninja released on 2015, is coming to PlayStation 4 in 2018. Called Dissidia Final Fantasy NT, it will feature over 20 playable heroes and villains from the Final Fantasy series, including Noctis Lucis Caelum from Final Fantasy XV.
According to a listing for Dissidia Final Fantasy NT on Amazon, the PlayStation 4 release will feature "an all-new Final Fantasy story, written by writer Kazushige Nojima".
Aranea Highwind from Final Fantasy XV gets a Play Arts Kai figureEdit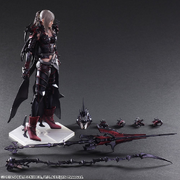 June 7th by Keltainentoukokuu
Square Enix has revealed on its Japanese Final Fantasy XV Twitter that Aranea Highwind will get a Play Arts Kai figure. Pre-orders will be available on June 19th, but the price hasn't been announced. Aranea is a Dragoon mercenary working for Niflheim, who appears as a boss and a guest character in the game.
New costume and recipe added in free content to Final Fantasy XVEdit
May 30th by Keltainentoukokuu
Trendy Outfit attire DLC for Noctis and Plump 'n' Pungent Tofu recipe have been added to Final Fantasy XV 1.10. The attire, which features a jacket with behemoth embroidery, was originally Japan-exclusive to those who bought the actual jacket, but is now available as free DLC. It protects against stat-reducing ailments (with jacket) or boosts Noctis's critical hit rate (without the jacket).
The tofu recipe gives "Last Stand" effect that greatly boosts strength and magic at the cost of lowering HP. It also yields 10% more EXP from battles.
The game also has a survey going on what content players want to see included next, including options for more story content and playable characters.
Video of the new outfit and recipe by LemonEatingKow at YouTube
May 30th by Keltainentoukokuu
Naoki Hamaguchi, who was previously in charge of the development for Mobius Final Fantasy, will take on the top developmental role for Final Fantasy VII Remake. Development had been carried out mainly with the support of external partners. When the product goes into mass production, Square Enix has decided to shift the development back to within the company to maintain a stable schedule and have control over quality. Square Enix will be "forming a robust system" to carry out the development.
May 25th by Keltainentoukokuu
Final Fantasy VII Remake for PlayStation 4 is being developed by Square Enix's Business Division 1. Producer Yoshinori Kitase, Director Tetsuya Nomura, and Development Leader Naoki Hamaguchi have posted messages on the company's official website, asking people to send their applications as they are hiring. According to Kitase's message, the project is now heading into "the development progress phase."
Read the messages at Siliconera
Final Fantasy Brave Exvius issues response to 5/22 Manchester concert attackEdit
May 23rd by Swordzmanp236
On Monday, 22 May, a lone attacker was reported to have bombed the arena in Manchester, England, where Ariana Grande was performing. At least 22 patrons were confirmed dead, with dozens more injured. Grande issued a tweet of condolence to those impacted.
The following day, the Final Fantasy Brave Exvius Global team issued an in-game dispatch expressing condolences and best wishes to those impacted. Miss Grande was involved in a collaboration project with the game as Dangerous Ariana.
April 17th by Keltainentoukokuu
The upcoming HD remake of Final Fantasy XII for PlayStation 4 is based on the Zodiac Job System, which was a Japan-exclusive re-release of the original PlayStation 2 version. This version had the player choose a License Board for each playable character, each representing a job class. In the HD remake, The Zodiac Age, it is now possible to have a character set with two job classes by unlocking "L Board Plus" on the License Board to select a second job.
The in addition to redone music, eight new tracks will be added to remaster.
April Fools - Final Fantasy XV -Snap- announcedEdit
March 31st by DrakeyC
Today Square Enix announced a new DLC addition for the Final Fantasy XV franchise, "Final Fantasy XV -Snap-." The game will be an expanded version of the main game's phototaking sidequests. Players take control of Prompto some time before the main events of Final Fantasy XV, and are tasked by King Regis to explore the world photographing and cataloging the various monsters and wild animals he sees. Players will take Prompto, escorted by Ignis driving the Regalia, through various levels driving on the road taking pictures of the monsters seen in the distance.
While the DLC will be entirely non-combat oriented, focusing solely on the picture-taking element, Prompto will have modified versions of his weapons from Final Fantasy XV to aid him, such as the Bio Blaster to intoxicate monsters or the Noise Blaster to confuse them, either of which can induce unusual behaviors that will reward a higher score when photographed. At the end of each level the player's pictures are scored based on the size and clarity of the subject as well as any unique behavior they may perform, like an attack or special pose. As the player takes more and better pictures, they will unlock new levels and equipment. "Boss" monsters will also appear that can use special abilities to obscure Prompto's view or disrupt usage of his camera, thus requiring strategic use of equipment to get a proper photo.
According to director Hajime Tabata, the decision was made to make the DLC due to the surprising fan participation in the main game's photo-taking aspects, and the development staff felt a DLC pack focused on this element would allow players to explore the world of Final Fantasy XV in a more casual setting to appreciate the scope and depth of the world and the various monster types. He also stressed that the DLC is separate from the Episode Prompto DLC intended to be released later in the year, though he did note that the development staff is discussing adding a bonus of some sort to Snap for players that own both DLC packs.
When asked about the game's similarities to a game produced by Nintendo for the N64 years ago, Tabata denied any knowledge of such a product and demanded to know who pointed out these supposed similarities.
March 28th by Keltainentoukokuu
Episode Gladiolus is out as DLC for Final Fantasy XV. The player assumes the role of Gladiolus Amicitia on his personal quest. It is included in the season pass, or it can be purchased individually.
On March 27, 2017, Square Enix released the 1.06 patch for the game. The patch adds a new playable segment in Chapter 13 named Verse 2: For King and Comrade, in which the player takes control of Gladiolus as he explores Zegnautus Keep with Ignis Scientia. The segment can be accessed through a choice at the start of Chapter 13, or from the Special section of the main menu if the player has already completed the game.
Additional changes were made to Noctis's segment of Chapter 13, such as tweaks to the Ring of the Lucii and more cutscenes featuring Emperor Aldercapt and Ravus Nox Fleuret. The patch also removes some of the world's invisible walls allowing the player to explore more freely and collect newly-placed items that can be found atop previously inaccessible structures. Additionally, winning snapshots from Square Enix's photo contest have been added to the screens in Takka's Pit Stop at the Hammerhead, and the timed quest feature has been temporarily suspended. Patch 1.06 also makes the game compatible with the Episode Gladiolus DLC and adds two songs from it to the main game's music player.
Final Fantasy XV changes to Chapter 13 revealed in an upcoming patchEdit
March 14th by Keltainentoukokuu
Chapter 13 of Final Fantasy XV will be updated later this month. Along with balancing adjustments, Square Enix is adding a separate route for Gladiolus and Ignis after they get split off from Noctis, so the player can play as Gladiolus and see what happened from their point of view until they are reunited with Noctis. There are new cutscenes that show what takes place while Noctis is on his own. There is gameplay with the party of Gladiolus and Ignis together. The player will see what happened to Emperor Aldercapt and Ravus Nox Fleuret, and where they ended up being during the whole time. The ring magic is being overhauled, so the three spells the player could use with the Ring of the Lucii are made more powerful.
Final Fantasy XV patch 1.05 (2.1GB) with PS4 Pro support is now availableEdit
February 20th by Keltainentoukokuu
The 1.05 update for Final Fantasy XV adds the following features:
PlayStation 4 Pro users now have selectable resolution options.
New Time Quests (limited-time and contests)
Level cap increased from 99 to 120. The amount of EXP required to level up has gone up drastically.
Players can now store up to 200 photos.
Portable music player doesn't get overridden by chocobo music when riding.
Moogle Chocobo Carnival is over.
Two new tracks for the music player from Nier.
Final Fantasy XII The Zodiac Age due out in JulyEdit
January 31st by Keltainentoukokuu
Final Fantasy XII The Zodiac Age will release 11th July in Europe and North America, and 13th July in Japan and rest of Asia. It is an HD remake of Final Fantasy XII for the PlayStation 4. Final Fantasy XII was originally released on PlayStation 2 in 2006. The Zodiac Age is based on the Zodiac Job System re-release that was only out in Japan. It has various gameplay changes, the most major being the addition of a job system.
Final Fantasy XV Episode Gladiolus DLC due out March 28; Prompto DLC in JuneEdit
January 31st by Keltainentoukokuu
Square Enix has revealed plans for its next round of Final Fantasy XV downloadable content. From February 21st fans can download a Booster Pack as part of the game's Season Pass to get the party special outfits that grant invincibility for 30 minutes before needing a full 24 hours to recharge.
Episode Gladiolus is due March 28th that features Gladiolus Amicitia as the playable character. Cor Leonis will also make an appearance. Episode Prompto will be available in June.
PC version of Mobius Final Fantasy scheduled for worldwide launch on February 6Edit
January 25th by Leon95
Square Enix have announced that their mobile RPG Mobius Final Fantasy will release worldwide on PC via Steam on February 6, 2017. A Japanese PC version released last November and features 60FPS gameplay and 4K visuals. The same account can be used between the mobile and PC versions, so players can choose to switch between them at any time. Additionally, players will receive free bonus items if they log into the game via Steam before February 28.
Free Final Fantasy XV event on 24th, and latest sales figuresEdit
January 10th by Keltainentoukokuu
The official English Twitter channel for Final Fantasy XV tweeted today that the "Moogle Chocobo Carnival" in-game event will begin on January 24. The event will be free DLC.
Final Fantasy XV has also shipped and sold digitally over 6 million units.
Square Enix to collaborate with Ariana Grande for Final Fantasy Brave ExviusEdit
January 1st by Leon95
American actress and singer Ariana Grande has announced on Twitter that she will have a character featured in Final Fantasy Brave Exvius. She showed off her character's sprite, which is styled after her attire from her Dangerous Woman album and tour, via her Instagram account.