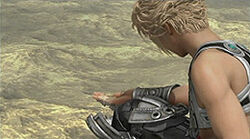 Welcome to the Sandsea
This place works as the wiki's public "sandbox" page , which allows you, the weary traveler, to carry out experiments. Please feel free to try your skills at formatting here. If you want to learn more about how to edit a wiki, please read the edit help page or other help pages.
To edit, click here or "edit" at the top of the page, make your changes in the dialog box, and click the "Save page" button when you are finished. Please refrain from adding material that is any way offensive, that is copyrighted, or that is at all libelous.
In addition to this page, the wiki uses a sandbox wiki for large-scale changes to the way the wiki is run.
---
Content added here will not stay permanently; this page is cleared regularly.
Shifting Sands Test Area
[
]
Items hell yeah
[
]
Item
Description

Weathered Shortsword


ID 33333

Required to Repair: Alchemist 6
Dark Matter:

Grade 5 Dark Matter

Glamour Prism:

Grade 4 Glamour Prism (Leatherworking)

Materia Slots: 2 (cannot overmeld)

Recipe 1: not sure how to format this

Recipe 2: asdf

Used to craft:

This sword was wielded by My'little Pogchamp.
Dyeable. Admits FC Crest. Not tradable. Part of the Uniform of the Grand Company of Eorzea.
Item
Description
Savage Aim Materia VI
This materia increases Critical Hit by 40.

Recipe 1:




Ingredients:

Properties:

Can be made .
A big weapon.
Can be . Can be given FC crest. Cannot be discarded. Can only be crafted as collectable.

Pipe trick test
[
]
Sector 5 Slum should link to "Sector 5 Slum (Final Fantasy VII field)" and display "Sector 5 Slum". An awsome person (talk) 23:22, 10 January 2022 (UTC)