Welcome to the Requests for Promotion page. If you wish to nominate a member, or yourself, to be a Staff Member, this is the place to apply. One of the Bureaucrats will review your nomination and pronounce their judgement. You can also request access to Intangir Bot or social media accounts here.
Nomination process
How to nominate
To nominate a user for promotion, add a level 3 header with their username and the proposed rank in parentheses (i.e. ===Name (Rank)===)to the Nomination section below. The nominator should provide reasons for their nomination and sign with four tildes. Other users can then review and comment on the user by adding bullet points below the initial nomination with Support, Oppose or Comment.
A nomination will always be archived once a Bureaucrat has pronounced judgement, unless it is a blatant troll nomination.
Minimum requirements
Users must be editors on this wiki for a minimum of three months from their first edit before they can be nominated for any position.
Users can only be nominated for the same position once every four months.
A brief explanation of the user's deeds, why they deserve the position and how they would use the tools should be included in the initial nomination.
Qualities we look for in our Staff include: consistent activity, contribution to content (images, templates, mainspace), knowledge and/or participation in policy, trustworthiness and the ability to remain civil and cool-headed.
Social media requirements
Our social media accounts include Facebook, Twitter, Github, Youtube and Twitch. Social media account access is judged on slightly different grounds. The guidelines are:
The user must have a presence on the Final Fantasy Wiki to a degree.

For example, they have appeared in a Let's Play episode, contribute frequently to discussions, or are a regular on the IRC channel.

The user is a trusted member of the Wiki.

These users represent the Wiki on other sites, and thus have a great deal of responsibility.
Those who have been selected to host the Let's Play project will be given the YouTube password automatically, but must go through the nomination process for other accounts if they wish to access them.
Nominations
Nominating Mecorx for mod per wiki discussions, due to her incredibly helpful translation work, being readily available to help translate Japanese text, and because she would benefit from the renaming rights for files/not leaving redirects. Has been discussed before.-- Technobliterator TC 08:15, November 28, 2014 (UTC)
Support, and before anyone says that mecorx doesn't have any use for moving images, when she and Xeno were working on the FFAB project, perhaps hundreds of images were moved, and she would always have to ask Xeno or someone on IRC to do it. Has read through most of the wiki's policies, and while not necessarily active in the forum, is a good coworker in userspace translation projects. C A T U S E 08:23, November 28, 2014 (UTC)
Support. I don't really have much to add, but she is certainly dedicated to her work and someone who has contact with non-English available games which we still cover in our scope and being a knowledgeable person in Japanese may only benefit her, in my opinion at least.—Kaimi (999,999 CP/5 TP) ∙ 08:34, November 28, 2014 (UTC)
Support: why wouldn't I? An active user who helps multiple facets of the Wiki, and could most certainly be made a more effective user with the tools at hand. Additionally, she's been very helpful when I've made requests regarding her department of expertise (translations). Jimcloud 11:29, November 28, 2014 (UTC)
Support: She always seems to have 6 trillion images for horrible iOS games to upload. This shows she needs the power. The fact she's working on horrible iOS games shows she's dedicated. In future when we have rightfully forgotten those games forever (because they're shovelware crap), mecorx's piles of images will remain here on this wiki, a testament to the futility of this thing we call the Final Fantasy Wiki. --BlueHighwindツ 20:15, November 28, 2014 (UTC)
Support only if as I said before she can curb the occasional attitude on IRC. That aside everything else has been said above. Tia-Lewise 12:25, December 2, 2014 (UTC)
Mecorx is pretty cool, does works on the wiki and isn't afraid of anything. Hexed 05:44, December 3, 2014 (UTC)
Judgements
A quiet breeze blows through the center of the quiet hilly town. All the people are asleep, their snores adding a percussion beat to the guitars of the crickets. On top of a small well, a Cat looks sadly at the trees, its slanted eyes wistful. Suddenly, a silent ripple rustles the well water. Then, a great bubble. Now, a torrent! Water rushes in a massive blast out of the dark well and flies into the sky. The Cat, reasonably afraid, jumps and skitters away behind a barrel.
A small green head pokes over the well wall. "So," croaks the frog spirit of the well, "why do you look so wistful, Cat?"
A soft meow comes in reply. "I look up at the birds in the trees and envy how they can sing songs so melodious that even humans, whom everyone knows to have terrible taste in music, come and listen, petrified by song. Even the chickens, who cockle and doodle so loudly, have a certain kind of beauty behind it. I want that power: when I sing, women and children scream, and the men get out their shotguns to silence me."
The frog looked him deep in the eyes. "You may have what you wished. You may Tweet like the rest of the birds, just as you asked." The frog returned back to his well home, satisfied with a job well done.
The next day the Cat Tweeted all day, happy at the sound of his new voice. However, he became happier after the real reason for his wish came to him: all the birds, fooled by this song, came to investigate. There was never any easier prey to catch in his life! One by one, songbird, chicken, turkey, kiwi, and ostrich alike came their doom at the paws of the Tweeting Cat. The Cat became so fat that he could not move; however, he had no need, as all food came to him.
The villagers, whose livestock quantities had been significantly decreased, decided to band together to remove themselves of this menace. Yet, what could they do? They could not stop the birds following their doom from flute-like melody? Soon, the cat would eat all the birds in the world; as he became larger, the louder and more bellowing his voice became. So the village, talking for many days, finally decided on a plan.
At sunrise, the whole village gathered below the cat, and all of them were completely covered in shade, as people were wont to be this days with such a large cat there. They pushed and pushed and pushed and pushed. First, a movement. The cat Twittered in shock! This had not happened in many years! Movement was completely unfamiliar to him. The sweating villages did not give up the effort; they kept pushing and pushing and pushing. Suddenly, the Cat began to roll. A Tweet of anger was the last thing the villages heard before the cat rolled down the hill.
His mass made him roll so fast that, upon hitting the bottom of the hill, he rolled so quickly up the next one that he was launched into the air. He kept traveling on and on, crying and Twittering all the way, until he had flown so far that he began to orbit around the Earth.
This is where what we now call the moon comes from. It is also the reason why birds fly so close to the sun; they want to come in contact with the great Cat, who still Twitters out there, but they cannot fly high enough.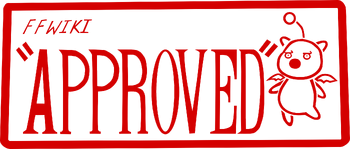 -You can have what you have earned. Just don't kill any birds. ScatheMote 05:37, December 3, 2014 (UTC)
Closed nominations
The following nominations have been closed. Please do not add to these.
Nominating self for Twitter access. Back when we first relaunched our Twitter feed, I was an active tweeter for the wiki. However, Jeppo and Scathe took care of everything, so I slowly became inactive and have since forgotten the password. Now our feed is looking kind of dead; in fact, almost all of our tweets are Shinra News-related. I'd like to be able to revitalize it with tweets for FI, FA, DNC, Let's Play episodes, and maybe even bring back Sunday trivia. C A T U S E 20:29, November 29, 2014 (UTC)
Support, and I also support updating for all of those things, like with out Facebook. Except Facebook doesn't update for DNC, which is probably a good idea.-- Technobliterator TC 20:31, November 29, 2014 (UTC)
Comment - Given that the proof of promotion would be your name being on Project:Twitter (and it is right there), this is essentially a vote to keep you in a position or remove you from it. You don't lose your position once you forget the password. This "promotion" request looks less like a promotion request and more like ideas to improve the Twitter account, which aren't reasons to promote someone. JBed (talk) 20:47, November 29, 2014 (UTC)
Wut - You already have this position, so someone just tell him the password already. -- Some Color Mage ~ (Talk) 21:51, November 29, 2014 (UTC)