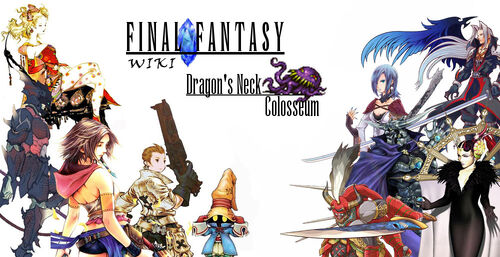 Click here to nominate or vote for fights to be held in the DNC in the future.
Uwee hee hee hee! Welcome, editors, to the Dragon's Neck Colosseum! My name is Ultros the receptionist, and I'm taking bets as to who will win in a tussle between two characters from the Final Fantasy series! The winner gets, well, nothing. It's more of a poll, really. The Colosseum owner stuck me on this duty after Kefka was defeated, but I need the money! So what are you waiting for? Get voting! Remember, you can remain anonymous!
DNC Moderators
The DNC is run by committee. If you have any questions regarding DNC rules, please contact one of the following people: ScatheMote, Jimcloud, and Some Color Mage. TacticAngel will also help in areas of policy or if somehow all other members of the committee are unavailable. The committee members will take care of changing the fights, archiving older fights, and maintaining the nominations page. Please do not change the format of this page or change the fight without permission.
The Rules, Briefly
Functionally, this is a popularity contest. You may vote for your favorite or whom you think would win in an competition between the two combatants that week. Fights are changed weekly, and are supposed to be updated on Monday, but fate often conspires to make us update on Tuesday, so keep that in mind if you don't see a new fight yet. Failure to comply with the following rules will likely result in your vote being removed, and repeated or particularly obnoxious rule violations may result in a ban from participating in future fights.
You may vote only once.
You may only vote on the most recent fight. Fights from previous weeks that have not yet been archived are closed to voting, although you may still comment on them if you wish.
If you are a user, please include your vote in the user section. If you are not logged in when you vote as a user, your vote will be removed.
If you are not a user, please include your vote in the anonymous section. Anonymous votes are only worth half as much as a registered user's vote.
To vote, type the following "#~~~~", afterward including any reasons for voting you may wish to include. You are required to leave this whether you are logged in or anonymous. If you do not sign and timestamp your vote, it will be removed.
Add your votes to the bottom of the list. Please do not post anything obnoxious and/or extraordinarily lengthy or it will be removed. Lengthy votes will be moved to the peanut gallery, whereas obnoxious votes can be removed if two thirds of the panel agree upon it.
If you wish to comment on the fight, please leave your remarks in the peanut gallery. You are expected to conduct yourself with courtesy. Comments must relate to the fight at hand.
Any failure to adhere to these rules will result in your vote(s) being removed.
Last Man Standing
Last Man Standing is a spinoff of the original Dragon's Neck Colosseum. It is a fight between the previous victor of Last Man Standing and victor of the previous DNC fight. It occurs every other week; in other terms, it happens when the normal DNC fights are not going on. It has the same rules as the normal fights, with a few exceptions:
If the two opponents tie, the both characters will be retired, and two new fighters will appear.
If a character wins 5 Last Man Standing fights in a row, he or she will be retired from LMS and two new battlers will vie for the coveted champion spot.
Sometimes a previous Last Man Standing champion may be revived to fight against the current champion. This will happen if the previous DNC winner is incompatible with LMS (i.e. if the previous winner was a game mechanic, a summon, or an enemy) or for special celebrations.
LAST MAN STANDING 100 TOURNAMENT PARTY ZONE
Hello and welcome to the Last Man Standing 100 Tournament Party Zone! In this event, we're putting the all-stars of LMS (and some other people that showed up drunk and were thrown into the arena just because) into one probably-not-final grand bout to see who the TRUE Last Man/Woman/Geological Feature Standing is!
The tournament will go on for 8 weeks, because we collectively can't be bothered to put up more than two fights at once. Conveniently, this also means this is an end of year celebration tournament! And we'll also do one fight from both halves of the bracket each week because why the hell not.
Round of 16
Quarter Finals
Semi Finals
Third Place
Championship
CHAMPION
Kuja
Kuja
Balthier
Jecht
Balthier
BALTHIER
Garnet
Balthier
Balthier
Selphie
Bartz
Bartz
Jecht
Galuf
Jecht
Jecht
Edgar
Basch
Basch
Basch
Basch
Yuna
The rock
Faris
Faris
Aerith
Cecil
Kefka
Yuna
Kefka
Celes
Yuna
Yuna
Week 372: Fursuit Week: Chocolina vs That Thing
https://i.gyazo.com/5d055adbe9b6c4bbf8b3bdf987feac8f.png

VICTOR
Undecided
I'm sorry.
VICTOR
Undecided

Votes for Chocobocococoloco

---

Anonymous Votes

Votes for This Thing

WHAT IS IT? WHY IS IT? WHY DID GOD CREATE THE UNIVERSE JUST TO ALLOW THIS CREATURE TO BE CREATED?? --

B

lue

H

ighwind

ツ

02:47, January 4, 2016 (UTC)
This was meant to be put up in October, right? --

Some

Color

Mage

~ (Talk) 03:13, January 4, 2016 (UTC)
That thing will be my nightmares for a week. ThePhoenixDown (talk) 14:37, January 4, 2016 (UTC)

---

Anonymous Votes

Peanut Gallery

Congrats to Balthier for coming in first and Jecht for winning the third place match. Sorry for the week break, I had to take a week off for the holidays. ScatheMote 02:23, January 4, 2016 (UTC)
IN THE XII CORNER
BALTHIER
FINAL FANTASY XII
CHAMPIONSHIP
ROUND
IN THE X CORNER
YUNA
FINAL FANTASY X

Votes for Balthier

Must you create agony in our hearts at the difficult choice we have to make? :( Still, sorry Lady Yuna. I am female. MissH <3 04:15, December 21, 2015 (UTC)
If there's one guy who can rule over this tournament, it should be the leading man himself. Berani00 (talk) 04:27, December 21, 2015 (UTC)
MechaKaiser, who else? (talk) 15:19, December 21, 2015 (UTC)
Armageddon11 (talk) 00:14, December 23, 2015 (UTC)
i could die for you, oh this life i choose Hexed 04:45, December 27, 2015 (UTC)
Oh what the hell is going on here! --

Some

Color

Mage

~ (Talk) 04:19, January 3, 2016 (UTC)

Anonymous Votes

No. 121.54.54.165 07:29, January 3, 2016 (UTC)

Votes for Yuna

Anonymous Votes

Just like Magicite Madness III! 68.4.230.168 21:31, December 22, 2015 (UTC)

Peanut Gallery

Is there a better format for ultimate final confrontations than Theatrhythm chibi faces? No. No there is not. Jimcloud 03:45, December 21, 2015 (UTC)

Maybe cool-looking renders of the two guys in action. Like Balthier basically being Han Solo and Yuna performing a Sending. Berani00 (talk) 10:42, December 21, 2015 (UTC)

No, chibis reign supreme. --

Some

Color

Mage

~ (Talk) 11:04, December 21, 2015 (UTC)

I saw what you just did Scathe Pzykosiz (talk) 23:22, January 3, 2016 (UTC)
IN THE X CORNER
JECHT
FINAL FANTASY X
THIRD PLACE
ROUND
IN THE XII CORNER
BASCH
FINAL FANTASY XII

Votes for Jecht

Anonymous Votes

68.4.230.168 21:32, December 22, 2015 (UTC)

Votes for Basch

MissH <3 04:16, December 21, 2015 (UTC)
--Ffgamesftw (talk) 07:14, December 21, 2015 (UTC)
I'll just leave this here... again. MechaKaiser, who else? (talk) 15:21, December 21, 2015 (UTC)
I still crave vengance... Crashb2007 (talk) 19:02, December 21, 2015 (UTC)
Armageddon11 (talk) 00:15, December 23, 2015 (UTC)
I like both characters, so I'm going to vote here to even this fight. JC Holy Knight (talk) 23:25, December 26, 2015 (UTC)

Anonymous Votes

Peanut Gallery

In celebration of yuletide cheer and whatnot, you lot actually get a fight on time for once. Treasure this moment. Jimcloud 03:45, December 21, 2015 (UTC)

Doing something right? On a holiday week even? Well, we've got all week to screw up somehow, I'm sure we'll think of something. :V --

Some

Color

Mage

~ (Talk) 11:05, December 21, 2015 (UTC)
Older Fights!
You can find older fights in the Archives for the Dragon's Neck Colosseum. All of these fights are closed, so don't bother voting. All new votes will be removed. Each archive contains 10 weeks of different fights.
Community content is available under
CC-BY-SA
unless otherwise noted.