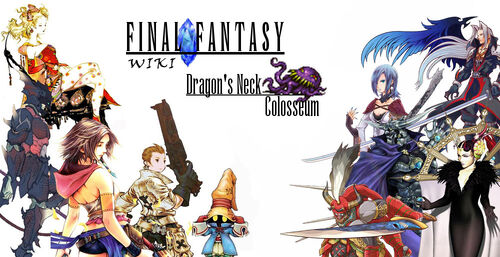 Click here to nominate or vote for fights to be held in the DNC in the future.
Uwee hee hee hee! Welcome, editors, to the Dragon's Neck Colosseum! My name is Ultros the receptionist, and I'm taking bets as to who will win in a tussle between two characters from the Final Fantasy series! The winner gets, well, nothing. It's more of a poll, really. The Colosseum owner stuck me on this duty after Kefka was defeated, but I need the money! So what are you waiting for? Get voting! Remember, you can remain anonymous!
DNC Moderators
The DNC is run by committee. If you have any questions regarding DNC rules, please contact one of the following people: ScatheMote, Jimcloud, and Some Color Mage. TacticAngel will also help in areas of policy or if somehow all other members of the committee are unavailable. The committee members will take care of changing the fights, archiving older fights, and maintaining the nominations page. Please do not change the format of this page or change the fight without permission.
The Rules, Briefly
Functionally, this is a popularity contest. You may vote for your favorite or whom you think would win in an competition between the two combatants that week. Fights are changed weekly, and are supposed to be updated on Monday, but fate often conspires to make us update on Tuesday, so keep that in mind if you don't see a new fight yet. Failure to comply with the following rules will likely result in your vote being removed, and repeated or particularly obnoxious rule violations may result in a ban from participating in future fights.
You may vote only once.
You may only vote on the most recent fight. Fights from previous weeks that have not yet been archived are closed to voting, although you may still comment on them if you wish.
If you are a user, please include your vote in the user section. If you are not logged in when you vote as a user, your vote will be removed.
If you are not a user, please include your vote in the anonymous section. Anonymous votes are only worth half as much as a registered user's vote.
To vote, type the following "#~~~~", afterward including any reasons for voting you may wish to include. You are required to leave this whether you are logged in or anonymous. If you do not sign and timestamp your vote, it will be removed.
Add your votes to the bottom of the list. Please do not post anything obnoxious and/or extraordinarily lengthy or it will be removed. Lengthy votes will be moved to the peanut gallery, whereas obnoxious votes can be removed if two thirds of the panel agree upon it.
If you wish to comment on the fight, please leave your remarks in the peanut gallery. You are expected to conduct yourself with courtesy. Comments must relate to the fight at hand.
Any failure to adhere to these rules will result in your vote(s) being removed.
Last Man Standing
Last Man Standing is a spinoff of the original Dragon's Neck Colosseum. It is a fight between the previous victor of Last Man Standing and victor of the previous DNC fight. It occurs every other week; in other terms, it happens when the normal DNC fights are not going on. It has the same rules as the normal fights, with a few exceptions:
If the two opponents tie, the both characters will be retired, and two new fighters will appear.
If a character wins 5 Last Man Standing fights in a row, he or she will be retired from LMS and two new battlers will vie for the coveted champion spot.
Sometimes a previous Last Man Standing champion may be revived to fight against the current champion. This will happen if the previous DNC winner is incompatible with LMS (i.e. if the previous winner was a game mechanic, a summon, or an enemy) or for special celebrations.
http://i1239.photobucket.com/albums/ff519/SomeColorMage/41NFaYLYRGL._SY300__zpsvhqseszf.jpg
VICTOR
TBA

Just before update day, we received some terrible news. Scathe, who was due to update this week, has somehow gotten himself trapped in Mexico and can't update. And so, we are holding tribute to him in the only way I know how.

NOTE: LMS resumes next week. I'm keeping the last fight open in case people want more pirate action.

VICTOR
TBA


Votes for Our Lord, Ser ScatheMote of the Wiki Triumvirate

I believe in you Scathe.Keltainentoukokuu (talk) 14:34, July 27, 2015 (UTC)
Scathe has now successfully escaped Mexico, so I think that settles that. --

Some

Color

Mage

~ (Talk) 12:57, July 28, 2015 (UTC)
scathe survived mexico, much like how mexico never survives castille Hexed 15:04, July 28, 2015 (UTC)
JC Holy Knight (talk) 01:33, August 2, 2015 (UTC)
There are many questionable things I could say here, but I shall be good and not say them. http://i1176.photobucket.com/albums/x333/KujaFFIX/2ea674f6.png 23:19, August 2, 2015 (UTC)

---

Anonymous Votes

Votes for Mexico

Mierna 17:49, July 27, 2015 (UTC)
HEY, SENORITA, TE QUIRAS MUCHO TEQUILAS? AY AY AY! (Going for max racism here.) --

B

lue

H

ighwind

ツ

23:27, July 28, 2015 (UTC)
Sombreros are cool and comfortable! GoldenChocobo 08:39, August 2, 2015 (UTC)

---

Anonymous Votes

Peanut Gallery

Noodle incident proof ft. cleavage spambot C A T U S E 03:30, July 27, 2015 (UTC)

Might wanna edit out that username in the titlebar there. Just in case you missed it. Shadow123367 08:53, July 27, 2015 (UTC)

The name in the title bar is Cat's screen name, and considering how much he uses it in social media he isn't trying to hide it. Scathe, on the other hand, uses his real name on Skype, and we wouldn't distribute that without his permission. --

Some

Color

Mage

~ (Talk) 09:02, July 27, 2015 (UTC)

All you have to do is search the username to find the name he's currently using. I assumed that since he hid that (top left), he'd want his username hidden too. Shadow123367 09:57, July 27, 2015 (UTC)

The name on the top left (next to the Billy Joel lyrics) is my real name; aloofabacus, like SCM said, is known by pretty much everyone on the wiki to be me, and you could use it to stalk me on social media, there's not a whole lot to find there, unless you care about trolling and competitive running.

C

 

A

 

T

 

U

 

S

 

E

 16:44, July 27, 2015 (UTC)

I know... Which is the reason I said it. I found your real name simply by searching your skype username. What I'm saying is, that because you hid that I assumed you wanted to hide your username too. Either way it doesn't really bother me. o.o Shadow123367 09:05, July 28, 2015 (UTC)

I see. http://i1176.photobucket.com/albums/x333/KujaFFIX/2ea674f6.png 23:19, August 2, 2015 (UTC)

I'm not sure who to vote for, mainly cause I dunno which one will gimme some empanadas, chimichangas and quesadillas... MechaKaiser, who else? (talk) 16:30, August 2, 2015 (UTC)
Week 357: Actually A Pirate Week: Pirate v. Pirate
VICTOR
?

Shiver me timbers! The good ship DNC has been beset by two ships of murderous pirates at once! It looks like we will have to surrender, but which group will plunder our booty, and which will walk the plank?

...you know, pirates kinda suck in these games, I mean, come on, is 90 HP the best you can do?

VICTOR
?


Votes for Classic Pirate

---

Stowaway Votes

Votes for Slightly Less Classic Pirate

-- Flüstergras 08:21, July 21, 2015 (UTC)
It's everything I've ever dreamed of, only somehow more arousing. --

B

lue

H

ighwind

ツ

23:54, July 21, 2015 (UTC)
This pirate looks more orcish... so... Dammit! Can't say that here...Crashb2007 (talk) 03:38, July 22, 2015 (UTC)
GoldenChocobo 14:05, July 25, 2015 (UTC)
I'd be happy to tie this fight. JC Holy Knight (talk) 00:45, July 26, 2015 (UTC)
Bigger sword.Keltainentoukokuu (talk) 01:46, July 27, 2015 (UTC)
Just being sure that the Curse of the Techno continues to endure. http://i1176.photobucket.com/albums/x333/KujaFFIX/2ea674f6.png 23:19, August 2, 2015 (UTC)

---

Stowaway Votes

Parrot Gallery

Oh come on, we update late and people are voting and snarking at us instantly, but I update on time and nothing happens. Why do we even try to do it on time then? -- Some Color Mage ~ (Talk) 06:15, July 20, 2015 (UTC)

PIRATES! PIRATES! PIRATES! That is all I have to say. Mierna 06:38, July 20, 2015 (UTC)

I'd just like to draw attention to the fact that 2 weeks ago the FI was totally pirate related. I timed it with the DNC and everything! But 2 weeks later, and we're still doing pirate DNC fights for some reason. Well, I don't have any more good pirate pictures, so RIP super coordination fun times. C A T U S E 07:03, July 20, 2015 (UTC)

MiniMog is totally a secret pirate. --

Some

Color

Mage

~ (Talk) 08:48, July 20, 2015 (UTC)

I'm already looking forward to the next DNC fight if it's another pirate week - what about Faris vs. Merlwyb then? -- Flüstergras 08:21, July 21, 2015 (UTC)

Faris Vs. Balthier would be the best way to end Pirate month or however long this is going on for. --Ffgamesftw (talk) 04:26, July 23, 2015 (UTC)

I, for one do second that! Would be awesome to see where they both stand. Crashb2007 (talk) 19:32, July 23, 2015 (UTC)
Older Fights!
You can find older fights in the Archives for the Dragon's Neck Colosseum. All of these fights are closed, so don't bother voting. All new votes will be removed. Each archive contains 10 weeks of different fights.
Community content is available under
CC-BY-SA
unless otherwise noted.