The Final Fantasy Wiki is an online wiki compendium about the Final Fantasy series, developed by Square Co., Ltd., now Square Enix. It consists of articles and other content created by a collaborative community whose aim is to curate accurate and comprehensive content for Final Fantasy fans.
Structure and functionality
[
]
The Final Fantasy Wiki's content (articles, pictures, etc.) is added by its editors. By virtue of being a wiki, any visitor can become an editor. While some visitors create an account to edit, it is not required and some do not (however it is free and easy and comes with several benefits). All content is created, revised, and monitored in accordance with the site's policies and guidelines and scope to ensure they are up to standard in quality, reliability, and encyclopedic value.
The site is managed by a group of contributors known as administrators, who have the ability to delete and undelete pages, protect pages, rollback edits, block users, and edit the site's interface pages (see Project:Administrators for more information).
All decisions are made according to or with respect for community consensus, determined by discussion among editors (usually via talk pages, community forums, or in chat). Not the status of the contributor to the discussion nor the number of votes on a particular issue determine consensus—rather, the cogency of the presented arguments win out through a process of concession and good faith. However, regardless of any consensus, the dependence upon reliable sources to maintain the integrity of the site remains invariably paramount.
Scope
[
]
The Final Fantasy Wiki aims to be a comprehensive resource for Final Fantasy fans. It primarily focuses on the canon and gameplay of the entire Final Fantasy series, with everything else required to supplement such a focus. In addition, a good portion of coverage is devoted to behind-the-scenes content, specifically that which supplements canonical material or provides important context relevant to the final product, as well as the music and surrounding media. Some coverage is also devoted to media adjacent to the Final Fantasy series, as defined by the wiki's tiers of scope.
Articles are created for topics in the main series if they are deemed sufficiently notable (i.e., unique or distinctly relevant to the Final Fantasy series). All content on the Final Fantasy Wiki must be verifiable against official Square Enix material. As it is an English wiki based on a Japanese series, the Final Fantasy Wiki primarily covers the first official English translation after its most recent release. It also accommodates for those using different releases, different English translation, and the original Japanese.
History
[
]
The Final Fantasy Wiki was founded early March 2005 by Shane613, who made a few edits focused on the original Final Fantasy. Most articles in the early days were effectively copy-pasted from Wikipedia, and new contributors focused mainly on Final Fantasy VII, Final Fantasy VIII, and Final Fantasy X.
In 2006, Crazyswordsman, originally from Wikipedia, joined the wiki after learning pages about Final Fantasy IV and Final Fantasy VI were being deleted from Wikipedia. Crazyswordsman became an admin and later a bureaucrat, and made a push to rewrite articles so as to avoid duplicating Wikipedia content. TacticAngel also arrived this year with edits focused on Final Fantasy XI, a game that had received minimal coverage prior, and became an admin to help deal with vandals. Hecko X arrived in May redesigned the site and templates, fought off vandals, and quickly became an admin. The Dragon's Neck Colosseum project was also started to foster community bonding and welcome new editors, and on November 2006, the Final Fantasy Wiki was featured on the main Wikia Central page in term for the release of Final Fantasy XII.
In 2007, the wiki expanded in size with the creation and expansion of enemy articles from various titles, with Crazyswordsman creating enemy pages for Final Fantasy VI and Bluerfn creating them for Final Fantasy VIII. On September 6th, Bluerfn created UFO?, the wiki's 5,000th article. The fourth year of the wiki, 2008, saw the number of registered users rise, but also the number of vandals. User-written walkthroughs were also created and given their own namespace, with Crazyswordsman making the first, though a push largely led by BlueHighwind and DrakeyC meant that each mainline game had at least one walkthrough written for it. After much deliberation, Diablocon was made the second bureaucrat of the wiki, though Crazyswordsman and Hecko X left due to creative differences.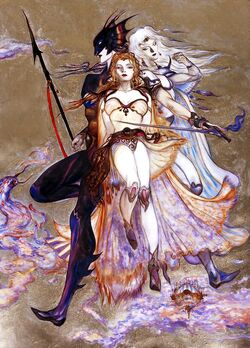 The fifth year, 2009, saw further changes to the administrative team. The wiki began showcasing featuring images on the main page, and the site received a further facelift in design aided by Master Conjurer. In 2010, as Wikia received a new skin in the form of Oasis, the Final Fantasy Wiki also had a redesign to adapt. The next year, 2011, saw the Final Fantasy Wiki be recognized by Square Enix in their first issue of the Official Square Enix Magazine, being described as a "colllaberative[sic], fan-driven effort to create an ultimate Final Fantasy knowledge repository". In February 2012, the Intangir Bot account was created by Catuse167 for automated editing, used by the community thereafter. July 4th 2012 saw the first episode of the official Final Fantasy Wiki Let's Play of Final Fantasy VI, hosted by ScatheMote based on an idea suggested by BlueHighwind. The Wiki's Twitter account was also relaunched in the same year, and in the following year, its Facebook page was launchd.
In July 2013 following lengthy discussion, new administrators were added, while ScatheMote and Yuanchosaan became bureaucrat. On December 13th of the same year, Guided Tour: Final Fantasy was posted in the central Wikia, which brings closer the story of the series to an average player, and where DrakeyC, Tia-Lewise, Kaimi, and Spira talked about various Final Fantasy games posting their opinions on them. Due to a lack of new content by Square Enix, behind-the-scenes changes were made to the wiki, with Technobliterator overhauling the wiki's navbox templates, Keltainentoukokuu improving the image categories, and JBed assisting with various templates. A staff discussion also resulted in Xenomic's promotion to administrator and the creation of the Requests for Promotion, for which Mecorx was the first successfully promoted through this method for translation and Ultimania work.
At the start of 2015, Xenomic, along with Keltainentoukokuu, also became the first editors to reach 100,000 edits the following year, doing so even before the automated Intangir Bot (though the latter eventually surpassed them). BlueHighwind was promoted to administrator after representing the wiki at a few Wikia events, and new admin Technobliterator visited Wikia's San Francisco HQ for the first annual Community Connect international admin gathering. Beginning this year and extending through 2018, Technobliterator also made several major overhauls to the main page and site design, as well as redoing much of the infobox template design to use Portable Infoboxes in order to make the site more mobile friendly. The release of Final Fantasy XV saw a new skin developed to completely overhaul the look of the site, a tradition that was continued for other major releases including Final Fantasy XIV expansions and eventually Final Fantasy VII Remake. In April 2017, the wiki switched to Discord as its primary means of communication. In 2019, Wikia rebranded to Fandom, and the Final Fantasy Wiki's url was changed from finalfantasy.wikia.com to finalfantasy.fandom.com.
Beginning in 2020, the release of Final Fantasy VII Remake saw further overhauls to site policy and template designs, in order to make the wiki more future-proof and to further improve the quality of written articles. The wiki was also rebranded and given a new logo, and Catuse167 was added as a bcrat.
See also
[
]