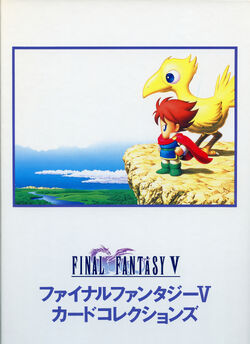 These cards were originally available only in Japan in 1992 by Square Co., Ltd.
There are 254 cards in total consisting of 245 standard booster pack cards, 5 checklist cards and 4 very rare holographic cards.
A special card album was also produced and is now considered a rare collectors item.
All cards in this set relate to Final Fantasy V.
| | | |
| --- | --- | --- |
| 001 - Bartz Klauser - Freelancer | 002 - Bartz Klauser - Knight | 003 - Bartz Klauser - Monk |
| | | |
| | | |
| 004 - Bartz Klauser - Thief | 005 - Bartz Klauser - Dragon | 006 - Bartz Klauser - Ninja |
| | | |
| | | |
| 007 - Bartz Klauser - Samurai | 008 - Bartz Klauser - Berserker | 009 - Bartz Klauser - Ranger |
| | | |
| | | |
| 010 - Bartz Klauser - Mystic Knight | 011 - Bartz Klauser - White Mage | 012 - Bartz Klauser - Black Mage |
| | | |
| | | |
| 013 - Bartz Klauser - Time Mage | 014 - Bartz Klauser - Summoner | 015 - Bartz Klauser - Blue Mage |
| | | |
| | | |
| 016 - Bartz Klauser - Red Mage | 017 - Bartz Klauser - Beastmaster | 018 - Bartz Klauser - Chemist |
| | | |
| | | |
| 019 - Bartz Klauser - Geomancer | 020 - Bartz Klauser - Bard | 021 - Bartz Klauser - Dancer |
| | | |
| | | |
| 022 - Lenna Charlotte Tycoon - Freelancer | 023 - Lenna Charlotte Tycoon - Knight | 024 - Lenna Charlotte Tycoon - Monk |
| | | |
| | | |
| 025 - Lenna Charlotte Tycoon - Thief | 026 - Lenna Charlotte Tycoon - Dragon | 027 - Lenna Charlotte Tycoon - Ninja |
| | | |
| | | |
| 028 - Lenna Charlotte Tycoon - Samurai | 029 - Lenna Charlotte Tycoon - Berserker | 030 - Lenna Charlotte Tycoon - Ranger |
| | | |
| | | |
| 031 - Lenna Charlotte Tycoon - Mystic Knight | 032 - Lenna Charlotte Tycoon - White Mage | 033 - Lenna Charlotte Tycoon - Black Mage |
| | | |
| | | |
| 034 - Lenna Charlotte Tycoon - Time Mage | 035 - Lenna Charlotte Tycoon - Summoner | 036 - Lenna Charlotte Tycoon - Blue Mage |
| | | |
| | | |
| 037 - Lenna Charlotte Tycoon - Red Mage | 038 - Lenna Charlotte Tycoon - Beastmaster | 039 - Lenna Charlotte Tycoon - Chemist |
| | | |
| | | |
| 040 - Lenna Charlotte Tycoon - Geomancer | 041 - Lenna Charlotte Tycoon - Bard | 042 - Lenna Charlotte Tycoon - Dancer |
| | | |
| | | |
| 043 - Faris Scherwiz - Freelancer | 044 - Faris Scherwiz - Knight | 045 - Faris Scherwiz - Monk |
| | | |
| | | |
| 046 - Faris Scherwiz - Thief | 047 - Faris Scherwiz - Dragon | 048 - Faris Scherwiz - Ninja |
| | | |
| | | |
| 049 - Faris Scherwiz - Samurai | 050 - Faris Scherwiz - Berserker | 051 - Faris Scherwiz - Ranger |
| | | |
| | | |
| 052 - Faris Scherwiz - Mystic Knight | 053 - Faris Scherwiz - White Mage | 054 - Faris Scherwiz - Black Mage |
| | | |
| | | |
| 055 - Faris Scherwiz - Time Mage | 056 - Faris Scherwiz - Summoner | 057 - Faris Scherwiz - Blue Mage |
| | | |
| | | |
| 058 - Faris Scherwiz - Red Mage | 059 - Faris Scherwiz - Beastmaster | 060 - Faris Scherwiz - Chemist |
| | | |
| | | |
| 061 - Faris Scherwiz - Geomancer | 062 - Faris Scherwiz - Bard | 063 - Faris Scherwiz - Dancer |
| | | |
| | | |
| 064 - Galuf Halm Baldesion - Freelancer | 065 - Galuf Halm Baldesion - Knight | 066 - Galuf Halm Baldesion - Monk |
| | | |
| | | |
| 067 - Galuf Halm Baldesion - Thief | 068 - Galuf Halm Baldesion - Dragon | 069 - Galuf Halm Baldesion - Ninja |
| | | |
| | | |
| 070 - Galuf Halm Baldesion - Samurai | 071 - Galuf Halm Baldesion - Berserker | 072 - Galuf Halm Baldesion - Ranger |
| | | |
| | | |
| 073 - Galuf Halm Baldesion - Mystic Knight | 074 - Galuf Halm Baldesion - White Mage | 075 - Galuf Halm Baldesion - Black Mage |
| | | |
| | | |
| 076 - Galuf Halm Baldesion - Time Mage | 077 - Galuf Halm Baldesion - Summoner | 078 - Galuf Halm Baldesion - Blue Mage |
| | | |
| | | |
| 079 - Galuf Halm Baldesion - Red Mage | 080 - Galuf Halm Baldesion - Beastmaster | 081 - Galuf Halm Baldesion - Chemist |
| | | |
| | | |
| 082 - Galuf Halm Baldesion - Geomancer | 083 - Galuf Halm Baldesion - Bard | 084 - Galuf Halm Baldesion - Dancer |
| | | |
| | | |
| 085 - Krile Mayer Baldesion - Freelancer | 086 - Krile Mayer Baldesion - Knight | 087 - Krile Mayer Baldesion - Monk |
| | | |
| | | |
| 088 - Krile Mayer Baldesion - Thief | 089 - Krile Mayer Baldesion - Dragon | 090 - Krile Mayer Baldesion - Ninja |
| | | |
| | | |
| 091 - Krile Mayer Baldesion - Samurai | 092 - Krile Mayer Baldesion - Berserker | 093 - Krile Mayer Baldesion - Ranger |
| | | |
| | | |
| 094 - Krile Mayer Baldesion - Mystic Knight | 095 - Krile Mayer Baldesion - White Mage | 096 - Krile Mayer Baldesion - Black Mage |
| | | |
| | | |
| 097 - Krile Mayer Baldesion - Time Mage | 098 - Krile Mayer Baldesion - Summoner | 099 - Krile Mayer Baldesion - Blue Mage |
| | | |
| | | |
| 100 - Krile Mayer Baldesion - Red Mage | 101 - Krile Mayer Baldesion - Beastmaster | 102 - Krile Mayer Baldesion - Chemist |
| | | |
| | | |
| 103 - Krile Mayer Baldesion - Geomancer | 104 - Krile Mayer Baldesion - Bard | 105 - Krile Mayer Baldesion - Dancer |
| | | |
| | | |
| 106 - Boco | 107 - Koko | 108 - Hiryu |
| | | |
| | | |
| 109 - Chocobo | 110 - Fat Chocobo | 111 - Sylphs |
| | | |
| | | |
| 112 - Remora | 113 - Shiva | 114 - Ramuh |
| | | |
| | | |
| 115 - Ifrit | 116 - Titan | 117 - Golem |
| | | |
| | | |
| 118 - Catoblepas | 119 - Carbuncle | 120 - Syldra |
| | | |
| | | |
| 121 - Odin | 122 - Phoenix | 123 - Leviathan |
| | | |
| | | |
| 124 - Bahamut | 125 - Tycoon Castle | 126 - Walse Castle |
| | | |
| | | |
| 127 - Karnak Castle | 128 - Castle of Bal | 129 - Castle Surgate |
| | | |
| | | |
| 130 - Tule | 131 - Carwen | 132 - Walse |
| | | |
| | | |
| 133 - Karnak | 134 - Jachol | 135 - Istory |
| | | |
| | | |
| 136 - Crescent | 137 - Lix | 138 - Regole |
| | | |
| | | |
| 139 - Quelb | 140 - Moore | 141 - Assassin Dagger |
| | | |
| | | |
| 142 - Sasuke's Katana | 143 - Excalibur | 144 - Holyspear |
| | | |
| | | |
| 145 - Rune Axe | 146 - Ashura | 147 - Magus Rod |
| | | |
| | | |
| 148 - Sage Staff | 149 - Yoichi's Bow | 150 - Apollo's Harp |
| | | |
| | | |
| 151 - Fire Lash | 152 - Gaia's Bell | 153 - Mage Masher |
| | | |
| | | |
| 154 - Air Knife | 155 - Coral Sword | 156 - Ancient Sword |
| | | |
| | | |
| 157 - Defender | 158 - Trident | 159 - Wind Spear |
| | | |
| | | |
| 160 - Poison Axe | 161 - Gaia Hammer | 162 - Kunai |
| | | |
| | | |
| 163 - Kodachi | 164 - Kiku-Ichimonji | 165 - Wind Slash |
| | | |
| | | |
| 166 - Poison Rod | 167 - Lilith Rod | 168 - Power Staff |
| | | |
| | | |
| 169 - Judgment Staff | 170 - Killer Bow | 171 - Flame Bow |
| | | |
| | | |
| 172 - Dream Harp | 173 - Lamia's Harp | 174 - Chain Whip |
| | | |
| | | |
| 175 - Dragons Whisker | 176 - Rune Chime | 177 - Diamond Bell |
| | | |
| | | |
| 178 - Blood Sword | 179 - Rune Blade | 180 - Moonring Blade |
| | | |
| | | |
| 181 - Rising Sun | 182 - Twin Lance | 183 - Aegis Shield |
| | | |
| | | |
| 184 - Genji Shield | 185 - Grand Helm | 186 - Genji Helm |
| | | |
| | | |
| 187 - Ribbon | 188 - Twist Headband | 189 - Lamia's Tiara |
| | | |
| | | |
| 190 - Genji Armor | 191 - Mythril Armor | 192 - Crystal Armor |
| | | |
| | | |
| 193 - Ninja Suit | 194 - Black Garb | 195 - Leather Armor |
| | | |
| | | |
| 196 - Protect Ring | 197 - Silver Specs | 198 - Hermes Sandals |
| | | |
| | | |
| 199 - Power Sash | 200 - Power Armlet | 201 - Angel Robe |
| | | |
| | | |
| 202 - Genji Gloves | 203 - Coral Ring | 204 - White Robe |
| | | |
| | | |
| 205 - Black Robe | 206 - Elven Mantle | 207 - Diamond Shield |
| | | |
| | | |
| 208 - Diamond Helm | 209 - Diamond Armor | 210 - Diamond Armlet |
| | | |
| | | |
| 211 - Potion | 212 - Hi-Potion | 213 - Ether |
| | | |
| | | |
| 214 - Elixir | 215 - Phoenix Down | 216 - Maidens Kiss |
| | | |
| | | |
| 217 - Holy Water | 218 - Turtle Shell | 219 - Antidote |
| | | |
| | | |
| 220 - Eyedrops | 221 - Dragon Fang | 222 - Dark Matter |
| | | |
| | | |
| 223 - Character Status - Death | 224 - Character Status - Stone | 225 - Character Status - Toad |
| | | |
| | | |
| 226 - Character Status - Mini | 227 - Character Status - Poison | 228 - Character Status - Blind |
| | | |
| | | |
| 229 - Character Status - Zombie | 230 - Character Status - Berserk | 231 - Character Status - Mute |
| | | |
| | | |
| 232 - Character Status - Sleep | 233 - Character Status - Near Death | 234 - Character Status - Charm |
| | | |
| | | |
| 235 - Samurai & Ninja | 236 - Knight & Berserker | 237 - Red Mage & Summoner |
| | | |
| | | |
| 238 - Dragon & Time Mage | 239 - Geomancer & Thief | 240 - Ranger & Dancer |
| | | |
| | | |
| 241 - Blue Mage & Bestmaster | 242 - Black Mage & Mystic Knight | 243 - Whit Mage & Chemist |
| | | |
| | | |
| 244 - Bard & Dancer | 245 - Final Fantasy V Package | 246 - Final Fantasy V Card Checklist 1 |
| | | |
| | | |
| 247 - Final Fantasy V Card Checklist 2 | 248 - Final Fantasy V Card Checklist 3 | 249 - Final Fantasy V Card Checklist 4 |
| | | |
| | | |
| 250 - Checklist | 251 - Lenna Charlotte Tycoon Holographic Card | 252 - Faris Scherwiz Holographic Card |
| | | |
| 253 - Galuf Halm Baldesion Holographic Card | 254 - Bartz Klauser Holographic Card | |
| | | |
Gallery
[
]