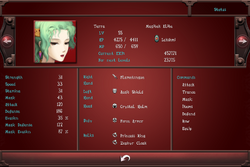 The following is a list of stats in Final Fantasy VI. Stats apply to both party members and enemies.
The characters' stats—with the exception of HP and MP—do not rise on leveling up, but are instead boosted by equipping weapons, relics and magicite. Magicite permanently increase a stat on level up, while the others increase them when equipped. The Cursed Shield reduces all stats by 7, with the exception of the Defense, Evasion, Magic Defense and Magic Evasion, which it increases by 0.
A list of party member stats can be found below.
Points
[
]
Once a party member gains enough experience, they will level up. The level stat is used in damage calculations for magic and physical damage sources, but does not increase stats. Levels play an important role in a few spells: namely Lv.5 Death, Lv.4 Flare, Lv.3 Confuse, and Lv.? Holy while Dischord can halve the target's level.
When a character joins the party, their level is calculated based on the average level of the current party members. The new character's level equals the average of all current members' levels rounded down. If a character rejoins in the World of Ruin, the new level will never be lower than their old level. If a character is joining for the first time, a value is added to the average party level to determine their new level.
The HP stat shows how much health a character has left. Once it reaches zero, a character reaches KO status. Party members are capped at 9999 HP while enemies are not. The 0 HP character bug allows players to keep a character alive with 0 HP, thus becoming invincible unless healed.
The MP is a measure of how many spells that require MP can be cast. Some enemies, and Gau when in some Rages, die when it reaches 0. Characters are capped at 999 MP while enemies are not. The stat is subject to couple of bugs.
Though few relics increase MP, several reduce the MP cost of spells. Gold Hairpin can halve it, while Celestriad can reduce it to 1 MP cost to all spells.
Also known as Exp.[1][2] Awarded after battle from defeated enemies, EXP will increase a characters' level. Equipping the Growth Egg will double the amount of EXP earned from battles. Boss battles do not reward the player with EXP.
Awarded after battle, the Magic AP allow the character to learn spells of their equipped magicite or equipment. Unlike EXP, it is not tied to defeated enemies, but to defeated formations of enemies.
Stats
[
]
Also known as Vigor,[1][2] the Strength[3][4] stat increases damage done by physical attacks. The stat's boost caps at 128; although it can be raised to up to 255 Strength, any stat above 128 will have the same effect as a 128 Strength stat. The Strength stat is squared and added to the Attack stat when calculating a physical attack's damage, which also takes the attackers' level and other factors into account.
Enemies do not have set Strength stats, rather, their Strength is determined randomly at the beginning of battle, and is between 56 and 63.
Strength can be boosted by equipping certain weapons and relics and mastering certain magicite. A few pieces of armor also boost the strength stat. All characters' strongest weapons from Dragons' Den grant a moderate strength boost.
Also known as Speed,[1][2][3] Agility[4] increases the rate at which the ATB gauge fills. It can be increased only by Odin and the Cactuar magicite. The Speed stat +20, in addition to any Haste or Slow status, will add to the equation determining that rate at which it is filled; these statuses are calculated independently of the Speed stat.
Very few pieces of equipment boost the Speed stat.
Stamina increases the chance to survive against Death attacks, the amount they are healed by Regen, the amount of damage dealt by Poison, Sap, and HP Leak, and the amount of healing per step done by Tintinnabulum.
Like Strength, enemies do not have a Stamina stat, but it is not randomly selected. In its place, it is calculated as follows:
If the above calculation exceeds 40, the number becomes 40 instead.
Also known as Mag.Pwr,[1][2] Magic[3][4] increases damage done by magical attacks. Unlike Strength, it can exceed 128. It is multiplied with the magic spell's power and the users' level into account when calculating damage. Sabin's Blitzes use his Magic stat for damage calculation.
It calculates as follows:
.
Also known as Bat.Pwr,[1][2] Attack[3][4] is based on weapons equipped, along with the in-built battle stats of enemies and characters. It increases damage dealt by physical attacks, adding to the damage calculation equation with Strength and the level.
Magicite, armor and relics do not increase this stat.
Defense reduces the damage dealt by physical attacks, factoring negatively into a damage modification of the damage calculation at the end. The modification is ignored if the attack is Defense-ignoring.
The +1 at the end ensures that an attack never deals 0 damage, and can always deal at least 1 damage.
No magicite or weapons increase Defense.
Also known as Evade %,[1][2] Evasion[3][4] can increase the chances to block an attack.
It calculates the block value as follows:
If this is greater than 255, it will instead be 255; if this is less than 1, it will instead be 1.
In the original SNES release, Evasion was bugged and did not work, with Magic Evasion working in place of it; this was rectified in the Advance release and Evasion now works for physical attacks.
No magicite increase Evasion, but several weapons do.
Also known as Mag.Def,[1][2] Magic Defense[3][4] functions identically to Defense in the calculations, but for a different type of damage.
No magicite or weapons increase Magic Defense.
Magic Evasion, or MBlock%, increases the chance of a magic attack being blocked and failing to connect. It functions identically to Evasion in the calculations, but for a different type of damage.
In the original SNES release, Magic Evasion was calculated in every single equation determining hit and miss chances and Evasion was redundant, but this is rectified in later releases.
No magicite or weapons increase Magic Evasion.
Hit Rate is used to reduce the chance of an attack missing. This stat only applies to enemies. If the Hit Rate multiplied by the block value (determined by either Evasion or Magic Evasion) and divided by 256 is greater than a randomly generated number between 0 and 99, then an attack connects; if the Hit Rate is 255, it always connects.
To illustrate:
Escape Success
[
]
Escape Success is a hidden stat that determines the ability for the character to escape. It determines how quickly each character escapes individually (as each character needs to escape on their own, unlike many other games in the series, until no one on the screen is left), with the exception of side attacks where the value is 0 and is ignored.
Once every 2 seconds during battle, the game checks if the the party is trying to run. If they are, each character's "run success" value increases, depending on the character, and a random number between 1 to their Escape Success stat. If a character's "run success" value is greater than or equal to the "Escape Success" value and if the character's ATB gauge is full, the character will escape. If not, they will keep trying to escape and their "run success" value will increase 2 seconds later.
Stats by characters
[
]
Level evolution
[
]
Each character has a different evolution in HP and MP on levels, determined by their HP and MP growth stat. This only adds to the base HP and MP evolution that every character has additively, meaning their HP is base character HP + characters' HP growth, and MP similarly is base character MP + characters' MP growth.
The evolution by levels is as follows:
Level
HP
MP
EXP
+
2
11
4
32
3
23
8
96
4
37
13
208
5
54
18
400
6
74
24
672
7
96
30
1056
8
120
37
1552
9
146
45
2184
10
173
53
2976
11
201
62
3936
12
231
71
5080
13
266
81
6432
14
305
91
7992
15
349
101
9784
16
399
111
11840
17
453
121
14152
18
510
132
16736
19
571
143
19616
20
636
154
22832
21
703
165
26360
22
772
176
30232
23
844
188
34456
24
920
200
39056
25
999
212
44072
26
1081
224
49464
27
1167
236
55288
28
1257
249
61568
29
1352
262
68304
30
1451
275
75496
31
1551
288
83184
32
1652
301
91384
33
1754
315
100088
34
1856
329
109344
35
1959
343
119136
36
2063
357
129504
37
2169
371
140464
38
2276
386
152008
39
2384
401
164184
40
2494
416
176976
41
2605
431
190416
42
2718
446
204520
43
2832
462
219320
44
2948
478
234808
45
3065
494
251000
46
3184
510
267936
47
3304
526
285600
48
3426
543
304040
49
3551
560
323248
50
3679
577
343248
51
3809
593
364064
52
3940
608
385696
53
4073
622
408160
54
4207
635
431488
55
4343
647
455680
56
4480
658
480776
57
4619
668
506760
58
4761
677
533680
59
4905
685
561528
60
5050
692
590320
61
5197
698
620096
62
5345
703
650840
63
5495
708
682600
64
5647
714
715368
65
5800
720
749160
66
5955
727
784016
67
6111
734
819920
68
6269
741
856920
69
6429
749
895016
70
6591
757
934208
71
6751
765
974536
72
6906
773
1016000
73
7057
781
1058640
74
7202
788
1102456
75
7342
795
1147456
76
7478
802
1193648
77
7610
808
1241080
78
7736
814
1289744
79
7856
820
1339672
80
7973
826
1390872
81
8086
831
1443368
82
8196
836
1497160
83
8304
841
1552264
84
8409
846
1608712
85
8511
851
1666512
86
8611
856
1725688
87
8709
861
1786240
88
8804
867
1848184
89
8896
873
1911552
90
8986
879
1976352
91
9074
885
2042608
92
9161
891
2110320
93
9246
898
2179504
94
9329
906
2250192
95
9411
915
2322392
96
9491
925
2396128
97
9574
936
2471400
98
9660
948
2548224
99
9748
961
2637112
Raw stats
[
]
The following lists the raw stats that characters start with:
Gallery
[
]
Notes
[
]
Annotations
[
]
Citations
[
]