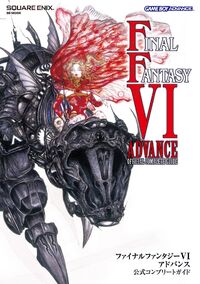 The Final Fantasy VI Advance Official Complete Guide (ファイナルファンタジーVI アドバンス 公式コンプリートガイド, Fainaru Fantajī Shikkusu Adobansu Kōshiki Konpurīto Gaido?) is a Japanese strategy guide for Final Fantasy VI Advance. It was published on December 28, 2006 under the SE-Mook imprint. It was made available as a Kindle e-book on April 1, 2018.
The guide avoids showing the sprites of final Kefka and Kaiser Dragon, showing only the outline and filling it with dark clouds.
Pages: 432
Size: A5
"Prologue" (

プロローグ

,

Purorōgu

?), p. 004
Character Relationship Diagram (

人物相関図

,

Jibutsu Sōkanzu

?), p.006
How to use this book (

本書の使い方

,

Honsho no Tsukaikata

?), p.008
(

システム解説

,

Shisutemu Kaisetsu

?, lit.

System Explanation

), p.009
(

キャラクター解説

,

Kyarakutā Kaisetsu

?, lit.

Character Explanation

), p.029
This section features Latin-text character names for characters, but many do not match those used consistently in other media and within the game itself.
(

ストーリー解説

,

Sutōrī Kaisetsu

?, lit.

Story Explanation

), p.079
This section divides the story into the World of Balance and World of Ruin halves (崩壊前 (Hōkai-mae?, lit. Before Collapse) and 崩壊前 (Hōkai-mae?, lit. Before Collapse), sub-divides by story segments, and then sub-divides into numbered events with specific missions. Event battles, boss battles, and maps give page references for where they are covered in greater detail. "Close Up" sections give details on newly introduced characters, and "Story Guide"s give deeper story insight.
Preparing for the Adventure (

冒険前の準備

,

Bōken-mae no Junbi

?), p.080
Understanding the Story chapter (

ストーリー解説の見方

,

Kyarakutā Sutōrī no Mikata

?), p.082
Walkthrough, p.084
Challenging the Coliseum (

コロシアムに挑戦

,

Coroshiamu ni Chōsen

?), p.116
(

マップ解説

,

Mappu Kaisetsu

?, lit.

Map Explanation

), p.117
Understanding the Map chapter (

マップ解説の見方

,

Kyarakutā Mappu no Mikata

?), p.118
"World Map", p.120

Shows the World of Balance and World of Ruin maps with locations, chocobo forest, and enemies encounters on the map.

Fields Maps, p.124

Goes through each location and lists which worlds they are available in, number of save points, teleport status, inn status, chocobo stable status, shop lists, monster lists, and a series of annotated maps for each sub-areas with item lists and notable features.
(

エクストラ解説

,

Ekusutora Kaisetsu

?, lit.

Extra Explanation

), p.267
This section covers the bonus dungeon Dragons' Den.
Challenge a New Dungeon (

新たなるダンジョンに挑む

,

Aratanaru Danjon ni Idomu

?), p.268

Introduction for Dragons' Den

Appearing Monsters Analysis (

出現モンスター解析

,

Shutsugen Monsutā Kaiseki

?). p.270

Coverage of the monsters encountered in Dragons' Den, with special warnings for particularly dangerous encounters. Lists the sub-areas the enemies are encountered in.

Understanding the EX Dungeon Walkthrough (

EXダンジョン攻略の見方

,

Ekkusu Danjon Kōryaku no Mikata

?), p.272
EX Dungeon Full Map (

EXダンジョン全体マップ

,

Ekkusu Danjon Zentai Mappu

?), p.274
EX Dungeon Walkthrough, p.276

Written like the main guide walkthrough, but giving each sub-area its own section and also features the annotated map for the sub-area.

Challenge the Ultimate Battle (

究極の戦いにチャレンジ

,

Kyūkyoku no Tatakai ni Charenji

?), p.292

Suggests rules to add extra challenge to the Dragons' Den.
(

データ

,

Dēta

?), p.297
After the Boss Data section, this chapter is monochrome.
© Square Enix Co., Ltd. All Rights Reserved. Logo & Image Illustration: Yoshitaka Amano
Planning/Production

Square Enix Co., Ltd.
Editor-in-chief: Kazuhiro Oya
Editing: Masaki Habu, Tomoko Hatakeyama, Takuji Tada
Product management: Kenichi Abe, Yoshihiro Iizaka (飯坂佳裕), Toshihiro Ooka (大岡俊裕)
Editing/Writing

QBIST, Inc.

Ryotaro Nakano (中野 龍太郎)
Tetsuya Ueguchi
Yamato Sakiguchi (関口 大和)
Banri Oda
Daiki Kimura (木村 大樹)
Aki Tsubo (津房 亜紀)
Teiji Orikasa (折笠 禎二)
Design

QBIST, Inc.

Yukiko Yamada
Mikiko Kamiyama
Kaoru Tanimoto (谷本 馨)
Tatsuhiko Karashima
Supervision

Square Enix Co., Ltd.
Final Fantasy VI Advance Project Team
Publicity Department

Kiyotaka Sousui
Gyotaro Sato
Publishing office

Square Enix Co., Ltd.
Community content is available under
CC-BY-SA
unless otherwise noted.