Final Fantasy VII Remake has five enemy types, which classify each of its enemies in the Enemy Intel screen. Each enemy type has unique properties, and many are resistant to a specific element. There are main five types, which refer to the biology of the enemy, and also two sub-types that refer to their movement.
Main enemy types
[
]
Human
[
]
Human enemies largely include Shinra Electric Power Company infantry and bosses. These enemies are normally weak to
Fire and appear in groups.
Human enemies include:
Mechanical
[
]
Mechanical enemies are machines and robots used by Shinra. They are weak to
Lightning, including all bosses. Mechanical enemies are also immune to Poison and Sleep, with boss-types often being immune to all forms of status effects.
Mechanical enemies include:
Biological
[
]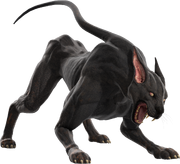 Biological enemies include a wide variety of monsters and wildlife fought around Midgar. These enemies are normally weak to
Ice.
Biological enemies include:
Artificial Life
[
]
Artificial Life refers to the monstrosities created and used by Shinra's R&D Division. Generally not weak to any element but may be depending on their sub-type or some other trait.
Artificial Life enemies include:
Unreadable
[
]
Unreadable includes a variety of unusual enemies, such as ghosts. All the summons fought in Chadley's VR challenge simulations are classified as "unreadable".
Sub enemy types
[
]
Grounded
[
]
Grounded refers to enemies that walk on the ground. Stationary enemies, such as Sentry Rays, resist

Wind, since they cannot be knocked back or launched in the air.
Flying
[
]
Flying refers to enemies capable of flight or hovering. Most of them are weak

Wind.