Final Fantasy VII Remake is a from-the-ground-up remake of Final Fantasy VII, released on April 10, 2020 for the PlayStation 4.[1] It is directed by Tetsuya Nomura, the character designer on the original and director for Final Fantasy VII: Advent Children, and produced by Yoshinori Kitase, the director of the original. The story is written by Kazushige Nojima, and the soundtrack is composed by Nobuo Uematsu, the scenario writer and composer of the original respectively.
Background
[
]
In 2005 at the Sony E3 annual press conference, Square Enix showed a technical demo for the PlayStation 3 depicting the opening sequence to the original Final Fantasy VII remade with the PlayStation 3's enhanced graphics. Square Enix later made an official statement of there being no plans of a remake of Final Fantasy VII for the PlayStation 3.
The rumors were sparked a second time with Square Enix's exhibition of new FMV artworks during the Final Fantasy VII 10th Anniversary event in Japan. The artworks[2] depicted the characters in their Final Fantasy VII costumes, reigniting rumors a remake of the game may be in development. These CG artworks were printed on the new canned Potion beverages. Kazuo Hirai, the president of Sony Computer Entertainment Japan, also fueled the rumors by sticking a small note in the exhibition saying "Congratulations for the ten fantastic years! The best is yet to come".
The release of Crisis Core -Final Fantasy VII- brought new speculation to the possibility of a remake; the ending shows the beginning of Final Fantasy VII in a modern CG style, followed by a title card reading "to be continued in FINAL FANTASY VII", in reference to the original game.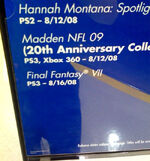 Rumors surfaced again due to photos of a Best Buy ad stating the game was to be released on August 16, 2008.
Despite excitement surrounding the chance of a remake, Square Enix consistently denied any and all rumors on several occasions. With photos of an ad for CLOUD Vol.2 appearing on the Internet, the excitement rose yet again. The ad was revealed to be for a book.
In December of 2009, Tetsuya Nomura hinted an announcement is to come sometime in 2010 promising a game highly requested by fans—some of which have personally requested it from him, and the reaction he expects from the announcement is downright huge. Again this led to immense speculation of a Final Fantasy VII remake.
In January of 2010, Tetsuya Nomura followed up on his previous statement stating "Fans are looking forward to an often rumored remake of Final Fantasy VII, but I don't believe this will happen for the time being." For some this seemed like the end, but others argued that "for the time being" meant a remake could surface in the future.
In February 2010, Yoshinori Kitase stated he would like to take part in a remake of Final Fantasy VII in the future, but it was not in his immediate plan.
At the beginning of March 2010, Square Enix asked the public, on its official Twitter blog, what they would think of a remake.
On March 22, 2010, Square Enix then-CEO Yoichi Wada stated the company would "explore the possibility—whether or not we're going to do it, if we're going to do it, and the platform".[3] On May 31, 2010, Wada stated it would take longer than he is prepared to invest in a single project to remake Final Fantasy VII. However, since Square Enix received so many requests for a remake, the prospect was not completely ruled out.[4]
In May 2012, Tetsuya Nomura addressed the fans' demand for a Final Fantasy VII remake in a Famitsu interview by saying that newer games (such as Final Fantasy XV) take precedent because the developers want to create new Final Fantasy games that can surpass people's expectations instead of remaking classics.[5] Behind the scenes, Yoshinori Kitase started to think about remaking Final Fantasy VII as a real possibility after the 25th anniversary of Final Fantasy in 2012. He would have to wait a bit longer for Nomura, Toriyama, Hamaguchi, and the rest of the development team, to be available.[6]
In February 2014, Yoshinori Kitase stated in an interview with Eurogamer[7] that he would love to do an HD remake of Final Fantasy VII, but that it would take a lot to make such a project a reality. Kitase mentioned staff availability and budget as two major barriers to the project being greenlit, as well as his personal motivation to create it, as he admitted that though he casually says he would like to do a remake, it would be a huge project.
Gametrailers.com listed Final Fantasy VII on their "Top 10 Necessary Remakes" at #2.[1]
Despite many doubts and after years of rumors, on June 15, 2015, the anticipated remake of Final Fantasy VII was announced at E3 2015.
Timeline
[
]
Beginning development
[
]
Tetsuya Nomura had started up the remake project around the time of Compilation of Final Fantasy VII, planning it as the fifth and final entry. However, he got busy with other projects but never stopped thinking about VII.[8][9]
The team had plans for a remake on several occasions, but finally decided to do it. One of the main reasons was the timing for the staff members developing the game being suitable, and "hitting that age". Of the staff that worked on the original Final Fantasy VII, and those who are working on the remake, Tetsuya Nomura is the youngest at 45 years old. With the timing and opportunity in mind, the trio of Kitase, Nojima and Nomura decided to go for it.[10]
Shinji Hashimoto, a Square Enix executive and Final Fantasy brand manager, came to Kitase and Nomura with the topic of the remake, as he had been involved with marketing and sales with the original version, and the game has a special place in his heart. Tetsuya Nomura assumed Kitase was to direct the remake, and was surprised when he realized he had been given the role.[11]
The remake was planned to be different from the original game. Nomura has said that simply overhauling the graphics would not surpass the original version. He described the remake as "vastly evolved" to the story as "there will be more work added to it".[12] Parts of the announcement video will be used in the game.[13] The team looked to the movie Final Fantasy VII: Advent Children, which Nomura also directed, for visual references and inspiration.[14]
My goal with the remake is to make it apply to the current era, the current generation of players that are going to be coming into contact with or playing FFVII for the first time through this remake. I want to make it so it's relevant to the modern era, as well as having an element of surprise. It has to be something that riles up this sense of wonder and amazement. I don't want to change it so much that it's unrecognisable, but make sure that it's something fresh and new [yet still] recognisable as FFVII. That's what I'll be keeping in mind as I work on this.
Various companies, including CyberConnect2, originally assisted development.
2015
[
]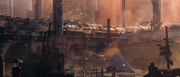 On June 15 the video game website Siliconera reported Final Fantasy VII is getting a remake and would be coming first to PlayStation 4, with other platforms to be announced later. Later that day, during Sony's E3 conference, the announcement trailer for the remake showed scenes from Midgar, its slums and glimpses of Cloud and Barret. Yoshinori Kitase was announced as producer, Tetsuya Nomura as director and Kazushige Nojima as scenario writer. The remake announcement was met with wild enthusiasm and sent Square Enix's stock surging to its highest since November 2008, at the close in Tokyo trading.[16] The announcement trailer became the most-watched E3 2015 video game trailer.[17]
The project had been in development for some time before it was announced at E3 2015. The announcement decision was done to boost PlayStation 4 sales in Japan, in the hopes of widening the install base by reassuring the platform will have games to look forward to.[18]
A trailer featuring gameplay was shown on 5th December 2015 during PlayStation Experience. It was announced the game would be released in parts due to the dense content, and producer Yoshinori Kitase addressed fans directly in a blog post afterward explaining the decision.[19]
Not much was said about the game during 2016.
2017
[
]
On January 31st (the 20th anniversary of Final Fantasy VII) a new piece of promotional art was unveiled as part of an announcement of the Final Fantasy VII Remake campaign, as well as to promote the upcoming port of Mobius Final Fantasy. The picture displays Cloud and Sephiroth layered over an elaborate render of Midgar's upper plate and the Shinra Headquarters. Sephiroth's attire appears to have undergone some minor changes, such as the patterns on his pauldrons. His single black angel wing extends from his back, similar to his CG revision in Final Fantasy VII: Advent Children. No further information on the project was disclosed, other than that the development team is waiting to release a lot of information at once at a further date, as opposed to occasional updates and teases.
On May 24th Producer Yoshinori Kitase, Director Tetsuya Nomura, and Development Leader Naoki Hamaguchi posted messages on the company's official website, asking people to send their applications as Business Division 1 was hiring for the project. According to Kitase, the project was heading into "the development progress phase."[20] Soon after, it was revealed Square Enix is shifting development in-house to be led by Hamaguchi, who was previously in charge of the development for Mobius Final Fantasy. Development had been carried out mainly with the support of external partners, but when the product was going into mass production, Square Enix decided to shift the development back to within the company to maintain a stable schedule and have control over quality.[21]

2018
[
]
Some concept art was shown at a Final Fantasy 30th Anniversary exhibition in Tokyo in early 2018, some behind closed doors. Cloud's design had been changed but not unveiled publicly yet.[22]
2019
[
]
A teaser trailer was shown during the May 9, 2019 State of Play broadcast by Sony, depicting new gameplay footage as well as Aerith's in-game appearance. The trailer states that "The return draws closer" and features a revamped version of the battle system with a revised command menu, as well as countdown sequences from the Midgar bombing mission. The ending of the trailer briefly shows Sephiroth from the back. The trailer features character designs which have evolved heavily from the designs shown in previous trailers, as well as a revamped battle system. It shows off monsters such as Aps, Sahagin and Grashtrike.
Separately, Square Enix confirmed that the title would still be episodic,[23] stating that the initial press release describing the title as "a multi-part series" is accurate.
In June 2019, the worldwide release date was revealed to be March 3, 2020. A new trailer depicted Tifa for the first time as well as new scenes, including Cloud and Aerith being enveloped in black smoke, a scene in the 7th Heaven bar with Tifa expressing "second thoughts" regarding the methods used by AVALANCHE, and an illusory Sephiroth urging Cloud to run away and hold onto his hatred.
2020
[
]
On January 1, 2020, a demo package was briefly and unintentionally published to the PlayStation Network with a decryption passcode included, which allowed individuals to download and datamine the demo, as well as to modify it to function on consoles running custom firmware. Though most of the game's content was removed from the build, the resulting datamine uncovered over a thousand work in progress images from the game's main menu, loading screens, and story and quest menus, in addition to a nearly complete set of the game's English text. This data reflects an incomplete build of the game, with several placeholder images and some English localizations that differ from the game's final build.[24]
On January 14, Yoshinori Kitase and the development team released a letter that announced that the release date would be pushed back from March 3 to April 10. Their reasoning for the delay was to ensure that they deliver a game that is in-line with their vision, and the quality that the fans waiting would deserve. [25]
New footage of the introduction surfaced by mid-February.
On March 2, 2020, a playable demo of the game was released.[26]
During the week of March 23, some pre-order copies were reported on social media as arriving early due to confusion surrounding the global pandemic of coronavirus disease occurring at the time. This was later confirmed in a March 30 statement from development staff, citing a patchwork of shipping restrictions imposed by quarantine regulations.
In a separate statement targeted at content creators, early recipients were advised not to disseminate any footage of the full game prior to the April 10 launch, else risking severe repercussions in response to Terms of Service violations.
The game received a hotfix several months after release, though few details of the patch were released.
2021
[
]
Square Enix filed an undisclosed number of trademarks in mid-January,[27] including two that sparked specific interest among followers of Final Fantasy VII on social media as the trademarks were believed to continue the naming convention established by the Compilation of Final Fantasy VII. These included "Ever Crisis" and "First Soldier". Further information would not be available until late February, when an upscaled version of Final Fantasy VII Remake for PlayStation 5 was teased during Sony's State of Play address. This version was christened Final Fantasy VII Remake Intergrade, and includes an expansion story with Yuffie Kisaragi as the protagonist.[28] Intergrade was released as expected on June 10. Alongside it, Square Enix issued a second patch to the original game that permitted save data transfer between consoles.
The "Ever Crisis" and "First Soldier" marks were announced as belonging to the mobile games Final Fantasy VII Ever Crisis and Final Fantasy VII The First Soldier serving as corollary stories, due for release in 2021 and 2022.[28] The First Soldier launched on November 17, 2021.
On December 9, 2021, Square Enix announced at The Game Awards that Intergrade would be ported to Microsoft Windows via Epic Games Store within a week of the announcement, ending 20 months of console exclusivity.
2022
[
]
Square Enix was preparing to celebrate the 25th anniversary of the original release of Final Fantasy VII as early as May, bringing with it a sizable social media blitz across all major platforms. This included a "Save the Date" reminder for June 16, at which time the company hosted a stream on its Twitch hub to both honor the prior releases in the universe and to showcase the next phases of the Remake project. From the stream came previews of at least three new projects still in development: Ever Crisis was announced as nearing a closed beta test; Crisis Core -Final Fantasy VII- would receive a remake in Winter 2023; and the second chapter, Final Fantasy VII Rebirth, would release in Winter 2024. It was also revealed that the previous Remake Intergrade would publish on Steam less than a day following the announcement.
This section is empty or needs to be expanded. You can help the Final Fantasy Wiki by expanding it.
Visuals and technology
[
]
The starting point of development was to maintain the graphic quality of characters like Cloud, Tifa and Aerith as how they had appeared in Final Fantasy VII: Advent Children but running in real-time.[29][30] The team is aiming to balance realism and a stylized look. If the characters were to appear too realistic, they wouldn't be recognizable.[31]
Square Enix used Epic Games' Unreal Engine 4 to create the game, rather than the Luminous Engine Final Fantasy XV was developed on.[32] Graphics technology company Geomerics was involved using their award-winning global illumination technology, Enlighten, as the indirect lighting solution of choice.[32] Square Enix customized Unreal Engine, using its renderer as a framework, but building on top of it. In order to stand out against other titles, they created their own light probe, reflection, light baking, skinning, particles, post effects, tone mapping, materials, and lighting. Staff members who worked on Kingdom Hearts III, which had also ran on Unreal Engine 4, came on board to help with development, bringing their expertise with the engine. Although the engine for Final Fantasy XV was not used, technology created by the Advanced Technology Division was still reused from it in the form of the Bonamik, for use in hair, cloth, and soft-body physics.[29]
The team implemented image processing by writing in the shader directly, changing the rendering path and allowing blurring of particle effects. Because ambient occlusion had a large impact on the picture, it was applied at full resolution while ensuring physical accuracy by applying aggressive noise filter removal. Calculations for ambient occlusion were merged into baked occlusion, and used in a complete way within the indirect and direct calculations. A limited amount of motion blur was kept in normal gameplay, with the intention of being reminiscent of action lines in a comic book, as it had an impact on how characters felt to control.[29]
Because they used physical-based lighting technology, lighting settings could greatly affect the viewer's impression. As such, the opening scene in which Cloud jumped off the train at the Mako Reactor 1 was redone multiple times before Nomura passed off on Cloud's final expression. Finalizing a lighting direction from that scene made production thereon smoother. A clear distinction was drawn between placement of static and dynamic lighting. Static lighting required less processing load but had lower quality, and thus was used for ambient lighting. Dynamic lighting could be used less often due to heavier processing load, and was used to better showcase texture or three-dimensionality of field elements. However, during cutscenes, the dynamic lighting was adjusted to give off better impressions.[29]
Scenes involving realistic and subtle movements were done by shooting motion capture. However, attack actions such as limit breaks were created by game designers, camera staff, and animators working closely together.[29]
Because the game allowed the player to view the city of Midgar and its unique structure in full 3D, rather than being limited to a fixed camera and top-down view, this allowed the developers to portray a sense of immense weight and oppression when looking up from the slums, with the goal of allowing the player to experience the feeling that the slum-dwellers get from living there first-hand.[33]

Design
[
]
Story
[
]
For Final Fantasy VII Remake, the development team believed that solely recreating the same game as was released in 1997 would evoke nostalgia, but would not deliver on the element of surprise they felt was innate to Final Fantasy. Tetsuya Nomura said there are people even within Square Enix who put "too much of a focus on the 'VII-ness' and are resistant to changing it" and said that the "FFVII-ness" isn't easily defined as it means different things for different people. He wished to separate the feeling of being "trapped" by the series of the past, as in his opinion declaring "FF is like this" makes one unable to create a Final Fantasy game.[11] Yoshinori Kitase similarly felt that though recreating the game exactly as it was would evoke nostalgia, it would not deliver on the element of surprise he felt was innate to Final Fantasy, hoping the project would evoke the same rush of excitement felt with the original game.[34]
The developers replayed the original game when beginning working on the project. Several, include Kitase, were surprised that the opening Midgar section was shorter than they remembered, and wished to develop the game to match the length that they had remembered. This would allow more detail and depth to be provided to the characters, in particular the Shinra company executives, the Turks, and the three members of Avalanche.[33][35]
Sephiroth was included earlier in the game than in the original Final Fantasy VII, in order to position him playing an important role in the ongoing story of the project.[33] -Nomura + devs wanted to give more depth to Avalanche
Characters
[
]
Cloud appeared in the E3 2015 reveal trailer, but his design was later changed to be closer to the original design, and is said to look more natural. Director and character designer Tetsuya Nomura and development leader Naoki Hamaguchi have mentioned that while Cloud may look "this way," he was a dorky character in the original game. Cloud is expected to display more of his youthful side rather than the always-serious one commonly seen outside of the original game.[22]
To match the more realistic depiction of the characters, writer Nojima felt that the characters' inner depiction needed to be made with matching a sense of realism. He referenced both the original game and Compilation entries to recall memories he had had when writing them. He maintained the personalities that he imagined the characters had when he had originally created them; rather than depicting a new side to the characters, he simply brought out a side to them that had existed but had not been depicted as well, adding few new elements to fill in gaps in his memory. Nojima portrayed the characters with a greater sense of depth, particularly with the members of Avalanche. For the Avalanche members, he wished to portray their bond (inspired by Japanese animation), the alienation Cloud initially felt, and how Cloud was gradually accepted into the group.[34]
For the main characters, early in development, the English voice cast originally featured in Advent Children was used, and was featured in the December 5th, 2015 trailer. However, the developers decided to replace the voice cast with a younger cast, with the goal of discovering a new generation of voice actors. This is because Advent Children was already a sequel to the original game, and 15 years had passed since its release, meaning that the team felt a new cast would be more suitable to portray younger versions of the characters.[34]
Though Red XIII would appear, the developers did not plan to make him playable, fearing disruptions to the overall tempo and confusion for new players to have control a character that appears so late. However, the team did use Red XIII as the starting point in the level design of the Drum, and felt it important to establish his relationship with Cloud.[34][35]
Battle system
[
]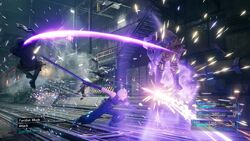 Though the battle system was conceptualized in early stages of development, it was not fully solidified until a year prior to the final game's release. The aim was to portray a modern evolution of the Active Time Battle system from the original game, by using the rules of the original game's ATB system, while incorporating action-battle elements to provide more immersive gameplay.[36][37]
Additionally, the developers wished to preserve the high degree of customizability provided by the materia system from the original game, while also giving characters unique qualities, abilities, and a distinct feel in combat to still capture unique traits of characters.[36] Although the developers wanted the mechanics to be simple enough to allow new players to join in, they cautioned against the mechanics being too simple, in order to prevent battles becoming repetitive. Therefore, mechanics were carefully selected and implemented to add depth without being too complex. Staggers were added to avoid repetition in which players would spam high-damage commands to defeat an enemy, forcing them to choose when to focus on staggering an enemy or when to use high-damage commands.[29]
Summons, another mechanic from the original game, were limited, with the goal of their use being to make them feel exciting and memorable, but not to be relied on as a sure-fire way to win every battle, so as to prevent battles feeling monotonous.[29] Their MP cost was reduced to zero to compensate for the limitation to summons.[36] Summons were originally going to have their own individual ATB bars, but this was scrapped in favor of having party members consume their own ATB for summons, as during playtesting this merely made the summons feel like another party member rather than feel unique.[38]
Promotion
[
]
Final Fantasy VII Remake has been promoted extensively in Square Enix's other titles, even before details of what it would contain were known. For instance, Mobius Final Fantasy had issued a crossover event titled "Eclipse Contact". Based on a re-creation of the Final Fantasy VII opening missions, Wol and Cloud teamed up to shut off a series of Mako reactors on Palamecia. A second collaboration titled "Fatal Calling" was released in early February 2018 and again through January 2019, and focused on the conflict between Cloud and Sephiroth.
Final Fantasy Record Keeper also participated in promoting Final Fantasy VII Remake beginning in mid-April 2020. During this crossover, players were gifted a Relic replica of Cloud's Iron Blade simply by logging in, with additional rewards being distributed in the ten-day period prior to the official launch. A special Relic Draw was also offered, with the first pull valued at 7 Mythril (420 Gems). The title screen featured a portrait of Cloud looking toward the Shinra Building.
Editions and extras
[
]
With the announcement of the final game in January 2020, Square Enix specified that both digital and physical editions would be available. Each medium includes a Standard and a Deluxe Edition, bringing the total to four. While the Standard versions include only the base game, the Deluxe versions add a commemorative steelbook jewel box (physical copies only), mini soundtrack CD, and art book along with additional features according to their mode of delivery. To this end, the company and its retail partners offered pre-order incentives for each purchase. Digital pre-orders included an exclusive theme for the PlayStation 4 system as well as access to a Carbuncle summon when released. Physical orders through US retailer GameStop included a reusable serialized tin with a "Shinra keycard" to be used in a contest.
Release history
[
]
Original
[
]
1.02
Provides for save data conversion from original game for PS4 to Intergrade version on PS5.
1.01
Various undocumented bugs fixed.
Sequel
[
]
Work began on the sequel to Final Fantasy VII Remake prior to the games' release. Due to the COVID-19 pandemic, the development team worked on the game via remote working. Though Kitase felt the performance would "temporarily drop below 100% efficiency because of this", he did not predict a big impact in the long term.[33]
Nomura believed it was important to release a sequel as quickly as possible, having grasped where the level of quality should be, wishing it to surpass the quality of the first game. He also stated that once announced, plans for future installments would be made clear.[39]
References
[
]
↑ Final Fantasy VII Remake due out March 3, 2020; watch the new teaser trailer (Accessed: June 11, 2019) at Nova Crystallis
↑ King, Jade (2021, July 6). "Final Fantasy 7 Remake Interview: Yoshinori Kitase, Naoki Hamaguchi, and Motomu Toriyama On Recreating A Classic". From The Gamer. Archived from the original on 17=4 July, 2021.
↑ The director of Final Fantasy 7 on the remake everyone wants (Accessed: March 28, 2016) at Eurogamer
↑ Introducing the FINAL FANTASY VII REMAKE development team (Accessed: November 25, 2019) at Square Enix Games
↑ Final Fantasy VII Remake Ultimania Interview With Tetsuya Nomura (Accessed: July 17, 2020) at Game8
↑ Why Square Enix Decided To Finally Make The Final Fantasy VII Remake (Accessed: March 13, 2020) at Siliconera
↑ 11.0 11.1 FFVII Remake: Nomura interview translation [Famitsu 25/06/15] (Accessed: March 13, 2020) at Lifestream
↑ Final Fantasy VII Remake Will Have More Work Done To Its Story (Accessed: March 13, 2020) at Siliconera
↑ 'Dramatic changes' and Advent Children will help shape the Final Fantasy 7 Remake (Accessed: March 13, 2020) at Gamesradar
↑ Square Enix Wins Cheers, Share Gain on Final Fantasy Trailer (Accessed: March 13, 2020) at Bloomberg
↑ Final Fantasy 7 remake was underway before the PS4 PC port was announced (Accessed: March 13, 2020) at Eurogamer
↑ Final Fantasy VII Remake Team Urgently Recruiting, Here's A Message From Key Staff (Accessed: UnknownError: See this for how to archive.) at Siliconera
↑ Final Fantasy VII Remake shifts toward internal development (Accessed: March 13, 2020) at Nova Crystallis
↑ 22.0 22.1 Final Fantasy VII Remake Changed Cloud's Design, Nomura Says It Is Closest To The Original (Accessed: March 13, 2020) at Siliconera
↑ Final Fantasy 7 Remake Demo Leaks; Datamining Means Spoilers Are Out There (Accessed: April 26, 2020) at GameSpot
↑ Liana Ruppert (n.d.) . Square Enix Files New Final Fantasy Trademarks. Archived from the original on February 27, 2021.
↑ 28.0 28.1 (n.d.) . "FINAL FANTASY VII REMAKE INTERGRADE ANNOUNCED FOR PLAYSTATION®5 CONSOLE" - Square Enix North America Press Hub. Square Enix North America Press Hub. Archived from the original on 25 February 2021.
↑ 29.0 29.1 29.2 29.3 29.4 29.5 29.6 Thang, Jimmy (2020, June 30). "How Square Enix leveraged Unreal Engine to modernize FINAL FANTASY VII REMAKE". From Unreal Engine. Archived from the original on July 3, 2020.
↑ Yoshinori Kitase: 'Final Fantasy VII Remake not completely action-based' (Accessed: March 13, 2020) at Gematsu
↑ Final Fantasy VII Remake Gets Info on Battle, Party Size, Character Switching, Graphics and More (Accessed: March 13, 2020) at Dualshockers
↑ 32.0 32.1 Final Fantasy VII Remake is being built on Unreal Engine 4 (Accessed: March 13, 2020) at Nova Crystallis
↑ 33.0 33.1 33.2 33.3 Boxer, Steve (2020, July 6). "Final Fantasy VII Remake's creators on updating one of the world's most-loved games". From The Guardian''. Archived from the original on July 7, 2020.
↑ 34.0 34.1 34.2 34.3 Ryan, Zachary (2020, July 8). "How FF7 Remake's Developers Reintroduced a Classic Game". From IGN''. Archived from the original on July 14, 2020.
↑ 35.0 35.1 Shanley, Patrick; Wigler, Josh (2020, July 6). "Inside the 'Final Fantasy VII Remake' Team's "Familiar Yet New" Adaptation of a Classic". From Hollywood Reporter''. Archived from the original on July 14, 2020.
↑ 36.0 36.1 36.2 Juba, Joe (2020, May 21). "Final Fantasy VII Remake Creators Answer Our Questions About Summons, Combat, And Dance Scenes". From Game Informer''. Archived from the original on May 21, 2020.
↑ Robert Ramsey (n.d.) . "Interview: Final Fantasy VII Remake Producer and Co-Director on Development, Launch, and Being Grateful for the Fans". Push Square. Archived from the original on May 25, 2020.
↑ Hamaguchi, Naoki (2020, June 22). "How Square Enix created the Summons in Final Fantasy VII Remake". From PlayStation Blog. Archived from the original on June 22, 2020.
↑ Romano, Sal (2020, July 21). "Final Fantasy VII Remake Part 2 development already underway". From Gematsu''. Archived from the original on July 21, 2020.