The characters of Final Fantasy VIII have spawned action figures, jewelery and other goods in their likeness. In 1999, action figure lineups were distributed in Japan by Bandai, Kotobukiya, Banpresto, and Coca-Cola. Bandai also released them to the PAL region the same year. In 2004, action figures of Squall, Rinoa and Selphie were distributed in North America by Diamond Comics. Posters of individual characters or a collage of characters are available on many fan websites. Other products available include mouse pads, keychains, and pens depicting individual characters or sets of characters.
This is a list of official Square Enix Merchandise available for Final Fantasy VIII.
For a generic list, see Merchandise.
Video Games released in all regions.
Several albums and singles have been released for Final Fantasy VIII.
There are numerous books covering various aspects of Final Fantasy VIII such books include the Ultimania Series and numerous walkthroughs.
Authorized Collection Final Fantasy VIII Official Strategy Guide- Published by Piggyback in 1999 this walkthrough covers everything in detail about how to complete the game. Containing 195 pages it is an officially licensed product of Squaresoft.

US: Brady Guide - Book published by BradyGames in US in 1999 with a walkthrough for Final Fantasy VIII. 272 pages, Format A4. **Features: Detailed Walkthroughs, Boss Strategies, Item & Magic Lists, Complete Bestiary, and over 450 Full-Color Maps! OUT OF PRINT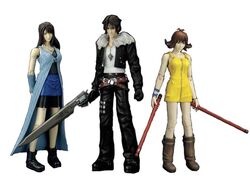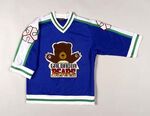 Community content is available under
CC-BY-SA
unless otherwise noted.