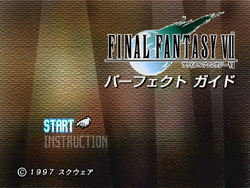 Final Fantasy VII: Perfect Guide (ファイナルファンタジーVII パーフェクト ガイド, Fainaru Fantajī Sebun Pāfekuto Gaido?), also known as the fourth disc of Final Fantasy VII among the fans, is a bonus disc bundled with Final Fantasy VII International for the PlayStation, released by Squaresoft on October 2, 1997 for Japan.
It provides information of the locations on the Planet, items, weapons, armor, accessories, Materia, characters, enemies, summons, vehicles, early artworks, and the footage of the alpha version of Final Fantasy VII.
It can be accessed on the PlayStation 3, PlayStation Portable, and PlayStation Vita via the PlayStation Network version of Final Fantasy VII International, which was released in the Japanese PlayStation Store.
Content
[
]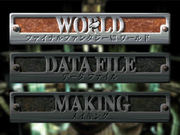 World
[
]
The player can explore the world map and its locations. Views of the obtainable items' placement are included, and artwork for many background elements, even those that serve no functional purpose. Not all areas are included, and most dungeons go without mention. Each covered area is assigned a sub-location name not given in the main game.
All of this content is covered in the Final Fantasy VII Ultimania Omega.
Data File
[
]
Provides information about items, characters, vehicles, and artworks.
Making
[
]
This section contains early artworks and the video footage of Final Fantasy VII in the making.