In August of '95, one of the US's largest CG conventions, SIGGRAPH, was held in Los Angeles. At that time we were not sure what the next generation RPG game should look like, so as an experiment we created a CG based, game like, interactive demo to be presented at the show. It focused on battle scenes that were 100% real time and polygon based.

Hironobu Sakaguchi, Interview on PlayStation Underground #2 demo disc
Final Fantasy VI: The Interactive CG Game, also known as the Final Fantasy SGI demo, was a short demonstration produced by Square using characters and settings from Final Fantasy VI. Produced using new Silicon Graphics, Inc. (SGI) Onyx and Indy2 workstations acquired by Square. 3D models were made in Alias|Poweranimator and Animated in Softimage|3d, running at 15fps.
The demo was Square's first foray into realtime 3D graphics, and many assumed it was a precursor to a new Final Fantasy title for the Nintendo 64 video game console, which also utilized SGI hardware. Square, however, had not yet committed to Nintendo's console at the time of the demo's production, and much of the technology demonstrated in the demo was later put to use in the rendering of full motion video sequences for Final Fantasy VII and subsequent games for the PlayStation. The Final Fantasy VI CG demo made for the Siggraph exhibition took 20 megabytes. The developers thought the demo had a visual impact, and there wasn't a question about which hardware Square would use in the future; to realize the promise of the demo, nothing but the CD-ROM format would suffice.[1]
After FF6 was completed the staff had some free time. We then started thinking about what new hardware there was and what we wanted to do with our next creations, and we created a movie as an experiment. At that time we were working with the SG1 workstations, which had rendering software designed for next generation hardware. For that reason we thought it would be good if we could continue using this setup for our next game. With the SG1 software, we could develop graphics for any hardware. However, for our purposes, we didn't want the frame-by-frame, slow rendering that takes many hours; we wanted to develop a way to render the visuals in real-time for our new game.[1]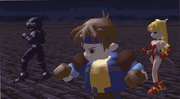 The demo features Terra Branford (with blonde hair, fighting with a short sword), Locke Cole (with darker hair, fighting with a whip) and Shadow (fighting barehanded) in a series of battles. The game is controlled largely through mouse cursor movements. For example, moving the cursor in the shape of a star would summon a dragon (Bahamut) to attack.
The general gameplay, including the use of camera angles, timing, and animation, closely resembles that of Final Fantasy VII, and thus represents an artifact of the transition between the 2D and 3D eras of the Final Fantasy franchise. A video footage of this demo is included in the "Making" section of Final Fantasy VII: Perfect Guide as an early work on Final Fantasy VII.

Gallery
[
]
See also
[
]
Referencs
[
]