Final Fantasy V is the fifth main installment in the Final Fantasy series, developed and published by Squaresoft. It was released for the Super Famicom in Japan in 1992, and has since been re-released in Japan and in the west on PlayStation in 1998, on Game Boy Advance in 2006, on iOS and Android in 2013, and on Microsoft Windows via Steam in 2015. It was directed by Hironobu Sakaguchi, with Yoshitaka Amano providing the character design and Nobuo Uematsu composing the score. It was the only installment on the Super Nintendo Entertainment System that was not released outside of Japan, with Final Fantasy IV and Final Fantasy VI both releasing in North America titled Final Fantasy II and Final Fantasy III, respectively. It was the first Final Fantasy to use kanji in text as well as hiragana and katakana.
The game takes place in a medieval fantasy setting, and centers on a group of four strangers brought together by circumstance to save the Crystals that have mysteriously begun shattering. The one behind the phenomenon is the antagonist Exdeath, as part of a plan to release himself from imprisonment and gain the power of the Void, a realm of nothingness, which could bestow absolute power on one able to resist being absorbed by it. The four become the Warriors of Light and turn their attentions to defeating Exdeath and stopping the Void's energies from consuming their world.
The key feature of Final Fantasy V is the job system, which allows each of the four characters to switch to one of twenty-two jobs, and master the jobs to retain their abilities and stats when using a different job. The four can use the abilities of their current job and any mastered abilities they have equipped from other jobs. Battles are fought using the Active Time Battle system. Much of the strategy revolves around mixing up combinations of jobs, or learning the right skills from a job to use in combination with skills from another job, to defeat challenging dungeons and bosses.
Final Fantasy V has had a great influence on the series. The job system has inspired later games, including Final Fantasy Tactics, Final Fantasy XI and Final Fantasy X-2. It also introduced many conventions to the series, such as the Blue Mage, and the recurring mini-boss in the form of Gilgamesh, who himself has featured in many games since. The anime, Final Fantasy: Legend of the Crystals, is an OVA sequel to Final Fantasy V taking place two hundred years after the game's events.
Gameplay
[
]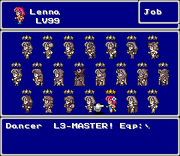 The general gameplay is menu-based combat and management system that allows the player to equip, heal, and change each character's selected job outside of battle as well as to save the game's progress.
Battles are mostly taken in random, scripted, and boss encounters while roaming the world map and dungeons. Battle commands feature a basic physical attack with the equipped weapon(s), special command abilities (such as magic) enabled by the job system, and a set of items, though the player may also try to flee from many normal encounters.
The main gameplay feature is the revamped job system from Final Fantasy III allowing all party members to potentially master up to twenty-two jobs. The player starts out as "Freelancer", and as they travel to new Crystal locations, the party acquires new jobs.
A separate form of Experience, ABP, is introduced for the advancement of the characters' job levels, while they continue to earn regular Experience Points. As jobs level up, new skills become available for the character to use in a new form of customization. The system introduces a streamlined method of "multi-classing", allowing each character to learn job-specific abilities and carry one or two over when they change their class. The nature of these abilities varies; while some serve as input commands in battle, others may be innate to the class or activated automatically when conditions are met, such as the Thief's "Caution" skill, which prevents rear attacks from enemies.
The party has four basic base stats: Strength, Agility, Stamina and Magic, which are determined by both the character's base stat, and their currently equipped job's stat added together. For instance, if Bartz is a Knight, his Strength will be his base stat (+4) plus the Knight's base stat (47). Certain abilities also guarantee a Magic increase (for instance, if a Monk has White Magic equipped, White Magic will increase their Magic stat, improving their ability to heal). The larger of the two values is used. When a job is mastered, its stat increase will be transferred to Freelancer and Mime, but none of its lower stats will, meaning the Freelancer's and Mime's stats will be the highest stat of any job mastered.
The system is an improved version of the one in Final Fantasy III; several older jobs were either reused or revamped for Final Fantasy V. The new jobs that were introduced have become stable classes in the series, such as the Blue Mage, Time Mage, Mystic Knight, Berserker, Samurai, Dancer, Chemist, and Mime.
Sidequests come from interactions with the world itself, such as summon hunting, dungeon crawling, piano mastery, overcoming specific challenges and discovering new locations. With the job system it allows unique ways to learn abilities.
Battle innovations include reworking the Active Time Battle system, so that the player could, for the first time in the Final Fantasy series, see whose turn would come next. Monsters for the first time are in a row system similar to the party. Final Fantasy V is also the first game in the series to have an equipment class called "accessories", although they remain similar to armor pieces used in Final Fantasy IV. Since Final Fantasy V the accessory equipment type has become a staple as a type of equipment any party member can usually wear that provides passive abilities.
Synopsis
[
]
Characters
[
]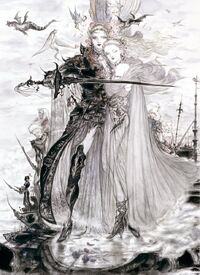 The game stars a crew of five unique characters. The initial four remain together for much of the game, until one is replaced.
Setting
[
]
Fire, Water, Wind, Earth. The peace and prosperity of the world is thanks to the power of these crystals. However...that power is nearing its limit. Not far off is the day when the wind slows...the water stills...and the earth trembles and quakes...and yet, everyone remains blissfully unaware...and the grave secret hidden within the crystals remain untold...

Intro
The world consists of two large main continents to the east and west. Kingdoms and towns flourish by the power of their respective crystals. Wind drakes and ships act as a means of commerce and communication. The three prominent kingdoms of this world, Tycoon, Walse and Karnak, each protect a crystal of element said to bless their lands. The fourth crystal is hidden away in an ancient civilization, where its whereabouts has been lost to history.
Story
[
]
Development
[
]
Hironobu Sakaguchi and Yoshinori Kitase first worked together on Final Fantasy V. Kitase has later summarized the experience thusly:
Mr. Sakaguchi and I worked on [the game's] events in a relay, so when we would go to work, the first thing we'd do is check the data the other had put up to check the continuity. We'd see each other's work and think 'I'll make something even better!' in a sort of competition.[2]
Hironobu Sakaguchi was in charge of the overall design, while everyone else carried around their ideas in their own plan books. Tetsuya Nomura, whose first big involvement with Final Fantasy was with Final Fantasy V, had jobs in mind, such as a ninja with a dog, a gambler who fought with dice and cards, among others. Others typed things out with computers, but to have more impact Nomura wrote handwritten notes and included drawings. After a while, whenever it was time to turn in the plan books, Sakaguchi and Kitase would ask for Nomura's book especially. Nomura's ideas of a ninja with a dog and a gambler were not used for Final Fantasy V, but when work started on Final Fantasy VI, they were used for Shadow and Setzer.[3]
Sakaguchi has said that sometimes RPGs force too many images and too much sound onto the players robbing them of the feel of control, and to avoid those responses Square did extensive research during Final Fantasy V and VI in how to make players feel interactively involved in the game while upgrading the visual and sound effects.[4]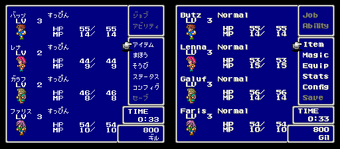 The original Super Famicom version was never released in North America. Translator Ted Woolsey had almost all of the game translated, but Square opted not to ship it because they didn't feel the US market was ready for a second flagship RPG after Final Fantasy II (released as Final Fantasy IV in Japan) and they felt they needed something else to get people trained on that style of gaming. This vision actualized as Final Fantasy Mystic Quest, released in North America a month ahead of Final Fantasy V in Japan. Woolsey explained of Final Fantasy V in a 1994 interview, "it's just not accessible enough to the average gamer."[5] Plans were made to release the game in 1995 as Final Fantasy Extreme, targeting it at "the more experienced gamers who loved the complex character building," but this never materialized.
In 1997, video game studio Top Dog was hired by Square to port the original Super Famicom game to Microsoft Windows-based personal computers for North American release. Although a good deal of the game was completed, ultimately the communication problems between Top Dog and Square's Japanese and American branches led to the project's demise.[6] The translation went on to be the basis for the PlayStation release. During the same year, an English fan translation patch for the Final Fantasy V ROM image was released on the internet by RPGe. The release was well received, and until 1999 was the game's only widely available English language version. RPGe's translation of Final Fantasy V was one of the early major fan-translated works.
Releases
[
]
Super Famicom
[
]
The original Japanese only release of the game in December 6, 1992.
PlayStation
[
]
In 1999, a PlayStation compilation Final Fantasy Anthology was released, which includes Final Fantasy V. Some names were interpreted differently, yielding "Butz" in the fan translation, and "Bartz" in the official. In 2002, this version of Final Fantasy V was released in Europe and Australia (alongside Final Fantasy IV). Some fans were unhappy with the dialogue translations, particularly Faris's "pirate accent", which was not part of the original script. When played on the PlayStation 2, the emulation graphics glitch on the save screen, although the graphics are restored on the overworld map. This error causes the game to crash on the PlayStation 3 and PlayStation Portable. This bug is not present in the PAL or Greatest Hits versions of Final Fantasy Anthology.
Game Boy Advance
[
]
A port of Final Fantasy V for handhelds had been considered by Square (now Square Enix) in early 2001, but the project failed due to the absence of an appropriate platform—the WonderSwan Color was not powerful enough to run the game, and Nintendo did not allow Square to develop on the Game Boy Advance, despite Hironobu Sakaguchi's wish.
Years later, after relations between Square and Nintendo improved, the game was successfully ported to the Game Boy Advance under the title Final Fantasy V Advance, and was released in North America on November 6, 2006. Changes made from previous versions are graphical tweaks and a new translation, four additional jobs, a bestiary, a quick save function, music player, and a new 30-floor dungeon. Unlike the Advance port of Final Fantasy IV, some of the bugs of Final Fantasy V were fixed. There is also not as much choppiness and lag in the graphics.
Virtual Console
[
]
On January 18, 2011, a port of the original Super Famicom version of Final Fantasy V was released for the Wii's Virtual Console service, but only in Japan.
PlayStation Network
[
]
A port of the PlayStation version of Final Fantasy V was released for PlayStation Network in Japan on April 6, 2011, in Europe on April 13th, and in North America on November 22, 2011.
Mobile
[
]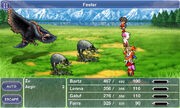 On March 28, 2013, an iOS remaster was released worldwide and the Android version on September 26, 2013. The game is based on the Game Boy Advance version and thus includes all its bonus content. It has upgraded graphics along with new menu portraits. The graphics are similar to those of Final Fantasy Dimensions. The music is of the original Super Famicom version quality, aside the sound effects, which have been remastered. The game now includes achievements in the non-Amazon Appstore versions, some of which are missable (e.g. "Bestiary (323 Pages)" and "Gone Too Far").
Because of advances in technology with everything for PlayStation era games and beyond Square has been able to store the data, but for the original Nintendo and Super Nintendo games they did not have the proper means to store the production. To remake them, Square had to reconstruct everything. This is one reason everything in the mobile version is brand new.[7]
The version 1.0.2 update adds an option for the diagonal movement from the Config menu, where players can turn off the 8-way movement into the traditional 4-way movement.
On October 22, 2014, the iOS and Android versions received an update that includes new features, such as gamepad support, translations for more languages, and cloud saving. On September 18, 2015, the Amazon Appstore version received an update that includes Fire TV support, as well as proper controller support and cloud saving, and the size of the app was reduced from 250MB to 150MB.
The port has good ratings, scoring 4.5 stars average on Google Play and 4 stars average on the Amazon Appstore.
Square Enix immediately discontinued the original smartphone version and the Steam version (below) as of July 28, 2021, after which it was replaced by a version in the Final Fantasy Pixel Remaster series as of November 10. Though the earlier iteration remains accessible to existing owners via purchase history options at present, future availability and compatibility cannot be guaranteed. The new version requires a minimum of either iOS 13 or Android 6.x "Marshmallow", and sells for around US$20 after its launch discount expired.
The mobile port became available on Steam on September 24, 2015. The game supports a controller and comes with Steam Trading Cards and achievements.
System requirements
[
]
Minimum
Recommended
OS
Windows® Vista
Processor
Intel® Pentium 4, 2.4 GHz
Memory
2 GB RAM
DirectX
Version 10
Steam Trading Cards
[
]
Final Fantasy V has five Steam Trading Cards available.
Production credits
[
]
Producer
Hiroyuki Miura
Director
Hironobu Sakaguchi
Executive Producers (SFC)

Tetsuo Mizuno

,

Hitoshi Takemura

Executive Producer (GBA)
Shinji Hashimoto
Image Design
Yoshitaka Amano
Music Composer
Nobuo Uematsu
Field Planners
Yoshinori Kitase,

Ikuya Dobashi

Battle Planners
Hiroyuki Itō, Akihiko Matsui
Battle Programmers
Kiyoshi Yoshii,

Katsuhisa Higushi

Field Programmer
Ken Narita
Field Graphics
Tetsuya Takahashi, Hideo Minaba
Object Graphics
Kazuko Shibuya,

Hiromi Ito

Battle Graphics

Masanori Hoshino

, Tetsuya Nomura,

Hiroshi Takai

,

Hirokatsu Sasaki

Menu Programmer

Shinichi Tanaka

Sound Programmer
Minoru Akao
Visual Programmer

Keizo Kokubo

Map Design
Kaori Tanaka,

Yukiko Sasaki

,

Hidetoshi Kezuka

Sound Effects
Kenji Ito,

Yasunori Mitsuda

,

Yoshihiko Maekawa

Test Assist

Akiyoshi Ohta

,

Nobuyuki Ikeda

,

Mami Kawai

English Translation (GBA)

Erin M. Ellis

Localization Support (GBA)
Tom Slattery
Packaging artwork
[
]
Gallery
[
]
Allusions
[
]
Final Fantasy V makes some allusions to previous Final Fantasy games, among others. The new translation for the GBA port makes many pop culture references.
Trivia
[
]
See also
[
]
External links
[
]
References
[
]