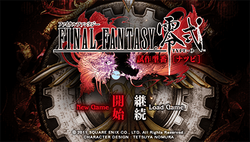 Final Fantasy Type-0 Demo -Natsubi- (ファイナルファンタジー零式 試作型番-ナツビ-, Fainaru Fantajī Reishiki Shisaku Kataban -Natsubi-?, lit. Final Fantasy Reishiki Prototype Model "Summer Day") is the first playable demo of Final Fantasy Type-0, released on August 11, 2011 as a free download on the game's official site and on the Japanese PlayStation Network for Sony PlayStation Portable. It was later replaced by the second demo titled Final Fantasy Type-0 Trial Version -Zeroshiki- on November 22, 2011.
It featured seven playable characters and four missions at locked difficulty levels. Players are able to transfer save data from the game's demo to the full game, in order to unlock special costumes, items and keep characters' EXP.
The demo required 332 MB free spaces on the PSP system and the system needs to be on firmware version 6.39 or higher.
Characters
[
]
Playable characters
[
]
Gameplay
[
]
Unlockable content
[
]
This section is empty or needs to be expanded. You can help the Final Fantasy Wiki by expanding it.