Final Fantasy Tribute ~ Thanks ~ is a tribute album released as part of the Final Fantasy 25th Anniversary campaign. Square Enix brought a group of artists to create an album with 25 songs, some of which are new, spanning of 2 discs. The album was released in December 5, 2012.
For the album cover, Square Enix asked pixel artist Kasuko Shibuya, who worked on the Famicom Final Fantasy games as a character and monster artist, to make sprites for notable characters from the series. Square Enix asked fans in Japan whom they would want to see as sprites, and the cover is based on these results. The sprite style seems to be based on the style of Final Fantasy IV: The After Years and Final Fantasy Dimensions.
The following characters are included on the album's cover: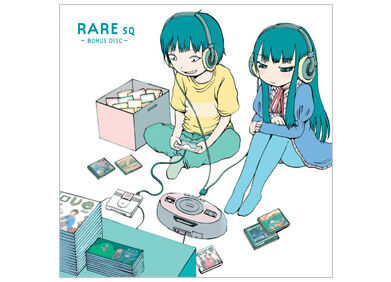 A special bonus CD called "RARE SQ" (SQEX 10358~9-PR) was included with purchases of the album from Tower Records or Village/Vanguard stores. It contains various rare arrangements from other SQ-related albums, as well as several new remixes.
"双界儀メドレー(Fire Wire ~ Die on Destiny ~ Labyrinth)" by Kenmochi Hidefumi
"熱圏[THERMOSPHERE] - Stage6 #2 対シュバルツガイスト" by DJ OMKT
"MEGAROMANIA (RF remix)" by RF
"FINAL FANTASY VII chiptune メドレー(メインテーマ~シドのテーマ~星降る渓谷~空駆けるハイウィンド~エアリスのテーマ)" by ASAGEN
"ビックブリッヂの死闘" by Ryoji&Beta
"悠久の風(fly away birds mix)" by DE DE MOUSE
"アリア" by The Reign Of Kindo
"Twister" by NOVOISKI
"Skullpion -Regeneration Type C-" by S/18A E14
"聖剣伝説2 メドレー" by ぺさま
"SQ PARTY Level.4 Live Set Re-EDIT" by The LASTTRAK
The version of the Secret of Mana Medley on the disc is only the 1:39 edited version available for preview on the Square Enix website. For the full version, customers must visit a website (http://music2.square-enix.co.jp/fftribute/tunes/rare.html) where they will be provided a download link to a password-protected zip file of the mp3, and instructions on where to find the password on the cover slip included with the disc.
Community content is available under
CC-BY-SA
unless otherwise noted.