Final Fantasy Tactics S was a mobile social game that was released on May 28, 2013, for the iOS and Android. The game featured more than 30 playable jobs from the Final Fantasy Tactics series, also including newer jobs such as Air Samurai and Musician. Characters were designed by Ryōma Itō. Gameplay involved joining a clan, engaging in quests and battling it out with other clans in daily tournaments. Pre-registering for the game granted players the Final Fantasy Tactics character Agrias Oaks.
The game officially ended its service on July 31, 2014.
Gameplay
[
]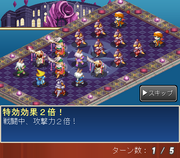 Gameplay was comprised of a point-and-click function wherein one was able to organize a party to fulfill quests, hunt for Marks and to challenge other Clans in battle. Questing in particular stages granted players access to money, characters and other items of assistance. Instances of further exploring Ivalice occurred after fulfilling a selected stage's completion meter to 100%, resulting in the revelation of another unlocked area for exploration. Completing enough stages within the area granted the option of unlocking an entirely new area after defeating a particular boss.
When encountering a monster or other clans and engaging them in battle, players merely needed to click on the screen and watch as the battle unfolds by itself, leaving players with the option to either watch in its entirety or skip it altogether. When faced with particular boss monsters, three members may be chosen to partake in the automated battle, resulting in either a win or a loss depending on the player's selected members.
Players needed to acquire tickets of varying rarities to recruit particular characters. Characters were also obtained while in the midst of completing stages, varying in race and job depending on the stage being completed. Depending on their row affinity, characters were organized in either the front, middle or back rows as per the player's choosing or as per the automated optimization process. Final Fantasy Tactics S featured a slew of cameo characters and monsters mostly hailing from various high-profile games within the series or via collaborations with others.

Jobs
[
]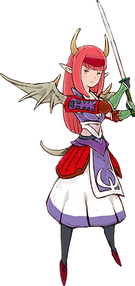 New
[
]
Air Samurai
Musician
Mini Fighter
Dancer
Vampire
Mail Knight
Sky Pirate
Onion Knight
Oracle
Judgemaster
Piscodemon
Destroyer
Druid
Returning
[
]
Cash Shop
[
]
This section in Final Fantasy Tactics S is empty or needs to be expanded. You can help the Final Fantasy Wiki by expanding it.
Production credits
[
]
Reception
[
]
Gallery
[
]
External links
[
]

This section about a Final Fantasy game in Final Fantasy Tactics S is empty or needs to be expanded. You can help the Final Fantasy Wiki by expanding it.