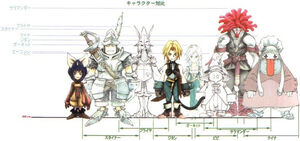 The following is a list of characters from Final Fantasy IX.
Player characters
Temporary characters
Non-player characters
Historic characters
Brahne's husband - The deceased husband of Queen Brahne.
Cid Fabool I - The first Regent of Lindblum and winner of the Festival of the Hunt.
Eiko's grandfather - The grandfather of Eiko.
General Magdalene - General of Alexandria who lead nine soldiers to take on Lindblum's army and won.
Minor characters
Alice
Alicia
Bobo
Bunce
Card Freak Gon, card collector, hides out in the upstairs room of his house
Chet
Cujo
Devon
Dolf
Dragoos
Dylan
Gabin
Gray
Guy
Gus
Hanna
Hunk
Heather
Jacob
Justin
Kal
Lillian
Locke
Lucella
Margaret, a poor old woman who goes blind after the Siege of Lindblum
Marian
Marolo
Maron
Marsha
Mauliissio
Mogki, a moogle that is part of the Mognet sidequest
Molly
Moodon, another moogle that is part of the Mognet sidequest
Moonte, another moogle that is part of the Mognet sidequest
Nicole
Nimitz
Olivier
Pepe
Philip
Grandma Pickle, street vendor, sells highly odiferous Gysahl Pickles, which Steiner uses to smuggle Garnet through South Gate
Polom
Poncho
Grandma Potpourri
Pricilla
Rio
Rita
Roch
Rosco
Rudruff
Seth
Shig
Brother Theodore
Thomas
Tiffany
Tim
Torres
Elena
Self-Proclaimed Artist Michael
Umaeda
Uzu
Wayne
Wei
Widget
Yaup
Ashley
Boatman
Dishmeister
Doug
Eggmeister
Fish Man
Flower Girl
Hippolady
Ilia
Kupo, moogle, living in the church steeple, introduces Vivi to Mognet
Nikolai
Michelle
Mosh, another moogle that is part of the Mognet sidequest
Onionmeister
Ovenmeister
Retired Boatman
Ryan
Tom
Tom's Mother
Tour Guide
Bratty Marin, one of the children afraid of Vivi when the party first arrives
Dutiful Daughter Slai
Gumo, another moogle that is part of the Mognet sidequest
Innkeeper Hal
Kumop, another moogle that is part of the Mognet sidequest
Mayor
Part-time Worker Jeff
Part-time Worker Mary, storekeeper, rides the cable car with Steiner, Garnet and Marcus
Slai's Father
Snot-nosed Gudo, one of the children afraid of Vivi when the party first arrives
Storekeeper Eve
Trude
Yacha
Card Game Usher
Card Seller
Mario, little boy, friend of Natalie
Natalie, little girl, friend of Mario
Adam, child refugee
Cleyran High Priest
Din
Gary
Gidd
Jack
Kildea
Learie
Lorena
Flower Maiden Sharon, Ritual dancer
Moon Maiden Claire, musician, plays the harp during the Ritual Dance
Star Maiden Nina, Ritual dancer
Wind Maiden Eileen, Ritual dancer
Sun Maiden Flourin, Ritual dancer
Monev, another moogle that is part of the Mognet sidequest
Mopli, another moogle that is part of the Mognet sidequest
Forest Oracle Kildea, oracle, takes the group on a tour of the town when they first arrive
Night Oracle Donnegan, innkeeper
Sky Oracle Mylan
Sand Oracle Satrea
Tree Oracle Wylan
Barbara Gibgab
Betsy Lightcatcher, youth, sweetheart of Geoffrey Treefeller
Bryan Rootrunner, gourmand, brother of Darcy Skywatcher
Darcy Skywatcher, sister of Bryan Rootrunner, tells the party why this location was chosen for the village to be built there
David Heavenguard, priest who "marries" Zidane and Garnet, and even Vivi and Quina (if the player chooses)
Derek Stonehammer
Geoffrey Treefeller, youth, sweetheart of Betsy Lightcatcher
Granin Miller, lazy husband of Margaret Miller
Harold Pathknower
Helen Birdkeeper
Jenny Greeter
Jinkus Emptybottle
John Fruitbringer
Kelley Fingerwaver
Margaret Miller, innkeeper, wife of Granin Miller
Matthew Watchman, suspicious town guard
Mogmatt, another moogle that is part of the Mognet sidequest
"Mr. Pyntie-Het", a trader from Black Mage Village who unwittingly leads the group there, after Vivi decides to follow him
Richard Watchman, exasperated town guard
Robert Dogherder, child who plans on traveling the world with his dog
Shamis Gatekeeper, town guard, watches the gate to the Mountain Path
Thomas Goldpiler, storekeeper
Walter Teamaker, father of William
Wendy Grocer, storekeeper
Chimomo, moogle and friend of Eiko's, helps prepare supper for the group when they first arrive
Mocha, moogle and friend of Eiko's, helps prepare supper for the group when they first arrive
Moco, moogle and friend of Eiko's, helps prepare supper for the group when they first arrive
Momatose, moogle and friend of Eiko's, helps prepare supper for the group when they first arrive
Morrison, moogle and friend of Eiko's, helps prepare supper for the group when they first arrive
Black Mage No. 12
Black Mage No. 24
Black Mage No. 32
Black Mage No. 33
Black Mage No. 44
Black Mage No. 56
Black Mage No. 78
Black Mage No. 111
Black Mage No. 123
Black Mage No. 144
Black Mage No. 163
Black Mage No. 189
Black Mage No. 192
Black Mage No. 234
Black Mage No. 239
Mogryo, another moogle that is part of the Mognet sidequest
Brahne's fleet
Bishop
Gatz
Lisa
Mogrika, another moogle that is part of the Mognet sidequest
Card Master Empress
Dark Phantom
Defense Phantom
Master Phantom
Strong Phantom
Other
Atla, another moogle that is part of the Mognet sidequest (location: Burmecia)
Andrea
Bon
Cardona Bishop
Colin
Princess Cornelia
Fabrizzio
Frederick Ash
Gabriel
Gilbert
Gilbert's Teacher
Grimo, another moogle that is part of the Mognet sidequest (location: South Gate)
Hans
Hunt
Ipsen
Jeff
Joe
Kumool, another moogle that is part of the Mognet sidequest (location: Ipsen's Castle)
Kuppo, not to be confused with Kupo, Kuppo is another moogle that is part of the Mognet sidequest (location: Fossil Roo)
Learie
Leyra
General Madaline
Maurine the Mole
Maulissio
Mimoza, another moogle that is part of the Mognet sidequest (location: Oeilvert)
Philosopher Minu
Mocchi, another moogle that is part of the Mognet sidequest (location: Iifa Tree)
Mochos, another moogle that is part of the Mognet sidequest (location: Gargan Roo)
Mogliana
Mogmi
Mogreg
Mogriffin
Mogsam, another moogle that is part of the Mognet sidequest (location: Desert Palace)
Mogster
Mogtaka, another moogle that is part of the Mognet sidequest (location: Mount Gulug)
Moguo
Moguta
Mois, another moogle that is part of the Mognet sidequest (location: Ice Cavern)
Mojito, another moogle that is part of the Mognet sidequest (location: Desert Palace)
Monty, another moogle that is part of the Mognet sidequest (location: Evil Forest)
Mooel
Moolan, another moogle that is part of the Mognet sidequest (location: Mount Gulug)
Moorock, another moogle that is part of the Mognet sidequest (location: Bran Bal)
Moss
Nazna, another moogle that is part of the Mognet sidequest (location: Summit Station)
Noggy, another moogle that is part of the Mognet sidequest (location: Daguerreo)
Prince Schneider
Serino, another moogle that is part of the Mognet sidequest (location: Red Rose airship)
Shak
Shannon
Slaar the Mole
Suzuna, another moogle that is part of the Mognet sidequest (location: Conde Petie Mountain Path)
Thalisa
Attic Man Wake
Worker #9