Final Fantasy IX: Original Soundtrack is the soundtrack for Final Fantasy IX. It contains musical tracks from the game except the music played during FMVs and other special scenes. These tracks would later be released in a companion disc called Final Fantasy IX Original Soundtrack PLUS. Sheet music for "Melodies of Life" was also included in both regular and limited edition versions.
The series's composer, Nobuo Uematsu, finished composing the music for Final Fantasy IX in a period of little less than a year, a rather long development time compared to the time he used with previous Final Fantasy soundtracks, despite working over 12-hour days.[1] He initially composed around 160 tracks,[2] but it would have required six CDs to release and was deemed too large,[3] and around 20 of the tracks he composed ended up not being used.[2] One such track as the original main theme that would've played on the world map, but even if Uematsu really liked the track it ended up not being used due to there not being a suitable place for it in the game.[1] Uematsu originally tried writing the music for Final Fantasy IX using only traditional instruments (non-electronic/digital), but felt the sound would "be unbalanced" and "a little boring".[4]
Uematsu was given a lot of freedom for the Final Fantasy IX soundtrack. For Final Fantasy VII and Final Fantasy VIII, Uematsu said it was hard to put exorbitant music in due to their emphasized realism. However, because of the emphasized cartoony and fantastical natures of Final Fantasy IX, he found both serious and silly pieces could fit in well.[3] Though originally Uematsu planned subtle, classical-sounding tunes that would fit the game's medieval setting and feel, he decided that just one genre of music would be boring.[2]
Uematsu also noted that because Final Fantasy IX was returning to the series' roots, the soundtrack would be influenced by older titles. For example, the intro to the battle theme from earlier titles was reinstated, and a few of the tracks, such as Pavilion of Doga and Une and Gurgu Volcano, were remixes of their original counterparts.
Uematsu used inspiration from medieval Europe when composing the soundtrack, taking a two-week break to travel to Europe and looking at old castles in Germany.[3] Since the setting of Final Fantasy IX isn't as grand as the setting for Final Fantasy VIII (which had some orchestrated and otherwise "grand" pieces), Uematsu wanted to go for a simple, warm style. Uematsu also noted that he used samples from instruments people might not be familiar with, such as a kazoo or dulcimer.
English tracklist adapted from Spotify.
The original liner notes in the soundtrack are in Japanese, but the Uematsu's Best Selection - Music From The Final Fantasy IX Video Game album contains the same notes translated into English.
Message from Nobuo Uematsu
[
edit
|
edit source
]
Every time I complete a job, I always think, "I'm glad I got involved in this project." Knowing that I've given it my best is, of course, a source of satisfaction, but even more rewarding is the rapport that I establish with the team. What one man can do alone is limited. While some of the pieces are credited under my name, Nobuo Uematsu, it reality, many people will be involved in the creation of a work before it is finished. As a project increases in scale, the number of people involved also grows, making it harder for everyone to unite as a team. A team can never achieve its goals if the members don't trust and respect each other. But when you pull it off, the satisfaction you get is something that money just can't buy. While being overloaded or lacking the required talent can cause distress at work, not getting along with your colleagues is an even more serious cause of trouble. There is a certain joy that can only be felt by those who have banded together to get through whatever problems arose. I'd like to use this occasion to thank everyone who participated in the FFIX project. Their efforts overwhelmed me. I'd never want to face them as enemies!

Nobuo Uematsu, June 14, 2000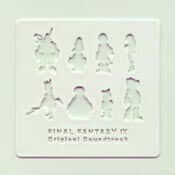 The first print limited has a white plastic case with impressions of main characters and comes with artwork and a sticker and the sheet music to "Melodies of Life". Notably, the limited edition print was widely available for years and the "regular" edition actually became harder to find.

Published by DOREMI Music Publishing, the sheet music book Final Fantasy IX Original Soundtrack Piano Sheet Music contains Asako Niwa's piano arrangements for the music on the Final Fantasy IX: Original Soundtrack. The difficulty level is beginner to intermediate.

There are three different arrangements of the "Prelude": at the end of the game (Blackjack game), during the Game Over screen, and in the aforementioned Crystal World.
When asked to name his favorite from the soundtrack, Uematsu named "Melodies of Life."[2]
Community content is available under
CC-BY-SA
unless otherwise noted.