For the page on the original Japanese version of the game, see
/Free-to-play
Final Fantasy Dimensions II, known as Final Fantasy Legends II: Toki no Suishō[3][1] in Japan, is an Android and iOS game developed by Square Enix, and is the second game released with the "Final Fantasy Legends" title after Final Fantasy Dimensions, which was originally released in Japan under the title Final Fantasy Legends: Hikari to Yami no Senshi.
The game was initially launched on February 15, 2015 under the name Final Fantasy Legends: Toki no Suishō (ファイナルファンタジー レジェンズ 時空ノ水晶, Fainaru Fantajī Rejenzu Toki no Suishō?, lit. Final Fantasy Legends Crystal of Space-Time) as a free-to-play title. It was announced on November 2, 2016 that the game would be undergoing a massive update and would be rebranded as Final Fantasy Legends II (ファイナルファンタジー レジェンズ II, Fainaru Fantajī Rejenzu Tsū?). The updated version replaced the original on November 10, 2016 in Japan.
The game ended its free-to-play service on October 31, 2017, citing difficulty with maintaining and delivering a product that would be to everyone's satisfaction. The company also stated that the free-to-play frontend would be removed from all stores by the end of November. Meanwhile, Square Enix released a standalone version of the game worldwide on the same day, retitling it Final Fantasy Dimensions II[4] (Final Fantasy Legends II: Toki no Suishō in Japan)[5][6] with a purchase price of US$14.99.
The game follows a young man named Morrow, who desires to become a famous adventurer. His life is forever changed when a meteorite falls near his home of Navos Village and meets a mysterious girl named Aemo. What lies ahead is an adventure that takes Morrow and his companions through time and space in order to save the world from beings attacking the fabric of history.
Gameplay
[
]
Exploration
[
]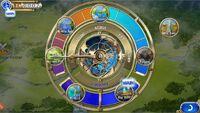 Being centered around the concept of time travel, Final Fantasy Dimensions II has the player traverse through specific eras of history. Throughout the events of the game story, players will unlock approximately 8 different periods to explore. In order to travel to different eras, the player must open the menu from the top left hand corner of the screen.
Like other mobile titles, the game lacks a traditional world map, but instead uses a point and click traversing system. Lacking traditional dungeons, the game's dungeons selected on the world map are only battlefields the player must clear. There are no traditional towns in the game either, with towns simply being presented as menus.
Battle system
[
]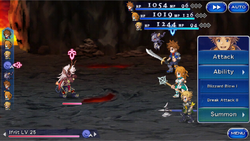 Battle encounters are presented in rounds that start once the player enters a battle zone on the world map. Once a player enters a zone, they will have to fight a barrage of enemies until they reach the end.
The game uses the Conditional Turn-Based Battles turn-based battle system used in Final Fantasy X. Only a maximum of three party members can fight in battle, with the character Mootie taking up a support role. In battle, Mootie will never take damage from enemies since he cannot be targeted.
During battle, there are two different icons in the top right corner of the game screen, allowing players to increase the game's battle speed or enter auto-battle mode. During auto-battle mode the players will constantly use their last ability previously used until their MP runs out. Once a character has insufficient MP to perform the ability, they will switch to normal physical attacks.
Eidolons and signets
[
]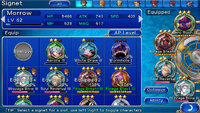 Similar to Final Fantasy VI's magicite system, characters can learn abilities by equipping signets of specific eidolons. Each character obtains specific signets that are exclusive to them and can equip up to four signets at a time. Most of these signets are aligned with each character's specific elemental affinity. Once equipped, signets allow players to learn the abilities by accumulating AP after a battle is completed.
In addition to teaching normal abilities, each signet allows the player to use that eidolon's summon attack. These attacks can only be used in battles by consuming bars from a character's summon gauge. There are three bars for each character, with each summon costing a specific amount of bars from the gauge. These summon attacks vary, ranging from damage to the enemy to providing support in battle. When summoning eidolons, the character's turn is not wasted while doing so. However, every eidolon can only be summoned once per battle.
Once a player has obtained the max AP for a character's signet, that character will be able to use that ability without needing to equip the signet and will complete a level for the signet. Rank I and II signets will have the option to be upgraded with stones and gems obtained from quests or in-game shops.
After the signet has been upgraded, the eidolon will provide stronger bonus stats, but the player will be required to gather AP once more in order to use the upgraded version of the ability from the signet and level up once more. After being upgraded to rank III, signets have the ability to bestow passives when they are equipped, varying from elemental potency boosts or certain state resistances. Gathering AP for rank III signets allows the player to use the strongest form of the signet's ability and have the "Master" status on their experience bar.
Babil Tower
[
]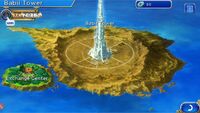 Babil Tower is an optional area that has players ascend the floors of a massive tower. The floors are a chain of encounters that requires the player to defeat a specific boss located on that floor. Players will receive Babil points that can be used to exchange for items at the exchange shop. Clearing a floor for the first time will reward the players with a specific signet, but sequential clears will reward Babil points instead.
As the player progresses through the game's main scenarios, more floors will often unlock at the beginning of each chapter. Babil Tower also hosts most of the game's strongest bosses and functions as the post-game after completing the "Eureka" arc.
Party members
[
]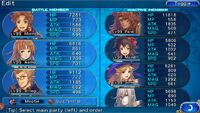 Throughout the game's story, players will recruit a total of seven party members. In order to switch party members, players must go to the "Party" option on the main character menu. Characters left out of the main party can also occasionally appear in combat to perform their Storm Ability, which deals damage to all enemies based on their current stats. All characters have unique costumes available to them, which can all be obtained from Babil Tower's exchange shop.
In addition, during specific battles in the game's main scenarios, players will occasionally be able to use guest party members.
Abandoning the party level system in the original free-to-play version, the premium version of the game has all characters gain individual levels as they complete battles. Reserve party members also receive a portion of the total EXP earned in battles.
Characters
[
]
Main characters
[
]
Morrow (

トゥモロ

,

Tumoro

?) is an adventure-seeking youth from

Navos Village

who becomes embroiled in an adventure through space and time when a meteorite crashes near his village.
Aemo (

エモ

,

Emo

?) is a mysterious girl from the future who has lost her memories. She emerges from the meteorite impact near Morrow's village.
Wrieg (

リーグ

,

Rīgu

?) is a dependable adventurer that has traveled the world, which Morrow looks up to. He decides to inspect the crashed meteorite near Westa, which he gets to know Morrow on the scene.
Mootie (

タツノコ

,

Tatsunoko

?) is newborn summoned monster who serves as a travel companion to the party. It is also the newly selected king of the eidolons, having taking a liking to Morrow and his party.
Maina (

マイナ

,

Maina

?) is a descendant of ninjas who dwell in the shadows of time. She thrives to maintain peace in the present era through the shadows.
Chronos (

クロノス

,

Kuronosu

?) is a general adviser of the team. She resides in Chronos' hall. Due to an incident which happened in a distant past called the 'Mysidia Crisis", she is forced inside a time crystal.
The Deathlord (

不死王

,

Fushiō

?, lit.

Immortal King

) is an immortal dark elf from the land of Mysidia. He controls an army of the undead.
Mist is a mysterious young woman with an impossible power. She is forced to pray for the faiths in Eureka, which prompted the Chrono Dragon to save her.
Story
[
]
Main Story
[
]
Chapter 1
[
]
1-1 Door to Another World: Released in Japan on February 12th, 2015.
1-2 Magical Mysidia: Released in Japan on February 26th, 2015.
1-3 Elves and Dwarfs: Released in Japan on March 12th, 2015.
Chapter 2
[
]
2-1 Divine Reckoning: Released in Japan on March 27th, 2015.
2-2 Mysidia Crisis: Released in Japan on Apirl 15th, 2015.
Chapter 3
[
]
3-1 Lost Magic: Released in Japan on April 30th, 2015.
3-2 Bridging East-West: Released in Japan on May 18th, 2015.
Chapter 4
[
]
4-1 Creeping Terror: Released in Japan on June 11th, 2015.
4-2 Phantom Ship Exposed: Released in Japan on July 1st, 2015.
Chapter 5
[
]
5-1 Era of Disorder: Released in Japan on August 1st, 2015.
5-2 Bonds Beyond Time: Released in Japan on September 1st, 2015.
Chapter 6
[
]
6-1 Crystal Revival: Released in Japan on October 1st, 2015.
6-2 To a New World: Released in Japan on November 1st, 2015.
6-3 And Then, Time Flowed: Released in Japan on December 1st, 2015. (Part One), December 15th, 2015. (Part Two)
Chapter 7
[
]
7-1: Released in Japan on March 1st, 2016. (Part One), March 15th, 2016. (Part Two), March 29th, 2016. (Part Three)
7-2: Released in Japan on May 4th, 2016.
Eureka Arc
[
]
Chapter 1
[
]
Voice From Afar:
Chapter 2
[
]
World of the Primals:
Chapter 3
[
]
The Fayth's Altar:
Music
[
]
The soundtrack was composed by Naoshi Mizuta. The main theme is "Timeless Tomorrow" performed by Lia.
Development
[
]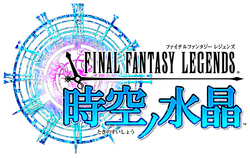 The game was originally announced on November 19, 2014 under the title of Final Fantasy Legends: Toki no Suishō. It was directed by Takashi Tokita, one of the three directors of Squaresoft's 1995 hit, Chrono Trigger. The game is described as a story based on "magic that goes beyond time [and that] the characters will time travel as part of their adventures." The general director, Takashi Tokita, said the game aims to invoke nostalgia of SNES titles, like Final Fantasy V, Final Fantasy VI, and Chrono Trigger.
After a year and a half of service, on October 28, 2016, a teaser site was created for a mobile game, containing a countdown clock to a newly-revealed announcement and a single piece artwork of Chronos drawn by Yoshitaka Amano. In addition, the site included a note from game director of Legends II, Takashi Tokita, stating: "Final Fantasy is about characters overflowing with personality, dramatic battles about anger and sorrow, and more than anything, fantasy, which we mustn't forget."
On November 2, 2016 the game was officially revealed to be Final Fantasy Legends II, which would not be a new game, but instead a rebranding of and massive update targeted to Final Fantasy Legends: Toki no Suishō. Despite the renaming, players could continue their progress from the original version and play from where they last stopped. The original seven chapters would remain playable, but they would use updated graphics created for Legends II. Takashi continued, saying, "The series' previous title was Warriors of Light and Darkness, and while Space-Time Crystal followed that flow, Final Fantasy Dimensions II is a rebirth." However, the game is not related to Final Fantasy Dimensions at all despite being named Final Fantasy Dimensions II worldwide.
On November 10, 2016, the update was released, renaming the game to Final Fantasy Legends II. The original opening was replaced with a new opening containing a remixed version of Lia's "Timeless Tomorrow".
Only ten months after the relaunch under the title of Final Fantasy Legends II, it was announced in September 2017 that the game would cease services on October 28, 2017, citing difficulty with maintaining and delivering a product that would be to everyone's satisfaction. The company also stated that the free-to-play version would be removed from all stores by the end of November and standalone premium version would be released sometime after. While no official word of an English localization was mentioned at this time, a note from Takashi Tokita was released as part of the developer messages during the Final Fantasy Record Keeper 30th Anniversary event, which unintentionally revealed a localization for the game releasing in November. On October 25, 2017, the English version of Final Fantasy Dimensions II was officially announced on Square-Enix's official Twitter for a November 1, 2017 release date.
The game's character designs and illustrations are handled by CyDesignation, an art design firm founded and directed by former Square Enix artists Hideo Minaba, Ryosuke Aiba, Atsushi Kawasaki, and Akihiko Yoshida, many of whom did artwork for the game's signets personally. In addition, much of the artwork for signets are done by freelance internet artists including Kibannda Gohann, Sekishō, and Moryo.
Production credits
[
]
Staff
[
]
| | |
| --- | --- |
| Director | Takashi Tokita |
| Character Design and Illustrator | CyDesignation |
External links
[
]
References
[
]