Final Fantasy Crystal Chronicles Original Soundtrack is the soundtrack to Final Fantasy Crystal Chronicles, composed and arranged by Kumi Tanioka. The opening and ending themes were translated into English for the game's U.S. release; the English version of the opening theme can be found on the promo CD Final Fantasy Crystal Chronicles: A Musical Journey.
The first pressing version of the soundtrack comes in a "liquid case," a thick plastic sleeve that wraps around the jewel case like a book cover. Within the plastic is a gel meant to simulate myrrh. The standard version comes in a standard-sized jewel case with obi. The liner notes include the tracklist in Japanese (kana); messages from composer Kumi Tanioka; Hidenori Iwasaki, music programming and arrangement; and Garyu Matsumoto (Roba House), who played the ancient instruments heard on the soundtrack; a profile of Yae; and notes on the "ancient instruments" used in the making of the music. Also included are lyrics to "Kaze no ne" and "Hoshizukiyo".
When Tanioka was involved in the Crystal Chronicles she was looking at the illustrations of the game world and planned for the world's music. She wanted to capture the sense of "world music" in a broad sense, where music is not limited to a single country or culture. The music of Final Fantasy Crystal Chronicles was created as Tanioka externalized this notion of what she believed to be perfect for the game.[1]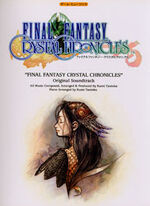 Published by DOREMI Music Publishing, the Final Fantasy Crystal Chronicles Original Soundtrack Piano Sheet Music book contains piano arrangements by Kumi Tanioka for the music on the Final Fantasy Crystal Chronicles Original Soundtrack. The difficulty level is from beginner to intermediate.
Community content is available under
CC-BY-SA
unless otherwise noted.