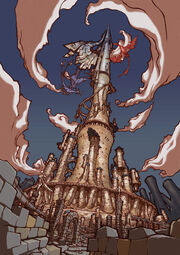 Dungeons are areas surrounding Padarak to which King Leo's adventurers can go to and complete behests, gain experience, explore, or defeat legendary monsters in Final Fantasy Crystal Chronicles: My Life as a King. In these dungeons adventurers can collect materials needed by the different shops and academies to continue researching upgrades for weapons, armor, items, spells, etc. As King Leo, this is where the player may set behests. The dungeons closest to Padarak start off at beginner levels and rise as adventurers move further away.
There are two sets of dungeons: The first set comes with the game, and the second set is unlocked by purchasing add-on content. There are approximately 36 dungeons in the base game, including dungeons that are available on Hard and Very Hard mode. With all add-on content purchased, the total dungeon count for the game is 63.
Dungeons
[
]
Recommended levels the dungeons should be attempted at are listed in order of Normal Mode/Hard Mode/Very Hard Mode, and boss monsters are listed in bold. Special mission boss monsters are in bold italics.
| Location | Description | Level | Monsters |
| --- | --- | --- | --- |
| Pallum Dei Caverns | "A small maze of natural tunnels". Bonus Elementite gained for clearing. | 1 / 2 / 2 | Mini Mu, Wee Worm |
| Kubito Grotto | "An unusually well-lit grotto". Weapon Shop gained for clearing. Sword Metal can be found here. | 2 / 3 / 5 | Bitsy Bat, Small Scorpion, Ice Goblin |
| Goblin's Den | "A camp of heavily armored goblins". House capacity +10 for clearing. | 3 / 4 / 7 | Goblin, Goblin Boss |
| Dolsam Gulch | "A dark and rocky gulch". Item Shop gained for clearing. Potion Ingredients can be found here. | 7 / 10 / 17 | Scorpion, Scorpion +1 foe, Dire Cobra +1 foe, Worm |
| Junun Dei Meadows | "Deceptively peaceful grasslands". Armor Shop gained for clearing. Armor Plating can be found here. | 4 / 6 / 10 | Mini Mu, Wee Worm +1 foe, Killer Bee +1 foe, Bavarois |
| Polpus Mistmoor | "A misty marsh fraught with hidden dangers". Bulletin Park gained for clearing. Armor Plating can be found here. | 5 / 7 / 12 | Bitsy Bat, Wee Worm +1 foe, Wolf +1 foe, Mu +2 foes |
| Beltevra Forest | "A forest rumored to hide ancient ruins". Bonus Elementite gained for clearing. | 9 / 13 / 22 | Killer Bee, Snow Mu, Mandrake +1 foe, Malboro |
| Terun Westway | "A relatively safe path across open land". Bakery gained for clearing. Fire Magicite can be found here. | 6 / 9 / 15 | Mu, Mu +1 foe, Worm +1 foe, Salamander |
| Auris Swordpath | "A windswept road made of hardened dirt". Guild Hall gained for clearing. Restoration Magicite can be found here. | 7 / 10 / 17 | Worm, Orc, Dire Wolf +1 foe, Bavarois +3 foes |
| Panclare Brightwood | "A soothing forest of pale trees." White Mage Temple gained for clearing. Restoration Magicite can be found here. | 8 / 12 / 20 | Mandrake, Ice Goblin, Goblin Priest +1 foe, Orc Warlock +1 foe |
| Primone Darkwood | "A forest of unnaturally dark trees". Black Mage Academy gained for clearing. Fire Magicite can be found here. | 9 / 13 / 22 | Biting Wasp, Ahriman, Goblin Mage +1 foe, Killer Bee +1 foe |
| Carcus Southway | "A paved road wide enough for an army to pass". Gaming Hall gained for clearing. Sword Metal can be found here. | 6 / 9 / 15 | Mu, Biting Wasp, Worm +1 foe, Salamander +3 foes |
| Janktra Plains | "A large field showing traces of ancient agriculture". Training Hall gained for clearing. Armor Plating can be found here. | 8 / 12 / 20 | Wolf, Goblin, Goblin Boss, Golem +3 foes |
| Bronkith Crossroads | "The foes in this area are immune to most physical attacks". Tavern gained for clearing. Sword Metal can be found here. | 10 / 15 / 25 | Flan, Bavarois, Lizardman +2 foes |
| Nefron Beach | "Monsters frolic in the waters of this eerie beach". House capacity +10 gained for clearing. Potion Ingredients can be found here. | 11 / 16 / 27 | Sahagin, Ahriman, Sahagin Lord +1 foe, Lizardman +3 foes |
| Corrum Sih Highroad | Thieving bands of monsters roam this path". Inn gained for clearing. Fire Magicite can be found here. | 13 / 19 / 32 | Mu +2 foes, Flan, Dire Wolf +3 foes, Snow Mu +2 foes |
| Musqu Mazewood | "A forest of mischievous feytrees". Tavern gained for clearing. Frost Magicite can be found here. | 14 / 21 / 35 | Biting Wasp, Ahriman, Malboro +1 foe, Chimera +3 foes |
| Letyna Tundra | "A barren land of snow and ice". Emporium gained for clearing. Restoration Magicite can be found here. | 15 / 22 / 37 | Snow Mu +2 foes, Ice Goblin +2 foes, Cerberus +3 foes |
| Clannit Mirrorlake | "An imperturbable lake full of myths". Fountain Park gained for clearing. Potion Ingredients can be found here. | 16 / 24 / 40 | Ogre Basher +1 foe, Ice Goblin +1 foe, Goblin Mage +1 foe, Bavarois |
| Aukul Canyon | "Ancient magicite is buried in the canyon walls". Bonus Elementite gained for clearing. | 19 / 28 / 47 | Goblin +2 foes, Salamander +2 foes, Gigas +1 foe |
| Basu Sah Whisperpath | "A secret path created in the name of the Dark Lord". Bonus Elementite gained for clearing. | 21 / 31 / 52 | Golem, Skeleton + 1 foe, Bavarois +3 foes |
| Temple of Ko Ruh | "The Dark Lord's heart is said to be entombed here". Bonus Elementite gained for clearing. | 23 / 34 / 57 | Skeleton +2 foes, Ahriman +2 foes, Chimera +3 foes |
| Shrine of Awakening | "The Dark Lord awaits in this shrine of shadows". Bonus Elementite gained for clearing. Final dungeon of the game. | 25 / 37 / 62 | Golem +2 foes, Ahriman +2 foes, Dark Lord (HP bar boss) |
| Jungle Ruins of Si Khem | "Leaf covered ruins guarded by gargoyles." Black Mage Academy gained for clearing. Frost Magicite can be found here. Accessible only on Hard and Very Hard Mode. | — / 13 / 22 | Bat, Ghost, Golem +1 foe, Ghost |
| Kutith Basin | "A basin with steep outer edges". Item Shop gained for clearing. Antidote Ingredients can be found here. Accessible only on Hard and Very Hard Mode, or with DLC purchase. | 17 / 25 / 42 | Lava Mu +2 foes, Salamander +3 foes, Stone Worm |
| Garrit Dryway | "A sandy path leading to the desert". Gaming Hall gained for clearing. Helm Plating can be found here. Accessible only on Hard and Very Hard Modem or with DLC purchase. | 15 / 22 / 37 | Lava Mu, Scorpion, Cerberus +1 foe, Lava Mu +2 foes |
| Orc Keep | "Vicious orcs guard this fortified position". Large House gained for clearing. Antidote Ingredients can be found here. Accessible only on Hard and Very Hard Mode. | — / 21 / 35 | Orc, Biting Wasp, Orc Warchief, Orc +2 foes |
| Vena Eih Marsh | "An unpleasantly humid marshland." White Mage Temple gained for clearing. Enhancing Magicite can be found here. Accessible only on Hard and Very Hard Mode. | — / 19 / 32 | Gigantoad, Flan, Sahagin Lord +1 foe, Orc Warlock +1 foe |
| Diaphi Riverway | "The ground here is covered with sahagin footprints". Armor Shop gained for clearing. Helm Plating can be found here. Accessible only on Hard and Very Hard Mode. | — / 28 / 47 | Dire Cobra, Flan, Dire Wolf +3 foes, Bavarois |
| Ramva Riverbank | "The nearby river churns with monsters". Bonus Elementite gained for clearing. Hammer Metal can be found here. Accessible only on Hard and Very Hard Mode, or with DLC purchase. | — / 21 / 35 | Sahagin +2 foes, Adamantoise +3 foes, Gigantoad +2 foes |
| Ogre Camp | "An impregnable ogre encampment". Weapon Shop gained for clearing. Hammer Metal can be found here. Accessible only on Hard and Very Hard Mode, or with DLC purchase. | 17 / 25 / 42 | Ogre +2 foes, Ogre Basher +2 foes, Ogre Warlord +3 foes, Ogre Basher +1 foe |
| Orth Bridge | "A rickety bridge leading to unknown lands". Bakery gained for clearing. Enhancing Magicite can be found here. Accessible only on Hard and Very Hard Mode, or with DLC purchase. | 15 / 22 / 37 | Dire Cobra +2 foes, Gigantoad +2 foes, Adamantoise +3 foes, Gigantoad +2 foes |
| Quavitas Crag | "No one has climbed this cliff face and returned". Bonus Elementite gained for clearing. Antidote Ingredients can be found here. Accessible only on Hard and Very Hard Mode. | — / 28 / 47 | Ogre +2 foes, Snow Mu +2 foes, Stone Worm +3 foes, Sahagin Lord +3 foes |
| Fronze Cove | "A tunnel in this cove is said to lead to the underworld". House capacity +10 gained for clearing. Helm Plating can be found here. Accessible only on Hard and Very Hard Mode, or with DLC purchase. | 16 / 24 / 40 | Skeleton +2 foes, Sahagin +2 foes, Chimera +3 foes, Golem +2 foes |
| Lost City of Nevul | "The ruins of a city destroyed by ancient evils". Bonus Elementite gained for clearing. Enhancing Magicite can be found here. Accessible only on Hard and Very Hard Mode, or with DLC purchase. | 18 / 27 / 45 | Necromancer +2 foes, Ghost +2 foes, Golem +3 foes, Chimera +3 foes |
| Denthe Bridge | "A bridge fabled to be connected to a faraway land". Bulletin Park gained for clearing. Hammer Metal can be found here. Accessible only on Hard and Very Hard Mode, or with DLC purchase. | 20 / 30 / 50 | Bat, Ahriman, Gigas +1 foe, Gigas +3 foes |
| Enthe Frostfall | "The water here falls so silently that it looks frozen". Bonus Elementite gained for clearing. Frost Magicite may be found here. Accessible only on Hard and Very Hard Mode, or with DLC purchase. | 19 / 28 / 47 | Snow Mu +2 foes, Orc Warlock +1 foe, Stone Worm +3 foes, Ice Goblin +3 foes |
| Olvita Barrows | "These tombs predate the advent of the miasma". Bonus Elementite gained for clearing. Accessible only on Hard and Very Hard Mode. | — / 34 / 57 | Ghost +2 foes, Skeleton +1 foe, Wraith +3 foes |
| Erithraw Cliffs | "Malignant magicite draws people to these cliffs". Lilty Hut gained for clearing. Accessible only with DLC purchase. | 8 / 12 / 20 | Worm, Lizardman, Lizard Lord +1 foe |
| Axilla Cinderwood | "An unnatural forest of ever-burning trees". Selkie Den gained for clearing. Accessible only with DLC purchase. | 8 / 12 / 20 | Lava Mu, Mandrake, Cerberus +1 foe |
| Derumi Desert | "And ever-expanding sea of lifeless sand". Tavern gained for clearing. Accessible only with DLC purchase. | 16 / 24 / 40 | Scorpion, Stone Sahagin, Scorpion +1 foe |
| Glisera Oasis | "A single spot of green in an expanse of dunes". Yuke Shack gained for clearing. Accessible only with DLC purchase. | 8 / 12 / 20 | Sahagin, Gigantoad, Sahagin Lord +1 foe |
| Cortek Sandhollows | "A dusty cavern half hidden by dunes". Bonus Elementite gained for clearing. Axe Metal can be found here. Accessible only with DLC purchase. | 17 / 25 / 42 | Lava Mu, Stone Sahagin, Gigas +3 foes, Stone Sahagin +2 foes |
| Desert City of Clavis | "A deserted city lying underneath the desert". Weapon Shop gained for clearing. Axe Metal can be found here. Accessible only with DLC purchase. | 32 / 48 / 80 | Ogre +2 foes, Stone Worm, Cactuar (HP bar boss), Gigas +1 foe |
| Barbair Abyss | "A large crevasse created by a bolt from the heavens". Bonus Elementite gained for clearing. Gauntlet Plating can be found here. Accessible only with DLC purchase. | 19 / 28 / 47 | Bat, Skeleton +1 foe, Gigas +1 foe, Ghost +2 foes |
| Langooth Peak | "None can pass beyond this world's-end peak". Armor Shop gained for clearing. Gauntlet plating can be found here. Accessible only with DLC purchase. | 34 / 51 / 85 | Lava Mu +2 foes, Scorpion +1 foe, Wyvern +3 foes (HP bar boss), Malboro +3 foes |
| Corone Waterkeep | "A lookout post guarding the shores from invaders". Sacred Shrine gained for clearing. Accessible only with DLC purchase. | 24 / 36 / 60 | Necromancer +2 foes, Skeleton +1 foe, Golem +3 foes |
| Rinfor Nightwood | "The forest's trees grow so thick as to blot out the sun". Sacred Shrine gained for clearing. Accessible only with DLC purchase. | 28 / 42 / 70 | Killer Bee +1 foe, Mandrake, Malboro +1 foe |
| Renth Beach | "A never-fading mirage can be seen on the horizon". Gaming Hall gained for clearing. Accessible only with DLC purchase. | 18 / 27 / 45 | Lava Mu +2 foes, Salamander, Cerberus +3 foes |
| Tempora Estuary | "An ominously wide road runs along the water's edge". Castle Expansion gained for clearing. Accessible only with DLC purchase. | 26 / 39 / 65 | Mu +1 foe, Gigantoad, Gigas Worm (HP bar boss) |
| Eorta Deepway | "An underground tunnel leading to parts unknown". Bonus Elementite gained for clearing. Accessible only with DLC purchase. | 19 / 28 / 47 | Ghost +2 foes, Necromancer +2 foes, Goblin Mage +1 foe |
| Isle of Giants | "Towering flora and fauna cover this isle of Gigas". Bonus Elementite gained for clearing. Accessible only with DLC purchase. | 25 / 37 / 62 | Golem, Gigas +1 foe, Golem +3 foes |
| Colossal City of Heparl | "Gigas golemmasons dwell in this oversized city". Luxurious House gained for clearing. Accessible only with DLC purchase. | 40 / 60 / 100 | Golem +2 foes, Gigas +1 foe, Titan (HP bar boss) |
| Altenica Hills | "Life has its ups and downs, but not as much as these hills". Bonus Elementite gained for clearing. Revival Runes can be found here. Accessible only with DLC purchase. | 16 / 24 / 40 | Wolf, Mu +1 foe, Wolf +1 foe, Lava Mu +2 foes |
| Tunika Mountains | "A granite wall warding the realm against northern invaders". Item Shop gained for clearing. Revival Runes can be found here. Accessible only with DLC purchase. | 36 / 54 / 90 | Snow Mu +2 foes, Stone Worm, Wyvern +3 foes (HP bar boss), Salamander +3 foes |
| Pranta Rapids | "None has safely crossed these fierce waters". Fountain Park gained for clearing. Accessible only with DLC purchase. | 28 / 42 / 70 | Gigantoad +2 foes, Gigantoad, Adamantoise +3 foes |
| Land of O'Kokuh | "This cursed place's name is only uttered in hushed whispers". Library gained for clearing. Accessible only with DLC purchase. | 40 / 60 / 100 | Lava Mu +2 foes, Ahriman +2 foes, Apokrypha (HP bar boss) |
| Fasieth Deepmaze | "A submerged maze built by a forgotten civilization". House capacity +10 gained for clearing. Accessible only with DLC purchase. | 17 / 25 / 42 | Skeleton +2 foes, Ghost +2 foes, Cerberus +3 foes |
| Hillum Sih Longroad | "A winding road leading to the far reaches of the continent". Sacred Shrine gained for clearing. Accessible only with DLC purchase. | 32 / 48 / 80 | Necromancer +2 foes, Skeleton + 1 foe, Bavarois |
| Simuth Hollows | "A preternatural silence permeates these tunnels". Bulletin Park gained for clearing. Accessible only with DLC purchase. | 33 / 49 / 82 | Sahagin +2 foes, Skeleton +2 foes, Octokraken +3 foes (HP bar boss) |
| Spire Passage | "A secret passage leading to the Infinity Spire". Bonus Elementite gained for clearing. Accessible only with DLC purchase. | 5 / 7 / 12 | Bat, Wraith, Orc Warchief +1 foe, Gigas +1 foe |
| Infinity Spire | "A mysterious tower that reaches far above the clouds". DLC-only. Dungeon can be repeated infinitely. Difficulty increases and floor level is raised by 10 every time it's cleared, up to floor 109. | — / — / — | Various enemies depending on floor, Apocrypha, Jumbo Cactuar, Ifrit, Great Malboro, Specter, Octomammoth, Shiva, Iron Giant, Gigas Worm, Marshmallow, Omega (Level 50), Wyrm (Level 99) |