Final Fantasy Crystal Chronicles: Echoes of Time is an installment in the Final Fantasy Crystal Chronicles series. It is the first Final Fantasy Crystal Chronicles game that allows players to play together online and it allows players who own a Nintendo Wii or Nintendo DS to play together at the same time using the Pollux Engine, an Engine created by Square Enix.
Gameplay
[
]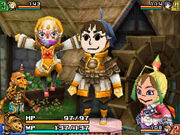 The game is a sequel to Final Fantasy Crystal Chronicles: Ring of Fates, and serves as prequel for Final Fantasy Crystal Chronicles. It uses an enhanced version of the gameplay established in Ring of Fates, but also shows new features in the gameplay like the ability to swim in water. Some combat is featured while swimming too. Another new feature is that each Tribe is able to equip other Tribe specific weapons, although they can not use their tribe specific abilities without their tribe's main weapon, but later on gain level with other tribe's weapons.
DS and Wii users will be able to play together via Wi-Fi using an Engine created by Square Enix called the Pollux Engine. Mii characters have also been incorporated into the game as masks that can be put on characters. These Mii characters mask can also be used in the Nintendo DS version once players import them from the Nintendo Wii. DS users play with the stylus while Wii users play with the Wii remote. Single player and Multiplayer both play the same, with each mode having only little differences. Players can switch between both modes from a Save point.
Basic Combat - The game still uses each tribes' combat system, mostly an overhead real-time hack-and-slash form of fighting; however, it added in a new weaponry system, in which all tribes may use a variety of weapons and have abilities which range from two to three types of weapons. New weapons have also been added (Sling-shot weapons, paddles). Armor and weaponry may now level up on their own through battling. Also, a new jewel system replaces the ability-equip system in the past game, where players may now add jewels to weapons with enough slots to add extra abilities. Jewels range from as simple as ATTACK-UP to more complex forms that even allow the player to break the usual level cap for the equipment piece.
Magic - The Magic system was revamped. While still retaining its key components (target rings, elemental casting), it now consumes MP rather than gathering magicite. The slots system has been eliminated completely, however such items as Ethers and Potions do appear in the game to be used on-the-spot. Fusion spells are now simpler to perform, as certain spells (Gravity, Quake) do not require so many complex and tedious combinations. They have become as simple as "Blizzard" and "Raise" for Gravity, "Fire" and "Raise" for Quake. In addition, rings will now lock onto an enemy, removing the threat of missing a hard to cast spell and wasting valuable MP. Players can also change spells by holding the R button and scrolling up or down.
Single-player - In single-player mode, characters are given the choice of exploring dungeons alone or having an AI Character join them. Characters can acquire AI characters from an Adventurer's Guild. AIs can be switched out freely as characters progress through the game. There are also several secret characters or "mercenaries" available with the right parts of the game completed.
Multiplayer - In multiplayer mode, players are given three type of matching options to choose from. World matching, domestic matching, and friend matching. Friends matching requires players exchange friend codes with their friends to play. The game features some form of chatting with preset phrases for players to choose from and send to other players. With the Pollux Engine, Nintendo Wii and Nintendo DS owners will be able to play with each other.
Wii Version - The Wii version of the game contains all of the major elements of the DS version, but must be played on a single screen. To compensate, the Wii version has two adjustable in-game windows. Each window has a maximum size that is approximately 40% of the total screen which can make the text (on both the play and item windows) difficult to read, however players can use + (make the main screen larger, sub screen smaller) and—(make the sub-screen larger, main screen smaller) buttons on the Wii Remote to adjust the screen size, and pressing both + and—at the same time swaps the two screens. As a minor addition, the Wii version also contains a new trailer for the next Crystal Chronicles game titled The Crystal Bearers, and allows players to create masks based on their Mii which costs 5,000 gil.
DS Version - The game is still the same as its predecessor, Final Fantasy Crystal Chronicles: Ring of Fates, although with many updates and changes. The player still controls the characters through the arrow buttons and use interactive abilities (attacking, magic, or holding) through the A-B-X-Y buttons. The mecanism to hold items is removed, being only possible collect them. The DS version cannot host a Multiplayer game if there is a Wii being used to play cooperatively.
Characters
[
]
Players create their own playable character, choosing their characters tribe and gender. Appearances can be changed through different Headgear and Body Armor equipped. Hair color is also customizable (except for Yukes), though only by talking to Artemicion. While each tribe can use any weapon, only the tribe that specializes in a weapon type can gain access to that weapon type's full moveset.
Story
[
]
Music
[
]
Development
[
]
Final Fantasy Crystal Chronicles: Echoes of Time was announced in Jump Magazine on October 1, 2008, and included the Japanese release date stated for January 29, 2009. The game is directed by Mitsuru Kamiyama who previously directed Final Fantasy Crystal Chronicles: Ring of Fates. Characters designs will be by Yasuhisa Izumisawa who previously designed characters for Final Fantasy Crystal Chronicles: My Life as a King. Music is composed by Kumi Tanioka who has composed all music for previous Crystal Chronicles games. In Japan, the Wii version of the game contained a special trailer for Final Fantasy Crystal Chronicles: The Crystal Bearers.
Production credits
[
]
Voice cast
[
]
Packaging artwork
[
]
Gallery
[
]
External links
[
]