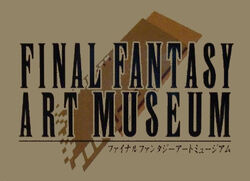 The Final Fantasy Art Museum Trading Card Collection (ファイナルファンタジーアートミュージアム トレーディングカード, Fainaru Fantajī Āto Myūjiamu?) is a mixture of sets of cards from all the Final Fantasy games from Final Fantasy to Final Fantasy XII. The cards feature characters, monsters, Summon beasts, movies sequences, CG images, artwork by Tetsuya Nomura and Yoshitaka Amano, game packaging, opening and ending screenshots, and very rare special foil cards. These cards were produced by Square Co., Ltd. in conjunction with Seven-Eleven (7-Eleven) for a promotion in Japan during 2001 and have not been released outside Japan. The Final Fantasy XII Art Museum cards was released with the Final Fantasy XII Premium Box Potion by Suntory.
The entire set of Final Fantasy Art Museum cards includes: First (I・IV・VII), Second (II・V・VIII), Third (III・VI・IX), Fourth (X), and Fifth (X-2) Editions.
A sequel set called Final Fantasy Art Museum Kai (ファイナルファンタジーアートミュージアム トレーディングカード改, Fainaru Fantajī Āto Myūjiamu Kai?) featured only a First Edition covering Final Fantasy XIII.
There have also been a Coca-Cola Edition (VII・VIII), Special Editions First (VII・VIII・IX・X), Second (X), and Third (XI), and Premium Editions First (XII), Second (X-2), and Third (X-2 int.). The cards consist of images of Final Fantasy printed on to a semi-transparent plastic. The plastic has a light purple, pink or green stain for added effect.
See also
[
]