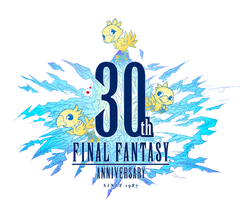 In 2016, Square Enix launched a website to celebrate the upcoming 30th anniversary of the Final Fantasy series in 2017, with all of the numbered entries listed, including the recently released Final Fantasy XV.
Each logo of the main series has their original release date listed, and a special quote highlighting the main synopsis of that entry's story. Hovering the mouse over each logo plays a small clip of that game's memorable moments, sans Final Fantasy XV, which at the time was not released yet.
The anniversary logo features chocobos and a moogle amid a large blue crystal that seems to be shedding smaller crystals to all directions. The text 30th Final Fantasy Anniversary is in the middle with "since 1987" in italics at the bottom. Yoshitaka Amano's signature is in the bottom right.
Dissidia Final Fantasy: Secretum -Himitsu- was a live recitation of a side-story related to Dissidia Final Fantasy NT. The event occurred twice in December 2017.
In January 2018 Square Enix held a 30th anniversary exhibition for the Final Fantasy series.
Participating games
[
]
Chocobo's Chocotto Farm
Final Fantasy Brigade: Break the Seal
To celebrate the 30th anniversary of the Final Fantasy series, Sony Interactive Entertainment Japan added multiple items themed around the series. A special chocobo cart designed by Toshiyuki Itahana was made available for purchase on the PlayStation Store, alongside a free cart adorned with the 30th anniversary logo. The "Final Fantasy 30th Anniversary Collaboration Cup" tournament was held between February 26 and March 12, 2018. All players who participated received the Cactuar Outerwear and Cactuar Cap items. Players who performed well advanced to the finals, where they received the Collaboration Costume (Moogle) outfit.
Merchandise
[
]
Events and collaborations
[
]
See also
[
]
External links
[
]